Corinne Abraham: racing to fitness in 2017
It's been a very different year so far for Great Britain's Corinne Abraham (www.corinneabraham.com) – she's already done loads of races!
Two Ironman races (second in both), several Middle distance races and even an Olympic distance outing have kept the Brit busy – a change that she has thoroughly enjoyed. Those Ironman performances – in Lanzarote and Austria – have also, we think, just about qualified her for the World Championships in Hawaii in the first cut of Pro athletes.
With more racing coming up this weekend too, I spoke to the Pewag Racing Team athlete about her very different season so far, those races in Lanzarote and Austria, frustrations with Pro women's racing being impacted by scheduling and aiming for a "Best that I can be. Ever." performance in Kona.
---
Corinne, you had a very unusual start to the season for you… lots of racing! I realise part of the reason it is unusual is due to injuries restricting you in past years, but did you enjoy that period? We've spoken before and you've said that ideally you wanted to do more of this?
I've absolutely enjoyed it. It was a slow start to the year with training, I had a number of 'distractions' (not injury related!), that held me back for the first few months but by April / May time I was getting into the swing of things and strong enough in a training sense to throw myself into the water – literally and figuratively – and start racing. I enjoy training in the context of the everyday s/b/r, but having only raced a few times in the past couple of years, I am keen to make the most of my time in the sport with more racing.
You seemed to make consistent (and significant) progress through those races – how do you approach things mentally when at the 'start' of that run (e.g. Gran Canaria), you are – relatively speaking – way off the 'pace', to maintain confidence that when you get to your key races (Lanzarote, Austria), you can – and did – perform, taking second in both? Is it a case of "leave your ego at home, and just follow the process"?!
To be honest, I was happy to be feeling physically capable of training and racing, without niggles or carrying some kind of 'doubt cloud' about an injury. In many ways it has been liberating to race some events without any pressure to be on the podium – the fitness was so far back, to beat myself up over not placing well would have been a pointless exercise. Therefore I tried to enjoy the racing for what it was; an opportunity to s/b/r, physically challenge myself and build my fitness up. Fortunately, I've been able to look to the longer term and believe that the fitness will come back and that I am 'good enough' to win (other) races on my day, so the ego has been somewhat contained – maybe it is starting to rattle the cage though 😉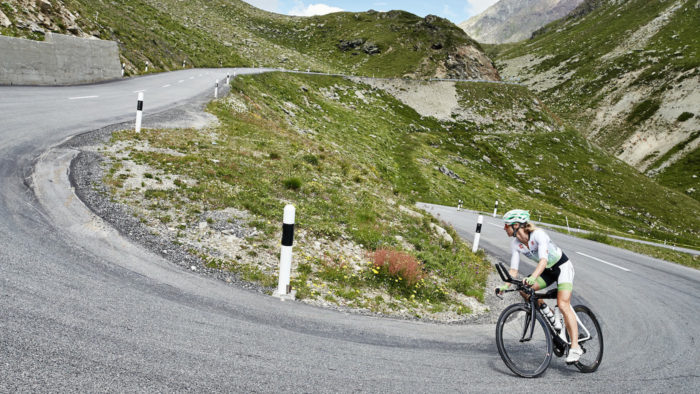 What was training like during this phase – were you pretty much training straight through all of the races, the events basically acting as 'fast training'?
Sort of. I've been doing relatively little 'top end' training or speed work compared to how I've trained in the past and the races have been used in place of the 'tempo' type work for a number of months. It doesn't make any sense to completely neglect the short and fast workouts from your training and even half distance racing won't replicate intense intervals. However the 'roll-in-roll-out' of the races has enabled a train-and-recover strategy that has kept my fitness gradually building, gained me time and experience in a race context and perhaps most importantly, kept me healthy, motivated and enjoying the sport.
Your IRONMAN record is incredibly consistent over the last six years – two Regional Championships, nine podiums in total – is there something mentally, as well as physically, that means you can always seem to pull out a performance, even if the preparations haven't been ideal? For example, your 70.3 / Middle distance results certainly don't compare in terms of depth and consistency?
I think mentally and physically I've always been focussed on the IM as the main goal and used the middle distance for training and sharpening. I've never dedicated training specifically to the 70.3 distance and it is a different beast of a race. That's not to say I'm not trying to win (darn it!), I stubbornly keep thinking that I can do well at 70.3, I 'just' need to be fit enough… It keeps the fire burning!
Corinne Abraham – Ironman Record
Race

Cat/Pos

Total

Ironman Regensburg 2010 (Age-Grouper)

3rd Overall, 1st Age-Group athlete

9:41:21

Ironman Hawaii 2010 (Age-Grouper)

10th Age-Group 30-34

10:09:02

*** Professional from 2011 Onwards ***

Ironman Texas 2011

n/a

DNF

Ironman Wales 2011

n/a

DNF

Ironman Texas 2012

4th

9:18:39

Ironman Frankfurt 2012

3rd

9:21:03

Ironman Arizona 2012

3rd

9:15:10

Ironman Melbourne 2013

Winner

8:10:56 (shortened swim)

Ironman Lanzarote 2014

3rd

9:51:41

Ironman Frankfurt 2014

Winner

8:52:40

Ironman Hawaii 2014

11th

9:25:04

Ironman Texas 2015

5th

9:12:20

Ironman Cozumel 2015

Winner

9:06:40

Ironman Cozumel 2016

4th

9:19:14

Ironman Lanzarote 2017

2nd

9:44:29

Ironman Austria 2017

2nd

9:08:03
As an older (!) athlete…do you also perhaps find that you have to 'ration' your REALLY big efforts… while the young guns (like Lucy Charles!), can seemingly bounce back and maintain that peak over several races, even months?
I'm not sure to be honest. I've never felt like I've limited my training and racing efforts specifically because of my age; Historically it's been more a case of focussing on peaking and succeeding at the Championship IM races and Kona.
We are just coming up to the annual Kona cut-off in terms of qualification. It's looking like you will either qualify first time around (end July), or might be in the August rankings. Are you able to look towards Hawaii yet, or does that 'in or out' weigh slightly heavy on your shoulders, until you actually know?
Pending confirmation and roll down of a couple of places… I'll be qualified in the July cut off – Huzzar! Though this season was slightly different in that I wasn't solely focussed on qualifying for Kona – if it was I would (again) have concentrated on a peaking for a championship race such as Texas or Frankfurt since that is the most efficient way to qualify (with points and automatic qualification for the winner). However the PEWAG team were very keen for me to race in IM Austria (their home race), and that largely changed the priority from qualifying, to balancing the need to race for the team. I'd consider this to be part and parcel of being a professional triathlete and I was happy to race in Austria. It's a race I've wanted to do for a number of years, but it did change the shape of my season. I was still somewhat confident that I would be able to qualify this way – perhaps needing the points in August, but it does mean that you have to be more patient… or winning… or both!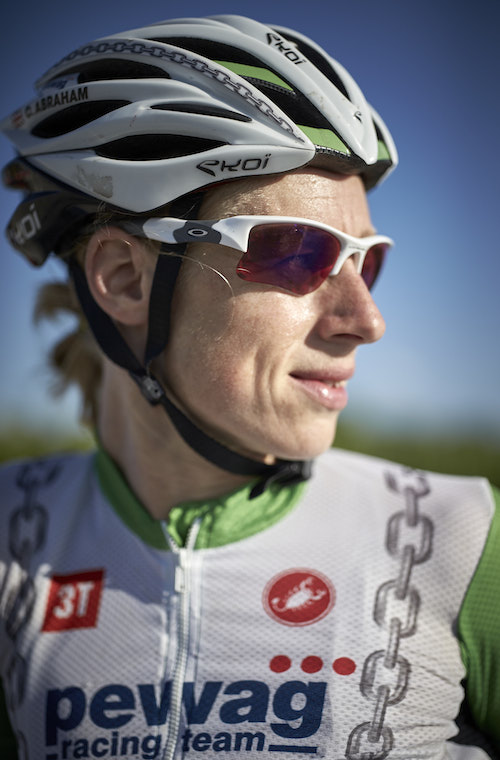 You finished second in both Lanzarote and Austria – two very different races in terms of course. Are you able to compare them in terms of your own performance – was one 'better' than the other, physically?
Humm, tough one. They were (are) totally different races as you say. For sure I'd say that the Lanza race is the more 'honest' of the two – it has to be, not only with all of the hills, but also Austria has a two-lap course with a small time gap to the AG men, so inevitably they catch the Pro-women and this changes the dynamic of the race. It is a dramatically different way of racing, massive power surges and the mental aspect of being around other athletes, keeping your draft zone open and staying safe.
The cognitive challenge of IM Lanza is totally different and you are far more internally focussed. While I was technically faster in Austria, and I was closer to the first place finisher, I think that I expected more of myself (fitness wise) in this race, and I don't feel that I performed as well as I'd hoped. Conversely, I had fewer expectations going into Lanza, and while I don't think that my fitness 'performance' was anything exceptional in terms of swim time, power numbers on the bike or marathon time (compared to what I think I'm ultimately capable of), perhaps they were better than I thought they'd be on the day and I'd say that Lanza was the better race?! I suppose it depends on how you are evaluating the race – but expectations have a lot to answer for!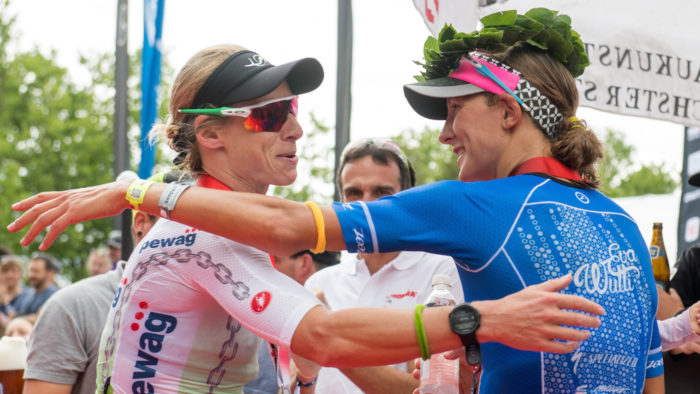 You (and others) expressed frustration in your blog at the way that women's Pro racing is consistently being impacted by the AG Men (e.g. Austria). This topic seems to have been around for many years – do you think anyone is actually listening? Do you feel that you have a 'voice'?
Ah yes, like a broken record, I seem to have mentioned that again above… I'm not sure if anyone is listening or not, but ultimately I don't think that it is enough to just rant about it in a blog or social media. So that is my own shortcoming in trying to actively change the situation! Yes, the race organisers might 'listen' this way, but I think that in order to effect change, you need to be far more focussed and converse directly with the race organisers or umbrella organisation – Challenge or Ironman before the race. Sometimes they are able and willing to make changes as they did this year at Challenge Lisboa when a number of the Pro-women requested a larger time gap, so I think sometimes (occasionally), there is a genuine lack of awareness or understanding of the impact of the scheduling on the race dynamics. Other times, I think that the awareness is there, but it is not a priority unless the women Pro-field make it one and ideally we need to do this before the race rather than after.
Any race plans currently, or will that depend on Kona points over the next week or so?
Next up 70.3 Poland this coming weekend…
You told me last year that you "still want to have that great Kona performance" – has the consistency of racing and performances this year added to your belief that you can still do this? And if so… how would you measure a "great" performance?!
The belief is still there… I still don't feel like I'm racing fit/fast yet this year and definitely have more in the tank. I 'just' need to keep putting the work in and not sabotage myself in the build up between now and the second week of October! I suppose that 'great' performance will be one where I feel that I've performed to the best of my ability… not just 'on that given day' but to be the best that I can be. Ever. That's not too intangible is it?!
Good luck with the rest of the season!
Thanks John, always appreciate the work that you do & the opportunity to have my 'voice' on the site.