Emma Pallant and Lucy Charles produce stunning finish
Alistair Brownlee makes his first middle distance race look easy
Four British athletes on the podium at Gloria Challenge Mogán Gran Canaria
The pre-race headlines were all about Alistair Brownlee and Daniela Ryf – but Great Britain's Emma Pallant and Lucy Charles produced the real racing excitement today at the second edition of Gloria Challenge Mogán Gran Canaria.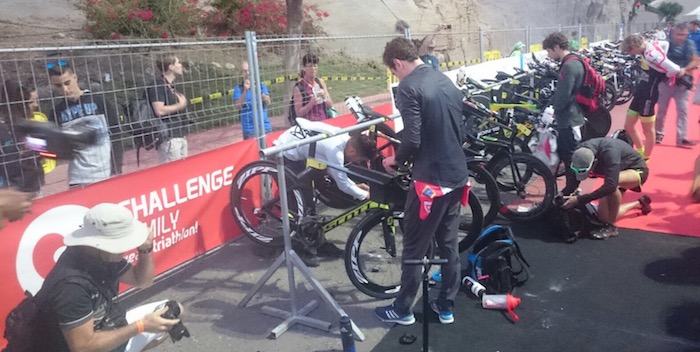 Pro Men
The opening two-lap, 1.9km wetsuit swim was pretty tightly bunched at the front. First into T1 was Davide Giardini (ITA) in 25:16, with Alistair Brownlee, Pieter Heemeryck (BEL), Thomas Davis (GBR), Manuel Küng (SUI) and Mark Buckingham (GBR) among those who were within 20 seconds as they headed into the change tent. Brownlee appeared to be taking his time and making sure he didn't do anything silly; these transitions somewhat different from the style he is used to in ITU racing…
The bike course in Gran Canaria is a multi-lap affair, and by 20km in Alistair Brownlee had built a small lead of 50 seconds over Heemeryck, with Küng a further 30 seconds back. By 40km, that lead had grown substantially to almost three minutes, with Sven Van Luyck (BEL) and Heemeryck now in close contention for second and third.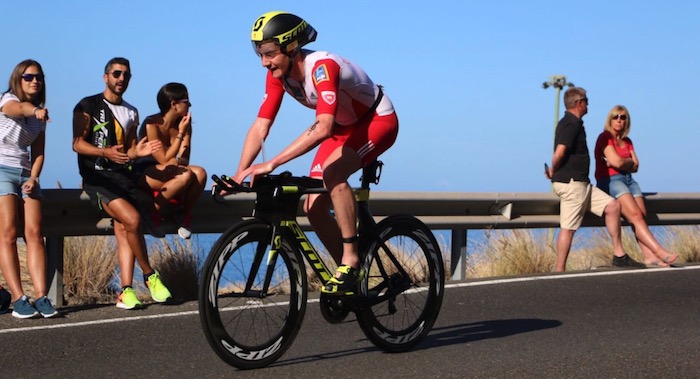 At this stage, Brownlee was making his transition to the half-iron distance look pretty easy and, to be fair, with his proven quality and in this field, that is what you would expect. He'll certainly have much tougher challenges to face over the coming months and years. By 60km he was four minutes clear of the Belgian pairing. Küng and Giardini were six minutes behind the Olympic champion in fourth and fifth, and Mark Buckingham over eight minutes down in sixth.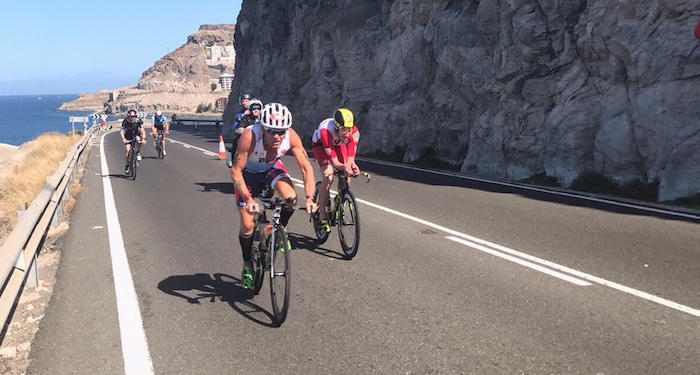 Four minutes became five at the 80km mark, and Brownlee would eventually reach T2 to start the half marathon with a lead of almost five and a half minutes over Heemeryck and Van Luyck. Buckingham and Küng would arrive next, four minutes behind the Belgian pairing. Could Buckingham – also on his middle distance debut – use his run speed to join his regular training partner on the podium? He had 13 miles to find out.
With a huge lead and the run to go, you'd be mad to bet against the Olympic Champion. Van Luyck quickly ceased to be a factor in the race and at the 10km point Alistair had increased his lead over Heemeryck to six and a half minutes. Mark Buckingham was flying though and soon moved through into third position. The question now was whether he would be able to make it a British one-two? When the gap to Heemeryck at 15km was still four minutes, you'd have to say no.
Brownlee continued on, with little pressure from behind, to win his first (Abu Dhabi excluded…) middle distance event in style in 4:03:09. Heemeryck followed eight minutes later, with Buckingham securing the final podium spot in third. A nice early birthday present for Alistair, who turns 29 tomorrow.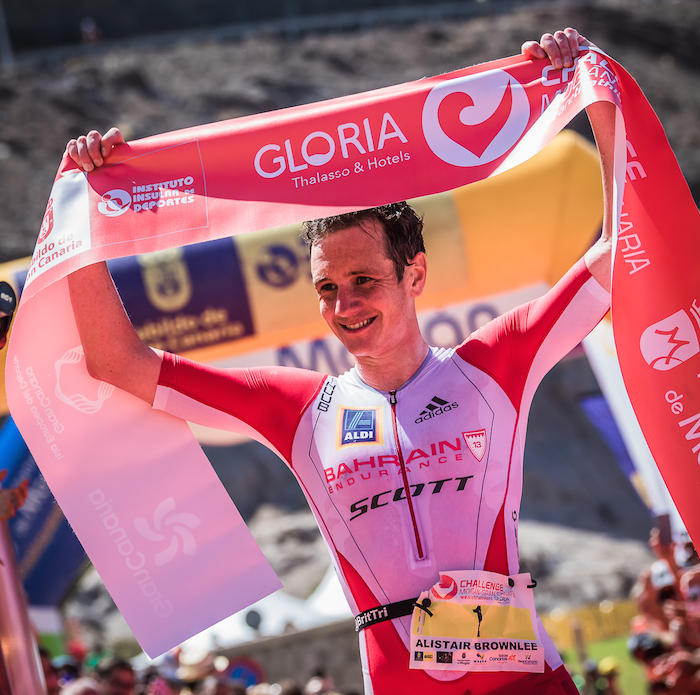 "I really enjoyed the whole race, thank you everyone for the great support" said Brownlee after the race.
Pro Women
While the race headlines were, on the whole, surrounding the debut of Alistair Brownlee, in truth the Pro women's field was arguably the strongest in depth. That said, just like the men's race, the towering presence of twice IRONMAN World Champion, Daniela Ryf (SUI), meant that most would consider that everyone else would be battling for second place, such is her dominance. That is how it looked. Initially…
If you were forced to make one bet ahead of this race though, it would have been this – Great Britain's Lucy Charles to lead the swim. She duly did that in 26:36, with Ryf and Catherine Jameson (GBR) locked together throughout the 1.9km, exiting the water a minute and twelve seconds later. For the strong British entry, Emma Pallant was fifth (31:01), Corinne Abraham ninth (33:17) and Lucy Gossage tenth (34:11). The two-time European Powerman Duathlon Champion would certainly have some work to do on land, as a deficit of seven and a half minutes to the fish-like Charles would certainly be more that she would have been hoping and expecting.
On two wheels, Ryf had closed the gap to Charles by the 20km mark, and by 40km she was alone and clear in front by over two and a half minutes. Charles has been working hard on her biking over the last 12 months and was still holding on to second, a minute clear of Catherine Jameson. It would be another three minutes before World Duathlon Champion Emma Pallant was through in fourth. Gossage had moved up to sixth by this stage. While she was now ten minutes behind Ryf, she was making up some time against almost everyone else in front of her.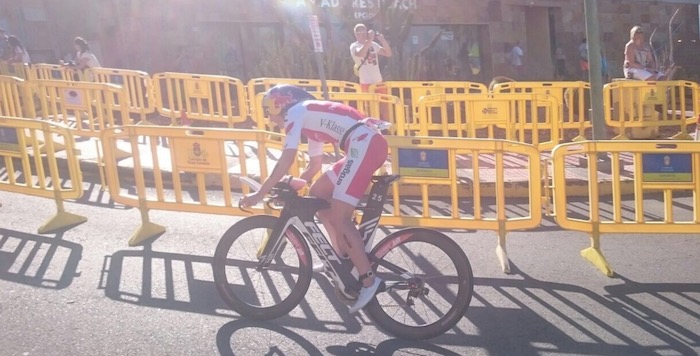 Ryf continued her domination to roll through the 60km point with a four minute lead over Charles, who in turn was now 1:45 clear of fellow Brit Jameson. Pallant was still looking good for a podium spot (given her running ability), four minutes behind Charles, but Gossage appeared to be losing time now. She'd surely need the run form that saw her set a half marathon PB earlier in the season.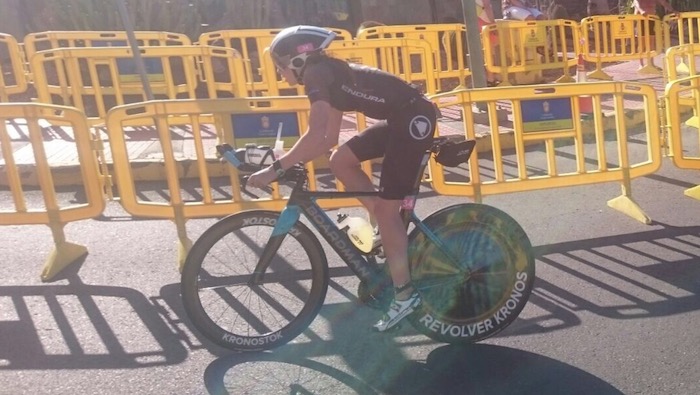 Late on in the bike, 'something' appears to have happened to Daniela Ryf. From a large (and increasing) lead of around five minute, at T2 that gap had suddenly reduced to little more than a minute over Lucy Charles. We're still trying to find out more, but we suspect that she may well have had a mechanical issue or – perhaps – even taken a course detour? Who knows, perhaps even the world's best can have a in-race meltdown. There certainly was at least one very strange looking split time that appeared (briefly) on the live timing coverage. We'll hope to find out more soon. [UPDATE: we've been able to confirm with the organisers – which ties in with some timing data that we saw – that Ryf made an error on the bike, came in to T2 a lap early, and lost time having to correct and get back on to the course].
That aside, it was Ryf first, Charles second at T2 (around a minute later), with Catherine Jameson and Emma Pallant pretty much together starting the run around three minutes behind the British swim star. You'd certainly expect Pallant to win that battle on the run with Jameson… but with the lead to the IRONMAN World Champion now suddenly reduced, could she push on and catch one – or both – of Lucy Charles and Daniela Ryf?
Whatever happened to the Ryf dominance over the first half of the race, appeared to be impacting the run. Lucy Charles was not giving an inch and by 12km she'd actually closed the gap on Angry Bird to just four seconds. The threat was looming large behind however, as Emma Pallant was burning up the tarmac and by 15km was less than a minute in arrears. With just 3km to go the British pair were both in front of the legend Ryf… and separated by just eight seconds. Make no mistake, this was where the real action was taking place today.
Pallant arrived in triathlon with a proven running background and European Under-23 XC Champion. Lucy Charles was, and is, an uber-swimmer. But, to use a phrase I have before on these pages, she's no one-trick pony, and she was not going to roll over and let Pallant take the win without a fight!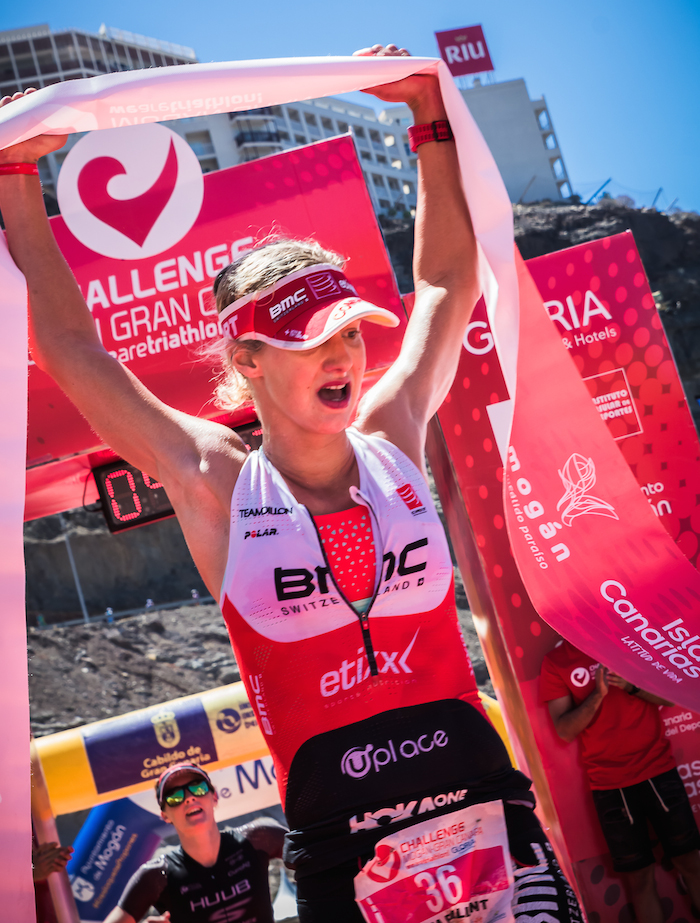 And that fight would go to the VERY end, when Emma Pallant managed to take the win by just SIX SECONDS over Lucy Charles. Great racing.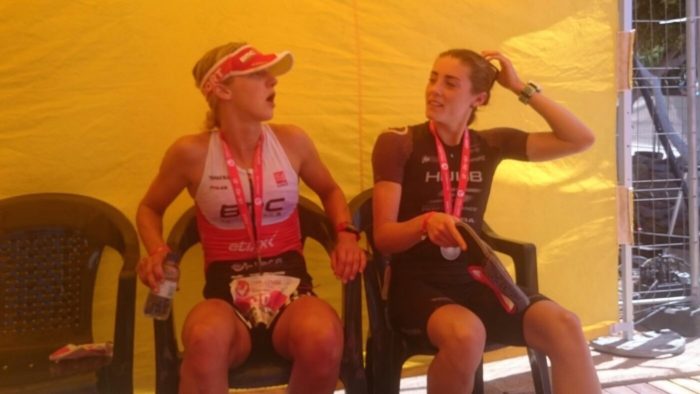 Gloria Challenge Mogán Gran Canaria – Saturday 22nd April 2017
1.9km / 90km / 21km
PRO MEN
1st – Alistair Brownlee (GBR) – 4:03:03
2nd – Pieter Heemeryck (BEL) – 4:11:23
3rd – Mark Buckingham (GBR) – 4:15:36
4th – Julian Mutterer (GER) – 4:18:26
5th – Manuel Küng (SUI) – 4:19:30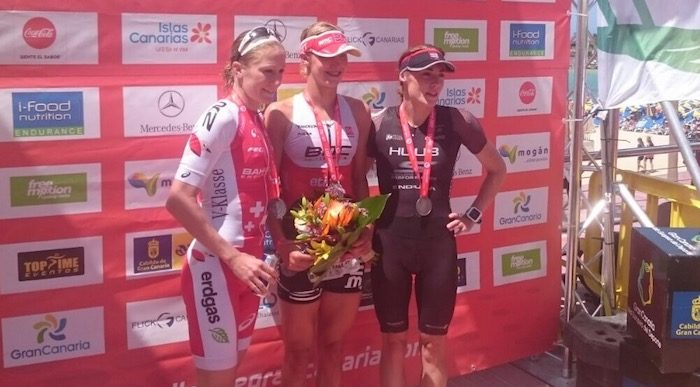 PRO WOMEN
1st – Emma Pallant (GBR) – 4:35:15
2nd – Lucy Charles (GBR) – 4:35:21
3rd – Daniela Ryf (SUI) – 4:38:35
4th – Lucy Gossage (GBR) – 4:47:54
5th – Judith Vaquera (ESP) – 4:50:46