Two-time champion, Dan Jones on how to conquer the Red Bull Neptune Steps
Swansea swimmer Dan Jones defended his Red Bull Neptune Steps title at Merryhill Locks in Glasgow at the weekend. Check out the full report from Glasgow HERE – and the highlights video below.
The event involves 420m of swimming in cold water and navigating seven locks totalling 10.5m of climbing, often with gushing water hitting your face. It's become an iconic event, which takes place many weeks before most people even consider immersing themselves in open water.
The 22 year-old is a full time swimmer, training 16 hours a week in the pool as well as up to fifteen hours of gym and land conditioning work. He can swim 100m freestyle in 50 seconds. However, he hadn't worn a wetsuit once since winning last year. Here's what he had to say about the event and his preparation…
---
Did you do any specific preparation for Neptune Steps?
I didn't do any specific training as my main focus is the British Swimming Championships in three weeks. Leading into the event I have been able to do more upper body work e.g. pull ups, bench and cleans. In the previous couple of years, I've had shoulder and peck injuries, but I have been injury free this season and my strength has improved massively.
How much swimming do you do in an average week?
A normal week of swimming will consist of eight sessions lasting two hours each, covering on average 5.5-7km per session. These sessions consist of aerobic, anaerobic work, speed and race pace.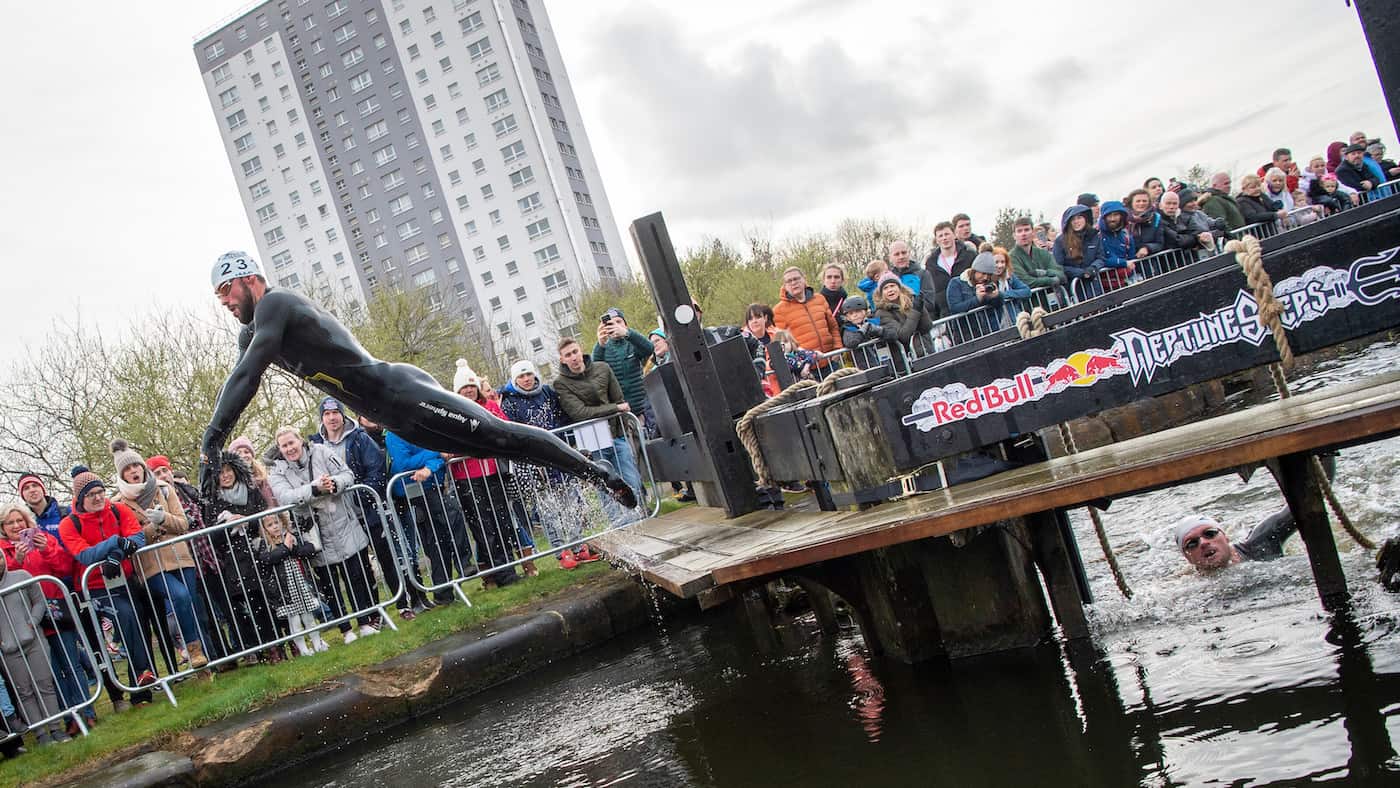 And how much land work?
I do three gym sessions a week lasting between 1:30/2hrs and these all involve weight training. As well as that, before every swim session I do 30mins of pre pool, which entails rolling and stretching to prevent injuries and also to warm the body up before the session. Then, after the session I spend 20-30mins doing post-pool rolling and stretching to loosen the muscles and to recover for the next session.
Upper body strength is important for Neptune Steps mainly for the climbs. You have heats, a semi-final and a final, so the shoulders, biceps, triceps and lats take a beating! There are climbs up cargo netting, ropes, ladders and rock walls.
Which is the toughest obstacle and why?
For me the toughest obstacles where the first climb and a 3m rope ladder climb later in the course. The first climb is a 4m cargo net and it is one of the tallest obstacles. It's very unstable and is tricky to get your footing right and then when the other swimmers arrive and start climbing, it rocks and moves around even more. I think being tall is actually a disadvantage on this one.
The other obstacle I found tough was a loose climb of a 3m rope ladder. Not only was it unstable, you have water flowing over the lock into your face. If you lean into the climb the water is in your face and you can't breathe, but if you lean back the water is landing on your chest pushing you back down and you struggle to hold on or move.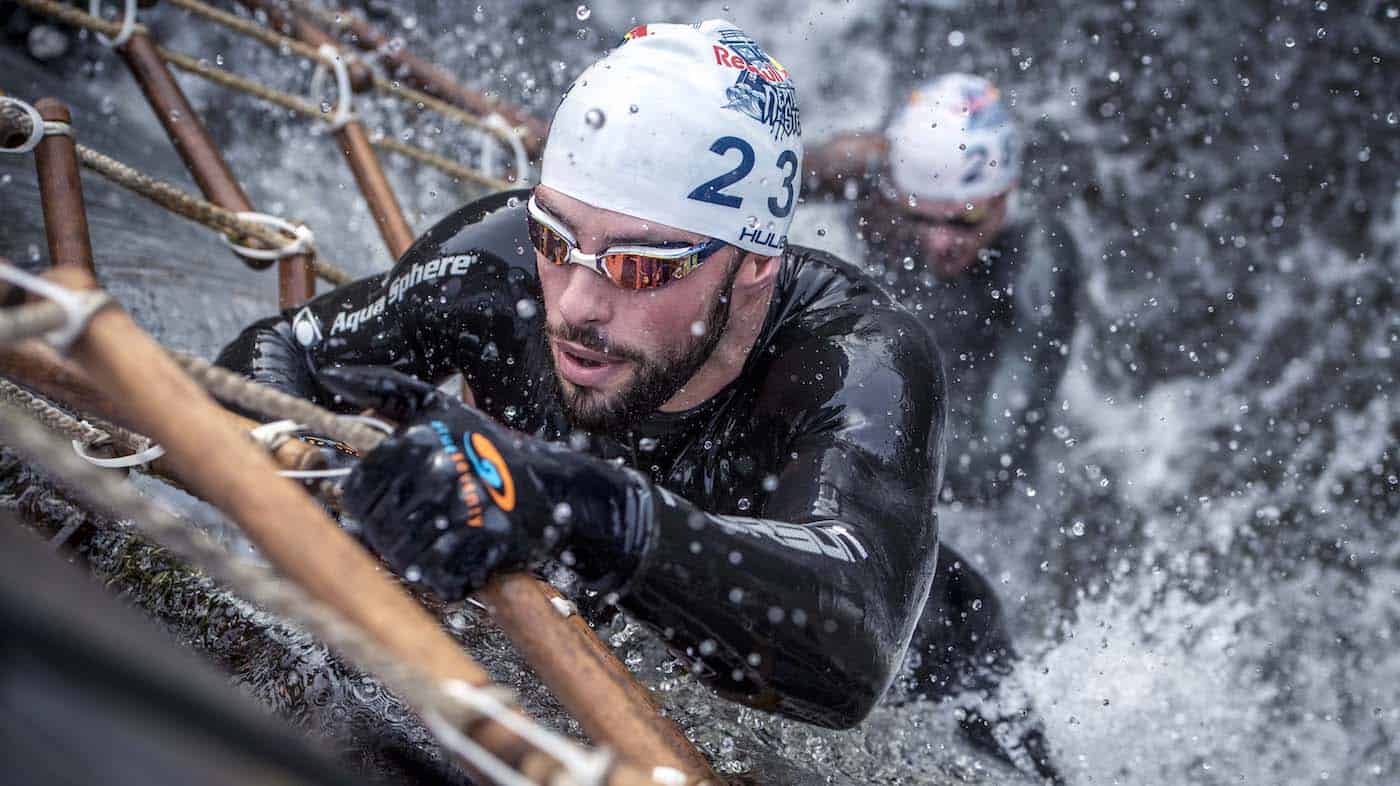 What tips do you have for warming up between rounds?
My heat was at 11am and then the semi-final wasn't until 3:35, so I got out of my wetsuit and back into dry warm clothes asap and then went back to the hotel to dry my wetsuit and relax before the semi-final.
Between the semi to the final I didn't have much time, so I left my wetsuit on with warm clothes over, including my QSW parka jacket, hoody, t-shirt and long sleeve and then trousers, shoes, winter gloves and a bobble hat.
Before each of my swims I did some land work to get my muscles warmed up and get the blood flowing, this included so high knees running, mobility work and push ups to warm all the main muscles up before racing.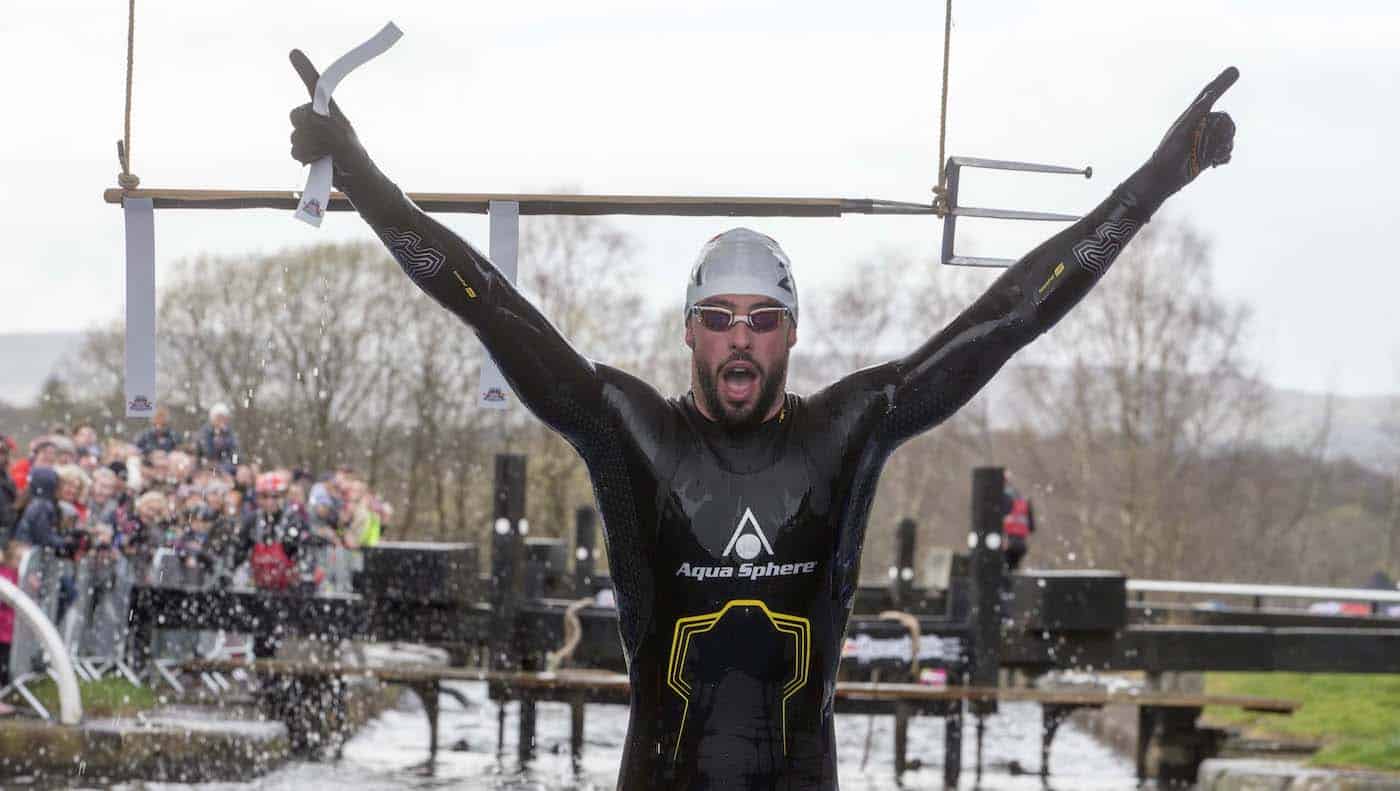 How was this year's event compared to last year?
This year I was nervous as I was going back as the defending champion, and I hadn't done anything like it since last year. This year I think the weather helped a lot as it was a lovely sunny day and the water temperature was up from 2 degrees to 8.5 so everyone was more positive and upbeat.
Will you go back next year?
There is a strong chance that I will go back next year. I would love to defend the title and be three-time champion. That has a nice ring to it!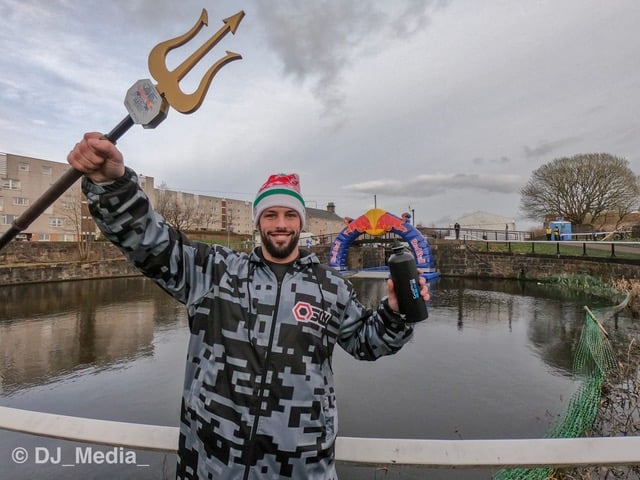 Dan Jones is an ambassador for QSW Custom Sportswear and was supported by Aquasphere at the 2019 Redbull Neptune Steps.