Q&A with Great Britain's latest IRONMAN 70.3 Pro race winner – Frankie Sanjana
It's taken a lot of effort and plenty of struggles to make it, but on Sunday, Great Britain's Frankie Sanjana crossed the line at the debut of IRONMAN 70.3 Les Sables d'Olonne in France to make her first visit to a Pro podium in 70.3 racing, the top step.
Quite a turnaround, as two weeks ago she was close to being rescued from the swim by safety crew at The Championship in Samorin, Slovakia.
I got in touch with Frankie to find out what happened there, how she has recovered from that – physically and mentally – and how the former Elite rower and strong cyclist, managed to win the race on the run.
---
We've seen a significant step up in your performances leading in to The Championship in Samorin. A big race, quality field, lots of coverage… and your race was over before T1. What happened there, and was that completely out of the blue?
I was hugely disappointed with my day in Samorin. I was a little concerned before the race with how I would deal with the very cold water temperature, especially given I had planned to use the practice swims in the days before the race and they were cancelled due to water conditions. I've previously found that getting into colder water than this, even once before race day, is sufficient for me to be prepared.
During the swim I was uncomfortable to start with but felt as though I was dealing with the temperature completely fine until I turned around the last buoy to come in to the swim exit. I suddenly had a cramp in my right calf that was so severe I couldn't do anything other than grab hold of it and scream! To give credit where it's due, a safety boat was with me in seconds, with one person in the water holding onto me and another holding onto me from inside the boat. I asked them not to take me in to shore in the hope that I'd be able to continue my race once the cramp eased. However, once I'd made it out of the water I found that I couldn't even walk, and quickly realised that it would be a stupid decision to attempt what would likely be an extremely poor finish, if I was able to finish at all, at a very high risk of more serious injury.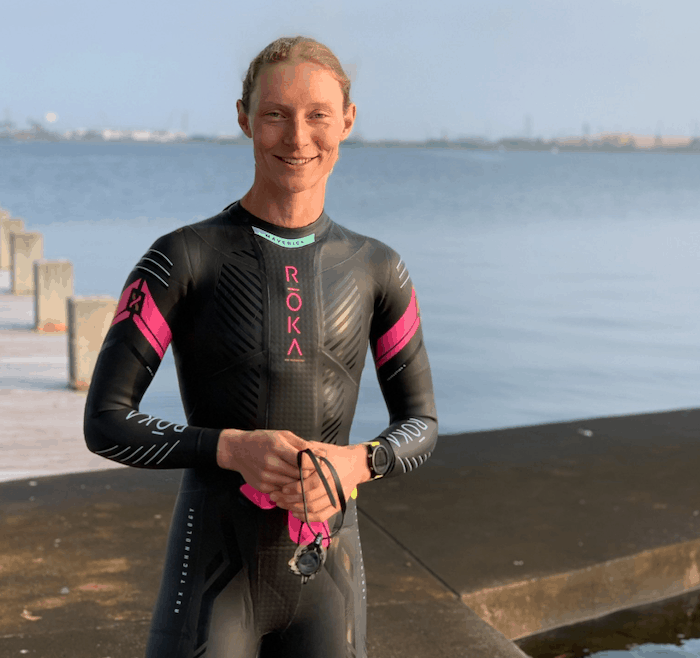 Aside from the physical recovery, was that tough to deal with mentally – and how did you do that?
It was quite tough mentally. I've only once experienced a similar cramp while swimming, and that was during an extended endurance set after a very hard build run, so with a more obvious cause. I still don't know exactly what caused this one, so can only assume that it was swimming in the cold water without sufficient acclimatisation. It has taken a while to settle down so I was nervous that it could turn into a longer-term issue.
How quickly did you turn your attentions to this race – and were you confident that those cramping issues would not return?
I was back on the spin bike in the hotel gym later that afternoon to try and help my recovery towards whatever the next race might be…. Steve Trew, my coach, and I then discussed what the plan should be. I was initially a little hesitant to race again so soon and I have to credit him with giving me the push I needed! We decided for sure on Friday, nine days before Les Sables, that I would race.
I wasn't at all confident that the cramping issues wouldn't return as both my calves had been a bit "twitchy" since the race. There still isn't a great consensus on the causes of cramp, so I've been doing extra stretching as well as taking on extra electrolytes. Once I am in a phase of training with fewer races I will also introduce some more strengthening work.
The race in Les Sables had a beach start, which I took very conservatively and was last into the water, but managed to catch two of the other athletes within the first few hundred metres and stay with them throughout the swim. I could feel my calves twitching slightly towards the end of the swim and so I took that last section of the swim, and T1, extremely cautiously, especially a steep climb up a ramp approaching the bike park, where I was almost walking rather than running!
You passed Jeanne Collonge on the bike who has some great results on her C.V. to put yourself right in contention at T2. How did the ride go for you?
Les Sables has a great bike course but similarly to other Ironman 70.3 races, the women's pro race was severely disrupted due to insufficient space between us and the men's age groupers. I chatted after the race with Anne, who was leading at T2, and like me, she had to sit up and brake multiple times to avoid drafting. When the entire women's race is passed by the male amateurs, that is a fairly clear indicator that there isn't enough gap.
Aside from that, I was still feeling very stiff after the swim, with tight glutes and calves. Until I passed Jeanne I (incorrectly) thought I was in last place and had resigned myself to the fact that it just wasn't my day, but decided that even if I was having a bad day for whatever reason, I would make the best of it. I kept my power conservative compared to what I would normally ride in a 70.3 (around 20 watts lower), and kept the cadence high, as well as getting out of the saddle on hills to try and stretch out a bit. This seemed to help and by the time I came into T2 I felt slightly more as though I might actually be able to run (!).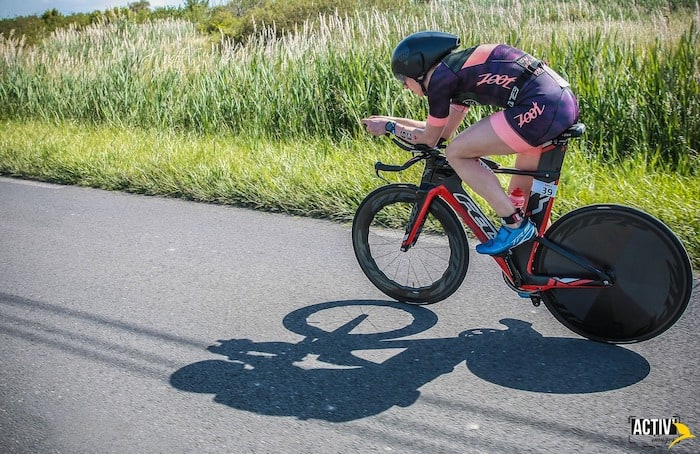 You were quickly in second place at the start of the run with the leader just a couple of minutes up the road. Were you aware of the gaps ahead (and behind), or more focussed on your own pace in the early stages?
I had no idea of the gaps at the start of the run, or who was ahead of me. It wasn't until I saw Ed, who gave me my position and time to leader, that I even realised I was in second place. The first section of the run is very technical, with slippery paving and then a few hundred metres on the beach, so even after that I was mostly focusing on staying upright and not rolling an ankle in the sand, rather than trying to gain ground on the leader.
The gap didn't change much initially, but at which point did you think "I can win this"?
Towards the end of the first lap I saw Ed again, who told me I was closing on Anne but needed to close faster. Up until that point I'd been focusing very much on running in control, mindful of the possibility that I could cramp again. I wasn't really conscious of a change in my pace at that point, but I'm told it was quite apparent from where Ed was standing!
I was hearing gap times from spectators and information points on the course at 50 seconds for a while, but this was around the half way mark and I knew the gap at the start had only been around two minutes, so I hadn't closed that much and assumed by this point that Anne would know I was coming and might well be able to respond. It wasn't until I heard a "thirty seconds" from a spectator that I thought, maybe I can actually do this! "Elle n'est pas loin" is my new favourite phrase!
You took the lead with about 5km to go – and seemingly safe from third place – what was going through your mind at the point? Were you calm at the prospect of not only a debut IM 70.3 podium, but a win?
As I took the lead I had no idea of the gaps behind me but was worried that third place could be closing, and I also wasn't confident that Anne wouldn't be able to come with me. I thought, even if I don't win, at least I've led a 70.3 for the first time! There's a slightly technical section at the far end of the loop, with some gravel trail and turns – nothing difficult, but the vast majority of my training this year has been on tarmac so I didn't want to push it too hard and risk falling or cramping. Once I was back on the tarmac section with about 3km to go, I started to think I might actually make it. I could hear them calling that I was going to win and was heading to the finish line, but it wasn't until I was grabbing the tape that I could actually relax and enjoy it!
https://www.instagram.com/p/By0zLBMCeUG/
I mentioned in the report that 'winning on the run' might be a highlight for you, as I know that is something you've had to work so hard at. How much satisfaction – and perhaps surprise – was that for you?
It was great to win on the run – as you say, it's something I have had to work incredibly hard on. It also gives me hope that I might yet be able to figure out swimming, where I feel as though I've been training very hard and with some excellent technical coaching for years, without having had a similar breakthrough. It wasn't a complete surprise as I have seen my times improving in training, but I was pleased that I managed to execute a solid run on a tricky course in very hot conditions.
A couple of minutes to go, you know you are going to win and can hear the finish area and soon see the blue carpet – what's that feeling like?
That feeling is incredible. I last won a (much smaller, local), race over five years ago and the memory of what that feels like has kept me going through all sorts of setbacks! Obviously winning at a larger, prestigious race such as an IRONMAN 70.3 magnifies it many times. Having Ed with me to see my first professional win also made it even better – he has been extremely supportive of my rowing and now triathlon career and gives up huge amounts of his free time for it.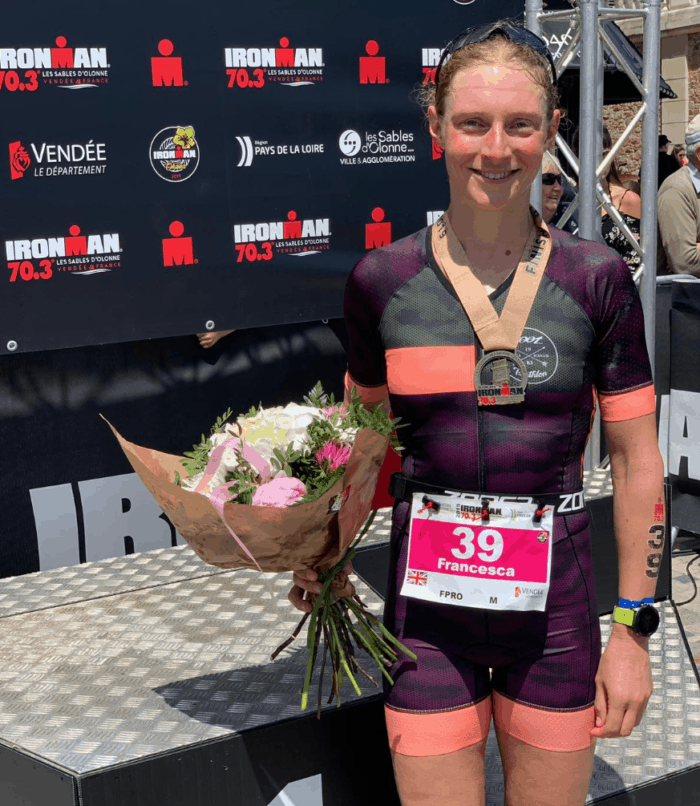 What's next for you?
We're still deciding! I would love to qualify for 70.3 Worlds in 2020 so I will look at races that might be a good opportunity for a slot, and I am also keen to race a full IRONMAN again at some point soon (my last iron distance finish was in 2016, after two years dealing with some fairly limiting injuries). I feel that I might eventually be better over the longer distance, but wanted to build a much greater foundation of resilience and speed than I had at that time before attempting that distance again.
You can follow Frankie's progress via: