"I absolutely love the training and the mental challenges it brings"
British Age-Group athlete Rich Whitfield is looking forward to his debut at the IRONMAN World Championship on Saturday. "It's like going to Disneyland for triathletes."
With a background in professional football, a chance encounter with a triathlon magazine at an airport eight years ago provided a new direction for the then retired footballer, who realised his desire for the 11-man game was over while in the middle of an F.A. Cup match!
His transition has so far included two sub-nine hour IRONMAN races and several appearances at the IRONMAN 70.3 World Championship, but he is confident that he still has room to improve in all three disciplines.
---
Am I right in thinking that you have a high-level football background? Can you tell us a bit more about that?
Yes, I played from the age of five until I was 27. I played Pro until I was 20, then Semi-Pro to 27. I played for Preston North End and York City. Now, when I look back, I didn't really want it enough – I relied on my ability too much and I wasn't really committed. Also I struggled with it going from playing with the lads to it becoming my job.
How did you get from Football to Triathlon, and when did that start?
The last two years I was basically playing for the money. A good friend's father had got cancer and he asked a few of us to raise money for Teesside Hospice. We all entered Great North Run. I played 90 minuets on the Saturday and then went and ran the GNR on the Sunday. With the great atmosphere I set off like I was playing football; I got to about 9-miles and then completely fell apart. Not too bad, given I played 90 minutes the day before. That really got me thinking about a new challenge.
I played another game on the Tuesday night in the F.A Cup. It was pouring down game was going into extra time and I stood on the halfway line and thought… I'm done. I've never played since then, that was nine years ago.
We were taking our kids to Disney in the summer of 2010, I was in WH Smith's in the airport and I picked up a triathlon magazine. I'd never heard of triathlon. On the plane out I sat and read it from cover-to-cover and from that point I was hooked.
My first race was the London Triathlon. I rented a wetsuit, I had a large kids road bike, running trainers and not a clue what to do. I remember waking up at 4am and having a sandwich for my pre race meal.
I went 2.06 for my first Olympic Distance race, passing lads on TT bikes. I ran 36 mins for the 10k on zero nutrition; I basically went as hard as I could go for as long as I could and it seemed to work.
I remember riding along thinking this is the coolest thing I've ever done. I was fully hooked from that point.
Was IRONMAN on your triathlon radar from the start or did that come along later?
Yes 100%. My second triathlon was 70.3 Wimbleball and I qualified for Clearwater. My third race was IRONMAN Frankfurt where I went 9.20.
I absolutely love the training and the mental challenges it brings. I train on my own and you have to be 100% committed, it would be so easy to miss a session.
I see from your Twitter profile you've gone under nine hours twice. There's not too much scope for weaknesses to achieve that, but how would you assess your strengths / weaknesses across the disciplines?
There's loads of room for improvement and I'm still chasing that perfect day in IRONMAN.
I believe I can swim four minutes faster than the 58 I normally swim. I swam 58 in Arizona (wetsuit) and then swam 58 in non-wetsuit last week at the Training Swim. I have made some changes to my swim training in the last 10 weeks, maybe it's down to that why I'm swimming faster.
Bike wise I did 4.35 in Arizona. Most people think it's flat, but it's anything but flat. I still think I can ride faster.
I ran 3.20 in Arizona – I know I can run three hours in an IRONMAN. I had just four weeks of consistent running pre Arizona, due to injury, which is nowhere near enough running for IRONMAN. I paid the price for that in the back end of the marathon. It really, really sucked!
Across all the three sports I can improve.
Everyone keeps saying! "you must be over the moon with the performance" Not really, disappointing swim. Embarrassed with the run! #kona pic.twitter.com/60ISDkxH9h

— Richard (@rich28whit) December 1, 2017
I believe you are coached by Matt Bottrill. How key has that input been into your progress as an athlete?
I contacted him last August time. He emailed back within and hour and said we need to talk. I told him where I had been and where I was then. He said "I'll have you flying!", I loved that.
I told him how my last three years of racing had gone (terrible!), despite having started out in triathlon really well with two 70.3 World Champs qualifications and gone sub-9 In Copenhagen. I started to disrespect the distance and believing I could just turn up and win races.
Work had gotten really busy, family life even more so with three kids and running a business. Trying to squeeze training in, It didn't work.
Matt's been fantastic – the way he trains is how I like it, hard but sensible. We made changes to my position as soon as I came back from Arizona and hopefully I can show that in Kona. If you look at the Pro athletes he's coaching it speaks for itself just how good he is. Most of all, he's a top guy.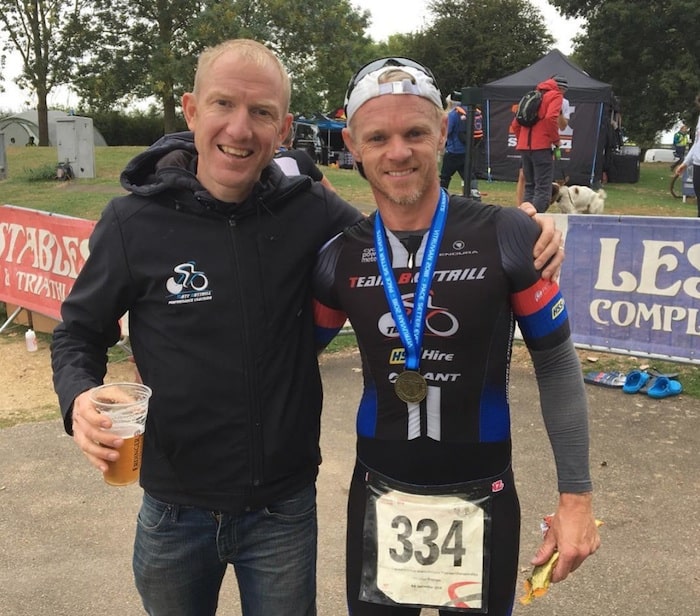 What's the day job for you, and what's a typical weekly training that you fit around that?
I have a building company. This winter has been difficult as I have been building a house for myself. I closed the books for six months which meant zero training! That was the reason I picked Arizona, I wanted to bag my slot to Kona early. I started back training mid-July, just after we moved in. I've had a really consistent build to Kona, I've probably averaged about 16 hours for the last 10 weeks. Some 20 hour weeks and some 10 hour weeks with a Middle Distance race at the end.
This is your first time in Hawaii I believe – with those times, is it the first time you've qualified too or have you passed up the slot previously?
First time in Kona and the first time I've qualified. The year I went sub-9 in Copenhagen I raced in the Pro field. I finished 11th and got chicked by Daniela Ryf. I couldn't see the point in continuing racing in the Pro field. Finishing 11th is taking part and really only good enough to race Age-Group.
How is the Kona experience going so far for you and how does it compare to your expectations?
it's unbelievable and everything I thought it would be. It's like going to Disneyland for triathletes. The history of the race and Kona itself is magical!
I've listened to every podcast going and watched the race for the last eight years. I know every road, all the coffee shops. I feel like I've been here five times before. I'm already planning my next trip!
https://www.instagram.com/p/Bor2exBD8DN/
You did 58 minutes for the IRONMAN Training Swim on Saturday – happy with that?
If someone had said to me you'll swim 58 in the Training Swim before the race, I would have snapped their hands off. But, I swam awful. I spoke with my swim coach (Keri-Anne Payne), before the race and she said "I want you to learn something about the race", ready for the Big Dance. I certainly did that!!
I started on the right hand side and got absolutely smashed!!!! I got stuck in the middle of two packs, the place she told me NOT to be. I drank half of the Pacific Ocean. At one point I had to sit up, sort myself out, then go again. I lost two packs, not because the pace was too strong, just bad race tactics from myself. Something I've learned in perfect time for Saturday.
Do you have any particular targets for the race on Saturday?
I do have a massive goal (which I'll keep to myself for now!). I really want to have a solid race and get to the finish line. I'm planning on coming back next year (obviously need to qualify), so I'd like to learn about the race too.
Have any of your previous long distance races been in hot / humid conditions that you are likely to get on Saturday?
I raced 70.3 World's in Vegas; non-wetsuit swim, hot dry bike and 39 degrees on the run. I don't remember thinking it was too hot, but as everyone knows 70.3, is half the distance… but it's not really. Everything in IRONMAN is magnified. If you don't follow your nutritional plan it's game over. You can get away with it in a 70.3.
A few days away now – are you more nervous or excited?
Excited! I can't wait, I've watched this race for years… now I'm actually racing it. Like Sebi says, "It's the only race where you want to be watching and racing at the same time".