"I'm looking to three-peat at the Outlaw Half Nottingham"
At last weeks Triathlon Special at the Giant Store St. Paul's, we spoke to long-time Tri247 contributor, Karl Alexander. A member of the UK ERDINGER Alkoholfrei team, Karl was on hand all evening to keeps all the attendees refreshed through the evening!
A specialist over the Middle and Long distances, the Outlaw series of triathlons from OSB Events has become the central pillar of his season – and will be once again in 2017.
Last year Karl retained his title at the Outlaw Half Nottingham after an epic race against Simon George, Karl only taking the lead practically in sight of the finish line. Check out the picture below for evidence… He will be back, and he wants to win it again!
Check out his interview above to find our more about his plans for 2017 and what he has been up to over the winter to be fitter and faster than ever before.
For more on the Outlaw Triathlon events, visit www.osbevents.com.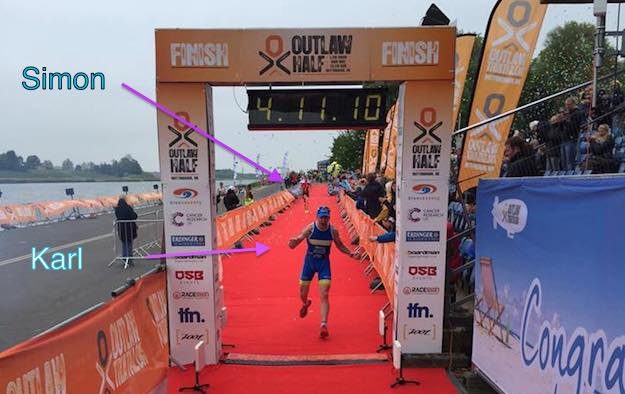 You can re-visit our report from the 2016 Outlaw Half Nottingham HERE, and read Karl's own words from his perspective HERE.