A chat with the new National 50-mile Time Trial Champion
Just under two years ago I spoke to Kate McNeill (as she was at the time!). A GB Age-Group triathlete with ETU Middle Distance Bronze and Silver medals to her name, Kate had started time trialling and immediately found a talent for it, then quickly signed up by the Drag2Zero team.
Two years on, the now married Kate Allan – with the addition on young Finlay to the family – is now a National Time Trial Champion, having won the 50-mile Championships on Sunday. She's made huge progress since we last spoke (check out the changes in her PB's below), and believes she still has much more improvement to come too.
Find out how she has managed to balance it all – including some great tips on balancing pregnancy, motherhood and top level sport.
---
So Kate, it is almost two years since we last (formally!) had a catch-up, at which point you had joined the Drag2Zero team to focus on TT racing. Before we even mention sport, you've had some pretty big changes – not least a new name and becoming a Mum! You've been busy?!
That's one way of putting it!
I found out in October 2015 that I was expecting a baby, a 'shock' to say the least, but nevertheless the most wonderful news. Once I'd digested it that was. Having a baby hadn't been a part of my 'life plan', so-to-speak, so the reality of it took some getting used to.
We got married the following month, and announced that we were expecting at the speeches, seeing it as the perfect opportunity to share it with our closest friends and family.
Needless to say life has changed completely since then, and I under-estimated how much so.
We'll go on to your current performances shortly, but how did you manage that who process of pregnancy / motherhood while still 'training" and getting back to racing – and better than ever?
While pregnant I couldn't comprehend the idea of becoming inactive, my sport helps to define who I am, and since I am so used doing it, I determined that I would be doing more harm, than good, if I were to stop.
I took advantage of the mental and physical break from the demands of a structured and regimented training program and I actually really enjoyed training through pregnancy for this very reason. It was fulfilling in an altogether different way, even if my cycling 'gait' did leave a lot to be desired in those final weeks!
As a new mum, I took things really slowly, especially having had an emergency C-section and spending four weeks in hospital with Finlay, who was born eight weeks early. The emotional and physical impact of this meant I faced a slightly longer recovery time, and I took the full six weeks off completely, before easing myself back in incredibly slowly.
I was in no rush and I think ultimately this is what has helped me to come on so well, I listened to my body – and used my new strengths as a new mummy to my advantage.
What tips would you pass on to new mums in similar position?
Ooh there's lots!
Accept that it is going to be a tough ride, but don't try to fight this or plough along in a haze of denial. Take each day at a time, and don't put undue pressure on yourself.
Keep focussed, take help when you are offered it – I was proud to begin with, and wanted to do everything myself. This only has a certain lifespan to it, and it's important to use your support networks.
Eat and drink well – you're tired, with a routine out of whack with very limited control on what is going on around you. I started working with Alan "Performance Chef" Murchison (www.performancechef.com), which has been a lifeline throughout – enabling me to prepare easy, tasty and nutritious food.
Drink lots of water too, especially if you're breastfeeding,
Was getting back to top-level competition always your objective? Did you have doubts along the way that you could – either physically or mentally?
No – I didn't want to put pressure on myself, so I kept my aims very loose, not knowing how I would feel, or indeed how my body would respond. Having a baby is such a big life changer, and I don't think it's possible to know what your response to it will be like until you are there.
I've had lots of wobbles and there are days where I do question if I am going to be able to keep it all up.
I've taken a semi-relaxed approach, putting targets and goals in place, but trying not to beat myself up if I don't achieve all of them.
What does training look like for you now in terms of content / hours versus your 'triathlon' days? I would guess that being able to do a lot indoors (turbo / watt bike etc.) is both specific and very practical for you, looking after Finlay?
I don't do anywhere near the volume of training that I was doing when I was a triathlete. An average week probably involves 7-8 hours in the saddle, much of which is indoors, with most sessions being between 60 and 90 minutes. I'm coached by Matt Bottrill, and I follow everything that he sets me religiously, simply adjusting intensities or moving sessions around where necessary.
As a triathlete I was training for 20 hours a week on many occasions, and enjoyed annual training camps where I lived like a pro for a week.
I find my new way of training is far more effective – the only thing I struggle with is recovery, as I often have to finish a hard bike set and jump straight back into being a mummy. Finlay is on the move now, which is exhausting in an entirely new way; it's hard work keeping up with him!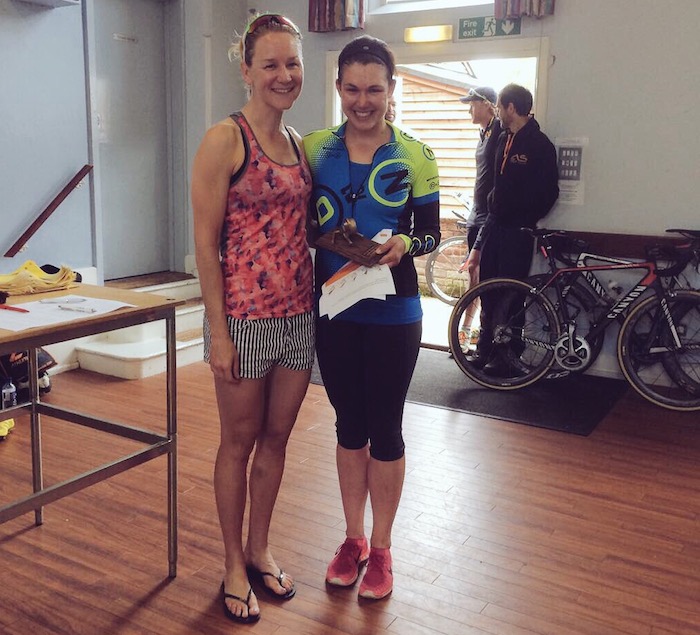 You've done some great times lately over a variety of distances – do you have a 'favourite' distance, or one you feel most suited to?
In all honesty, I don't know where my strength lies just yet, my endurance base is strong from long-distance triathlon, which means I have adapted well to the 50 mile distance, but I've not tried anything beyond that so time will tell!
I would say that my current PBs are all pretty similar, with no real strength showing in any one distance. Although I am yet to ride a fast 50 mile race, and have never tried a 100 mile event, so that may all change.
Kate McNeill Personal Best Performancs – as at 24th July 2015
| | | | |
| --- | --- | --- | --- |
| Distance | Time | Miles/Hour | Km/Hour |
| 10 Miles | 00:22:08 | 27.11mph | 43.62kph |
| 25 Miles | 00:56:28 | 26:56mph | 42.74kph |
| 50 Miles | 01:58:36 | 25.30mph | 40.70kph |

Kate McNeill Personal Best Performancs – as at 27th June 2017
| | | | |
| --- | --- | --- | --- |
| Distance | Time | Miles/Hour | Km/Hour |
| 10 Miles | 00:20:25 | 29.39mph | 47.28kph |
| 25 Miles | 00:51:51 | 28:93mph | 46.55kph |
| 50 Miles | 01:51:03 | 27.01mph | 43.47kph |
What have been the keys to your progress as a TT'er?
Namely, my fabulous support team.
My long-suffering hubby Rob, who insists on joining me at all my events with Finlay – regardless of what time they start, or how far away from home they might be. He also gives me frequent 'pep talks' as I am inclined to flap, especially when Finn is poorly or I am really down on sleep. I could not do it without him.
My mum also travels down from Shropshire (200 mile round trip) every week to help out for a day, and my friend Nicki (Petitt) – Finlay's Godmother – has stayed with us on many occasions, watching Finn whilst I do my bike sets and keeping me company on tough days.
I'm also fortunate to have the help of many others:
Simon and Natalie at Drag2Zero have worked with me to ensure my position on the bike is dialed in, and I have spent many hours with Simon, and also in the wind tunnel, getting this nailed. They have also helped me get set up with the best kit, which combined, have both helped my performance considerably.
Alex and the team at Drummond Clinic have helped keep me in good condition, I called Alex two weeks after Finlay was born to seek his help and they have supported me ever since.
Bob at CyclepowerMeters has been a hub of support and knowledge, and helped me get set up with some power pedals on my new bike, always being on the end of the phone/Facebook messenger when I need help.
And as previously mentioned, Matt (Bottrill) has worked me hard, and Alan (Murchison) has made sure I'm fed well!
So all in all – a lot of people have believed in me, and that in itself has been a real motivator for me throughout.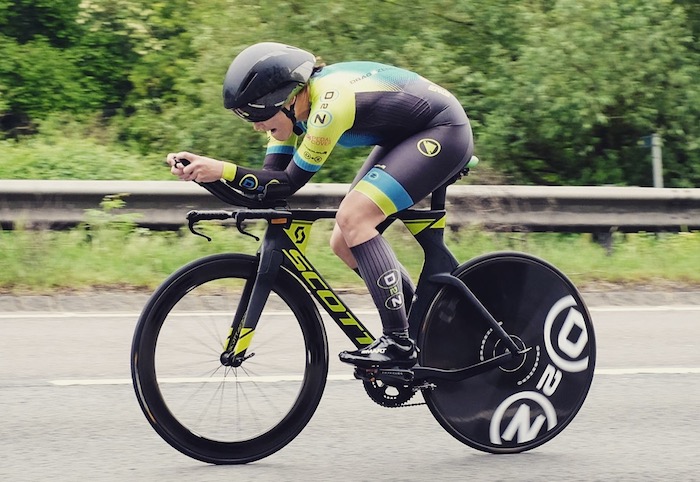 Given how far you've come in such a short time, do you feel you still have a lot of improvements & faster times to come?
Yes absolutely – I feel as if I've only just tapped into the surface of what I am capable of. This winter has been really tough, Finn has had back-to-back bronchiolitis and this has been incredibly draining as it's resulted in many days of lost baby care and in turn, bike sets.
I'm not sure I'll ever have a long run of consistency ever again – but as the summer months are upon us he's getting stronger.
Any key aims for the year – the National Champs started at the weekend with the '50' – will you be racing that and the 25 / 10 etc.?
Following on from a good result at the weekend's National 50 mile Championships I hope to also race at the National 10, 25, and 100 all going well. I was gutted to have not been able to make the recent British Cycling Championships, but I could not afford to take the time off work – and the logistics/costs getting over there with Finlay in tow was never going to work.
My first National title at the @Cycling_T_T 50 Mile Champs. Great to share the podium with @drag2zero team mate @alicel6958 & Katie Greves. pic.twitter.com/Y6S9hTdRIs

— Kate Allan (@KateAllan16) June 25, 2017
Given your success and new 'family' life, any plans for a triathlon return at any point?!
I would love to, but that will not be for the foreseeable as I am really enjoying my first proper season as a time triallist, and am very motivated to see what I can do with it.
I will certainly go back to it eventually, you get such camaraderie from a triathlon event. And they tend to make for a good excuse to get out to sunny foreign destinations! Road-tripping the UK's fastest dual carriageways somehow doesn't quite match it…