Meet Lewis Eccleston, a youngster with big ambitions for the IRONMAN World Championship
Continuing our countdown to the 2017 IRONMAN World Championship on Saturday 14th October, my latest interview is with Lewis Eccleston from Manchester Triathlon Club.
The winner of the 18-24 category at IRONMAN UK – by huge margins – in both 2016 and 2017, this year Lewis accepted the Kona slot and will be making his debut on the Big Island. After a great season, he is another British athlete with podium potential.
---
Lewis, you are still (in Ironman terms) very young, and producing some great results – what's your sporting background, and how did you find triathlon?
I did my first triathlon back in 2012 where I finished mid 20's in a sprint distance triathlon and loved it. Before this I played football from a young age then in 2011 when football faded out for me, I decided to have a go at the London Marathon where I finished in 3:59:19. I was really happy to go under four hours. This was the hardest thing I had ever taken part in I thought at the time, that it was an amazing achievement to complete a marathon.
I was and am always fascinated by top athletes who inspire me and love to watch how they go about their business and try to apply that to my training and racing.
Looking at your ITU results profile, it features all Sprint races – when did the 'I'm going long' bug kick in?
When I started getting into triathlon seriously I did a lot of ITU GB age-group and shorter races only because it was all I really knew about and didn't know much about triathlon and what other races there were out there.
After I won a number of European medals at triathlon and duathlon, I had ticked a lot of goals already that I set out in my first couple of years and started looking at other challenges and things to motivate me to keep training hard. I only did one Olympic distance race before I decided to step up to a half distance. I just love to train so this was never an issue for me. I soon realised I could do well at the longer races when I finished only a few minutes behind some big hitters on the age-group scene.
Despite the distance, your Powerof10 profile suggests you are still improving speed wise too, with another 10km PB earlier in the season?
I think the short, fast races I did starting out really helps to build up a good speed base. A lot of people think if you start racing longer you don't need to do speed, but it is a really important part of my training that I still do and that is why I am still able to run 5k and 10k PB's while training for Ironman.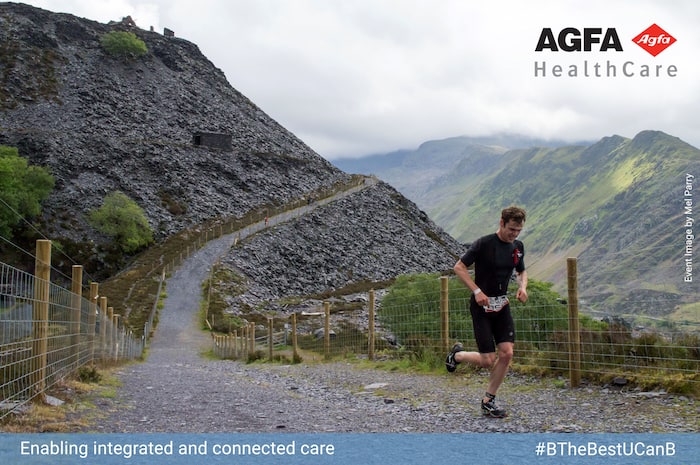 You won your category (20-24) at IRONMAN UK last year by 37 minutes – but you didn't take the Kona slot as, I'm told, you didn't feel you were ready. What was it in particular you wanted to do, before considering racing in Hawaii?
When I did my first Ironman I decided to focus on just completing the race and from very early on decided that even if I qualified that I wouldn't go to Kona, mainly because IMUK was my first one and I wanted to get some more experience in training and by racing the distance. At 23, I didn't want to rush things, I knew this wasn't going to be my last Ironman.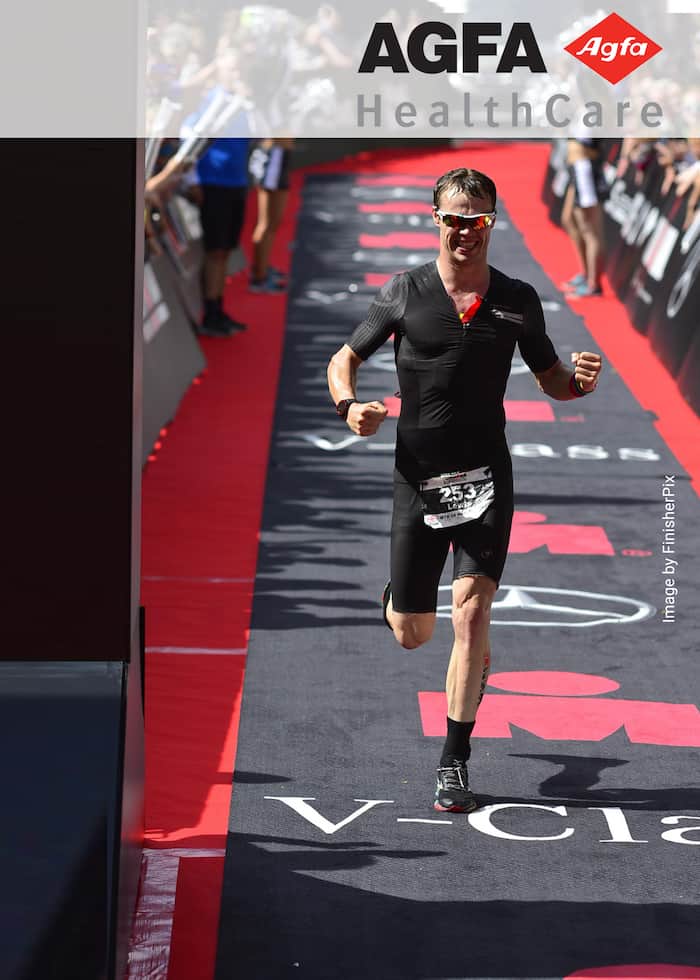 You raced (and won) the 20-24 division at IRONMAN UK again this year – by 50 minutes this time. Was Kona always the target this time around?
I loved the whole experience of training and racing at Bolton and couldn't wait to do another Ironman, so pretty much straight after the race I very quickly decided that if I continue to train over the winter I could have a go at qualifying for the Ironman World Champs in Kona.
You recently won a very close race at the Sundowner Triathlon in what looks like a very close battle all the way through with Brian Fogarty. Can you tells us a bIt more about that?
Over the last few months training has been going really well after IMUK, so I was looking forward to the Sundowner Triathlon. I approached the race no different than any other – I don't complicate things, I swim as hard as I can, I ride to my power and run as hard as I can. I think the outcome of the race just reflects the training that goes in that nobody else sees.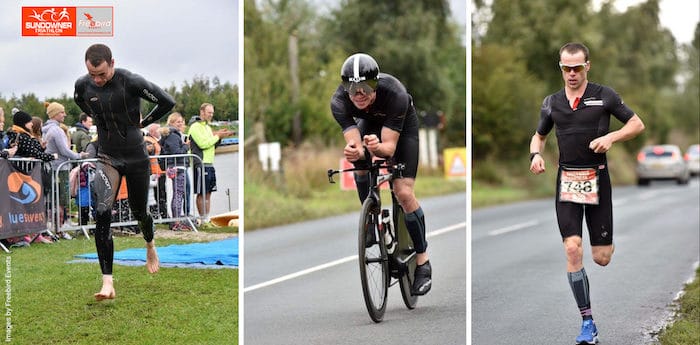 Given the form that Brian has been in all year – fourth overall at IRONMAN UK included – that must give you a massive confidence boost in terms of your fitness, four weeks out from Hawaii?
The result at Sundowner obviously gives me confidence going into Hawaii, but I know Kona is going to be completely different, and more than any other race I will have to swim, bike and run to what I know I am capable of and stick to my numbers. If the end result puts me in first or last in my age-group, that is the outcome of my efforts. There is nothing more I can do.
As you are still relatively new to the sport, is anyone guiding you in terms of coaching / your training programme etc.?
From early on when I started racing I was taken under the wing of Paul Savage, who still coaches me now. Looking at previous results, Paul and I work very well together. I've also been training with Manchester Tri Club for about three years now. It's an amazing club with quality coached sessions; I'm lucky to have such a good club and people to train with on my door step.
As a first-timer in Kona, a race that regularly spoils the dreams of many debutants… have you been able to call upon advice / experiences of others who have been there before?
It's good to have Paul as my coach as he has been and experienced the race out in Kona so is able to pass on lots of key information about the race. We have looked closely at other people's previous results and data from the race, and this has helped us with our plan of attack. I've also been working with Manchester Institute of Health and Performance over the last couple of weeks, which has helped prepare and given me confidence going into the race. I arrive in Kona 10 days before the race; I planned this into the trip so I can have some good time to train out there and acclimatise as much as I can.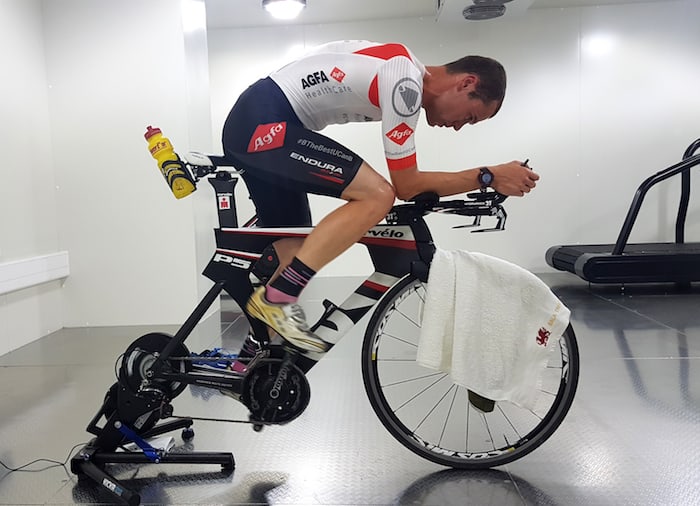 Do you have have targets for the race – your times, albeit in very different conditions, would suggest that a podium finish (top five) in your category is within your physical capabilities?
Going into Kona, on paper I know I am capable of a 9:30 and looking at my age group over previous years, this would give me a podium position. But, it's easier said than done out there as I know it can go bad very quickly. All I can do is swim, bike and run within myself and whatever the result, is the outcome of my efforts.
What is the 'day job' for Lewis?
As my day job I'm a builder. I work every day and a lot of the time I'm up at 6am and getting home at 6pm. I think my job helps me a lot as it's like a circuit set every day. My training takes up all the spare time I have, but I love it.
What are you most looking forward to about Kona?
I'm looking forward to the whole experience out in Kona, but especially testing my self control and trying not to blow up in the Kona heat and testing myself on the world stage. I have to say I would be a lot more confident if we were racing around the rough, wet, pot hole ridden roads of Rivington where I could race to my limit… but that's not the case. I have to go out to Kona and race accordingly.
Have your results and performances been able to attract any sponsorship/support for you triathlon ambitions?
Kona qualification and my continued success has led to sponsorship of Agfa HealthCare which has really helped me with my Kona preparation, awareness and promotion. I am really fortunate for the support of AGFA and hope to make them proud to be supporting me.