"I gave it my all… there was nothing more left to give"
10 days ago, Great Britain's Lucy Charles-Barclay finished second, for the third consecutive year at the IRONMAN World Championship in Kona, Hawaii. After leading the race for over seven and a half hours, she was passed by Germany's Anne Haug in the Energy Lab, with 10-miles of the run course remaining.
The morning after that I was able to speak at length to Lucy, to get her take on the day, one which has left her with even more motivation for future years. This is how it all played out from her perspective… along with an added bonus of what really provided the extra motivation to fight back for second place in the final miles of the marathon!

---
What's the over-riding feeling and emotion from your race at Kona this year – happiness with your effort, or disappointment with finishing second?
"Overall, I'm proud of my performance. The game plan was to go out there, to roll the dice and see if I could get the win. There were definitely times when I thought I could have that win… but there were also times when I wasn't sure if I could finish, I was so broken.
"I'm somebody that always wants to win, so there is disappointment of course, but the state that my body is in today, it's pretty much telling me that I gave it my all and there was nothing more left to give. To fight back and get second in the end, I'm over the moon with that."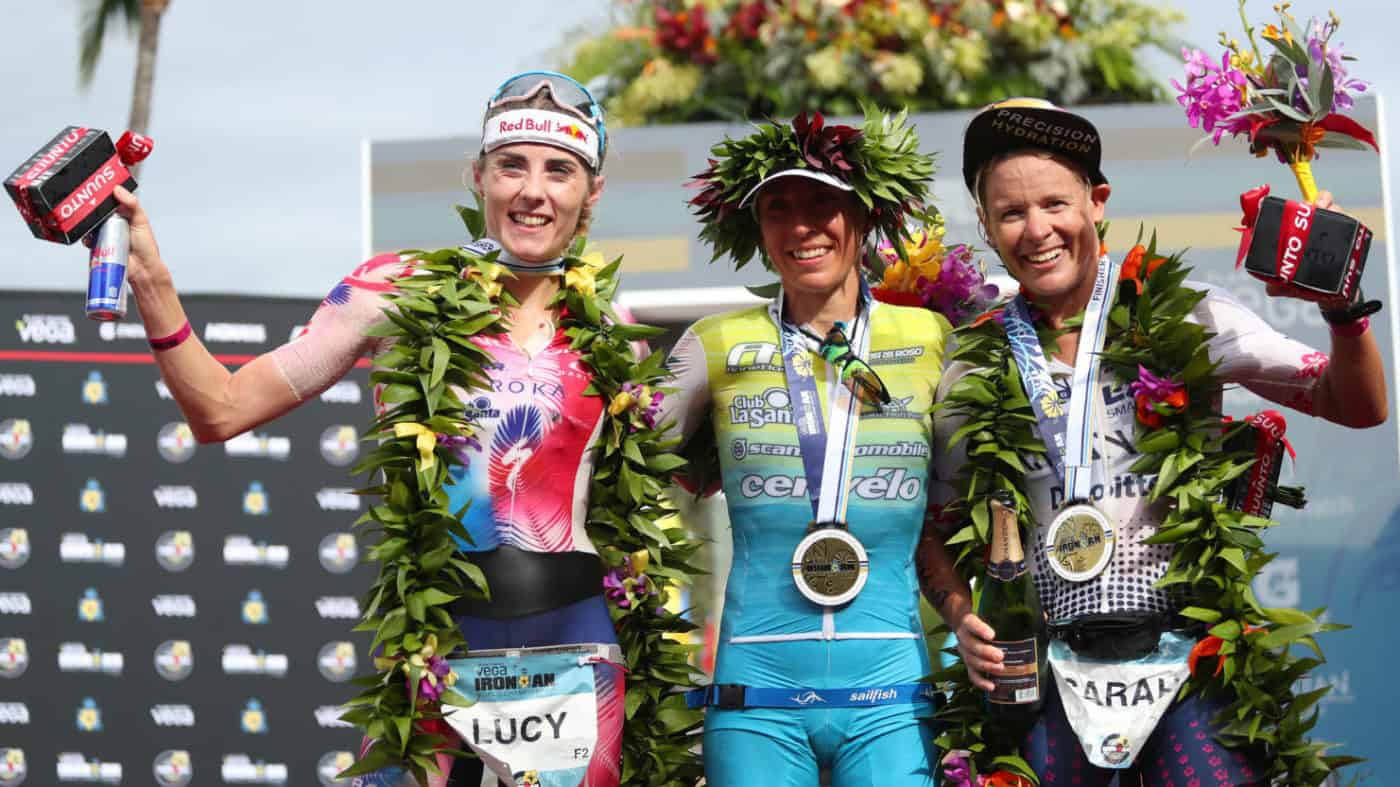 The tough parts of the race and those feelings of doubt – were they during the bike, or just during the run?
"Only on the run. On the bike I felt so strong, I've never felt so strong on the bike before. I felt really in control and usually in Kona, 30 or 40km to go feels a long way and I just want to get off the bike… but I felt like I could have kept on going, I felt really strong physically and mentally.
"Once on the run I was getting cramps in my legs with the first kilometre. I managed to get some more nutrition in and fend that off, but it definitely came back to bite! Kona is so, so tough that everyone has to deal with issues at some point during the race, but I must have overcome something to be able to fight back at the end."
What was the race plan – following a power approach on the bike / go on feel?
"We had a few game plans for the bike and it was all going to be dependent on what the gaps were at Hawi and where I was positioned. I had my own power targets, but I was also watching my heart rate as particularly in these conditions, power isn't the most reliable number to follow. Once I got to the turn I realised that the gap hadn't really closed to the girls and that I was riding well. On the descent I actually gained some time and that was a great confidence boost.
"With 40km to go i took on some Red Bull that I had in my bike frame and went for it. I'd had haunting nightmares of Daniela coming past me in previous years at that point, so I pretty much did a time trial over that final section to try and have as much gap as possible at T2. I thought that coming in to T2 with a lead would change the game a little bit. I think I had an eight minute lead and was feeling really strong by that point."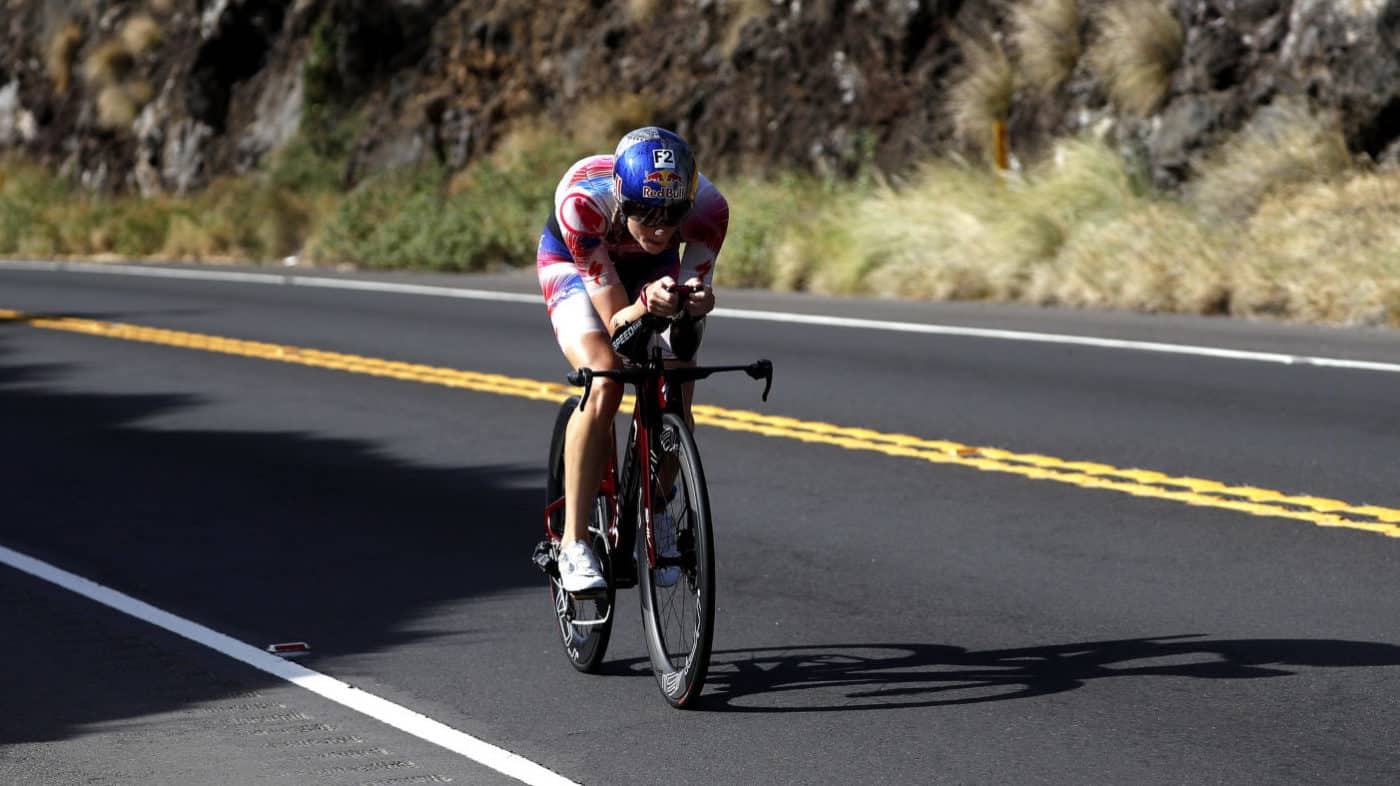 Everyone was building-up a 'Daniela versus Lucy' race, almost to the exclusion of everybody else – despite the quality of Anne and others. Were you able to ignore that, as you'll be well aware of the depth of talent beyond just Daniela?
"Definitely, this is the World Championship and I know the standards of these ladies. I know Anne Haug, I've raced her quite a few times before, and you know that when you are out on the bike that she's not a lady that you want near you… because she can run! So yes, while it had been hyped up as the Lucy versus Daniela race I knew there was plenty of strength out there and would always be a race of tactics because of the strength of those women. Anne raced so well in Copenhagen, I knew she would be a threat on that run. The way she was closing that gap on the run from the start, I knew it was going to be tough to hold her off. It was a good battle!"
The depth of quality seems to get better year-on-year. Looking at the top 10/15 bikes splits, they were almost all within around 10 minutes of each other, leaving a perhaps 8/10 athletes coming off the bike and feeling like they were in contention of the podium at that point.
"I think the women's race is beginning to evolve and becoming more like the men's race. It's a lot more tactical and the standard is rising every single year. I think everyone has been inspired by the level that it is now at the pointy end and now that if you want to contend for the podium, that's the level you need to be racing at. It's exciting and that's obviously great for women's sport as well. It's only going to continue to progress and improve."
Before the race you spoke quite openly about your increasing confidence with your run – and with good reason, based on the consistent improvements in your iron-distance races. I noticed you also did a very quick parkrun (16:25) just three weeks before the race, when you must have been in heavy training. While a parkrun is not an IRONMAN… was that a significant confidence boost in your run progress?
"It has definitely been a focus of ours to work on the run this year. When I did do that parkrun I was in one of my last big weeks and I knew that I had my second to last long run to do the following day, so I was only actually supposed to be going there and 'doing' the run relatively easily, but I felt so good that I pushed on from about the 2km mark and thought that I could actually do a pretty good time.
"That was a real confidence boost and I know that the run I did in Kona this year is not a reflection of where my run form is at. Kona will never be the course to put down your best marathon – unless you are Anne Haug, perhaps! – but the pace that we've been seeing for my long runs in training indicates that I'm only going to improve. The way I've been training, a three hour run should have almost been a jog for me, but Kona doesn't always allow that. I think that's where any disappointment is, that I didn't produce the run that I know I'm capable of."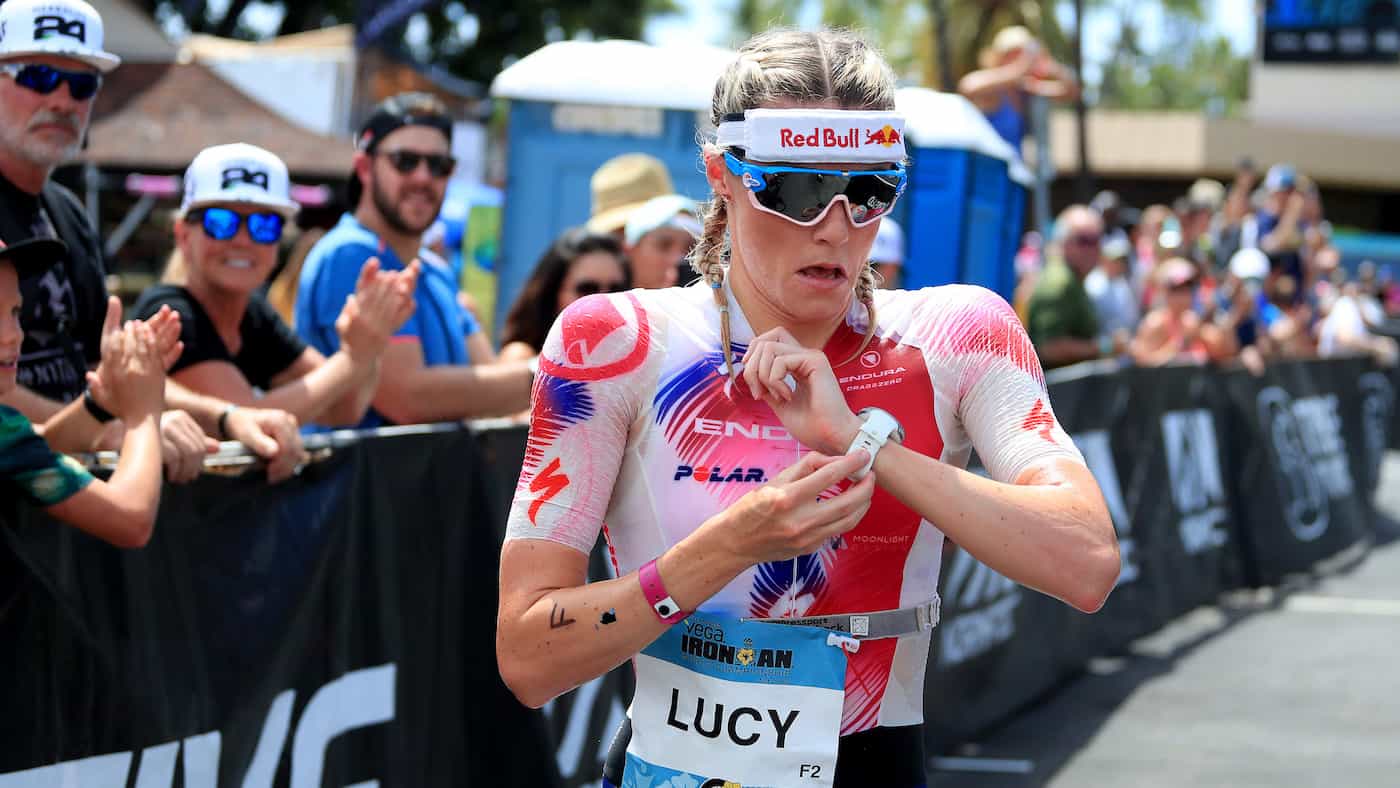 The cramping issues so early – is that something you've had before?
"It was a surprise to have it so early. Maybe I could have got more fluids – or electrolytes – on board on the bike. Certainly my energy levels on the bike were great, which was good. I had that caffeine with 40km to go on the bike and that really helped, and this year we've really worked on the nutrition strategy, but sometimes when you are in the race it can be hard to make sure you've got those extra electrolytes, so maybe that was why the cramps kicked in earlier. When you are racing at that level, in Hawaii, these things are going to happen. We'll go away, look at what I did and see if we can improve further on that as definitely I would have run quicker without those cramps!"
Nutrition is so key to Ironman racing – what is your general approach to eating and drinking through the day?
"This year we've worked hard at understanding my sweat rate on the bike, and really looked at how much energy I would need and the electrolytes I would need to replace based on the sweat loss. As I ride the Specialized Shiv, I can actually carry all of my sugar-based energy source on the bike; five hours worth. That was really good as I didn't have to worry about getting that from the aid stations. I just carry electrolyte tablets and make sure I've getting one per hour of those. I carry Red Bull onboard too in my bento box, stored in little vials so I was able to take those when needed. I knew that if I started feeling a little flat, or wanted to attack – which I did with 40km to go – then I would take it then. That was the first time that I'd had caffeine during the race and it worked really well.
"On the run we are lucky that we get dedicated Pro aid stations, so we can can be a lot more specific with our run nutrition. I had small hand-held bottles which contained a bit of sugar and a bit of electrolyte to keep me going and that definitely saved my legs I think. Taped to those bottles I have another small bottle which is a Red Bull and water mix, so basically I'm able to get everything I need – and from the other normal aid stations, I'll take whatever I can get at that point, pretty much! That's normally ice and water to keep cool."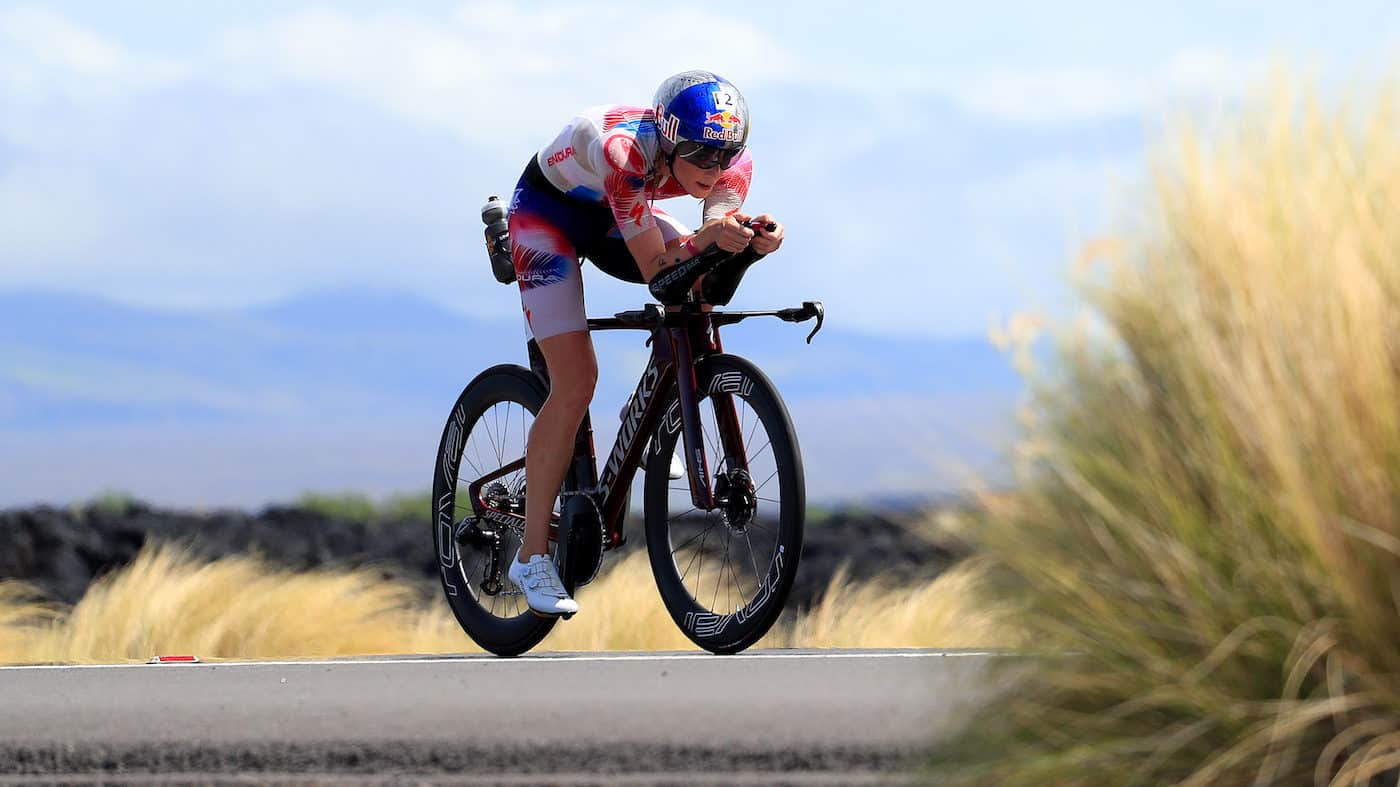 What was going through your mind when Anne was catching you – and when she went by, did you think you would be able to go with her?
"I was getting the information that the gap was closing and when we got into the Energy Lab, I looked back at one point and could see she wasn't far away. I knew she was going to close that gap, she had been the whole run. I'm a born competitor, I thought i might be able to go with her when she passed… but that lasted about 20 or 30 seconds before I realised that if I did I might not finish my race. That was very tough, but you kind of know it is going to happen when someone is running that well and is closing you down like that."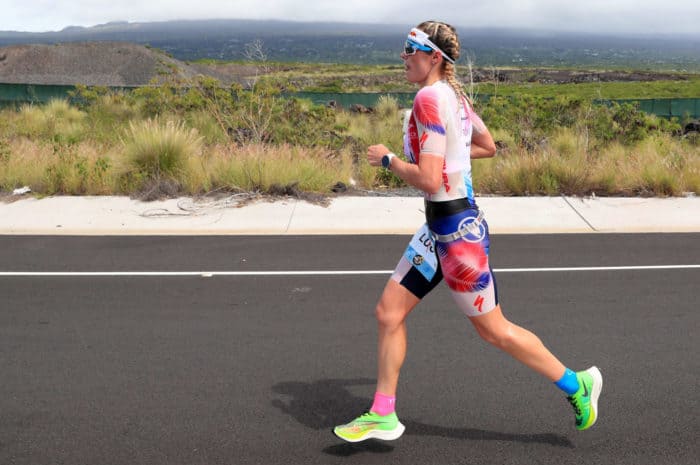 When Sarah Crowley then caught and passed you, it looked as though you were having a dip and your pace had slowed. Did you fear at that point that it was going to potentially spiral out of control?
"The last 10-miles I'd been having some real highs and lows. The patch when Sarah came past I'd been looking at my pace and it was really dropping back and I thought I could be in danger of losing more that two places, because positions can change quickly if you fade. I knew that I didn't want to drop off the podium and I wasn't sure of the gaps, so I knew I had to keep Sarah in as close proximity as possible.
"When we got to about three miles to go, Reece was out on the course and said, "You can get her, she looks like she's fading", and I was thinking, 'are you mad!', but I knew I wanted to give it a shot. I think I took some more caffeine on board at that point (and anything else I could get!), to give it one last kick and see what happens. I knew it had to be a decisive move because I know how much of a fighter Sarah Crowley is, so I knew if I didn't pas her convincingly enough she would try and attack back, but the way I went past I think she knew she wouldn't be able to go with that. It was probably the most painful 2km of my life, but definitely worth it!".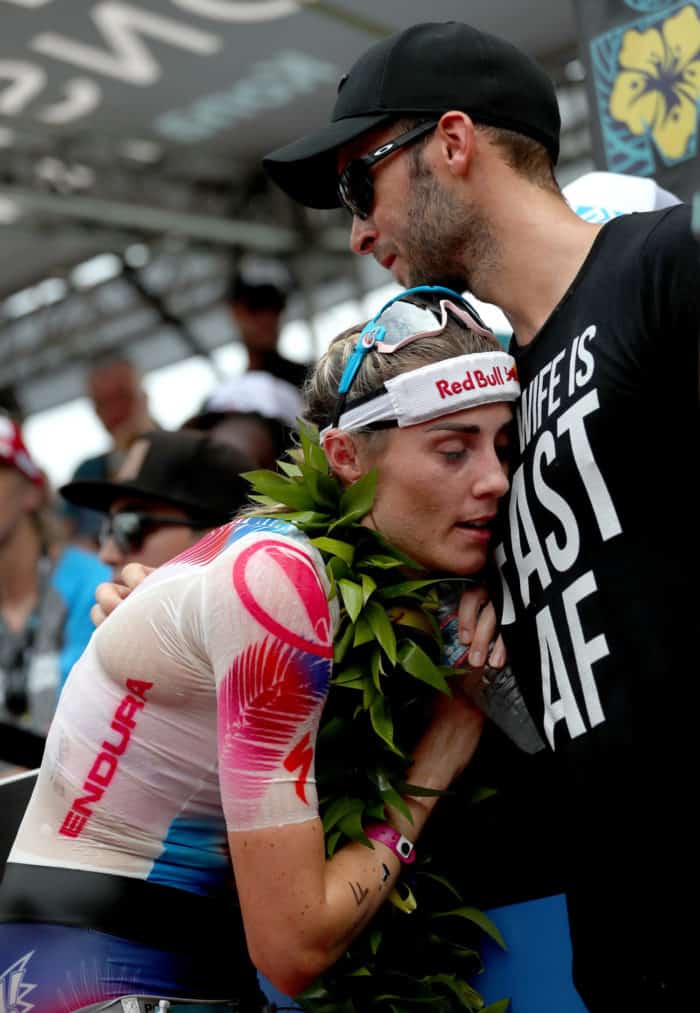 Can you compare Kona 2017 (your Pro debut), to going back for the third time in terms of extra commitments, media attention and demands for your time etc.?
"They say ignorance is bliss, and that definitely was the case then (2017). I think the pressure is the same, I don't apply the external pressure it's only my own applied pressure of wanting to win this thing, so I think that aspect hasn't changed. Every year the media commitments go up because I've become a bit more popular, and it really is like a media circus out here, but I think all of the top Pro athletes are in a similar position. It's OK, but it is tough to manage that and make sure you get all of the final key training sessions and race prep done as well. Even that first year I did get a fair bit of attention, but it's all part of managing it and being a Pro athlete.
"I think every year this race gets harder because you know what's to come, but then you also get more experienced and know how to race it. This was only my third time and I'm only 26… so hopefully I'll have a fair few more cracks at this race and be able to get that top spot sometime soon."
Any more races for the rest of the year?
"We'll see how my body recovers from this. We were potentially looking at going and racing Challenge Daytona in Florida. It was more of a definite before the race, but I'm feeling sore now… but hopefully we can go and do that as a bit of fun. Reece and I may be able to link it with a holiday and go and visit Universal Studios."
https://www.instagram.com/p/B3w9wWPln5-/