There's more to life than swim / bike / run
Why Elite triathlete Alice Hector has some new goals approaching…
Great Britain's Alice Hector (www.alicetri.com) has her eyes set – soon – on a new sporting challenge: ultra-running. That's not to say she has given up on her triathlon targets, just yet.
A former ITU Age-Group World Champion, IRONMAN 70.3 winner and twice ETU Elite European Championship Middle Distance Bronze medallist – including last year in Ibiza – Alice has "a couple of new medal colours I'd like to get my mitts on", and will be aiming to do that this year. Beyond that though, a return to competitive ultra-running (a sport she has has significant success in previously), will be the next step in her sporting journey in the years to come.
She raced last weekend – over a not insignificant distance of 100km – and made it to 60km, before "my legs simply blew out'. While nobody likes to DNF, it's a result that Alice looks on in a positive manner, and a huge learning experience. I wanted to find out more about that, how – sometimes – 'failure' can be a positive experience and what Alice has gained from her early season adventure.
Oh, and if you fancy running (very) long yourself, Alice also has some great advice on why you should consider it – and how to go about it.
---
Triathlon for Life?
A tale about not giving up, but switching it up when things get stale.
Triathlon. It's a passion. An obsession. But is it forever? What happens when you've hit your goals and the desire ebbs away? Do you stay put because it's your job, your social network, your identity, and/or what you're good at?
It's all very well saying 'if you don't like something, change it' but change involves upheaval, and the easiest thing can be to stay put and carry on. Triathlon is not the easiest job or pastime so there's bound to be rough patches; do you just quit the moment you hit a bump in the road? Of course not. However, I have learned to ask the simple question "why". "Why am I doing this?" The reason doesn't have to be too profound. "Just because" is perfectly adequate, so long as you know it's what YOU want to be doing. If you draw a blank when it comes to answering the 'why factor', that's when you need to have a rethink.
For me, I have had big ultramarathon goals lurking about my bonce for years, and the lure has grown stronger and stronger with every season. I had unfinished business with triathlon but I've ticked off almost everything I came to do. Note the word 'almost', as there's always a next level to aspire to, and in that sense, triathlon has no finish line. Completed a Sprint? How about Olympic? Won Kona three times? Why not make it four?
I could always answer my why factor, until I'd ticked my initial goals off. Making up new triathlon goals, qualifying for Kona etc, just didn't quite do it for me. Having said that, there's a couple of new medal colours I'd like to get my mitts on, and I do love wearing GBR kit, so that's my wholly extrinsic motivation for this final push in pro triathlon.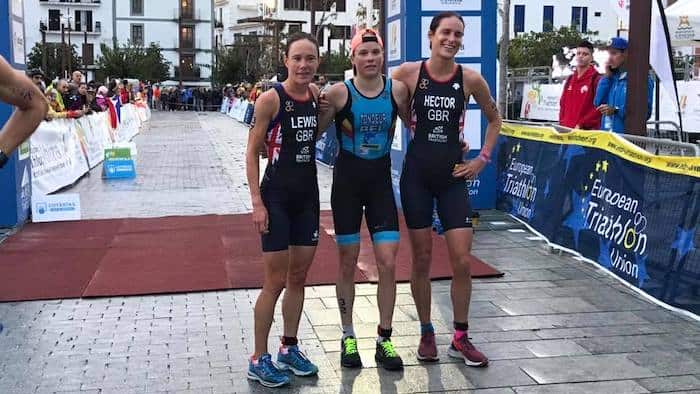 The 'transition year'
This year is now the 'transition year'. Onto ultra running I go; a sport in which at 36 I am still young – a bonus. Last weekend I tried the Flitch Way 100km; a run comprising 10*10km out-and-back loops: nothing I've not done before but many moons ago. I only made 60km, which was a bit of a surprise, as I really thought I'd make it, but it's one DNF I'm completely fine with. It was very honest. I was going fast in relative terms (45-46 min 10km pace which felt really easy – I currently am not trained to go much slower efficiently), and my legs simply blew out before my head did. No injuries; just a large dosage of muscle pain that made running and even walking well impossible. But how valuable to now know where you're at and lay down a start point.
It's taught me that combining sports, no matter their crossover, is not realistic at a high level. We knew that anyway, but the transition to elite ultra running will take a few more distance stepping-stones than I'd previously thought (my next race was due to be 100 miles in Autumn: cross-check, reverse that). Whilst triathlon and ultra have their endurance similarities they are separate beasts, and whilst you can do both quite well, I'd argue you can't do both REALLY well.
So, what is it about ultra?
The experience. I'd describe ultra as romantic – in its secondary meaning; stunning, savage, friendly, relaxed, often ridiculous and addictive.
The freedom and laid-back nature. Our far turn point at the race was a bench with a piece of tape wrapped round it, unmanned, and it was left completely up to us not to make shortcuts. The relative lack of rules (and kit) compared to tri is refreshing. A big bonus is I get to listen to music when I run which is my favourite combination!
The cost and reward. Some events are quite big and expensive but for this one, entry was just £25 (www.challenge running.co.uk) and whilst there was very accurate live timing, snacks and medical cover, there was no monetary reward, medals, trophies or T-Shirts. Zero photographers, finish chute or crowd support. When I ran my furthest race to date in 2012 (100 miles) I got to the finish at 2am to be greeted by one man standing by a limp flag on a pole in the dark. The anti-climax was superb. The motivation really has to come from within. And I completely buy into that.
The camaraderie. I've never had it go really wrong before in an ultra, at least, not until I'm close to finishing, so it was good to see that side of it. Nearly all of the competitors asked if I was ok when I started my death marching and one doubled back on himself to walk with me at 55km. "Ah" he said when I protested, "I've got all day". When it comes to stopping, there's a full debrief by the staff and crew just to check it's definitely the right thing – and not a rash thing – to do. One of the guys pulled out at the same time as me (and he had a Brutal Events beanie on, so I know he must be tough), with 40km still left to go. His wife spent 10 minutes with him talking quietly. He got up, changed his clothes and went on to finish. I still wonder what on earth she said to him to make him stay out so long?!
The brutality. From around 30 starters, 10 finished. A few of us had eight hour goals but in the end it was won in 8.36 by international ultra runner Daniel Barnett, who looked cool and calm throughout (and ran in shorts!), so regardless of the flat course, it was not a day for a PB. The fatigue is different to triathlon too. More leg pain, less cardio pain, but expect to have to go through hell (as well as highs), to make it to the finish.
Want to try an ultra? Don't make my mistakes.
Last time I did big run distances, from 2010 to 2012, I built up a progressive distance ladder of 50km, 50 miles, 100km and then 100 miles with a couple of 50km's interspersed amongst these. I remembered this at around 35km on Sunday when my legs started to get just a bit too sore too soon! I'd recommend the slow build in hindsight.
Another thing you don't need to concern yourself with is 'race weight'. I'm at a catch 22 right now in that I'm lighter than ever, faster and have the ability to run 45 min 10k's at a very low intensity. But that's too fast and the speed carries too much impact in the legs currently to complete 100km. Before, when I was over a stone heavier and less cardiovascularly fit, I think my body naturally slowed me down, and that proved useful and successful! So if you're starting out at ultra, being light doesn't matter, and weight should be the least of your worries.
The tortoise will always trump the hare. I haven't trained to be efficient at a slower speed yet, so slowing down right now would cause braking forces and a jolting of my stride that would still mean sore legs. But slower is better! Every speed has to be trained, and even if you've got speed goals, you still need to be able to cover ground effectively through bad patches and have a contingency plan in your armoury. Learning to run slow and walk well should become an integral part of your training plan, even if you're planning on going faster.
One last point is you don't have to be a machine to have a go. I had every run injury under the sun when I started training aged 19. Three years with constant problems and just about zero running, followed by regular injuries after that. But bit by bit, with patience, extra knowledge, support and conditioning, I am finally in a position now to run a long way and get off relatively scot free. Know that your body can change and adapt. It's hardly ever a smooth trajectory though; and that's where swimming, cycling and good old triathlon can come in very handy!