Triathlon's 'new normal'?
In order to get triathlon events running again, there's a requirement that competitors are socially distanced; but what does this actually mean? Not only that… do competitors want it?
Outlaw Triathlon Series Director, Iain Hamilton, presents his view on the short-term future of our sport.
---
Multisport event competition stopped abruptly in March. In fact, it happened a few days before we were due to host the Clumber Park Duathlon as British Triathlon called a halt to all competition until the end of May. We're now into June and the latest guidance from BTF is that competition is suspended until 'at least' 4 July,… but there's a good chance the suspension could be lifted soon, and competition will resume in some form next month for smaller events.
A lot of events that were due to take place in the coming months have already been cancelled. It's been a tough time for race organisers, making decisions for a variety of reasons, knowing that whatever decision we make, for some people it will be wrong, others it will be right. There is concern from athletes not able or confident to mix with other people yet and/or haven't been able to train, especially swim training, since March. However, for many other athletes, considerable cycling and running mileage has been amassed during lockdown and the possibility of 'saving the season' with a race in August or September is very appealing.
The idea of a socially distanced triathlon might not be as crazy as it sounds, and the reality is that we may need to race in this format into next year as well as this year. I hope athletes will choose to embrace it, especially with open water venues now open for training and pools likely to open next month. Some sports have been completely stopped in their tracks; at least triathlon, with some really excellent work by the BTF has the opportunity to adapt itself to something different, and return to play again, sooner rather than later.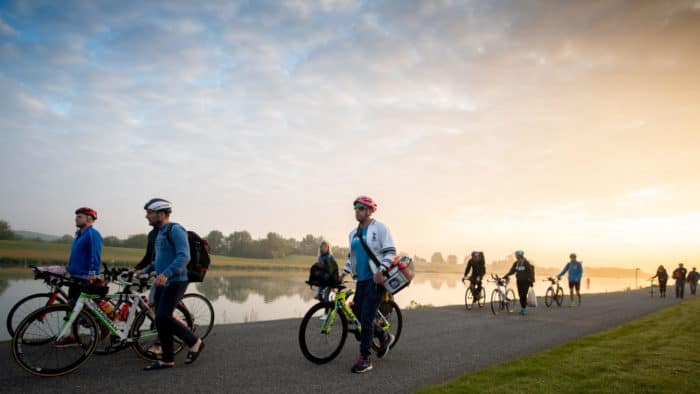 They key changes will be things like allocated registration times, or, race packs sent out in the post, briefings done online, bigger transition spaces, staggered starts (racing in time trial format based on a specific start time) and changes around the finishing line so that there are less people there. Medal presentations, post-race massage and post-race food might be difficult to deliver in the immediate future, but I hope these can be overcome in time. The important thing is that athletes feel that they are able to swim, bike and run safely and enjoyably.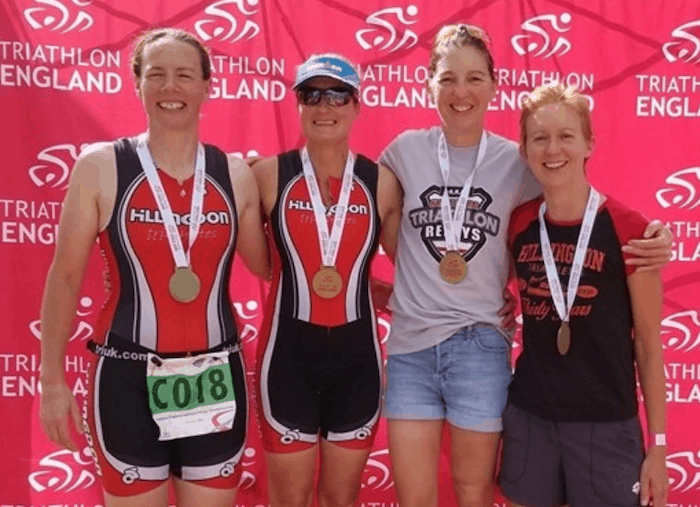 Some people will actively prefer the absence of mass swim starts and having more space to rack their bikes in transition. Mass swim starts are a brilliant spectacle and can be a lot of fun, but we know not everyone enjoys them and maybe this new approach will remove a barrier to participation for those that are anxious about starting a race alongside hundreds of others.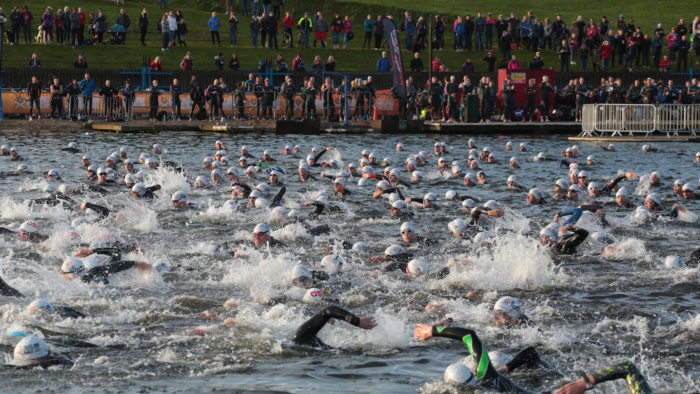 Much of triathlon is already suited to social distancing. My belief is that the sport is young and forward thinking enough to adapt to the current environment and there are some organisers that have already confirmed plans for racing this year.
We are looking closely at our own plans and are confident that we can deliver events that are safe, fun and friendly for competitors, crew and spectators. As long as there is demand and our plans are given a green light from BTF, then we'll go ahead and anticipate that some of the changes this year could become permanent.