Can Robbie swim the English Channel?
That's the question that Robbie MacNab has asked himself and, between now and July next year, will be sharing with us in a new monthly series on the site. Attempting to swim the English Channel is a challenge for which success is not guaranteed and he will be sharing the ups and downs with us on what is sure to be a difficult journey.
Find our more about Robbie in this first update – and how the this challenge turned from little more than an idea into a real project.
---
Triathlete vs. The Channel – December 2019
It is probably a cliché, but they are clichés for a reason… Taking up Triathlon about 20 years ago has really changed my life!!!
But, let's rewind a second and start at my sporting beginnings. As a kid, till my early teens I used to be a club swimmer, albeit it maybe a mediocre one; a twice-a-day, racing at weekends, smell of chlorine 24×7, full-on swimmer but then life, work, and enjoying too many nights out took over.
Fast forward and after about 10 years of virtually no exercise, a few beers too many and more excess kilos than I care to remember, I turned a corner and I decided to have a go at triathlon and didn't look back. Eventually, after several Ironman's, Age-Group Worlds and Europeans at Sprint and Aquathlon, plus one 70.3 World Champs, I decided to turn my focus back on improving my swimming. That got a jump-start last year when I answered an ominous call for help.
When the phone rings and my fellow RnR Sport coach, Ryan Bowd's name appears, it usually leads to an opportunity to enter some event and this was no exception. When coaching athletes for the Arch to Arc and Channel Swims and relays, Ryan and the RnR team work in partnership with Red Top Swimming (probably the best open water swim coaching companies in UK and world), and Tim Denyer of Red Top, let Ryan know one of his swimmers that was due to attempt the English Channel solo needed to change to a relay and was looking for a couple of swimmers; Ryan was in, and about 30 seconds later I'd signed up.
Being a swimmer and growing up near the Solent I had always wanted to swim firstly from the Isle of Wight to Portsmouth and ultimately, 'The Channel'. I managed to tick off the Solent swim about 10 years ago, but never really had the belief or the know-how to consider really attempting the Channel, so there was no way I was going to pass up on the chance to get involved in a relay.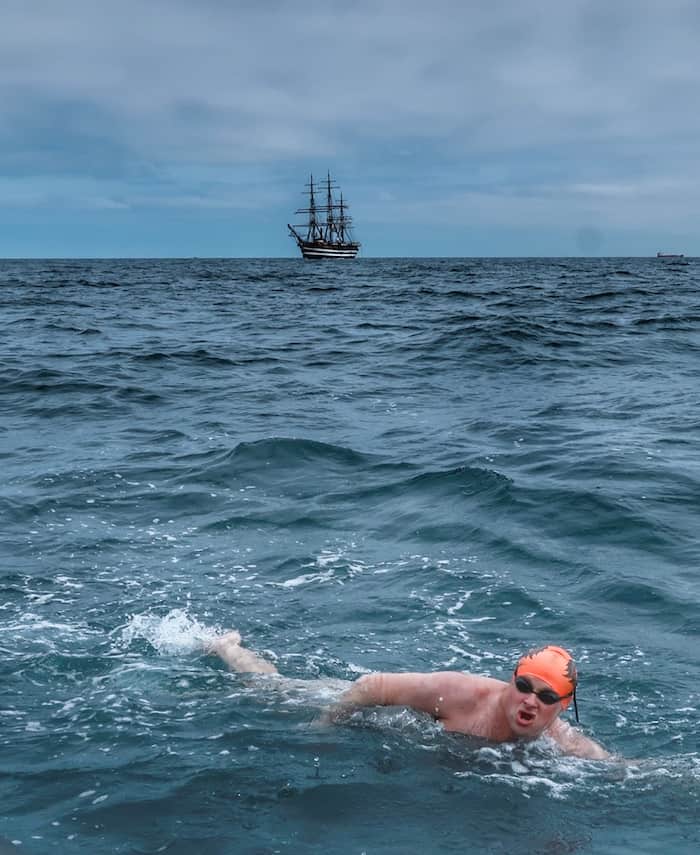 The relay went well, the conditions were tough, but throughout my time doing open water in Triathlon races I've always been one of those odd people hoping for more challenging conditions; so this wasn't really an issue. Over the five shifts covering about 18k that I did, I found the stopping and starting and spending time on the boat the hardest part and I naively mentioned I'd rather do the whole swim. As I was saying it, I was half joking, half serious but never underestimating the challenge of completing a solo swim. While from this point the idea was closer to becoming a reality, I still wasn't convinced I'd actually be able to do a solo crossing. I've seen people train and complete the Channel and the number of hours spent ploughing 25-meter pools, the cold open water swims, organising the six-hour qualifying swim and all the other logistics, was still holding me back.
One thing I've put in to practice myself and seen in abundance at various events is that human beings can achieve remarkable things if they decide they want to. After a lot of soul searching, I knew I wanted this. Finally having the opportunity, and team to help with all the obstacles I'd previously put in place was something I'd regret passing up and I confirmed my booking for an attempt during the last week of July 2020.
It's safe to say that the enormity and reality of what is ahead well and truly hit me when coach Ryan handed me this months training plan. Not only will it already be more swimming than I can ever recall each week, but a host of other strength and conditioning, flexibility, and lifestyle changes that I need to make for the next eight months! I'm planning on writing a blog each month with how things are going, what I'm learning, and what is ahead. I certainly do not underestimate the challenge ahead or the fact that there are about to be some tough times when things don't go to plan, but I'm building a strong support team to guide me and keep me going and I can honestly say I don't think I recall wanting to achieve anything quiet as much!
Catch you next month….
About Robbie MacNab
Robbie started out as a complete novice triathlete with sporting confidence issues on one of the first RnR Tri Camps (www.RnRtricamps.com). Fast forward 15 years, he now knows what it takes to go from beginner to six-time Ironman finisher, AG Worlds, Europeans and 70.3 World Championship finisher.
Now, as an RnR coach for the last five years, Robbie has worked with a wide range of athletes from all levels of the sport, helping them believe in their own potential and succeed at crossing the finish line. In July 2020, Robbie is taking on the ultimate swimming challenge, as he aims to tackle to English Channel.