Alistair Brownlee's bike fit: a very good start with room for improvement?
Let the games begin. With the news that the Brownlee brothers will now be riding SCOTT bikes for the next four years, we thought we'd have a first glance look at Alistair Brownlee on his new SCOTT Plasma TT/Tri bike. Why not, many a triathlon forum will likely be doing much the same any time now…
While we won't see Alistair in racing action on his new bike until tomorrow in Gran Canaria – where he begins his middle distance racing career – the team at SCOTT have provided to us an extensive selection of images not just of the bike, but of Alistair (Plasma) and Jonathan (Foil), riding their new machines around their local Yorkshire routes. That gives us a first chance opportunity to consider, how does Alistair's position look on his new SCOTT Plasma TT bike?
For an initial stab, we asked Richard Melik, owner of London-based bike fitting company Freespeed (www.freespeed.co.uk) to cast his experienced eyes over these images, and let us have his initial thoughts. We'll get a chance to see tomorrow if his race position is in line with these PR images.
Speaking to SCOTT, Alistair is currently set up in "almost the same as on his Boardman bike", also adding "I think we will do some testing with him later in the year".
With that background, over to Richard Melik…
---
I have used the following image for my comments, I cropped and rotated it to get a better sense of the position. My thoughts are as follows: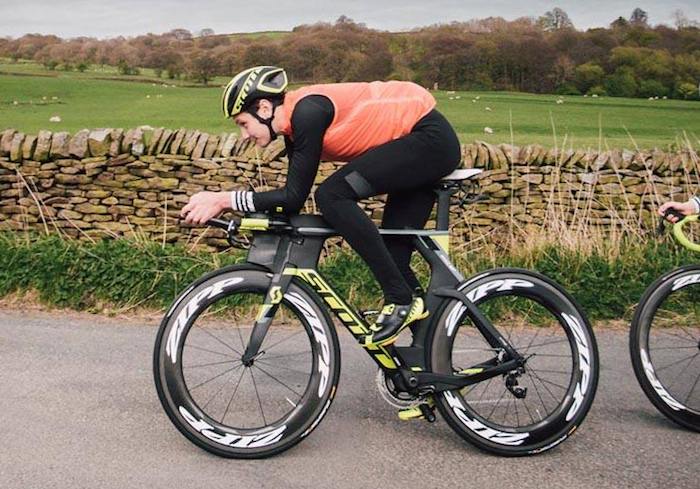 Bike Fit Thoughts: SCOTT Plasma
The position looks to be a very good start for Alistair, the bike fits him well and he has achieved a good, low position on it and looks neither stretched out or overly compact. If I were to improve it based on what we are seeing from this photo (which is always speculative without more context), I would suggest the following:
His back is very flat here; is it too flat for long distance racing? I think so personally, for me I'd like to see a more open hip angle at the top of the pedal stroke to allow him to take full advantage of his famous run strength. In addition, his head carriage and helmet is higher than his back adding to his frontal area and effectively slowing him down. If he raised the pads a little I think we'd see a less strained neck position, he could lower his head accordingly and the overall effect would be a more open hip angle and less drag.
My least favourite aspect of this position are his hands. The extensions are attached below the base bar and the shallow s-bend shape is causing him to reach down, creating tension in his wrists. A higher hand position with ski bend extensions would be more comfortable and would also close up the gap between his hands and his chin, encouraging wind around his torso rather than scooping it into his body. Again, a win-win, faster and more comfortable.
Alistair appears to be using a (sponsored) Fizik Arione saddle on this bike. This is not the best choice for a TT bike, in my opinion, even if it was his saddle of choice previously on road bikes. He is riding well forward on the saddle and this model offers less support with a long narrow nose bringing excess pressure on to the perineum, never a good thing. He may well be better off in terms of comfort and forward pelvic rotation on the new Fizik Mistica triathlon specific saddle.
Fit aside, he certainly looks fast and the bike is a well considered design, an excellent combination of aerodynamics, speed and integration.
More images of Alistair in training on his new SCOTT Plasma