BikeBoxAlan has a reputation as one of the best hard shell bike box providers on the market. After a few trips, Chris Hovenden provides his through to on the BikeBoxAlan Triathlon Aero Easyfit Bike Box.
---
When life resumes to 'normal' [Ed. Here's hoping!] and training camps abroad and races on foreign soil become viable again, you'll need to ensure your bike gets from A to B in one piece.
Transporting your most prized possession (your bike) to a race location or a training camp, for example, can be pretty stressful. Will it make it with a clean bill of health or will it be a very expensive holiday? There are various types of bike box or bag on the market, but it's fair to say that BikeBoxAlan, in part thanks to its impressive videos of its bike boxes surviving some big falls, is one of the most popular brands.
There are numerous bike carriage options but most are designed primarily or exclusively for road bikes. With the BikeBoxAlan Triathlon Aero Easyfit, BikeBoxAlan believes it has provided a solution to safely transporting a modern time trial bike or aero road bike. If you are lucky to have such a bike, where 'integration' is an increasing trend, there's a good chance you aren't equipped to dismantle the cockpit, and if you're brave enough to do that you are likely to have difficulty when it comes to 'operation reassembly' (meaning finding a mechanic is often necessary).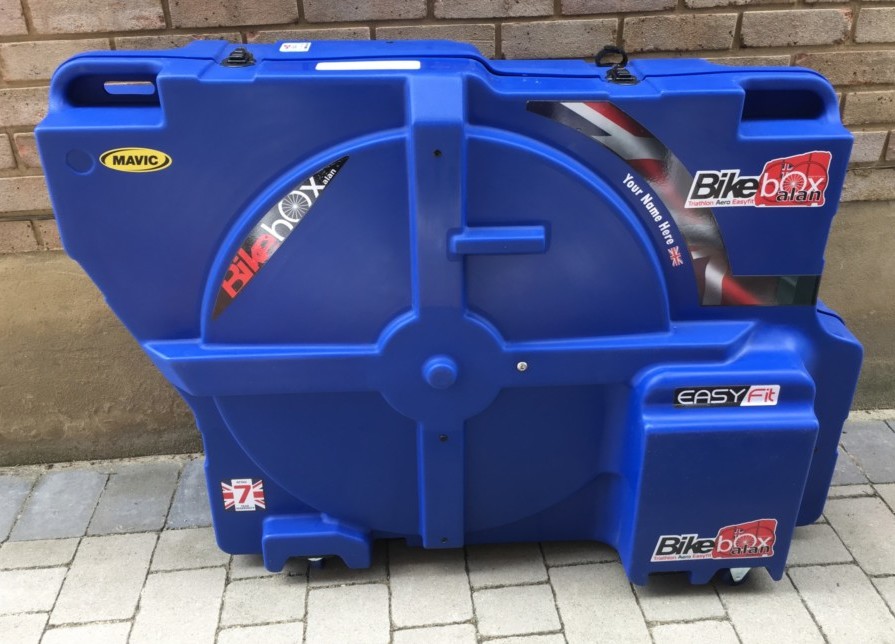 In short, the BikeBoxAlan Triathlon Aero Easyfit has an additional rectangle shaped box that protrudes from the standard box profile which is designed to accommodate an aero base bar/handlebars/aero extensions etc.
In addition to the most essential question, namely will my bike be safe/protected, my main concerns when receiving the BikeBoxAlan Triathlon Aero Easyfit were: it is noticeably larger than other bike boxes; can it accommodate aero extensions/ski arms that are particularly steep or long; and, can it stow a rear disc wheel?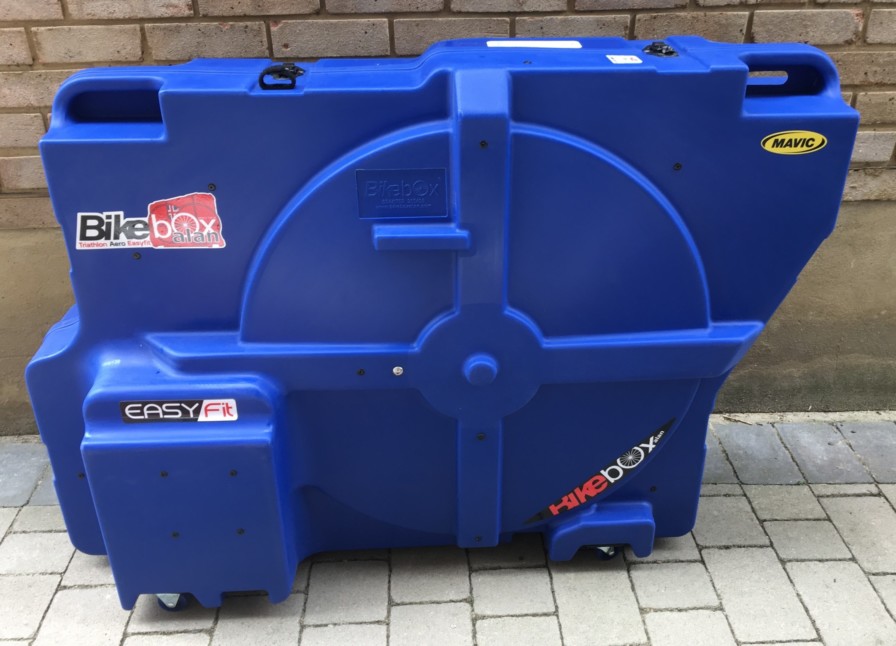 It is clearly quite a large item, with it measuring at 50cm at its widest (front-on), 133cm long, and 94cm tall. This means that you can fit it into a SUV-like car, but in my car there was no way I was fitting two such bike boxes in (two of the classic BikeBoxAlan fit easily). Further, it means it can be quite an effort lifting it in and out of your car.
BikeBoxAlan claims that if you are less than 180cm tall it's likely you'll only have to remove the wheels and the pedals, between 180-190cm you'll need to remove the rear derailleur and/or lower seatpost, and if above 190cm you may have to reduce the reach of the TT bars as well. This guide seems fairly accurate – being 187cm tall and using a medium Specialized Shiv, I needed to manoeuvre the bike carefully to ensure it fitted inside the box (as you can see from the picture it was rather snug). The biggest challenge was that I really wanted to avoid having to dismantle or adjust the cockpit, in particular the extensions. To ensure the bike fitted I had to remove the seatpost and the rear mech – neither of which is particularly difficult, but you just need to be careful not to strip the thread when putting the rear mech back on!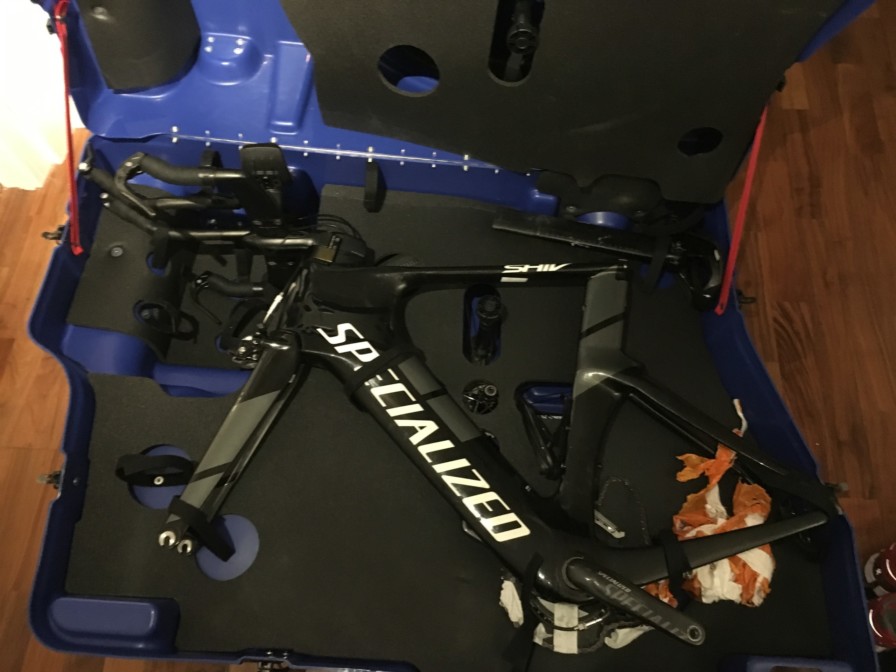 If your TT set-up includes extensions that are long or particularly steep (as is becoming more and more popular) it is quite likely you will need to adjust your set-up to fit inside the BikeBoxAlan Triathlon Easyfit.
To be clear, fitting my road bike in was a breeze, it was just the usual removing pedals and seatpost, and there was plenty of room to stuff other bags of kit etc.
Inside, the hardshell the box utilises:
numerous velcro-straps to keep the frame in place and avoid any movement – these are easy to use and provide a secure fit (although I'm not sure how useful the positioning of some of the straps is);
two large foam sheets to protect the frame – these do what you'd expect; and
two anti-crush poles (one attached to either side of the box) that meet in the middle – there are two different positions in which the anti-crush poles can be placed, to accommodate different frame shapes (for example, the Shiv has a very wide downtube.
The use of the two anti-crush poles means that on the face of it, the box cannot accommodate a rear disc wheel. However, due to the thickness of the box's plastic casing you could in theory choose not to use the anti-crush pole so that the disc wheel can be included, but I have not tried that and it sounds rather risky. BikeBoxAlan can also supply a separate anti-crush pole on request (pictured) which is designed to accommodate a rear disk wheel – however, due to the impact of the coronavirus pandemic I have not had the opportunity to test this.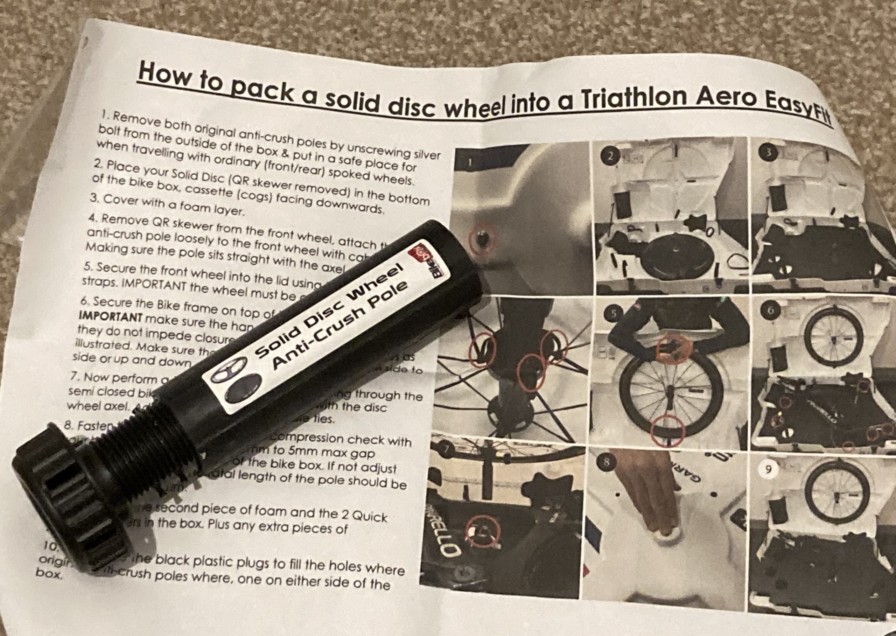 BikeBoxAlan also states that a third wheel can be included, but you'd need to order an additional layer of foam, and the extra anti-crush pole if wanting to transit a rear disc wheel – again, due to travel restrictions I have not had the opportunity to put this to the test.
When considering a significant outlay, as would be the case if buying the BikeBoxAlan Triathlon Aero Easyfit, it is good to know it comes with a 7 year warranty and you can customise your bike box, choosing from a range of colours and selecting various stickers/decals.
In summary, from my experiences, the BikeBoxAlan Triathlon Easyfit provides good quality protection to your bike when in transit (and therefore peace of mind) and it gave me the genuine/realistic choice of taking my time trial bike on a training camp or to an international race. However, it is too simplistic to state the Easyfit solves all challenges involved with breaking down/building your bike. Depending on the size of your bike and your set-up you may still need to make a few adjustments/removals, but it is certainly a move in the right direction.
Lastly, the price-tag of circa £600 may be prohibitive. This is substantially greater than the competition (roughly around £200 more) and depending on how often you are likely to use a bike box, options like renting a bike box may be more attractive. That's a useful service that BikeBoxAlan also offer.
For more information visit: www.BikeBoxAlan.com