New in for testing: BikeBoxAlan Triathlon Aero Easyfit Bike Box – £530
BikeBoxAlan has a reputation as one of the best hard shell bike box providers on the market. Chris Hovenden has a first look at the new BikeBoxAlan Triathlon Aero Easyfit Bike Box.
---
Transporting your most prized possession (your bike) to a race location or a training camp, for example, can be pretty stressful. Will it make it with a clean bill of health or will it be a very expensive holiday? There are various types of bike box or bag on the market, but it's fair to say that BikeBoxAlan, in part thanks to its impressive videos of its bike boxes surviving some big falls, is one of the most popular brands.
Unfortunately, if you have a modern time trial bike or aero road bike, where integration is an increasing trend, there's a good chance you aren't equipped to dismantle the cockpit, and if you're brave enough to do that you are likely to have difficulty when it comes to 'operation reassembly' – meaning finding a mechanic is often necessary.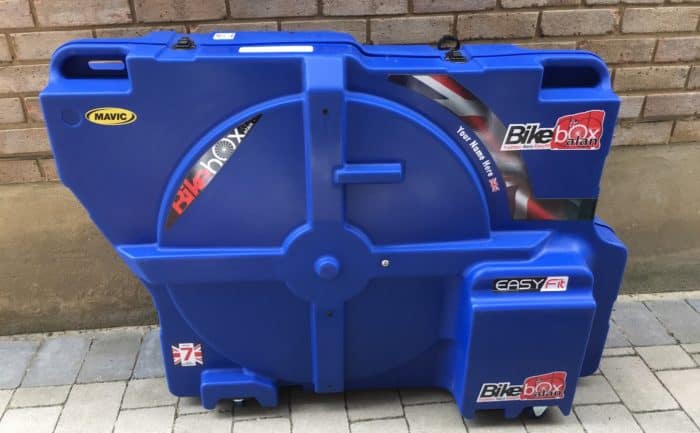 BikeBoxAlan appears to have noticed this challenge and with the BikeBoxAlan Triathlon Aero Easyfit is looking to solve this problem.
In short, the BikeBoxAlan Triathlon Aero Easyfit has an additional rectangular/box that protrudes from the standard box profile which is designed to accommodate an aero base bar/handlebars/aero extensions etc.
BikeBoxAlan claims that if you are 178cm tall it's likely you'll only have to remove the wheels and the pedals – which should help quick packing/unpacking!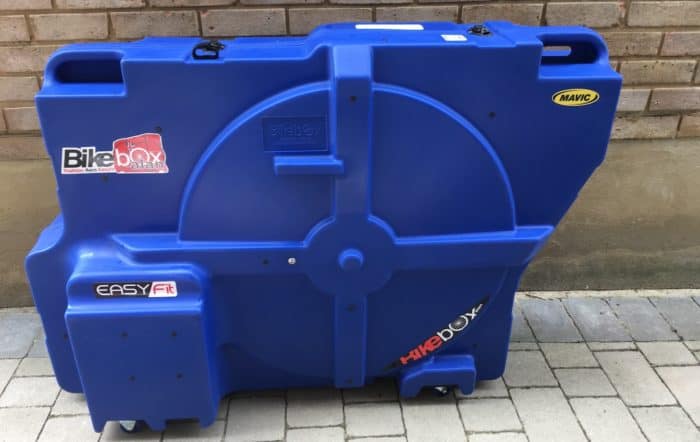 The Triathlon Aero Easyfit comes with a 7 year warranty and you can customise your bike box, choosing from a range of colours and selecting various stickers/decals.
Full review to come after a few trips and races. From our first look the BikeBoxAlan looks solid and fit for purpose – although a few initial queries are: it is noticeably bigger than a regular bike box, which may impact your ability to get the box in your car with other luggage; can it fit aero extensions/ski arms that are particularly steep, and can it accommodate a rear disc wheel?