Cycling – you just get on and pedal, right? You do… but there are LOTS of different bike pedals that your feet could end up pushing! Here's our summary/survey of the different types of pedals available on the market, along with some tips and advice on the pros and cons of each system.
How do I choose bike pedals?
There are many different bike pedals available and they are very personal to your preference, type of bike and race goals. There is no right or wrong and if you are not comfortable using clipless pedals, there are some great alternatives. If you do want to go clipless, then there is a lot of choice on the market.
There is a lot of pressure on new triathletes to go clipless but it's not for everyone. Confidence, biomechanical issues and past injuries inhibiting the "twist out" motion, can all be a factor. I for one have suffered many knee and ankle injuries over the years and twisting out can be painful.
This guide details all of the current options, but I'm sure more alternatives will come out over time.
Platform Pedals
What are they best for? Commuting, recreational riding, entry level or downhill mountain biking and BMX.
Named for their shape, platform pedals create a large, flat surface area for your foot to rest on as you push. The most popular type of pedal, chances are you first learned to ride a bike on these bulky, rubbery planks. Platform pedals conform to any type of footwear (or lack thereof), and their simplicity and absence of a clipping system make them perfect for beginner cyclists.
Various designs of platform pedals exist, including ones for off-road use that have tiny "teeth" on or surrounding the pedal to help keep your foot in place as you traverse bumpy terrain. If you are a commuter, or just looking to ride your beach cruiser around town, platform pedals are the best option because you don't have to stash an extra pair of shoes to wear once you reach your destination. Just get on and ride!
Pros:
Can be used with any type of footwear
You're not "clipped in" as with clipless pedals, so you avoid the dreaded tip-over sometimes experienced with those systems
Easy to put your foot down and stop, especially when you're learning how to mountain bike
Relatively inexpensive and don't require any specific cycling shoes or cleats
Beginner-friendly
Cons:
Because you just rest your foot on top, you lose the full power of the pedal stroke (namely the upstroke), which can slow you down.
With no ability to attach your foot to the pedal, mountain bikers will find that this makes it easy for your foot to fly off or the pedal to smack you in the shin.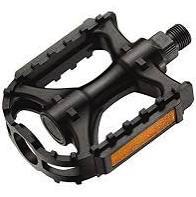 Toe Clips/Cage Pedals
What are they best for? serious commuters, recreational riders, entry-level mountain bikers
Toe clips, which you've probably used at your local spin class, are cages attached to the tops of platform pedals that hold your foot in place on top of the pedal. Like platform pedals, toe clips are very beginner-friendly and don't require the purchase of special footwear or cleats. Unlike platform pedals, toe clips secure your foot in place, which is useful if you're traveling long distances to and from work and would like more power in your pedal stroke. Toe clips are also a good choice for novice mountain bikers who want a quick escape to place their foot on the ground should they encounter uncertain terrain. Toe clips will also prevent mountain bikers' feet from slipping off pedals and crashing into their shins.
Pros:
Can be used with any type of footwear (as long as the shoe fits in the cage)
Beginner-friendly
While you're not clipped in, your foot is more secure on the pedal than with platform pedals.
Relatively inexpensive
Cons:
Even though your foot is inside the cage, you still don't get the full power of the pedal stroke as you would if you were clipped in.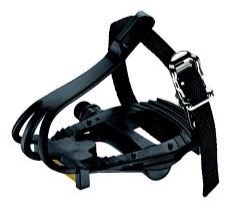 Hybrid Pedals
What are they best for? serious commuters, touring bikes, clipless pedal novices
With a platform pedal on one side and a clipless pedal system on the other, hybrid pedals offer riders a choice of how they want to roll. One of the more popular versions of this pedal is the Shimano-PDM324, which retails for around €50/£50 and offers an SPD clipless system on one side and a platform pedal with gripping aluminium teeth on the other.
Commuters who like the option of clipping in some days and wearing regular work shoes on others, or people doing long touring rides who want the flexibility of clipping in or not, do particularly well with this type of setup. If you're a roadie or mountain bike novice who wants to venture into the world of clipless pedals but would like the option to stay "unlocked" in certain situations, hybrid pedals offer the best of both worlds.
Pros:
Flexibility to decide how you want to pedal based on your footwear, the terrain or your experience level
Relatively inexpensive (although you'll have to purchase cycling shoes and an SPD cleat system if you want to use the clipless side)
Great option for people looking to make the transition from toe cages or platform pedals to clipless.
Cons:
Can be a bit bulky and heavy compared to other pedal systems.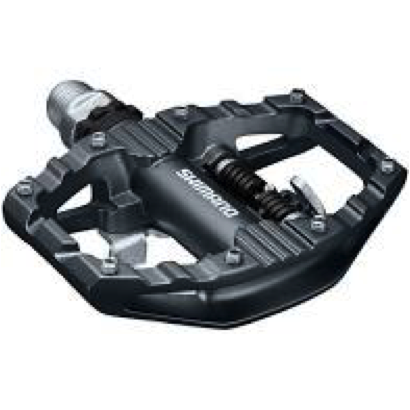 Clipless Pedal Systems
What are they best for? experienced roadies, mountain bikers and triathletes
"Clipless" pedal systems, somewhat of a misnomer, are named because of the lack of toeclips or cages in the design. Instead, the bottom of the rider's foot is attached to the pedal through the use of special cycling shoes and cleats attached to the bottom of the shoe.
When attached to the pedal, a rider is commonly referred to as being "clipped in." In this case, the rider can maximize the power generated by a full 360-degree pedal stroke. While clipping in and out is a simple matter of twisting one's foot out slightly to the side to unclip, there is a learning curve with clipless pedals. Most people new to clipless pedals simply forget they are clipped-in, roll up to a traffic light or come to an abrupt stop on the trail, then topple over. Once you do this once or twice, you'll never forget to clip out again!
Within the category of clipless pedals, you'll find a range of styles, but the broader category of clipless pedal systems are broken down into two groups: road systems and off-road systems.
Pros:
Most efficient pedal stroke, which saves your energy over a longer distance and allows you to travel faster
By being clipped in, you can more decisively transfer your weight as needed during turns and on technical terrain.
Cons:
More expensive due to the need to purchase specific shoes and cleats. The cleats will also need to be replaced every so often because of wear and tear.
A bit of a learning curve and patience required to get comfortable being clipped in
Road Clipless Systems
For the serious roadie, if you own and frequently use a time trial bike, you might consider the road clipless system. Depending on the pedal manufacturer and pedal design, cleats for these pedals are fastened to the bottom of the shoe by a specific configuration of bolts. Road-specific cycling shoes tend to be very stiff to create more efficient power transfer and can range in price from €75/£75 to several hundred, depending on materials and specific design components. Due to the bulky attachment of the cleat to the bottom of the sole, it is often difficult to walk around in road shoes and should be kept to a minimum to risk slipping and falling.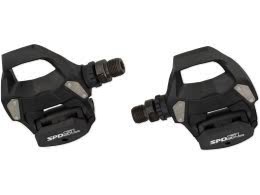 Speedplay Pedals have a few important differences from most clipless road pedals: they're dual sided; the retention mechanism is in the cleat instead of the pedal; and the cleats attach with four bolts instead of the usual three-bolt road pattern. These may be better if you have ankle or knee issues but still want to go clipless. They are a little pricey though.
Off-Road Clipless Systems
Off-road systems are similar to road systems, except the design of the cleat and shoe lends itself to off-road riding. Off-road shoe systems use a two-bolt system (often referred to as an SPD system), to attach the cleat to the bottom of the shoe. Designed with a recessed cleat attachment and treaded soles, off-road shoes make it easier to walk around off the bike and keep mud and dirt from clogging up the cleat. There is also a variety of mountain bike cycling shoe styles. From sandal designs and lace-up models that look like trail boots to stiffer designs that closely resemble road cycling shoes, riders can find the right type to match their riding style and personality. Theoretically, you could use a clipless off-road system on the road and vice versa. And much like road cycling shoes, the prices vary from less than €100/£100 to several hundred, and the cleats will need regular replacement.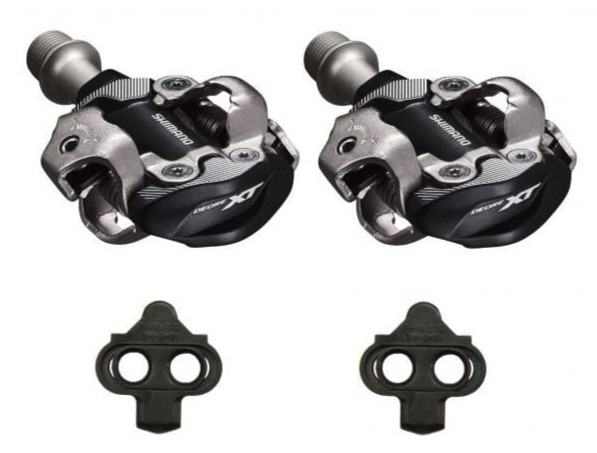 Bythlon Bike Pedals
Bythlon is the new innovation in clipless pedal technology. Simply step in and step out of your pedals, without being fixed to your bike. A form-fitting connection keeps the cleat plate engaged with the pedal. Bythlon empowers cyclists to ride better, smarter and safer, whilst building confidence in the saddle.
These are great if you are nervous about clipping in or have knee of ankle problems and find it difficult to up clip. They are lightweight but give you the benefits of a pseudo clip in.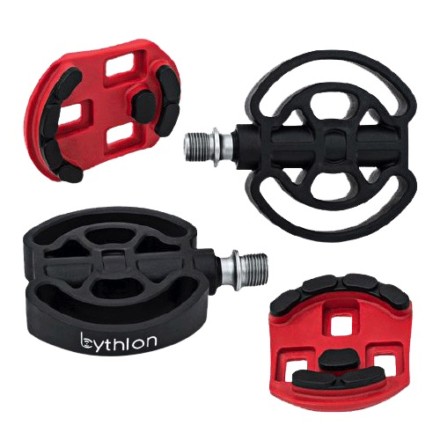 The Magped safety bike pedals are a magnet based pedal for road, mountain bikes and e-bikes. The magnet is in the pedal and a metal plate fits to your shoe. The magnet mechanism makes quick and simple release of the foot from the pedal possible at any time. In comparison to standard click-in pedals, the risk of crash and injury will be reduced to a minimum – and your head stays free for a hassle-free biking experience without fear.
With the Magped pedal you are connected to the bike with a magnet, like clipless pedals, but you also enjoy the freedom of a flat/platform pedal. Because you are not locked in, Magped's offer you the safety of flat platform pedal and the performance of clipless pedal.
Magped's magnets are the strongest in a north/south (straight up/down) direction on the pedals. When you start to move east/west (sideways) the force of the magped magnets decreases resulting in an easy release of your foot from the pedal. You will get used to being able to quickly release your foot with a simple movement of your foot to the side. You will almost not feel any resistance at all. Knowing that you are not "locked in" will give you confidence and a much more relaxed feeling when you ride.
For the magped SPORT, SPORT2, ENDURO and ULTRA you should use a 2 hole SPD shoe with flat brine like
All Five Ten SPD Models
Shimano AM 5, AM 7, 501, 701
Shimano SH-AM702 Gravity SPD
Specialized 2 FO
Scott AR, Scott Cruz
SCOTT MTB AR Boa Clip Schuh
O'Neal Flow SPD
Cube ATX Lynx
Giro Chamber Rimble
Vaude TVL Pavei
For the magped ROAD you need a 3-hole road bike shoe.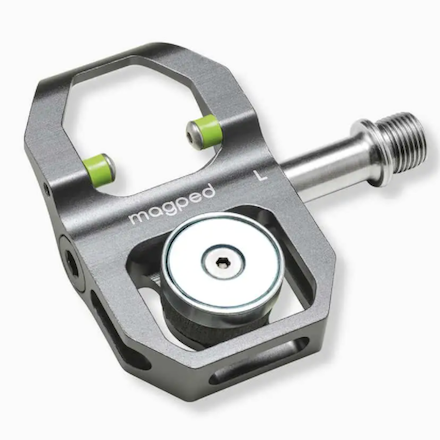 ---