A New Order in GPS Technology?
With the GPS cycle computer market seemingly dominated by a small number of brands, it is welcome to see a newcomer enter the arena and look to offer a credible product that can compete and possibly raise the game. Is it a game changer? We have had a few weeks trying out the new model from Hammerhead, the Karoo, that is now shipping.
| Product | Hammerhead Karoo |
| --- | --- |
| Price | £315 |
| Size | 98 x 72 x 28 mm (3.8" x 2.8" x 1.1") |
| Screen Size | 3.5" diagonally (2.1" x 2.8" or 54 x 71mm) |
| Colour | Black |
| Website | https://www.hammerhead.io |
| Grade | 87% |
What's in the box?
Head Unit
Bar Fly bike mount
Small tether strap
Two Allen wrenches/keys
SIM converter
SIM tool
The paperwork – minimal
First impressions
It's chunky, solid and at first seems much larger than my Garmin 820. It is indeed big compared to the 820, but as I clipped the Karoo to my bars and we set off, its size suddenly made sense. The screen on the Karoo is huge and while there is a bezel around the screen it's proportions work well and makes sure the screen is the main event. Quality is great and it feels like it's built to last a lot of miles.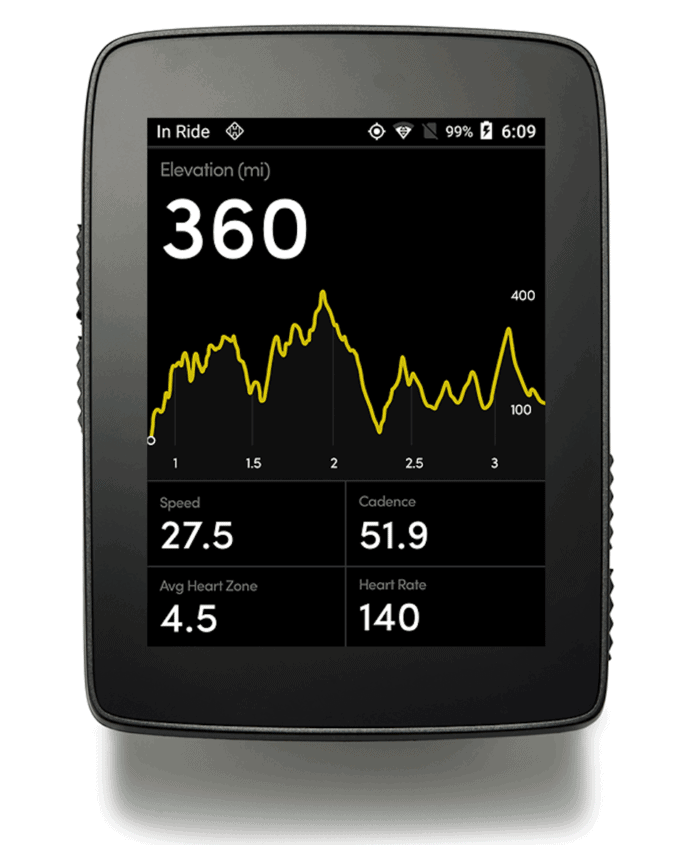 Digging Deeper…
The unit is touchscreen or button operated; use each as you see fit. Well sized textured buttons offer good feedback whilst wearing gloves or without taking your eyes off the road unnecessarily. The screen is marketed as being great to use in the wet. I've not tested this yet but I'm sure the British summer will soon offer me this opportunity…
The screen is the star here and it's 640×480, 229 pixels per square inch make it the best visual experience out there. It's a lovely crisp display and only attaching your phone to your bars will offer a similar experience. Also, put aside your previous experiences with touchscreen cycle computers, this is silky and works just like your phone.
Actual dimensions: 98 x 72 x 28 mm (3.8" x 2.8" x 1.1"). The screen is 3.5" diagonally (2.1" x 2.8" or 54 x 71mm)
The Karoo features a Garmin-style fitting, so there are plenty of third party mounts on the market, however supplied in the box is a nice Barfly mount which is a really cool touch to have a branded model included.
Fitting was simple and the unit twists and locks firmly into place. The Karoo has a small tether strap included and as suggested I fitted it to the underside of the device. This is where the second Allen key comes into play and the little strap locks into place underneath very neatly and when you are carrying the unit it reduces the likelihood of you dropping it – it has a slippery aero shape! I also loop the strap over the barfly bracket on the bike which adds an extra bit of security when on bumpy surfaces. This has not been an issue as the Garmin mount is a trusty system, though I do know of rival computers that have bounced down the road whilst riding over rough cobbles! That said, I've never had this happen to me. As it's not my computer, I'm not going to chance it and the tether is not really visible unless you actively peer underneath. Tethered to the mount it retains its aero appeal.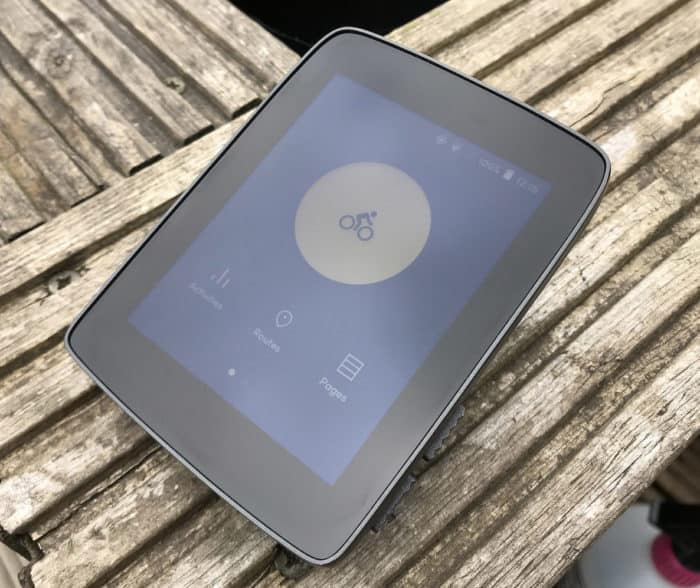 Powering up the unit you are greeted with the vast screen and a really simple menu to navigate. A big on-screen yellow circle takes you to the in-ride screens and all the data fields you need and they are fully adjustable on the unit. On the device the Pages Menu setting will allow you to create a profile for various different scenarios. For me, only one profile was needed. Within this profile you can set what data is visible on the screen. So you can have from one metric up to 12 it seems on one screen. I settled for eight on the main data screen with the map and the third data screen just a swipe away.
One each data screen you can move the data fields into different locations by holding and dragging the box around the screen. A really neat feature. As the screen is so responsive it's very simple to do. A double tap on each data field allows you to edit the displayed information from approximately 28 different options, cadence, power, climb values etc, there are seemingly options for anything you could conceive, except the obvious value, 'distance to coffee'! Although I'm sure you can program that into the route planner, so fear not!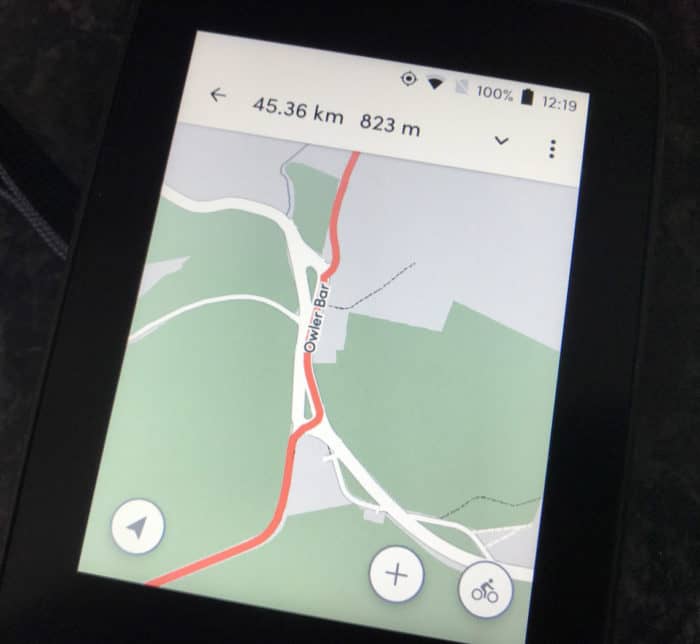 Website and App
As with most devices there is a computer or phone companion. The website is more of a big screen version of the Karoo. It does not offer analysis of your data, only a different way to get data onto the device. Hammerhead I assume imagine you will be using Strava etc for your post ride number crunching, and why bother trying to fight the existing stalwarts of ride analysis? You'll be sharing it on one of the main platforms anyway so why waste time and money adding in what many see as a redundant extra layer of data being stored. So forget that side of things for now, you just allow the unit or website to sync with Strava etc. and away you go.
What the website does do very well is allow input of data for routes very speedily and then seamlessly sync them to your head unit. You can import routes from GPX, FIT, TCX ,KML, KMZ files and even from a copied url. This aspect of the ecosystem is simplicity itself.
The Karoo allows you to use a SIM card and this will allow data transfer on the go when you are away from wifi which could be handy for changing routes on the fly. I've not used this functionality but assume it will work as it does over wifi.
Plotting a route on the website is slick. It's a lesson in minimalism and just does what you need it to do. The things it lacks are the things that make it so good to use. Simply save the route and it will sync with the head unit over wifi. The routes page forms a library of your routes in a nice appealing format and these are searchable through various filters.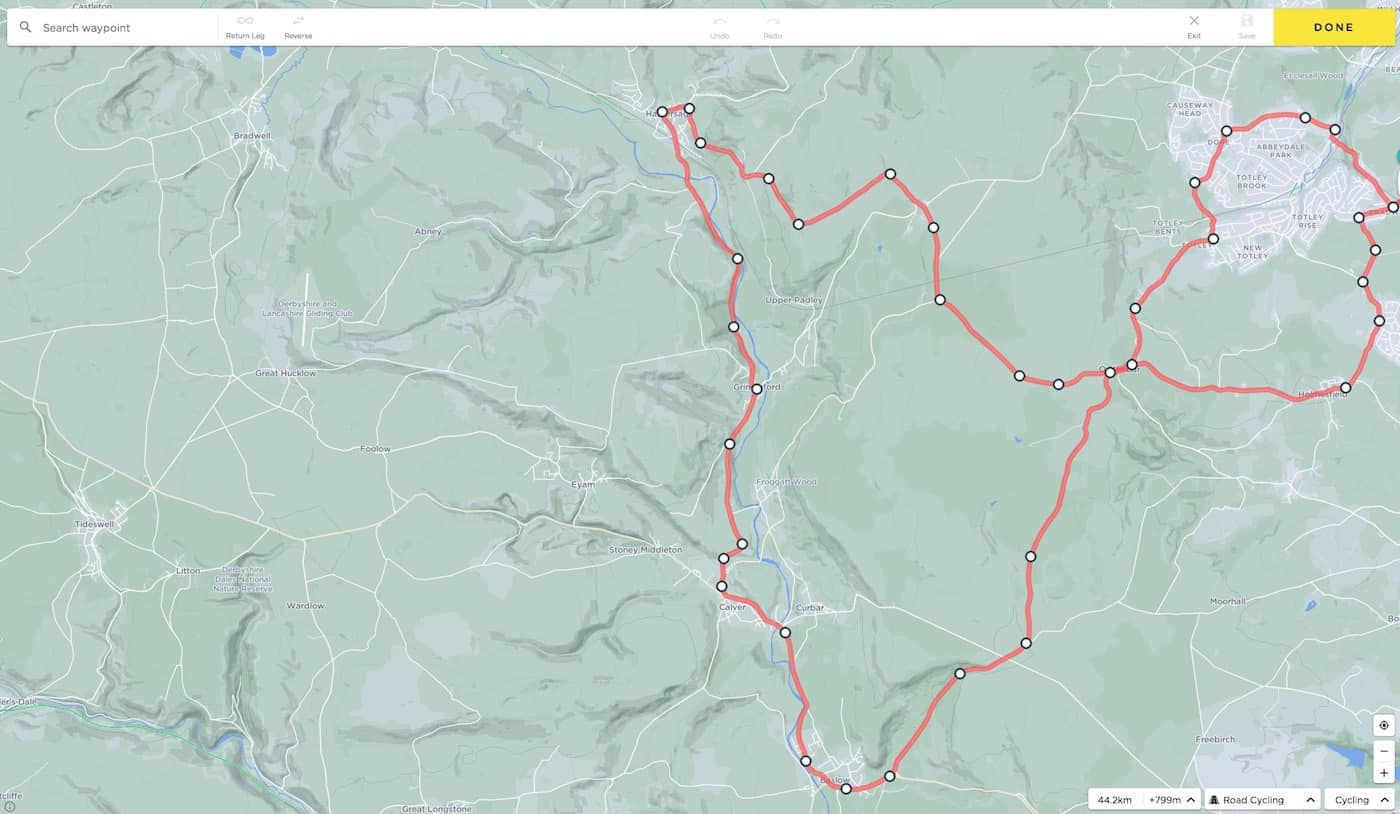 As a new comer to the GPS cycle computer market it offers a really decent alternative to the existing brands out there. The interface is a joy to use and the slick user experience is without doubt the best available right now. If you are looking for a negative the Karoo (and it has been noted widely), has no audible beep which has led some testers to knock the units and yes, in navigation there might be an occasion where a beep to signal an upcoming turn is a welcome feature. For me, it's not been a huge deal breaker as soon as you learn to keep an eye on the large map in front of you. I will add here that having a beep on my other computers has not meant I've had a great navigational experience and I have still missed turns.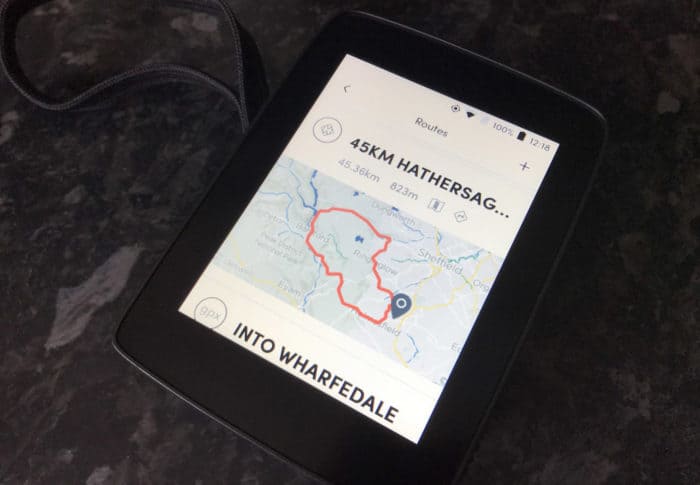 Final thoughts
So, beep or no beep, there is so much to like about the Karoo and its Android platform should offer good long-term support and updates and these have been proving that the Karoo is able to evolve. I have been trying to find something that would make me clip the Garmin back on my bike but I am struggling to find a reason. The Karoo has been working really well and is a joy to use. The screen is great and clear to view outside, the interface is slick and getting back after a ride the sync of data has been seamless. I have even enjoyed planning out routes on the computer as it has been so simple to map out rides.
The Karoo has raised the bar and offers a credible alternative to the existing units on the market.
Find out more at their website HERE.