Passista front wheel (rim brake) and rear disc (rim brake) – £1,299 (rear disc from £919) – www.parcours.cc
Parcours says it was launched to make aerodynamics more accessible. Utilising its offshore partners along with UK-based quality control, Parcours has sought to offer a suite of carbon wheels (including rim and disc brake options), at a more affordable price without compromising on performance.
In the early season (which may end up being 'the' 2020 season!), Chris Hovenden tested one of Parcours' 'Race Ready Combinations' – the Passista and rear Disc wheel.
---
Parcours offers the rear disc wheel as part of a 'Race Ready Combination'. This can be paired with a front-wheel of either the on-test Passista or the deeper Chrono.
Having previously ridden Parcours' Chrono (its 77/86mm deep section offering) and the Grimpeur (the shallow 40mm climbing focussed hoops) wheelsets, I was very much looking forward to testing its disc wheel and what should be a versatile front wheel in the 56mm deep Passista.
Out of the box the wheelset looks the part. Especially the rear disc with its rather cool stealth decals (other colours are available).
Passista
Parcours describes the Passista as a versatile wheel that is designed for days on the bike where the 'parcours' has a bit of everything.
With its 56mm deep carbon rims (meaning a similar profile to that of the Zipp 404), the Passista is designed to offer a good balance between aerodynamic benefits, stability, and weight (on our scales the front wheel weighed 0.63kg).
I measured the internal rim and external rim width to be 19mm and 24.5mm respectively. The hoop is equipped with 18 of the popular Sapim CX-Ray bladed spokes. I ran the wheels as a classic clincher set-up, but the Passista can be converted to tubeless. Parcours offers a tubeless running kit.
Reflecting the trend for wider tyres, I opted for a 25mm wide tyre. The tanned tyre wall looked sharp to complement the wider rim – installation was straightforward.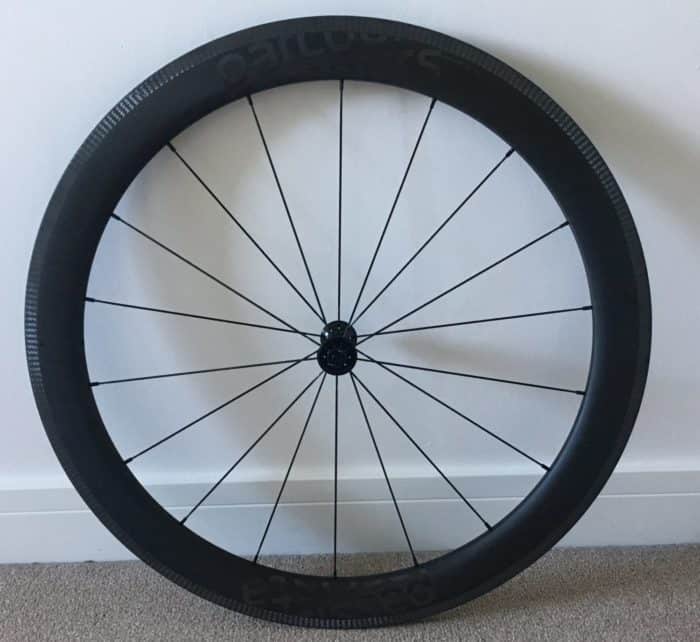 The hub is visibly slender and Parcours states the "precision-machined alloy hubs are fitted with high-grade EZO cartridge bearings". During the 3 months of testing the wheel rolled well and I didn't experience any issues.
I was impressed with the Passista. If you are upgrading from a shallower rim depth the 'free' speed will be noticeable. The front wheel was stiff when out of the saddle. Its 56mm rim profile handled well in crosswinds (of which there were plenty during testing). The wheel proved versatile, performing well on flat loops whilst being light enough not to be a hindrance on rolling courses.
Disc
It is fair to say that for a triathlete to have or use a rear disc wheel, it means they're taking the big leg seriously. This in part because it lacks the versatility of simply using a deep section rear wheel meaning they probably have another tasty option for days when a the disc isn't appropriate.
Parcours appears to agree with this sentiment, stating, "for out-and-out speed, no excuses, no compromises". Some claim, but clearly shows that the Parcours disc is aimed at those wanting to go faster.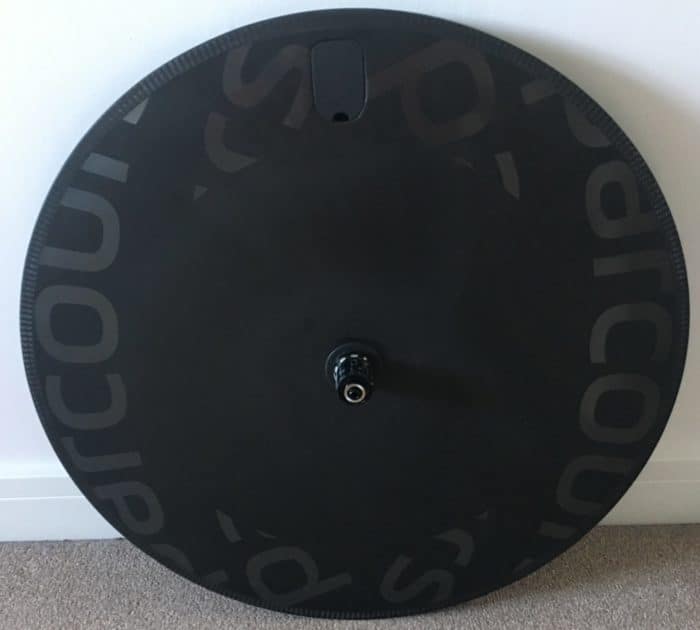 The disc is tubeless ready and Parcours recommends running the disc with a wider tyre, mirroring the current view of moving away from 19/21mm tyres. I measured the internal rim width as 17.5mm and the external as 23.5mm. As with the Passista front wheel I opted for a 25mm tyre (again, tanned – to complete the look).
Both the disc and the Passista are supplied with quick release skewers and carbon-specific brakes pads. The disc is fitted with an 11 speed Shimano/SRAM freehub. It also comes with a freehub spacer so that the wheel can be used for 8/9/10 speed set-ups. A nice touch is that the disc is equipped with a small cover for the inner tube valve.
On the TRI247 scales the disc weighed 1.39kg. This may be slightly heavier than the claimed offerings from some of the competition (some sneak under 1kg), but at the same time the Parcours option is often significantly cheaper.
You can't beat the noise of riding a rear disc wheel. It simply makes you sound faster. Once up to speed I definitely felt quick. As you'd expect with any disc wheel it can take a bit longer to get up to cruising speed. That said, if most of your races are on classic time trial courses without significant technical sections this won't be an issue.
Both the Passista and the rear disc have 13mm wide brake tracks. The on-test wheels had an older style/version brake track, with Parcours' current wheels using an updated textured braking surface. The test combination of brake pads and rim worked well; even in wet conditions the braking was consistent.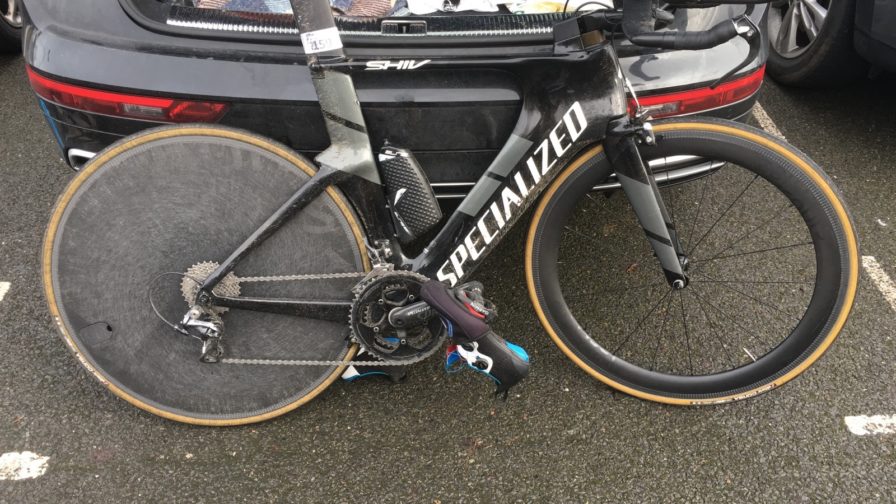 I used the set-up in duathlons and on training rides. Yes, I was that person out on a Sunday riding a disc wheel! When cruising along flat country lanes I felt like I was able to hold my speed with relative ease. The Passista was a good choice on windier days. The slightly lower weight than deeper front wheels was welcome when there were punchy rises. The disc came into its own when I was already riding quickly and provided noticeable assistance on longer straight stretches. However, as you'd expect with most disc wheels, on more technical courses (like a duathlon on a closed circuit with multiple turns) the advantage is less obvious (if at all compared to a deep section rear wheel).
Great value
A disc wheel alone can set you back the same price as Parcours is asking for a race day set-up. Price-wise, if you have the money and are in the market for such a combo, for the quality, Parcours' offering is very competitive.
The main challenge, or debate, is will you get enough use out of a disc wheel to justify the purchase? In particular when considering that compared to a deep section rear wheel, such as the Parcours 86mm deep Chrono, the delta speed and watts-wise may not be significant whilst the relative versatility may be.
In short, if you are looking to upgrade your race-day set-up, but do not want to break the bank, have a look at what Parcours has to offer.  Visit their website here.