The pairing of a 60mm deep front wheel with a circa 80mm deep rear is a, if not the, classic set-up in triathlon. VeloElite recognises this and has named its own deep section offering the VeloElite Carbon Triathlon 60/88mm – 350 Wheelset.
Prior to lockdown in the UK, Chris Hovenden tested the hoops whilst training and racing.
---
It is true that it doesn't matter what bike or wheels you have, you still need to pedal fast. However, it is an indisputable fact that upgrading your wheels to a set of genuine aero wheels will make you faster – in 2012 I forked out for a pair of Zipp hoops, a 404/808 combo, and (although accepting I was slightly fitter than previous years) my relative position on the bike leg improved substantially.
In theory the combination of a 60mm deep front wheel and a circa 80mm rear should offer a great balance between aero gains and weight/handling negatives. In short, from a triathlete's race day perspective, a pretty versatile wheelset.
VeloElite appears to agree with this opinion with its claim that the on-test wheels "offer a perfect balance between aerodynamics and efficiency".
High-level, I was impressed by the VeloElite offering.
Befitting of wheels designed with speed in mind, the on-test wheels came fitted with 25mm Continental GP 5000 TL tyres (which have a list price on Wiggle of £65.99), running as tubeless.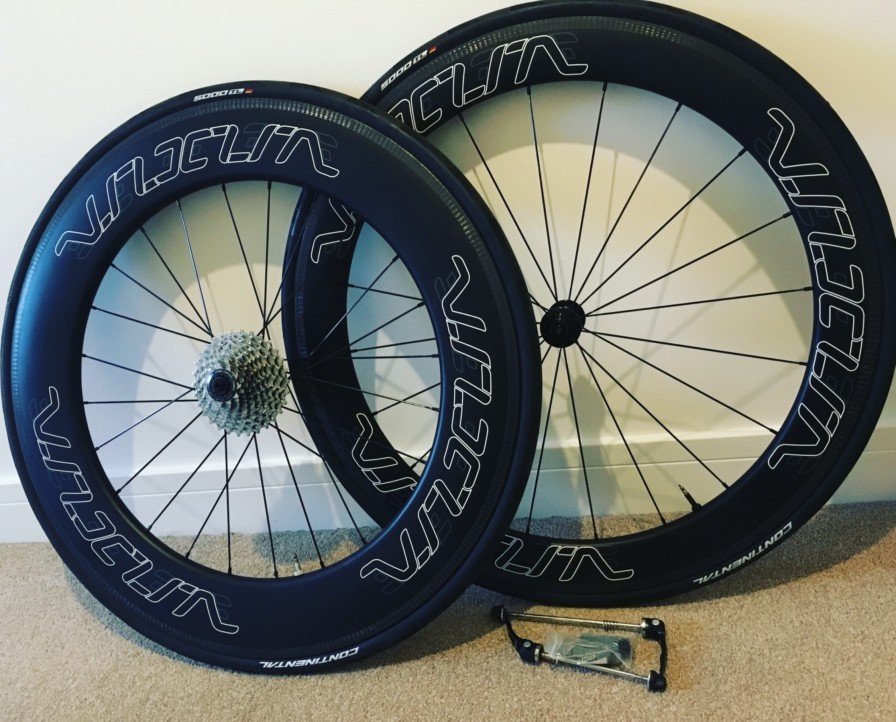 The VeloElite Carbon Triathlon wheels have a high-quality finish, the wheels' carbon fairings feel robust with no noticeable flexing to touch – which can occur in some aero wheelsets.
As you'd expect with a set of a modern aero wheels, they are available as either rim (as tested) or disc brake, the rims have a bulbous/toroidal profile, and the wheels are equipped with bladed spokes – 20 at the front and 24 in the rear, the spokes in question are the popular Sapim CX Ray.
The wheels are not the lightest, with a claimed combined weight of 1,748g (on our scales, with the tubeless tyres and sealant, the came in at 1,100g and 1,420g respectively), but that is pretty competitive for similar wheelsets.
The Continental tyres were a good companion to the wheelset, and the wheels rolled nicely and smoothly. Importantly, the on-test wheels were equipped with Aivee SR5 hubs, however this option is no longer available, rather the wheels (as their name suggests) come with DT Swiss 350 hubs (other DT Swiss hub options are available at different price points).
Even in wet conditions the braking was assured and consistent, which allowed me to corner with confidence.
In exceptionally strong winds, of up to 40mph, during a closed circuit non-drafting duathlon they handled very admirably, although I wouldn't have been too keen to ride in a bunch.
As you would expect with all such deep section wheels, acceleration isn't necessarily a strong point, but these hoops were no slouches when looking to maintain speed out of corners and there was no noticeable flex when trying to put more power through the pedals. Further, when up to cruising speed it felt pretty easy to stay there.
On my TT bike, there wasn't much clearance from my rear brake (next to the bottom bracket) – the supplied carbon specific pads are relatively thick and the claimed external rim width is 28mm. However, I had no issues with brake rub, even when riding aggressively out of the saddle.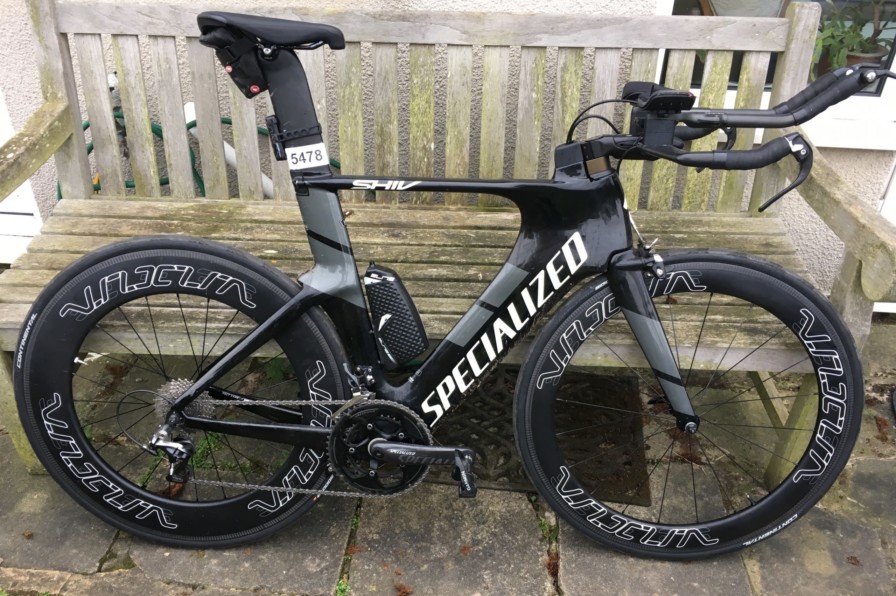 Without the aid of a wind-tunnel it is hard to quantify with certainty the aerodynamic gains the wheels offered, and in any event the benefits of any wheelset will at least in part be impacted by the frame you are riding and the tyres you are using. Having said that, to the extent possible, I test wheels by riding the same loops, using set power, and a consistent riding position – in that context, although not the fastest wheels I have ridden, I enjoyed riding the VeloElite wheels and they assisted me to some rapid rides and good results.
Handbuilt in the UK the VeloElite hoops have an RRP £950, so just shy of a grand. The aero wheel market is highly competitive and to give this price point some context: the Parcours Passista/Chrono costs £959, the CES RC60/88 Elite clinchers have a price tag of £1,450, whereas a Zipp 404/808 combo is likely to set you back nearer £2,500.
The Verdict
In summary, if you are looking for a pair of wheels to take your cycling performance up a notch, and looking for quality, but want to avoid the mainstream brands and their often associated higher costs (but, accepting the perceived lack of glitz and glamour compared to a pair of Enve, for example), the VeloElite Carbon Triathlon Wheelset 60/88mm – 350 are an appealing option.
You can find out more about the range here.