CES Sport (www.ces-sport.co.uk) launched at the end of 2016 and the brand from Wales offers a range of clincher and tubular wheel options. Chris Hovenden tests the range topping CES Sport RC Elite 60/80 Clincher Wheelset.
---
CES Sport RC 60/88 Elite Clincher Wheelset
If you want to finish with one of the fastest bike splits in a triathlon, especially in non-drafting races, a pair of deep-section wheels is almost a pre-requisite.
For a fair time the Zipp 404/808 (58mm/82mm) combo has been the yardstick against which other triathlon-specific wheel pairings are measured – and the competition is getting stiffer all the time.
The advantage of having a deep rear wheel with a slightly shallower, but still objectively deep, front hoop is that in theory you get (i) aerodynamic performance similar to a rear disc wheel without the weight and cross wind issues (and risk of disc wheels being banned on race day), and (ii) a fast front wheel that slices through the air without compromising too much on handling.
This is a good time to introduce the on-test CES Sport RC 60/88 Elite Clincher Wheelset. For the sum of £1,450 you get a front wheel that is 60mm deep and an 88m rear wheel, along with skewers, EKAY carbon specific brake pads, rim tape, and a 2-year warranty.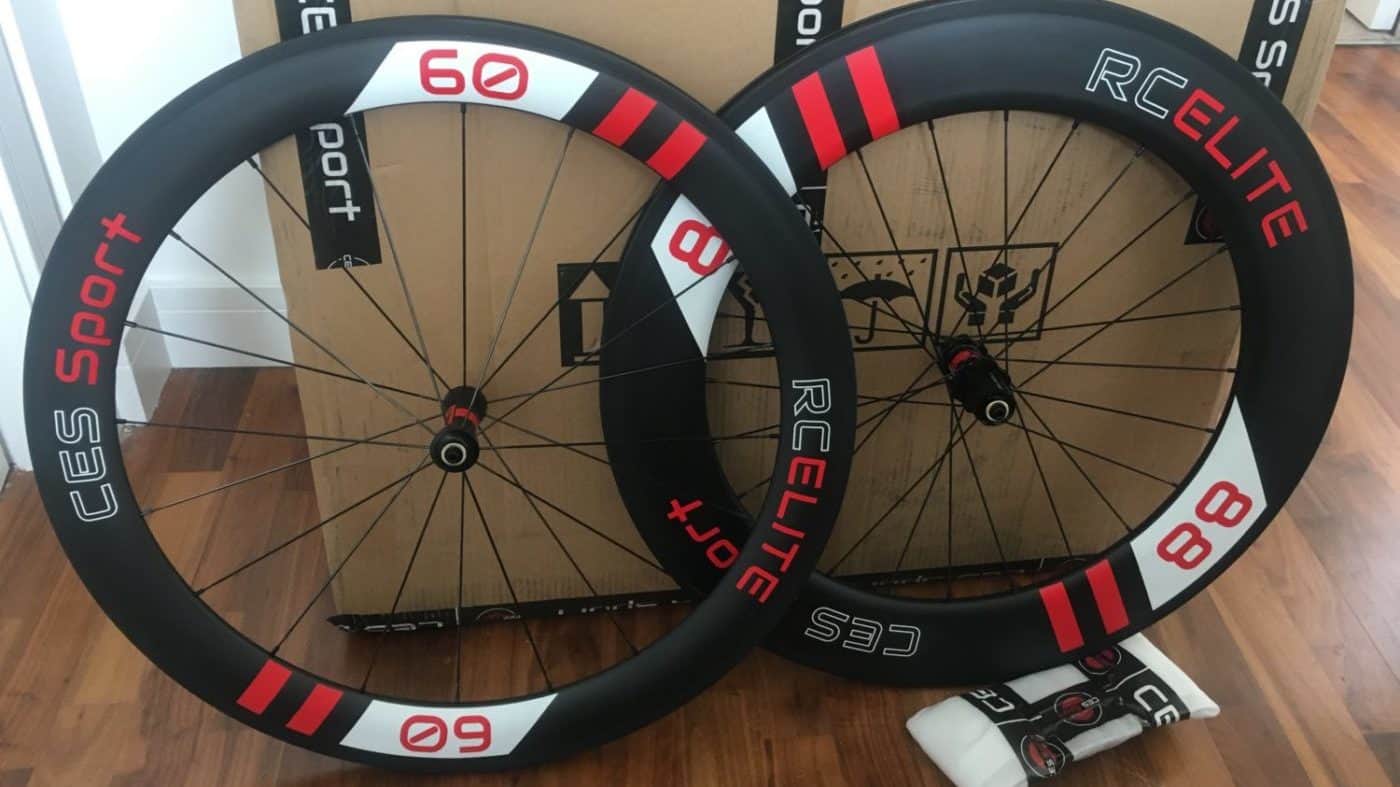 Elephant in the room, which needs to be addressed: the decals on the test wheels are divisive – some people will love them others will hate them; my opinion is that they look pretty cool when spinning but when stationary they are not as fetching. It is worth noting that CES Sport offer a variety of personal livery options.
The CES Sport RC 60/88 Elite Clincher Wheelset's fairing is made from Toray T800 carbon (CES Sport claims this is lighter and approximately 11% stronger than the T700 used in its standard RC range), and is solid to touch (very little flex); both wheels are equipped with DT Swiss 240s hubs and Sapim CX Ray bladed spokes (18 and 20 respectively); and, there is a 1cm deep braking surface.
The RC 60/88 Elite are not the lightest deep section aero wheels on the market, however coming in on the Tri247 scales at 0.73kg and 0.98kg respectively, the combined weight of close to 1700g is competitive – especially for such deep rims.
With an internal rim width of 18mm and an external rim which we measured at 23mm, I paired the wheels with some 25mm Vittoria Corsa tyres. Mounting was easy and the combo looked good and worked well together. It is worth noting that the CES Sport RC Elite are available as tubulars and clinchers, although the clinchers are not yet 'tubeless ready'.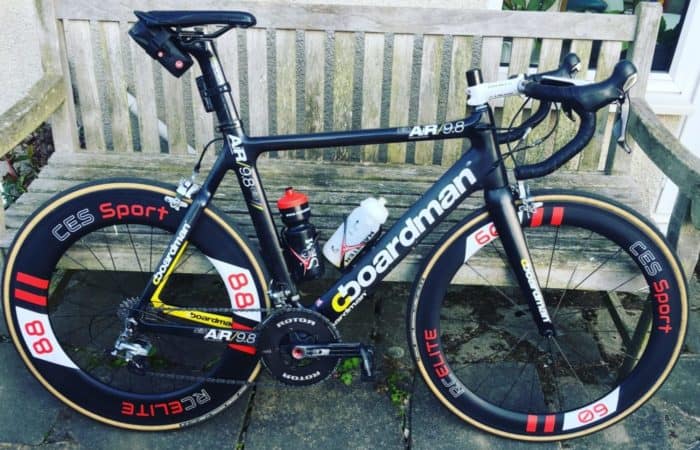 When up to speed the CES Sport RC 60/88 Elite Clincher Wheelset performed admirably – helping me achieve a Strava KOM and some fast bike splits (considering some were done on a road bike as opposed to a time trial/triathlon bike) – and the DT Swiss hubs felt good, with the hoops rolling well.
https://www.instagram.com/p/BxHekQ6FQzi/
In crosswinds they handled comparably with other wheels of a similar depth and I felt comfortable riding solo even in relatively strong winds – this is obviously subjective and dependent on a variety of factors including experience, rider weight, and confidence.
The EKAY brake pads are carbon specific, as you'd expect, and along with the carbon braking surface offered consistent and reliable braking, even in the wet (granted, not ridden in extreme downpours).
Out of the saddle and hammering on the pedals the RC 60/88 Elite felt pretty stiff. There are stiffer wheels available, but the CES Sport hoops provided a good balance between comfort and performance.
Where the CES Sport RC 60/88 Elite Clincher Wheelset didn't perform as well as you might hope was accelerating from a low speed, noticeable on tight corners or trying to jump forward on a steep uphill – however, for a triathlon focussed wheelset this isn't such a huge concern, unless the course is particularly technical/tight and twisting.
The CES Sport are a solid pair of deep section aero wheels, and that is meant as a compliment. After multiple rides, including triathlons to long road rides, they performed admirably – they have felt robust and remained true throughout testing, coping well with some harsh road surfaces.
The full UCI approved RC Elite range includes wheels of varying depths: 38mm, 50mm, 60mm, 88mm, and a full disc.
Verdict
A sound offering from CES Sport, in what is a stacked and competitive deep section aero wheel market. Fast but not the quickest, pricey but not the most expensive…