Bonza Bike Box is the latest bike travel case company to hit the UK market and Paul Shanley reports back from putting one to the test.
| | |
| --- | --- |
| Product: | Bonza Bike Box |
| Price: | £499 |
| Dimensions: | 124 x 94 x 34 cm |
| Weight: | 12kg |
| Website: | www.bonzabikebox.com |
---
Who is it aimed at?
Triathletes and cyclists looking to transport their bike abroad who want a bike box that is stylish, easy to use and protects their bike.
Best Bits?
Easy to move around, not too heavy and looks really good.
What surprised you?
That I liked it as much as I did.
Reasons why you would buy it?
It does what you need it to do.
Full Disclsoure!
I feel I need to give full disclosure before I do this review. I personally own a Scicon AeroTech Bike Box and I absolutely love it. I bought it fairly early on when I got into triathlon and paid a LOT of money for it. It is expensive, so expensive that I don't tell people how much it costs as I am a bit embarrassed that I paid so much for something that spends most of the year sitting in the attic. When it is not gathering dust and actually doing its job, I just can't fault it. In my personal opinion, it's the best bike box money can buy and has served me well for many years.
Now, jump forward to July 2017 and I'm waiting at Lyon airport to collect my bike… only for my beloved Scicon to arrive bashed and broken. I don't know what happened to it and I suspect I never will, but it did look like it had fallen from a significant height onto one of the locks and it was broken beyond repair. Testament to the case however, the bike was completely fine inside; again backing up my "best bike box ever" line.
There is a happy ending to this story – I made a claim and the airport carrier was very good and took the box off to assess and they quickly replaced it with a brand new Scicon. All is good and everyone is happy. Customer service working at its best. During that period I did find myself packing to go and do the SUFCamp and was needing an alternative, so, I managed to get hold of a Bonza Bike Box.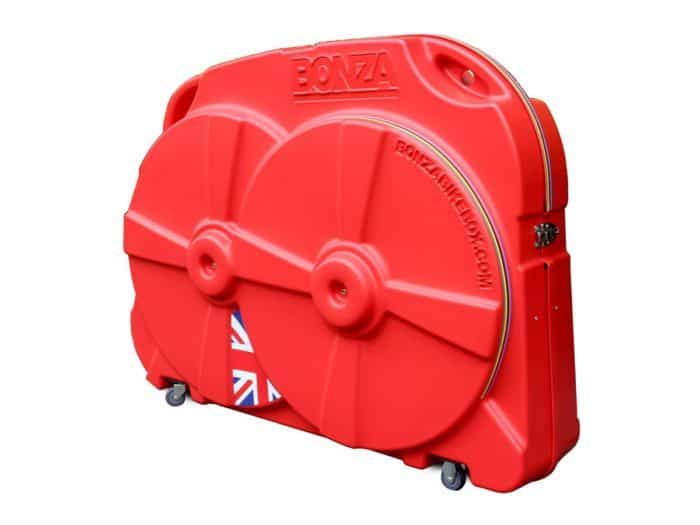 Bonza Bike Box
With more and more triathletes racing overseas, there has definitely been an increase in the demand for bike boxes to hire or buy. Bonza Bike Box is the latest travel case company to hit the UK to satisfy that demand.
The Bonza Bike Box is a strong and rigid hard shell travel case made from HDPE (High-density polyethylene), designed to transport and protect your bike when traveling abroad.

Perfect for holidays, training camps, commuting to an event or competition.
The Look
The box is actually designed and developed in the UK and after unboxing, it very much looked the part. I had the standard red design with the a four colour stripe sticker graphics on some of the edges (The colour reminds me of the rainbow jersey….). The case is available in five different colours (black, red, blue, orange and pink), and along with the Branded Boxes facility, there are plenty of ways of customising the look of the box which is a nice change from the traditional bike boxes that are mostly available in Ford Model T colour.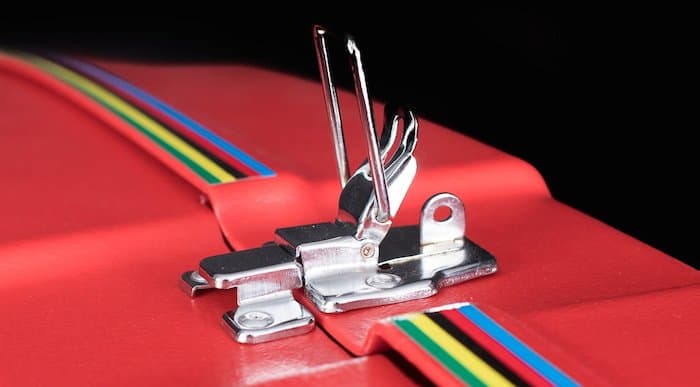 On the branded Boxes you can also custom the box with your name on the side which is a nice feature.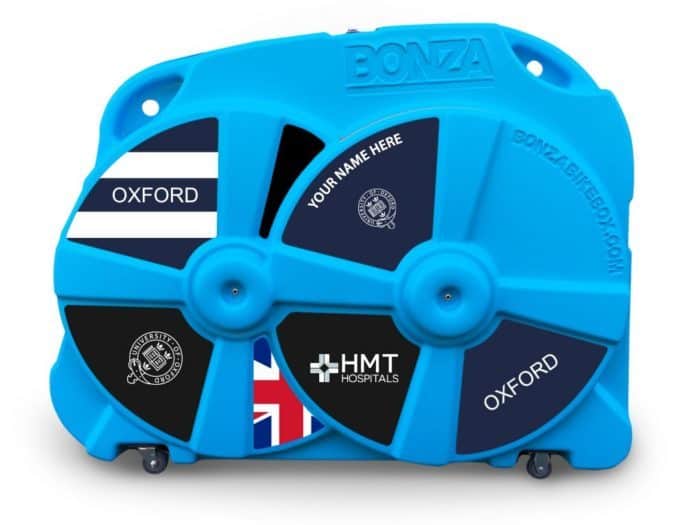 The Build
The case is made from HDPE (High-density polyethylene) and feels very strong and not too heavy. The plastic they have used is different to that used by many others on the market, and they say "this box will not crack under impact due to its more malleable, less brittle construction", and that was the first thing I noticed. The bike box does not feel as rigid as others I have used and there seems to be a lot more movement.
At first I was unsure of this as it actually makes the bike box feel less strong and, dare I say, flimsy but once I had the bike packed into it and moved it around a bit I did start to feel more confident that the bike was safe. There is definitely a lot more give in the box and I could see how this could be good in providing some protection by absorbing some potential impact when being loaded into plane holds etc.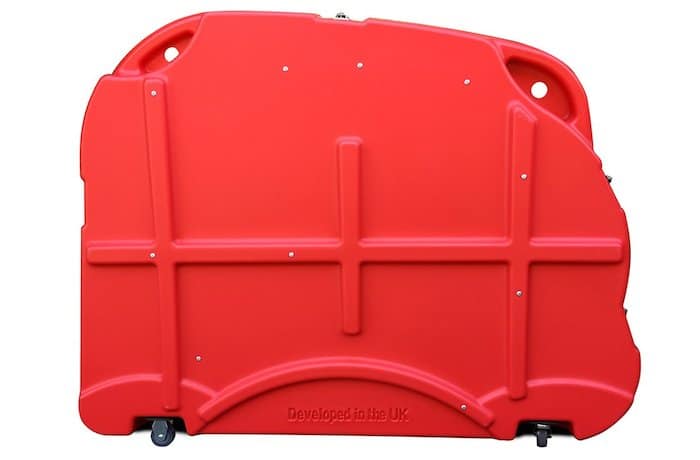 The Features
If you are going to launch a product into a highly competitive market, that needs to be focussed on what your buyer wants and why they should buy your product. Looking through the list of features for the Bonza Box on the website, I do think they have done their research well. The list is pretty simple but in my opinion covers nicely what you want from a bike box.
HDPE anti impact material.
Stronger lockable catches.
Internal Velcro retention straps.
High quality foam protective padding.
High gloss anti-abrasion finish.
Bonza developed anti crush technology with 2 crush rods.
High quality allen key skewers included.
Easy glide high quality wheels.
Fits all makes and sizes of bikes (excluding tandems).
Stylish design.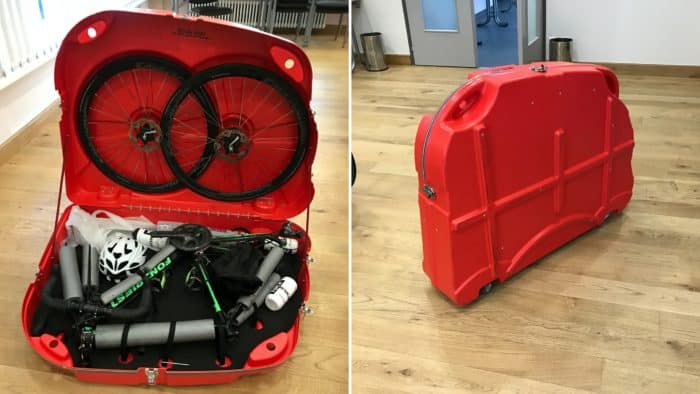 Packing
Packing the bike in the box is pretty straight forward – I was travelling with a road bike but there looks to be plenty of room for a Time Trial bike or MTB too. I could talk you through packing it, but Bonza have a nice video with Pro Triathlete Alice Hector showing you how to pack the box in four easy stages:
Issues**
I did have a couple of issues with the box: The catches were pretty flimsy and looked like they could unclip at any moment. Also, the wheel skewers were just not up for the job (I used the ones from my Scicon bike box), and the anti crush rods did not fit with my disc brake wheels. That said, my bike did go easily into the box, it was very simple to travel with and manoeuvre, and more importantly my bike made it there and back safe and sound.
(** NOTE: The Bonza Bike Box I had was actually a pre-production model and all of these areas have been looked into and upgraded for the (current model) Bonza Bike Box 2. This is something that I feel Bonza need credit for – they are doing extensive testing and redevelopment on the box and I think that will make them a significant player in the market.)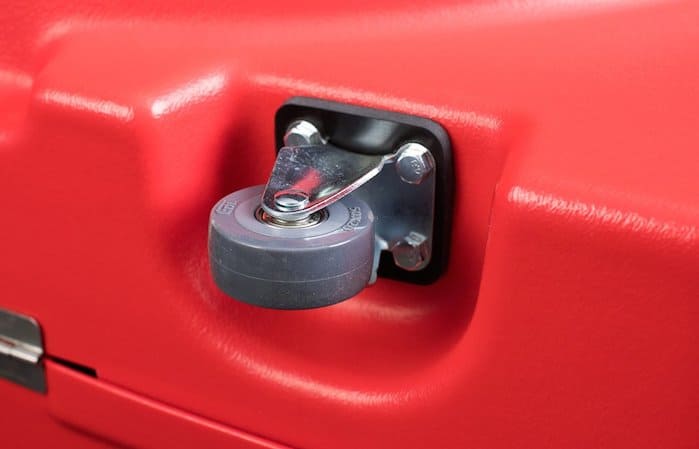 Verdict – would I buy it?
The short answer is yes! The box is well thought out, well made and looks really good. It does the most important part of its job really well, protecting your bike while you travel and I am also encouraged that the company is actively listening and acting on feedback.
Is it as good as the Scicon bike case? In my opinion no, I still think the Scicon is the best bike case money can buy. However it is £699 for the top of the range Scicon vs. £499 for the Bonza, so that its probably an unfair comparison. We've also seen several very attractive discounted offers on the Bonza Bike Box too in recent months, so keep your eyes peeled and you may well be able to secure yourself and even better deal.
In summary, if you are looking for a new bike box then the Bonza Bike Box is well worth adding to your list of options.