Well, we knew he was going and that he was excited, but how did Tri247's Paul Shanley get on at SUFCamp 2017?
In the preview article it was billed as "The most unique cycling holiday in the world"
Did it deliver? You bet it did…!
---
10 things I learned on SUFCamp 2017
SUFCamp was amazing. Really good. So much so, I think I am still a little bit depressed it is over. It really was incredible.
Before we arrived, the literature said each day would be made up of four pillars:
Fitness
Knowledge
Skills
Insights
Every single day delivered on those in abundance. I have come away feeling much fitter, much more knowledgeable, with much improved cycling skills and I got some insights that I don't believe you could get anywhere else.
When I started writing this article, I was planning to break down each day and go through what we did – but looking back, we did so much stuff each day it would take far too long to list them all. This video gives you an idea of what the week was like (and this wasn't all of it, the GOPro battery couldn't keep up!):
So without breaking each day down I have put together the top 10 things I learned at SUFCamp:
ONE: SUFCamp is awesome, really, really awesome. The idea to hold the camp was I believe David McQuillen's (founder of Sufferfest), who having been to the UCI a number of times for meetings thought what a great venue it would be for a camp. From initial idea, to delivering the third camp has been a long journey and only made possible by David's drive and great relationship skills to make it happen. Everyone involved in the camp wants it to be good and that makes it work, from the team at Sufferfest to the UCI. A great idea, a great place and great people. SUFCamp is AWESOME!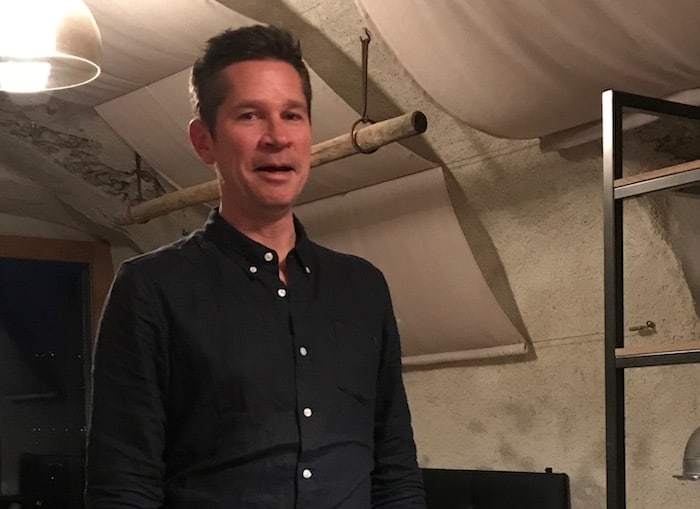 TWO: The UCI (Union Cycliste Internationale) is impressive. Before this camp, the only real exposure I had to the UCI was generally due to controversy about rules or some high end politics. To actually see behind the scenes how they are trying to find and nurture new cycling talent was really enlightening.The UCI are searching the world looking for the next world class athletes. A selection of those that show promise (around 100 athletes), are then sent to the UCI World Cycling Centre (WCC) and given all the equipment and financial support to take them to the next level in the three Olympic disciplines of Road, Track and BMX. Chris Froome was based at the WCC for a while.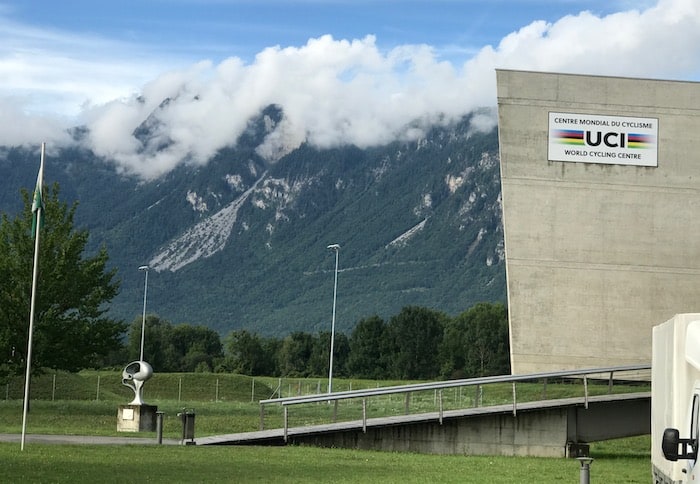 Aside from this talent development, a lot of what the UCI does by its nature opens them up for scrutiny and criticism – they have a number of fairly hot topics to deal with at the moment including Women's Pro Cycling and doping to name a few. But, it's their role to lead the future of competitive sport whilst looking after the legacy and history of the sport and there are a lot of history and traditions to deal with.
"The Union Cycliste Internationale (UCI)'s commitment is to lead the development of cycling as a competitive sport and activity in all its forms, across the world."
THREE: Track cycling is crazy. I honestly can't remember a time that I was as scared as I was on the first few laps of the track. My first time on a fixed speed bike, lots of beginners and a track that is super steep – how I didn't crash I have no idea, Well, I do, it was Neal Henderson from Apex Coaching who was cycling behind me shouting "pedal, pedal", that saved me a couple of times.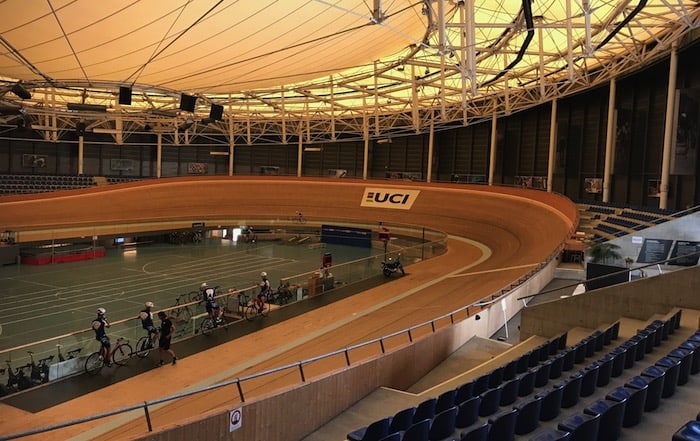 I can't believe I actually went out again on the track and that a couple of days later I was trying to win the Kilo race (I didn't…).Everything I thought I knew about cycling I had to try and forget on the track. It's good for the soul to try something that scares you and track cycling has done that. I haven't conquered it yet, far from it, but I am willing to go back which is saying a lot. As well as scaring you it gives you a really different insight into how to ride and control a bike and I would say is a MUST DO!
Put on your "I am not scared pants" and get yourself down to your local track and have a go.You can find UK tracks HERE.
FOUR: Wattbikes are really good. Yes, they did invite me out to the camp so you would expect me to say something positive about them, but they really are very good. Wattbikes play an important role in the UCI and the collection of bikes in the centre of the WCC track seemed to be in constant use throughout the week. On day one we did the The Power Profile Test (PPT), a standard test which is used around the world (at the UCI/WCC Satellite Test Centres) to identify talent for all cycling disciplines.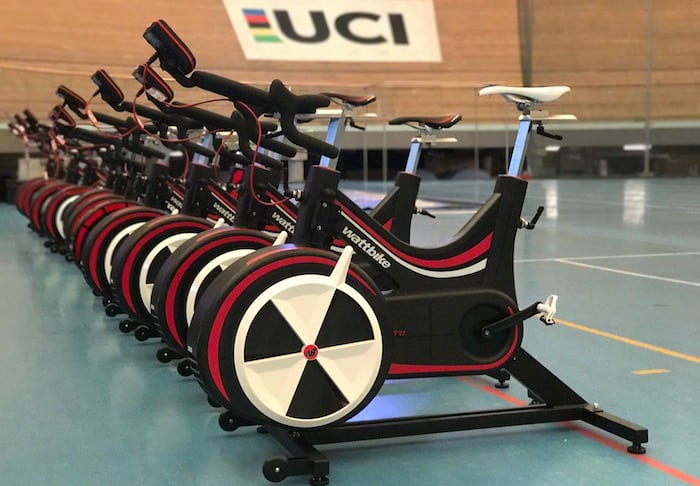 The test is made up of: 2 x 6 sec peak power tests, 30 sec Sprint test and a 4 min aerobic test. Comparing the results against a set of worldwide averages it is much easier to identify the superhuman potential athletes and much quicker than before. The test is easy and fun (!?) to do and a great way to get a quick benchmark of where you are at (see point 5 for my experience). You can find out more about the test HERE.
Wattbike also have more products and functionality launching – The new Wattbike ATOM has just been released, they have also released their new Pedalling Effectiveness Score (details HERE). While at the UCI I got to have a look at their new Wattbike Bike Fitting tool which looks interesting – more details coming soon!
FIVE: I am not an elite athlete. I think we all knew that, but before we did The UCI Power Profile Test I did start to wonder what if it showed that I had some really good cycling talent and I had been undiscovered?! I couldn't help but think that I would actually be a bit depressed if it showed I was special. At 44 years old I often wish I had got into sport and triathlon a lot earlier in life, and I kept thinking if the test shows I could have been good it could have made that a serious regret. Luckily (?!), I was okay – no superhuman performance from me, all pretty average, although I did manage the second biggest Watts on the 6-second output test – that made me feel good.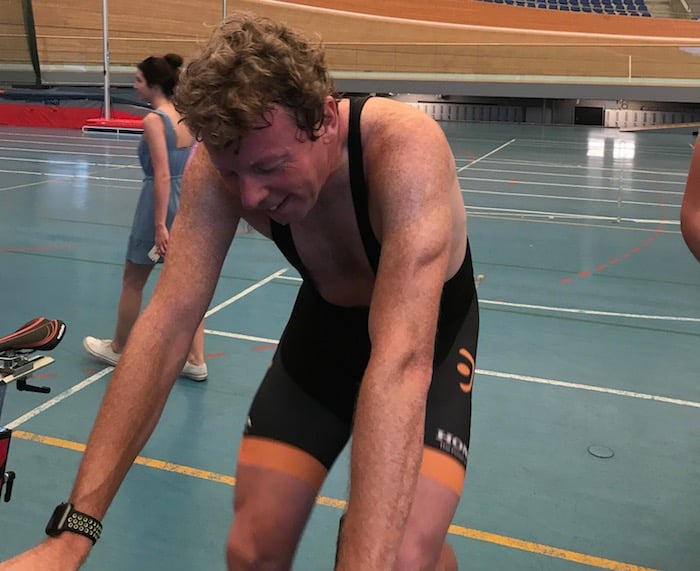 SIX: Apex Coaching know their stuff. Reading the pre-event literature, I knew that Neal Henderson from Apex Coaching would be leading all the coaching classes and that Neal is Flora Duffy's coach. What I didn't know is that Neal used to race triathlon back in the day and has been in many a race with some of the legends in the sport.Living in Boulder, Colorado, he still lives and sees those legends daily and to have someone with his knowledge and experience on hand everyday was a major highlight of the camp.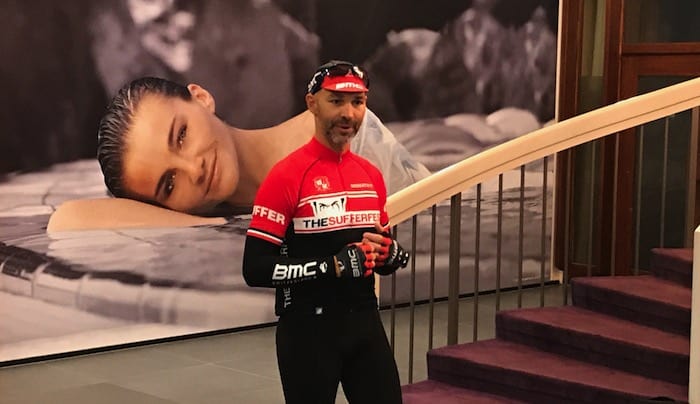 In fact, I didn't really appreciate this until I got back – Neal did all the events with us, ate all the meals with us and we even managed to get him in the bar (or was that out of the bar??). He was on hand nearly all day, every day, to answer questions and give insights. The camp was worth it for access to him alone!
SEVEN: Switzerland is a great place to ride your bike. The bike tours were led by Alain Rumpf who runs Grand Tour Project. Living not far away from the WCC, Alain knows all the rides and climbs in the area like the back of his hand (he even lives half way up one of the rides we did). They were never going to put the HQ of the UCI somewhere that wasn't paradise for riding your bike, and all the roads are in great condition, little traffic and some world class climbs and descents. What I would say is don't go expecting to pick up lots of KOM on Strava though.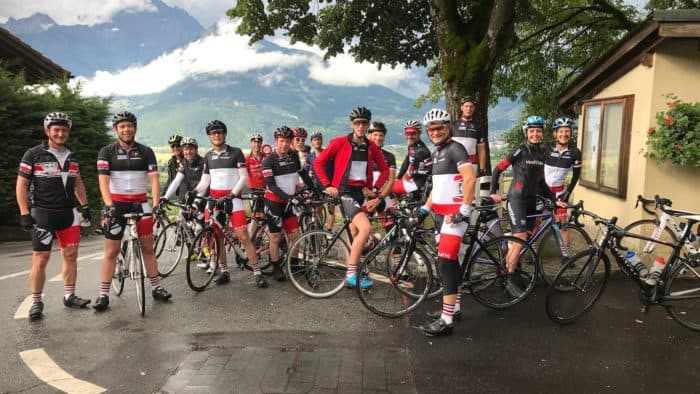 EIGHT: We are more similar than different. The camp was made up of Brits, Aussies, Americans and a couple of Canadians. Brought together with a love of cycling and Sufferfest, it was great to meet and interact with everyone over the week. I met some fascinating, funny (and a few crazy) individuals and created some lasting memories.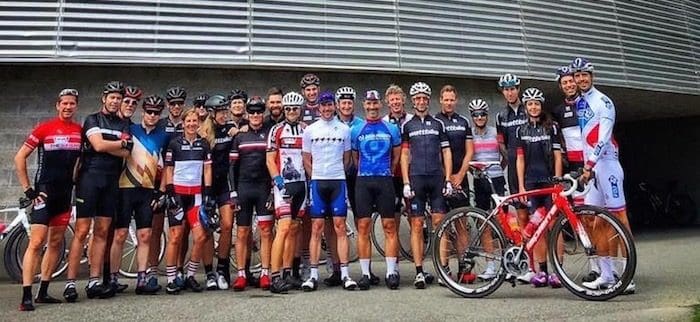 I have to give a particular shout out to Bill from the UK (mainly because he will hate it), a former Royal Marine and Special Forces, a profession that is not generally accustomed to sharing updates via social media. Bill managed to put up with my consistent Facebook Live videos, photos and status updates through the week (and when I say consistent, we are talking a lot, day and night!), and I am sure a number of times he considered neutralising me.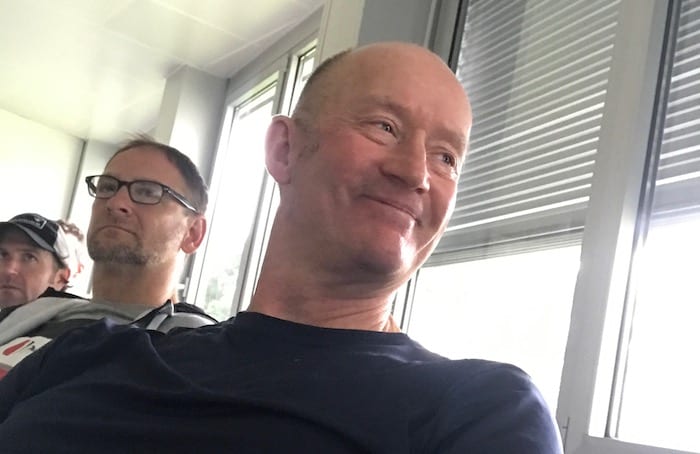 NINE: Sufferlandria is a real place. Well it isn't, but you could start to believe it is. The guys at Sufferfest have created a great product, a great brand and a great community. It really is fun and on my return I have found myself getting a bit addicted to them. But don't take my word for it, try for yourself. You can sign up for a free seven day trial HERE. You can find out about Sufferlandria HERE, and say hello on Facebook – they are all super friendly!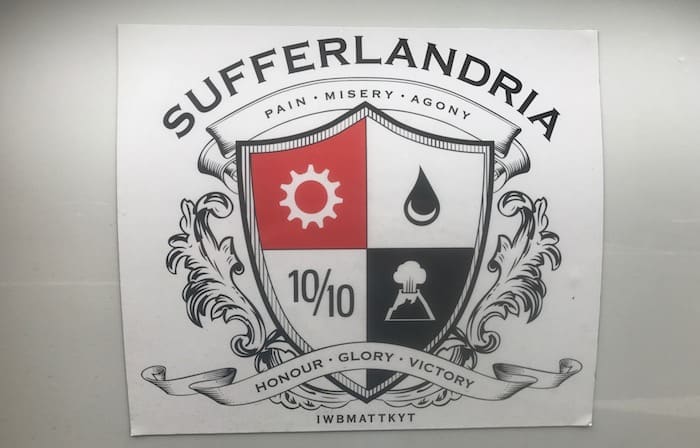 TEN: Be careful what you commit to after a few beers. It looks like my journey in Sufferlandria is just beginning – I got carried away on the last night and signed up to attempt the knighthood. What does that entail? Lots and lots of suffering, based around 10 Sufferfest videos in one day.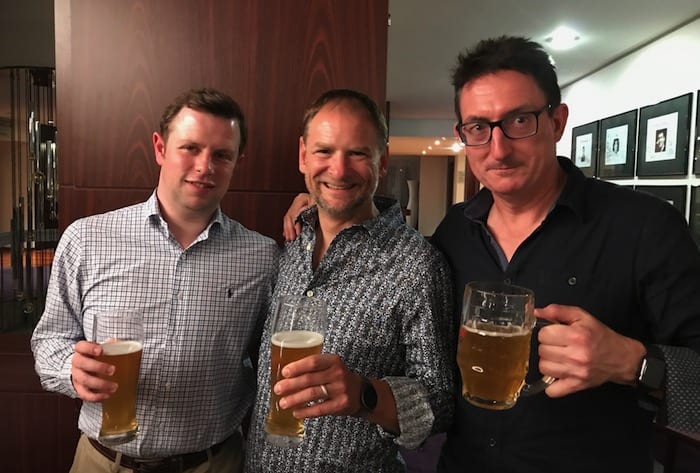 On the plus side, if I can do it I will be become a Knight of Sufferlandria and everyone of those I have met so far have been awesome people, so bring on the suffering!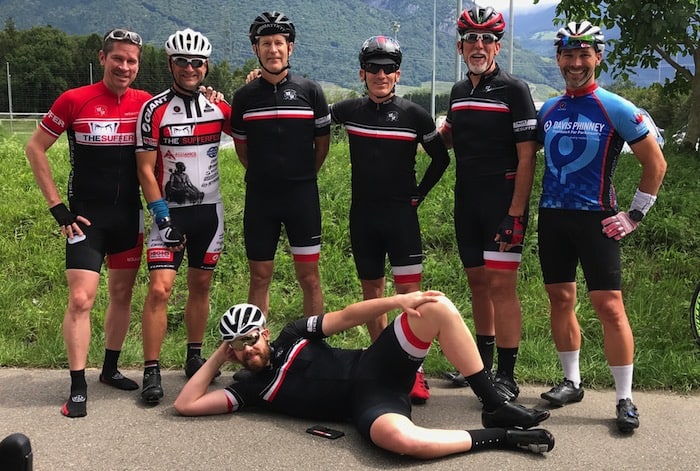 Interested in the camp for 2018?
Well… David McQuillen, Chief Suffering Officer says:
"After a brilliant sold-out camp this year, the greatest cycling holiday in the world is back next year. SUFCamp takes up exclusive residency at the UCI World Cycling Centre in Aigle, Switzerland from the 17-22 June 2018. Open to men and women of all fitness levels, this is the trip of a lifetime. You'll be treated like a pro cyclist, cycle through incredible landscapes, learn from elite coach Neal Henderson, meet great people, get behind-the-scenes insight from UCI executives and World Tour Pros and all the while enjoying gourmet food and wine in the evenings as you tell tales of GLORY. It is seriously fun. We're taking reservations now. Hurry – of the 20 spots initially available – only 15 remain."
Find out more HERE.