It is not often (yet) that a triathlete becomes genuinely famous or recognised outside of the triathlon bubble. However, in her home country of Bermuda, Flora Duffy isn't just a famous triathlete – she is a genuine superstar and national icon.
Flora was already popular before she won the country's first ever Olympic gold medal, but since then her status has rocketed to another level. Her post-Tokyo homecoming was quite the party, comparable to (if not greater) an event for a movie star/monarch/the 'Beatles'; a limited edition rum titled 'Flora Gold' was launched; the iconic Corkscrew Hill (where she made her winning move at the 2018 WTS Bermuda event) was renamed to commemorate her gold medal success; 18 October 2021 became a national holiday in recognition of her victory in Tokyo – say hello to Flora Duffy Day. Then, on December 31, she was made Dame Flora Duffy in the New Year Honours List – what a 2021…
Flora's Olympic victory was the culmination of consistent elite success for a number of years across multiple formats of triathlon. On her day, which is quite often, Duffy is close to being the perfect triathlete – strong across all three disciplines (plus transitions!) and arguably without a weakness. Her competitors know how she races, but are often powerless to do anything about it.
Flora's signature style is to come out at the front of the swim and then to simply put her competition to the sword on the bike. She uses her strength and technical ability to ride away from the field, either solo or by working hard in a small, elite group. Off the bike, her run prowess is such that she frequently either consolidates her lead or, when necessary, pulls away from her competitors.
The above suggests that Flora is all-conquering without any adversity, but that is misleading.  She has had her fair share of setbacks, including a serious foot injury in 2018 which kept her away from the start line for around 12 months.  In short, her return to the top echelons of the sport and glory in Tokyo was not a given.
As mentioned, Duffy's level of recognition compared to other triathletes is quite unique, as emphasised by her being awarded an OBE in 2018 for her services to sport in Bermuda. An example of Flora's commitment to sport on the island is the 'The Flora Fund', which she established in 2018 to give something back and to support aspiring Bermudian athletes to achieve excellence (the limited 15 bottles of 'Flora Gold' rum raised $18,090 for The Flora Fund!).
Career record and results
It is not even up for debate – Flora Duffy is one of the best all-round triathletes in the sport's history, and this is reflected by her hugely impressive palmarès.
Before even considering her standalone race victories, her swathe of elite world titles is staggering. Duffy won the ITU World Triathlon title in 2016, 2017, 2021 and 2022 (surpassing Emma Snowsill's previous record of three world titles); she has excelled in off-road races by winning numerous global titles – ITU World Cross Triathlon champion in both 2015 and 2016, whilst dominating the XTERRA World Championships where she claimed a sixth title in 2021 after previous wins in 2014, 2015, 2016, 2017 and2019! If that wasn't enough, in addition to being a four-time Olympian, Flora took the gold medal at the Gold Coast 2018 Commonwealth Games – and then defended it four years later in Birmingham.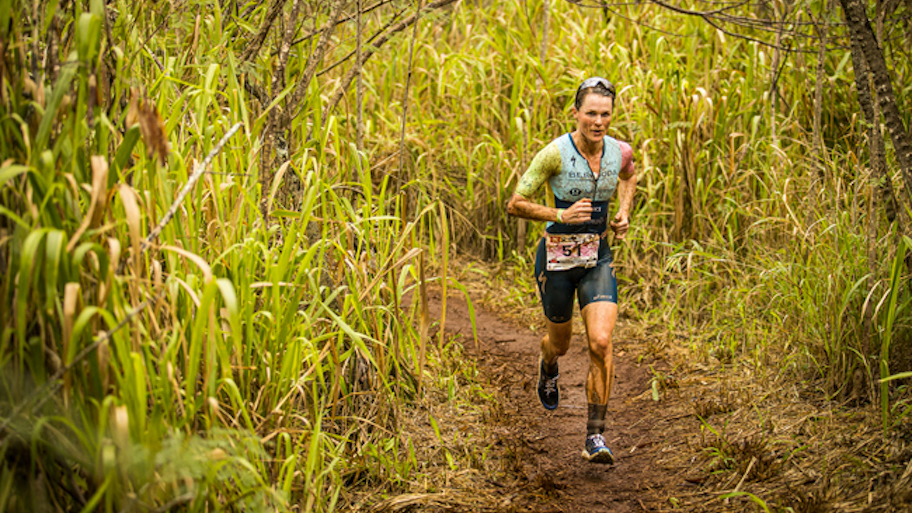 The above results are clearly impressive, but arguably Flora's standout performance to date came in the ITU World Triathlon Bermuda race in April 2018. She is such a big draw in Bermuda that she was a crucial factor in the race being held on the island, and then with her status of race favourite came immense pressure. Flora's response, quite simply, was 'what pressure?!'
She won the race comfortably by close to two minutes (with Vicky Holland pipping Katie Zaferes in a sprint finish for second), despite relaxing and enjoying the applause of the crowd in the final stages. Although her run was impressive (and did extend her lead, which was 1:20 coming into T2), the real damage and show of superiority had been done on the bike. Coming out of the water first, and initially accompanied by America Kirsten Kasper, Flora set to work. The manner in which she dropped and rode away from Kasper on Corkscrew Hill was impressive, but for some the idea of riding solo for 40km would be madness. Not for Duffy though and the bike leg showed her dominance. To build a lead of over a minute on the stacked field was incredible.
Olympics and Tokyo gold
Sometimes a standalone one-day race like the Olympics can throw up a big surprise, such as Jan Frodeno's win in 2008. At Tokyo 2020 Flora Duffy did not have the luxury of flying under the radar – that is not possible when you are already a multiple world champion and among the favourites to win. It was by no means certain that she would walk away with a medal though, let alone the gold.
Having been to the three prior Olympics (Beijing, London, and Rio), Duffy was already well versed in the Games experience, but no Olympics are the same. For a start, four (or five) years is a huge amount of time in elite sport. Rio was a disappointment for Duffy. Despite ending the year with three world titles, and on the face of it the large hill on the bike course appearing to suit her strengths, she returned from Brazil having finished out of the podium in eighth place. In contrast, Duffy executed her Tokyo race perfectly in July 2021.
Seven athletes, led by Jessica Learmonth, came out of the water first in the Japanese capital, and the heavy rain/wet surface then played into the hands of a confident bike handler like Flora. Unless an athlete like Nicola Spirig could bridge across to the group, the medals looked like coming from the front seven – this turned out to be the case.
The group had whittled down to four by T2 with Georgia Taylor-Brown 22 seconds back having suffered a flat tire.  Out on the run, Flora turned the screw and made the first attack on the opening lap (of four). We didn't know it at the time, but this was the moment the gold medal slipped away from the competition.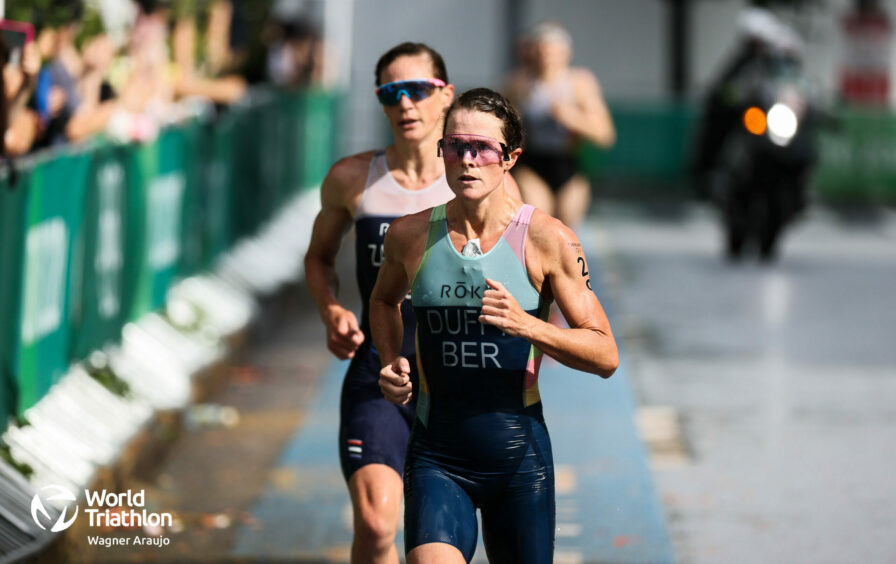 After the first 2.5km of the run it was by no means certain who would win gold, silver, or bronze. Flora's lead was 17 seconds over Katie Zaferes, but Taylor-Brown was running quickly in third. However, Flora showed she was a worthy winner with a strong and dominant run – by the end of the race she had increased the margin of victory to a substantial 74 seconds.
Flora Duffy and family
Flora was born and raised in Bermuda, however, Britain might try to take some credit in developing this triathlon powerhouse. Duffy's parents are both British-born and Flora studied at the Mount Kelly school in Devon, England, from 2004 to 2008.
In December 2017 Flora married South African Dan Hugo. Dan is a former pro triathlete, and was particularly successful in XTERRA racing. Flora and Dan often spend much of the year either in Dan's home town of Stellenbosch, South Africa, or in Boulder, Colorado.
Flora Duffy gear
Flora is part of the impressive Specialized stable of athletes (the three medallists in the women's Tokyo Olympic triathlon were all riding Specialized bikes). On race day Flora rides the Specialized S-Works Tarmac SL7, equipped with SRAM components and ROVAL wheels. If you follow her on Instagram, you'll see she is also partial to the odd mountain bike adventure on her Specialized S-Works Epic.
On occasion Flora is seen on bikes with unique paint jobs. In 2018 she had a very cool Bermuda inspired Specialized Tarmac disc and after Tokyo she received an eye-catching frame to commemorate her gold-medal performance.
As you may expect, Specialized was not alone in providing Flora with custom gold tech. Duffy is supported by Asics, and although the Asics Metaspeed Sky carbon shoes are popular amongst many elite triathletes, only Flora now has custom kicks to commemorate her golden day in Tokyo.