Born in Cologne, Germany, in August 1981, and then raised in South Africa and now making a home in Girona, Spain, Jan Frodeno stands at an imposing 1.94m and for many fans of triathlon is the G.O.A.T (Greatest Of All Time).
There is certainly a commendable argument for the man known as 'Frodo' to be classed as the best triathlete ever – his palmarès includes short-course draft legal success at the highest level and victories in the most iconic middle-distance and full-iron distance races on the circuit (such as Challenge Roth and the IRONAMN World Championship in Kona, Hawaii).
Frodeno is an exceptional athlete, and it is difficult to find a weakness in his armoury. He utilises his swim background to enter T1 at the front of the race, bikes strongly and runs swiftly. His 1:06:33 for the half-marathon to seal his victory at the 2018 IRONMAN 70.3 World Championship was very impressive. The course may have been a touch short, but he ran a minute faster than Alistair Brownlee and this was before the advent of carbon-plated running shoes!
For an individual touching 6 foot 4 inches, he weighs a svelte circa 76kg. His height is likely to aid his swim pedigree, whilst being below 80kg means his power-to-weight ratio on the bike and run will be advantageous.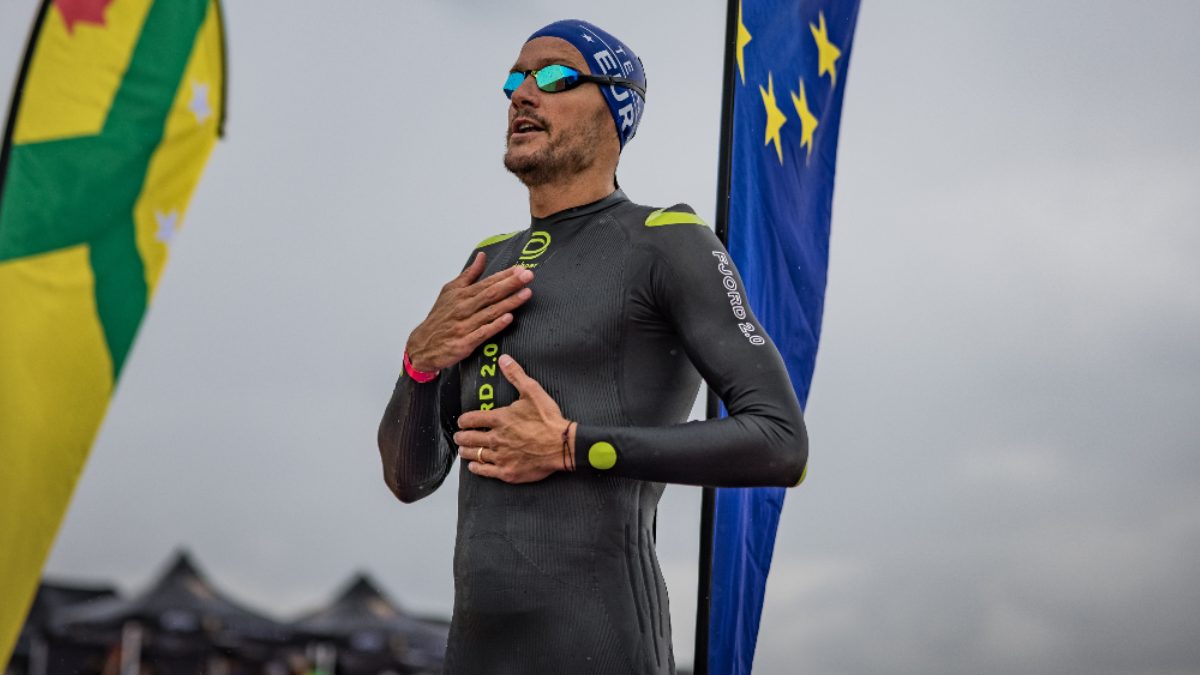 Although his physical attributes and triathlon successes are notable, there is more to Frodeno than simply Jan the triathlete… enter Jan the businessman.
Like many endurance sport enthusiasts, Frodeno has a passion for coffee, but he has taken this interest further than most. He has his own coffee brand Frodissimo [which can be purchased on the Ryzon website], and in early 2021 he and his wife opened their own café/restaurant, La Comuna, in Girona.
Career record and results
After a silver medal at the 2004 Under 23 World Championships, Frodeno had his eyes set on turning pro.
He made steady progress, placing in the top 10 in several World Cup events (the top level of triathlon at the time), including second at the 2008 Hamburg BG Triathlon World Cup. He also experienced team success in the men's relay event at the 2007 Copenhagen ETU Triathlon European Championships before a stand-out result with individual gold at the 2008 Olympics.
In both 2009 and 2010 Jan finished fourth in the ITU World Triathlon Series and in 2012 he attempted to become a double Olympic Gold medallist. After winning gold as part of the victorious German team at the 2013 Hamburg Mixed Relay World Championships, he stepped away from short-course draft-legal racing to focus on middle and long-distance triathlon.
Arguably this is when Frodeno really revealed his true athletic prowess. There is a huge difference between excelling at a race lasting around four hours compared to an event with a duration of circa eight hours. Some athletes can be world-beaters at middle-distance racing and capitulate when racing north of seven hours, whereas others come into their own the longer the race endures.
Since moving up to half-iron and iron-distance racing, Frodeno has quite simply excelled at both. In addition to winning in Kona on multiple occasions, he has taken the tape first at the IRONMAN 70.3 World Championships in 2015 and 2018, IRONMAN 70.3 Barcelona in 2015 and 2017, Challenge Roth in 2016, IRONMAN Austria in 2017, and the IRONMAN European Championship, Frankfurt, in 2015, 2018, and 2019.
Frodeno was dealt a major blow on April 14, 2022 when he announced that he would be forced to miss the delayed 2021 IRONMAN World Championship scheduled for St George in May, due to a small partial tear of his Achilles tendon. Then, in August, Frozen announced he would miss Kona, with the following 14 months leading up to the 2023 IRONMAN World Championships set to be his last in the sport.
Now healthy and back training, Frozen has announced five races for what is set to be his last year in the sport, IRONMAN 70.3 Oceanside in April, the PTO European Open in May, the IRONMAN European Championships in Hamburg in June, the PTO US Open in August before culminating at the IRONMAN World Championships in September.
Frodeno at Kona
For many athletes, the Olympics is the pinnacle of their sport and their career. However, for many triathletes the apex of the sport is Kona and the IRONMAN World Championship – where athletes complete a 3.8km open-water swim (alongside turtles!), a 180km out-and-back bike ride (it is often extremely windy, no rear disc wheels allowed!), and then a 42.2km run (in extreme heat).
When it comes to Frodeno, it appears that Olympic success was merely the launchpad for long-distance triathlon domination. He made his debut at Kona in 2014 and finished a commendable third. Since then he has been (almost*) unstoppable, coming out on top at Kona in the men's races in 2015, 2016, and 2019.
*In 2017 an injury-impacted run of 4:01:57 meant he finished well down the field, and in 2018 Frodeno was forced to withdraw from the race in advance due to a stress fracture in his hip.
For many years, breaking the 8-hour barrier in Kona seemed unreachable. That was until 2018. It was then that Frodeno had to watch his countryman Patrick Lange run to victory for the second year in succession and break that mythical mark with an epic 7:52:39. Returning in 2019, Jan had a few questions to answer – was his time as the best iron-distance athlete over? Could he still compete with the very best on 'The Big Island'?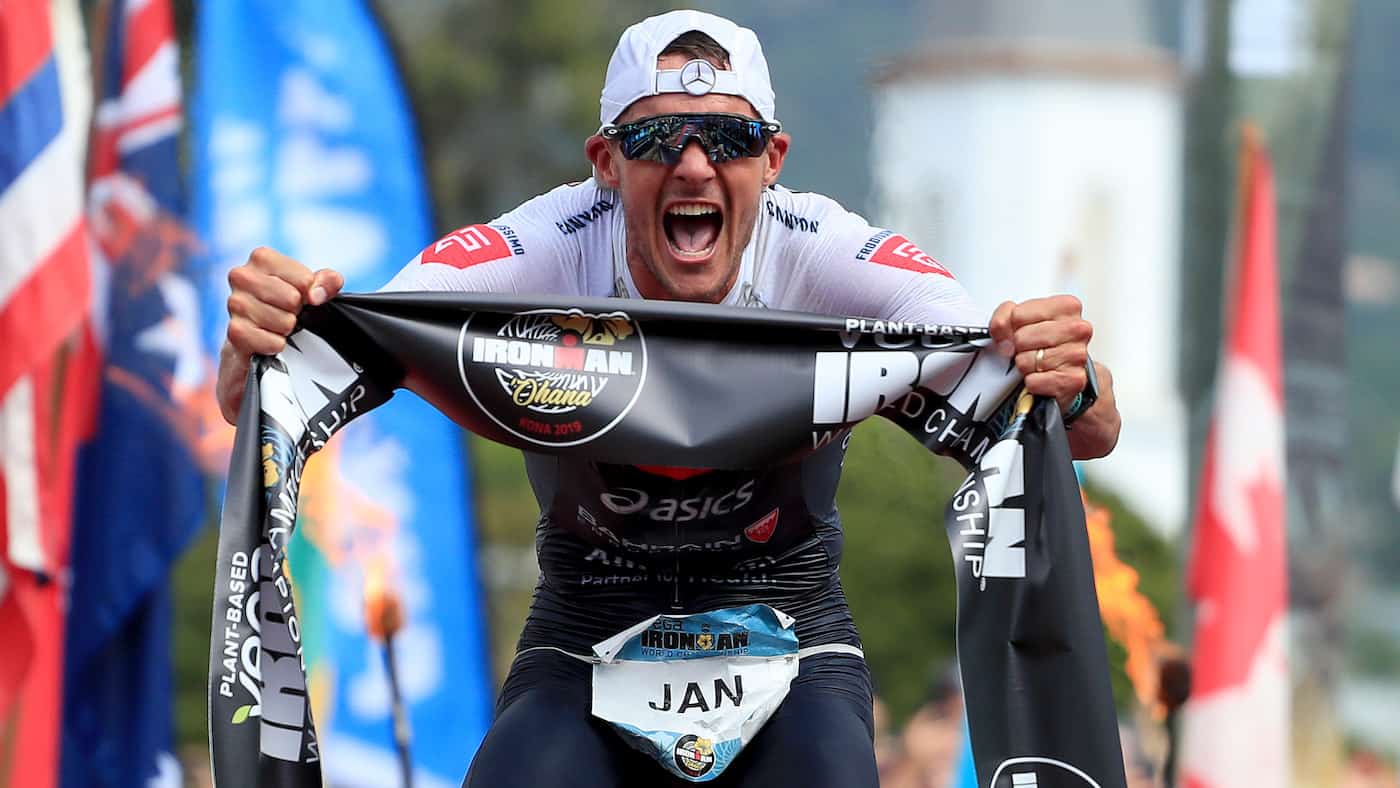 They were silly questions as it turned out, and they were answered in the most emphatic manner possible. Frodeno was in imperious form and proved any doubters wrong. He backed up a 47:31 swim (coming out of the water in the elite front pack) and 4:16:02 bike (returning to T2 with a 90-second lead) with a frankly ridiculous 2:42:43 marathon (that's running at 3:42km pace) to finish in a scintillating 7:51:13!
Despite being forced to miss St George in May 2022, Frodeno is still hoping he will be fit to race when the IRONMAN World Championship returns to Hawaii in October 2022.
Frodeno at the Olympics
It is easy to think that Frodeno has always been a top name in triathlon and that victories are a certainty. After all, in addition to his sustained long-distance successes he had already won Gold at the 2008 Olympics.
In fact, it was quite the finish in Beijing (although not as close as the photo-sprint finish between Lisa Norden and Nicola Spirig at London 2012). With four athletes all shoulder-to-shoulder and all still in contention in the final stages of the race, Simon Whitfield surged ahead, looking a good bet to repeat his Gold medal success of Sydney 2000. That was until Frodeno's last-ditch injection of pace allowed him to catch and pass the Canadian in the final metres to snatch glory.
Frodeno's victory in Beijing was a big surprise for many – not only did he beat hot favourite Javier Gomez, Whitfield and New Zealander Bevan Docherty (the silver medalist from Athens 2004), but Frodeno simply wasn't on many people's radar due to his relatively modest career to date. Prior to Beijing he had managed numerous top 10s but no individual victories in top-tier International races.
Jan is a two-time Olympian and went to London 2012 to attempt to win back-to-back Olympic Golds. He was thwarted by the overwhelming home favourite Alistair Brownlee, but still finished in a highly creditable sixth place.
The fastest Ironman distance time
Jan Frodeno must like records. In addition to setting the quickest time in Kona, he also held the fastest iron-distance time in race conditions for some five years. At Challenge Roth 2016 he broke the record set by fellow German Andreas Raelert when he crossed the line in 7:35:39. Frodeno would eventually go even faster.
In the much-hyped Zwift Tri Battle Royale in July 2021, where he went head-to-head with Canadian Lionel Sanders on a course optimised for speed (including purpose-built banked turns), Frodeno crossed the finish line in an astonishing time of 7:27:53.
The crazy thing is that he could well have gone faster. The weather was inclement (cold and wet) and Frodeno slipped in transition, landing hard on his hip.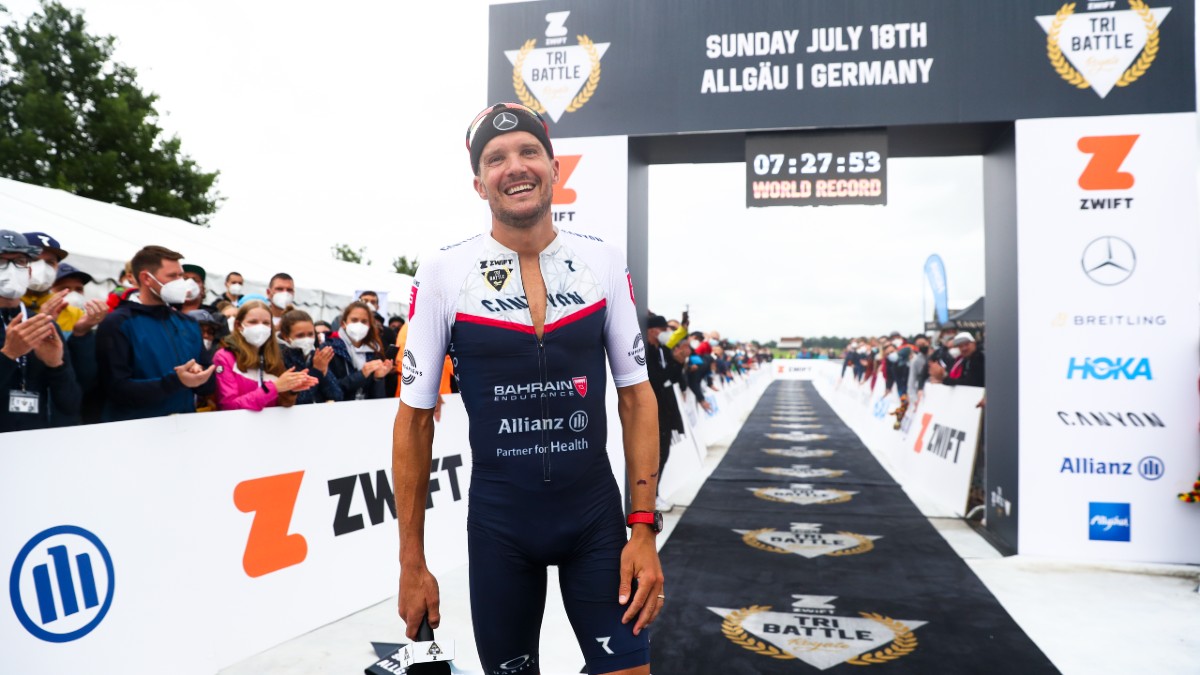 Frodeno's time stood as the gold standard until November 2021, when Norwegian Kristian Blummenfelt bettered it with a 7:21:12 at IRONMAN Cozumel. That though comes with something of an asterisk due to the strong current which assisted a blisteringly quick swim leg.
Jan Frodeno and family
Being a multiple World Champion and an Olympic medalist would give you bragging rights in most families. However, Jan Frodeno is not the only world-beating elite athlete in his household.
Emma Frodeno (nee Snowsill) also won Olympic triathlon gold at Beijing 2008, and was a serial winner at the highest echelons of triathlon throughout her career (winning 2006 Commonwealth Gold and being a three-time World Champion).
The couple married in 2013 and have two children.
Jan Frodeno gear
The swim is a strength of Frodeno and Jan is typically in the front pack or even at the very front of the swim.
Elite swimmers require a wetsuit which offers buoyancy, and importantly flexibility. Frodeno is supported by wetsuit brand de Boer and wears the brand's Fjord range of wetsuits. De Boer claims its flagship Fjord 2.0 wetsuit "…provides unparalleled mobility.."
Canyon bikes, based in Koblenz, Germany, have a knack of supporting some of the best long-course triathletes, or is it the bike that helps such athletes stay at the top?
All of Frodeno's IRONMAN World Championship victories have been achieved with the assistance of a Canyon time trial bike. His current steed is the Canyon CF SLX Speedmax Disc, and as you'd expect it is large.
In addition to his custom-made mono-bar cockpit, designed for optimal comfort and aerodynamics, Frodeno's Canyon is equipped with Zipp carbon wheels (often the American company's 858 front wheel paired with a Super 9 disc wheel), a SRAM Red AXS eTap groupset and a Quarq power meter.
Frodeno also uses a Wahoo Bolt bike computer and opts for the eye-catching Bont Zero+ bike shoes with their distinctive aerodynamic cover.
From 2003 up until the start of 2020, Frodeno's shoes of choice had been Asics. After his sustained success wearing kicks from the Japanese running shoe stalwart, Frodeno joined Hoka One One's substantial stable of elite triathletes.
Hoka One One, with its distinctive looking style, was one of the early adopters of shoes with integrated carbon plates. It is the case now that if you don't have top-performing carbon-plated running shoes, you are at a substantial disadvantage compared to the opposition.
For 2021, Jan has been wearing Hoka's Carbon X2 and was spotted in the Hoka One One Rocket X at 2021 Challenge Miami.
It's possible that the average triathlon fan has not heard of Ryzon, the brand which is intrinsically linked with Jan Frodeno.
Jan is from Cologne and Ryzon is from Cologne. Jan was part of original team of five which created Ryzon. Therefore, it is no surprise Jan wears Ryzon race suits and apparel.
Launched in 2016, Ryzon positions itself as a premium brand, and the impressive looking apparel has price tags to match such status.
However, having seen Jan's custom-made skinsuit in the flesh – the Verge Aero Race Suit – and the results Jan has achieved in said kit, Ryzon must be doing something right!