Results from Germany as Jan Frodeno survived a painful fall to power to victory vs Lionel Sanders in their Zwift Tri Battle Royale on Sunday.
The modern-day GOAT created a new record time for the ironman distance in the process, though of course it is impossible to know how that compares to previous records given the nature of the contest.
Whatever your opinion on that aspect, this event put new focus on the sport of triathlon – which has to be a positive – with both men promoting it heavily in the lead-up to the race itself.
While Frodeno was peerless for most of a rainy day in the Allgäu region, the victory was anything but comfortable in the end after he injured his left hip taking a heavy fall during the stadium section at the end of the first run lap.
Iron-distance record time
There was speculation pre-race that the weather in southern Germany – which resulted in horrendous storms and flooding in the region in recent days – would ruin any hopes of a record bid.
But those fears proved unfounded as Frodeno beat the 7:35:39 mark he himself had set at Challenge Roth back in 2016.
The German superstar finished in a new record time of 7:27:53 while Sanders also eclipsed his previous personal best with 7:43:28.
Swim – Frodeno takes control
The two men dived into the waters of the Grosser Alpsee lake at 0900 local time under heavy clouds, and Frodeno quickly took control as expected.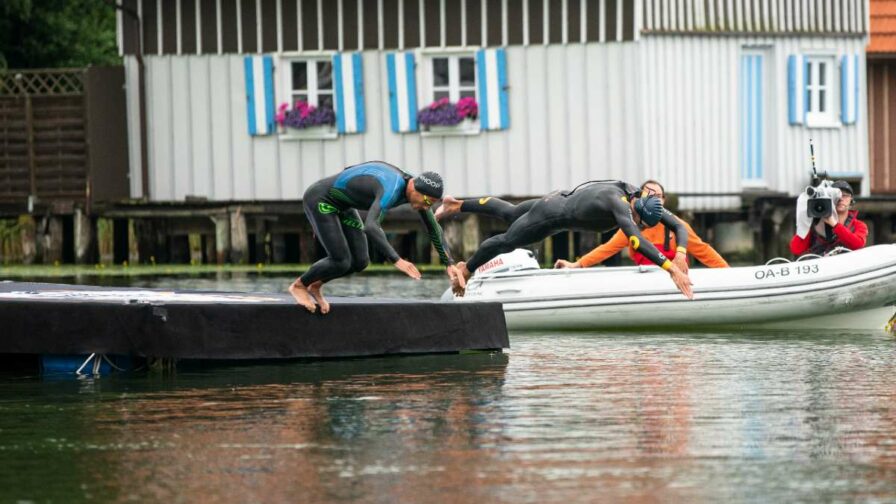 But Sanders – who admits his recent focus has been to "stop sucking at swimming" – showed the improvement that work has reaped as he produced a strong 50:58 clocking. That was still an even five minutes behind Frodeno, who exited the water in 45:58, slightly slower than the 45:22 he produced during that record-breaking Roth rout in 2016.
Swim Split Times
Jan Frodeno – 45:58
Lionel Sanders – 50:59
Bike – Jan powers to a 3:55
This was supposed to be the moment where Lionel might just make up some lost time, but it wasn't to be. Which is saying something, given that Lionel himself was only just outside of four hours flat for the 180km.
Frodeno, setting off without his shoes on after a messy first transition which included dropping his aero helmet, instead powered even further clear as he produced sensational average seeds to clock an eye-watering 3:55:22.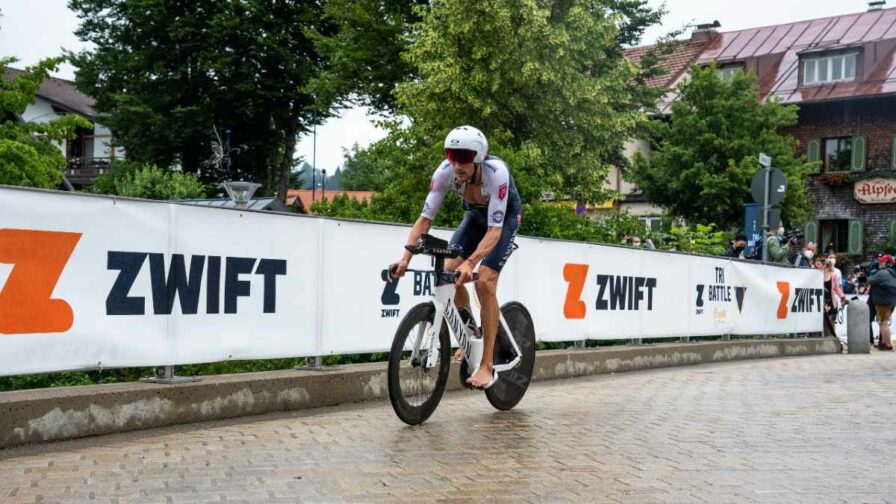 The course, of course, was set up for speed with the event managing to shutdown what appeared not far short of a motorway for the majority of the bike route. The Canyon Corner added a velodrome-like twist at one end of the route – and some great images – but however you cut it, 3:55 (well over 46 km/h average), is a seriously impressive solo TT effort.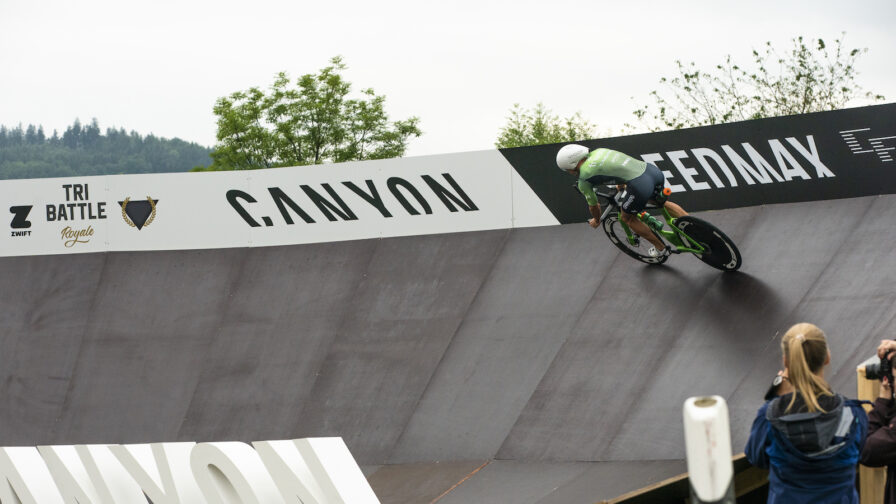 Sanders too was excellent in clocking a 4:00:26 on a course both men had described as super-fast (even if conditions, perhaps, were not given the downpours that features during the ride), but it was just not enough to live with Frodeno.
Bike Split Times
Jan Frodeno – 3:55:22
Lionel Sanders – 4:00:26
Run – fall guy Frodeno prevails
Frodeno took an advantage of around 10 minutes into the run, but there was very real concern as he slipped and fell heavily taking a turn in the stadium section at the end of the opening lap.
The German would leap up swiftly but was clearly in pain as he rubbed his left hip before setting off again, in some pain and certainly not immediately back into his metronome style.
The mishap, despite the pain it may have delivered, did not appear initially to affect Frodeno's pace too much as he continued on record pace with that familiar loping gait. As the race wore on he did start to slow a little, but not enough to deny him both the victory and that new record time.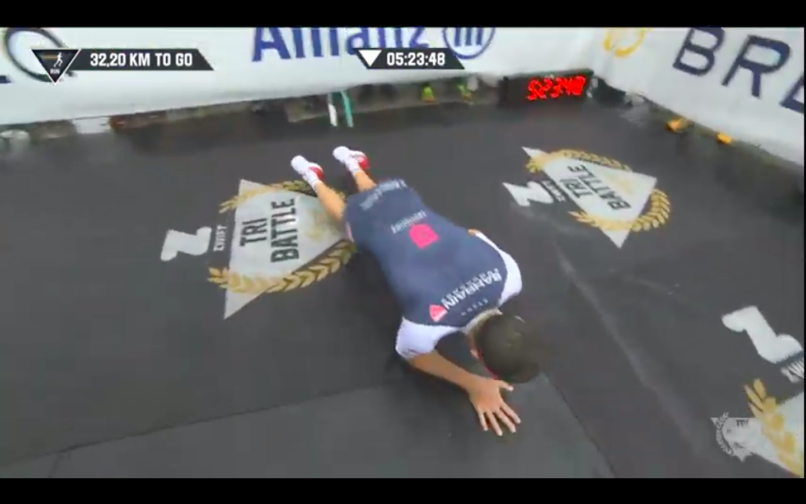 Sanders meanwhile continued his vain pursuit, an achievement in itself just three weeks out from that painful conclusion at IRONMAN Coeur d'Alene. There was little between them over the first 30km, but while both not unreasonably faded on the final lap, it was the German legend who maintained his progress the best.
For Sanders, from walking over the line in Idaho, to a new personal best in Germany just three weeks later. That alone was something many (most) didn't think was possible. Back on a plane and across the Atlantic to another go next week at IRONMAN Lake Placid? Don't rule it out, he's on the start list!
Run Split Times
Jan Frodeno – 2:44:21 (provisional)
Lionel Sanders – 2:50:31 (provisional)
The final times, subject to official ratification, saw a 7:27:53 for Jan Frodeno, with Lionel crossing line in 7:43:28.
The Tri Battle Royale didn't produce a mano-a-mano head-to-head, and the coverage was at times impacted by the weather conditions, but it was still a great day of triathlon.
Kudos to everyone involved.