Kristian Blummenfelt set a new fastest ever time for the ironman distance in November 2021 – and he did it on debut!
The Norwegian's astonishing display in Cozumel, Mexico made the endurance sports world sit up and take notice. The Olympic Champion showed that his blistering short-course speed also translates pretty nicely to longer distances too.
As for the women, the fastest time over the ironman distance is a staggering mark which stands a decade after it was set. Chrissie Wellington, take a bow.
Just completing a race at iron distance is a lifetime achievement for many athletes. But the fastest time ever? The accolade can go to only one man and one woman. Here is how the landscape looks right now.
Who holds the fastest Ironman time?
The current fastest times ever for the iron distance (2.4 mile swim, 112-mile bike and 26.2-mile run) are currently held by the aforementioned Blummenfelt and also by British triathlon great, Chrissie Wellington.
Here is how they were set:
Men – Kristian Blummenfelt 7:21:12
When Blummenfelt rocked up in Cozumel for his first ever ironman, the noises from his camp were positive. Coach and sports scientist Olav Oleksander Bu said "something cool" was on the cards on the back of his preparation in the Sierra Nevada mountains of Spain, and that might have been an understatement.
The Norwegian Olympic Champion was expected to win, but very few people expected him to obliterate the fastest ironman time so far – the 7:27:53 set by Jan Frodeno in his Tri Battle Royal vs Lionel Sanders in July 2021. No wonder even Frodeno described Kristian as "next level" after this performance.
Blummenfelt was second out of the water in a a blistering 39:41, partly thanks to a little assistance from the current off the Mexican coast.
The Norwegian then set about continuing his bistering pace on the bike despite the heavy rain which had left the course in a very tricky condition. The result – another lightning-quick split of 4:02:40.
With Blummenfelt's only rival for victory, Sweden's Patrik Nilsson, having fallen away during the latter stages of the bike Kristian was left to battle only the Mexican elements for the remainder of his bid – temperatures of 27 degrees and 81 percent humidity.
Not even those sticky conditions could deter Blummenfelt, who surged clear to win the race by a street, and in a new fastest ever ironman time of 7:21:12.
He had closed the show with a 2:35:24 marathon – astonishing coming off what he'd previously achieved in the water and on the bike.
Blummenfelt adds to an intoxicating mix at full-distance in 2022 – a showdown between him, his brilliant Norwegian team-mate Gustav Iden and the aforementioned Frodeno in St George should be must-watch TV.
Kristian is also planning a bid to go even faster in the summer of 2022 when he takes part – along with Alistair Brownlee, Lucy Charles-Barclay and Nicola Spirig – in the Sub7 and Sub8 project.
The man from Bergen already believed going under 7 hours was possible, and Cozumel just added to that belief. Get the popcorn ready…
Women – Chrissie Wellington 8:18:13
British superstar Chrissie Wellington enjoyed an incredible career at the highest level. During her time at the top she conquered Kona four times as she dominated the IRONMAN World Championship, and was unbeaten in 13 career races over the distance.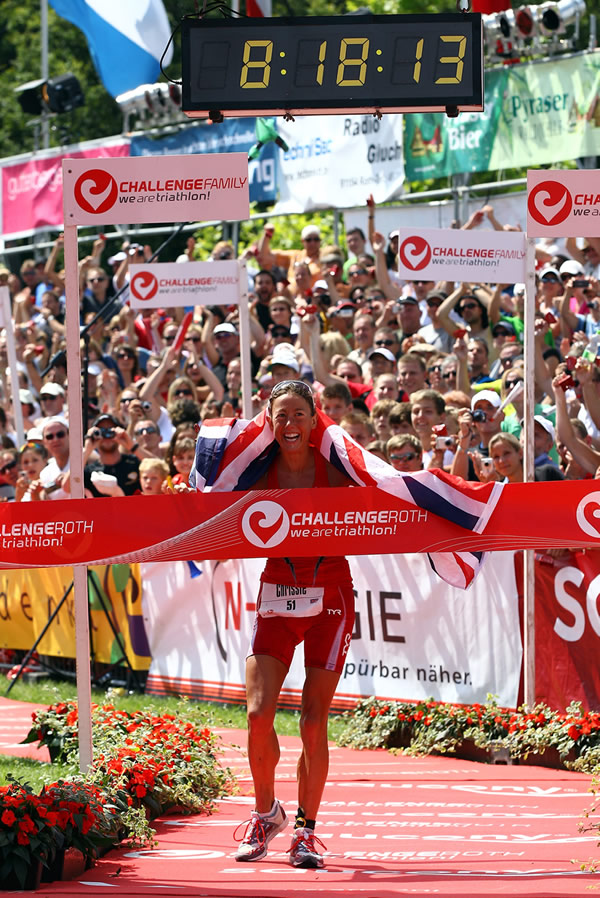 It is an enduring testament to her sensational talent that 10 years after setting it, her ironman best time still stands.
'The Chrissinator' had already smashed the fastest time on multiple occasions when she arrived at Challenge Roth to do battle on July 10, 2011. What she would achieve that day would push the boundaries further than ever before
The then 34-year-old from Bury St Edmunds dominated in all three disciplines to not only claim victory in the race, but also the fastest time ever by a woman over the full distance, surpassing the time she had set 12 months earlier at the same event.
Chrissie exited the water in a time of 49:49, just 11 seconds ahead of New Zealand's Belinda Harper. She would put the race beyond doubt with a blistering bike leg of 4:40:39, and led by more than 12 minutes heading to T2.
If the first two disciplines from Wellington had been super-impressive, what she would achieve in the marathon was just sensational. A time of 2:44:35 was mind-blowing, and completed a victory of more than 38 minutes from Germany's Julia Wagner.
Not only had Chrissie set a new iron-distance mark for a woman of 8:18:13 – she had also beaten all but four of the men competing that day. Her run time was bettered by only one man – winner Andreas Raelert – as he himself set a new all-time best mark of 7:41:33.
Many have tried to eclipse Wellington's mark in the years since that day, but as yet no athlete has really threatened it.
Current-day GOAT Daniela Ryf came closest of all – again at Challenge Roth – with a winning time of 8:22:04 in 2016.