When Jan Frodeno locks horns with Lionel Sanders in Germany this weekend there could be a fascinating subplot to look out for – the fastest ever time over the ironman distance.
German Legend Jan Frodeno already holds the best mark ever over the distance, set some five years ago. And there is speculation that Sunday's head-to-head showdown with Sanders could be about more than just bragging rights.
Jan is not taking part in the much-publicised SUB 7 SUB 8 event being planned for 2022, so could this be his way of stealing its thunder by smashing his own record – and doing so, where "All long distance international triathlon rules will be adhered to – no drafting, no illegal tactics, no outside support or pacemakers."
Just completing a race at iron distance is a lifetime achievement for many athletes. But the fastest time ever? The accolade can go to only one man and one woman. Here is how the record landscape looks right now.
Who holds the fastest Ironman time?
The current fastest times ever for the iron distance (2.4 mile swim, 112-mile bike and 26.2-mile run) are currently held by the aforementioned Frodeno and also by British triathlon great, Chrissie Wellington.
Both record times were set at Challenge Roth in Germany, some five years apart. Here is how they were set:
Men – Jan Frodeno 7:35:39
Frodeno, then 34, arrived at Challenge Roth on July 17, 2016, in prime condition to challenge the mark of 7:41:33 set by Andreas Raelert on the same course five years earlier.
The man from Cologne was first out of the water in 45:22, good enough for a lead of more than a minute-and-a-half over Australian Nick Kastelein.
It was the bike leg though which ended the race as a competitive exercise, a 4:08:07 split left Frodeno chasing only the clock as he exited T2.
The marathon would be another masterclass from the German as he roared home in 2:39:18 to eclipse Raelert's mark by almost six minutes. More than 200,000 fans had lined the course to cheer him home.
Frodeno would be denied a clean sweep of split best times on the day by Britain's Joe Skipper, who produced a 2:38:52 marathon. Skipper would finish a distant second overall though, almost 21 minutes adrift of Frodeno.
The mark Frodeno set back in 2016 still stands today – the closest man to eclipsing it was Britain's Tim Don, who clocked a stellar 7:40:23 at the 2017 IRONMAN South American Championships in Florianopolis.
Women – Chrissie Wellington 8:18:13
British superstar Chrissie Wellington enjoyed an incredible career at the highest level. During her time at the top she conquered Kona four times as she dominated the IRONMAN World Championship, and was unbeaten in 13 career races over the distance.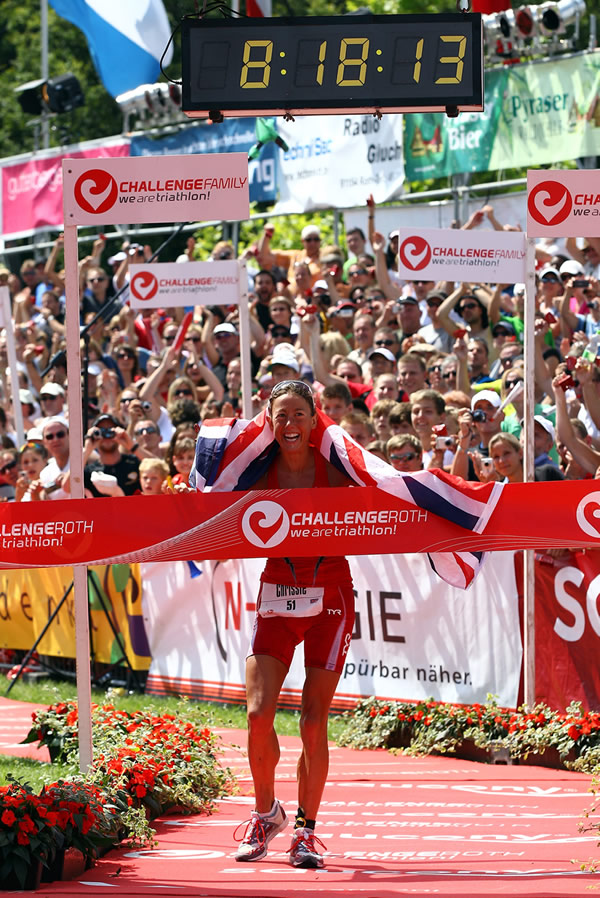 It is an enduring testament to her sensational talent that 10 years after setting it, her ironman best time still stands.
'The Chrissinator' had already smashed the record on multiple occasions when she arrived at Challenge Roth to do battle on July 10, 2011. What she would achieve that day would push the boundaries further than ever before
The then 34-year-old from Bury St Edmunds dominated in all three disciplines to not only claim victory in the race, but also the fastest time ever by a woman over the full distance, surpassing the time she had set 12 months earlier at the same event.
Chrissie exited the water in a time of 49:49, just 11 seconds ahead of New Zealand's Belinda Harper. She would put the race beyond doubt with a blistering bike leg of 4:40:39, and led by more than 12 minutes heading to T2.
If the first two disciplines from Wellington had been super-impressive, what she would achieve in the marathon was just sensational. A time of 2:44:35 was mind-blowing, and completed a victory of more than 38 minutes from Germany's Julia Wagner.
Not only had Chrissie set a new iron-distance mark for a woman of 8:18:13 – she had also beaten all but four of the men competing that day. Her run time was bettered by only one man – winner Andreas Raelert – as he himself set a new all-time best mark of 7:41:33.
Many have tried to eclipse Wellington's mark in the years since that day, but as yet no athlete has really threatened it.
Current-day GOAT Daniela Ryf came closest of all – again at Challenge Roth – with a winning time of 8:22:04 in 2016.