Getting wet is part of the fun of participating in triathlon – and if you are swimming outdoors, you'll no doubt have a wetsuit if you're racing here in the UK. As your wetsuit is an expensive kit item, here is something to help you look after it, get it dry after your swim and keep it safe, The Dry Bag.
Is it a worthwhile investment? Andy Tomlinson gave it a try.
---
When I initially saw the Dry range I thought about my office work suits – sat in the wardrobe – in a suit cover all nice and safe ready for the next wedding I might attend. That's what I thought: a bag for my wetsuit. It turns out that I was missing something, the extra features of the Dry Bag and how it helps you after your swim.
In addition to protecting my wetsuit the bag is a drying system and you just drain the water away from the valve at the bottom of the bag. If you hang it up whilst you are packing your car the majority of the water will drip into the reservoir area and you can empty it before you travel, whilst you are travelling, any residual water drips away into the bag helps with the drying process. I simply hung the entire thing up when I got home and in no time the suit and bag were dry ready for storage.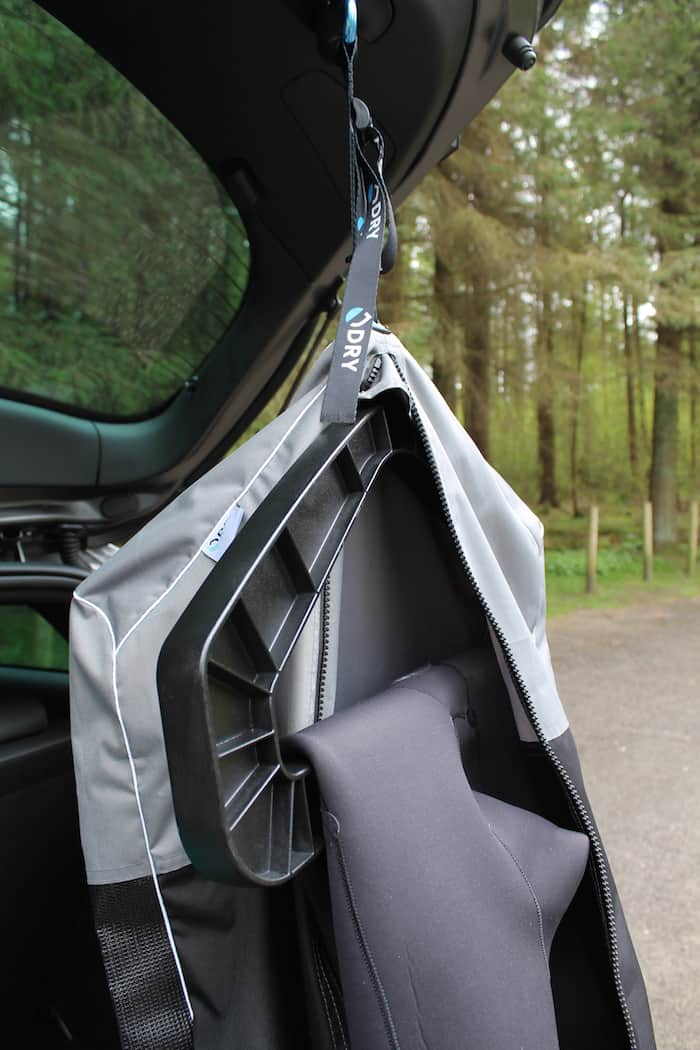 The bags come in two options, Pro and Elite. The Elite comes with the mesh front panel to assist drying and is UV shielded so you can hang them up outside without fear of sun damage. The Pro being full fabric but still with side mesh to speed up the dry process.
The Dry Pro full fabric bag is PU backed, shower proof fabric bolstered together with twin stitched taped seams to ensure no water can escape. Your garments will be shielded from UV rays whilst mesh side vents allow air flow through the bag. A water reservoir at the base collects residual water with an easy to use bladder valve release system. Perfect for use indoors or out to dry our wet gear quickly with no mess. Can be purchased with or without hanger.
Shower proof fabric
Durable heat welded seams
Full length waterproof zip for easy access
UV protection
Pro Mesh side vents enhance air flow
Elite front mesh vents
Lightweight to carry around
Compact to keep in your car for when you need it
Dimensions: 130cm x 63cm
Colours: Grey + Black / Black
Size: One size, fits up to L size wetsuits
Option to buy The Dry Bag on its own or with hanger set which includes adjustable lanyard and carabiner hook
Ideal for: Surfing, cycling, mountaineering, triathlon, emergency services, snow sports, sailing, fishing, motorsports. Hang up your wetsuit, drysuit, wet cycling clothes – any wet gear inside, outside, in your car – anytime, anywhere!
Each of the bags, Pro and Elite provides a safe environment to keep your wetsuit but helps drying after activity and on the journey home. This was the little extra that made a big difference and was the "aha!" moment. Water on the suit runs into the reservoir and can be drained off safely later on. Just hang up the suit and away you go! It means that your suit is drip drying rather than being tucked away in a carrier bag until you unpack at home!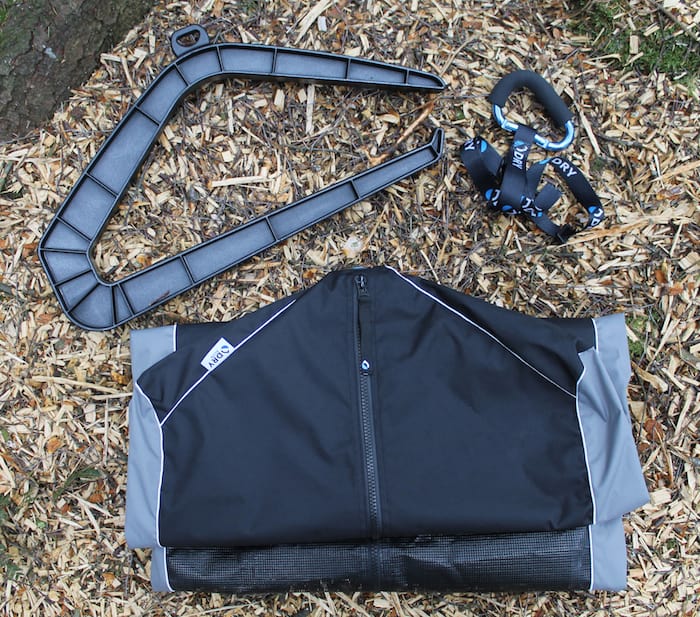 The hangar that comes as an additionally purchased item allows your suit to easily hang even whilst heavy with water. The bags are well made, sturdy and have worked a treat.
So far the bags have proved to be a great idea. They have kept my wetsuit away from my dry kit and sped up the drying process. The bags have made me think twice about stuffing a dripping wetsuit into my kit bag, they are expensive after all and delicate! So from here on in I'm going to show a little respect to my suits. A simple idea but effective. When your suit is dry, I made sure the bag itself was dry and hung it up in my wardrobe to further protect my wetsuit. As an added bonus I can hang my suits in my wardrobe without tainting my other clothes with eau de neoprene!
You can find out more here