"Regenerate your legs with Reboots – faster than ever". That's the tagline.
TRI247's Paul Shanley put Reboots Recovery Boots (www.reboots.de/en) to the test to see if they really do help your legs bounce back after training. Read how he got on below.
The Basics
| Product | Reboots Recovery Boots |
| --- | --- |
| Price | £699 |
| Sizes | Medium, Large, Extra Large |
| Website | reboots.de |
| Grade | 80% |
Who is it aimed at?
Triathletes training hard who are looking for every advantage to recover quickly.
Best Bits?
Well made and easy to use. Legs did feel better after each use.
What surprised you?
How strong the pressure can be and how good it is at massaging your legs. Also, the unit is very quiet.
Reasons why you would buy it?
A great way of winding down after a training session. It has helped my legs recover.
Reboots Recovery Boots – our experience…
If you have been to any races recently, you may will have seen many triathletes sitting in chairs getting a leg massage from one of a number of different companies offering air compression massage boots to help with recovery. REBOOTS is a german company that has entered the market, shipping the units worldwide direct from Germany.
The concept is pretty straight forward. You put some leg fitting chambers on (like a pair of trouser legs), which are then filled with air which then simulate a massage feeling on your legs. Like a sports massage, this then aids the removal of waste products generated during workouts to help you recover quickly / quicker.
Reboots generate a gliding massage for your legs. This helps your body to get rid of waste products of your metabolism (e.g. lactic acid), which are produced during hard training sessions or competitions.
Unpacking
The Reboots arrive packed nicely in a square box with some cool branding on it (a status bar saying rebooting…), and there is very little to do to put the unit together. In the box you get the a left and right boot, the control panel and a remote control. There are some simple instructions which were actually in German but setting up is so easy that you can do it just from the pictures in the leaflet.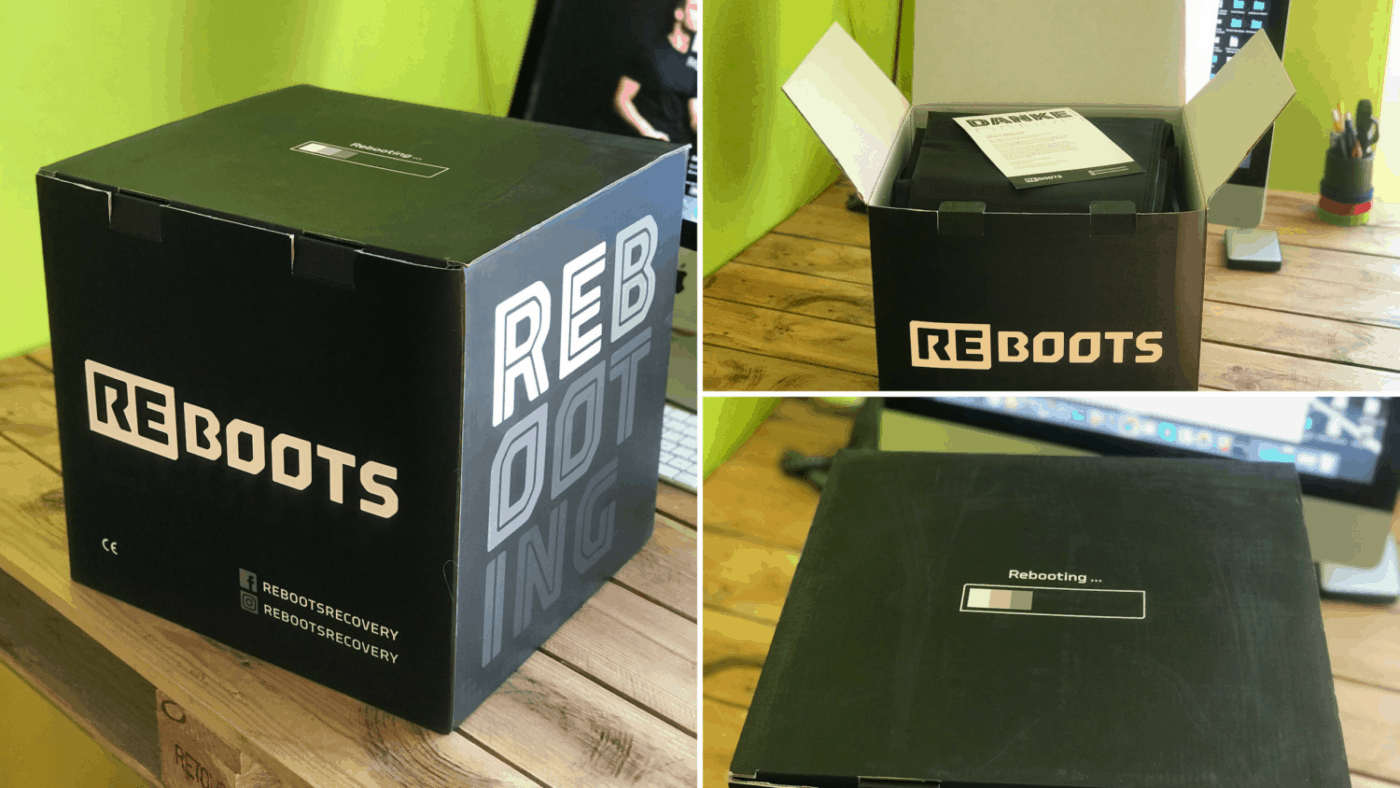 The boots have a number of tubes connected to eight air pockets and they just need to be plugged into the control unit. The boots come in three different sizes – Medium, Large and Extra Large and you just need to get the ones that are the right length for your legs.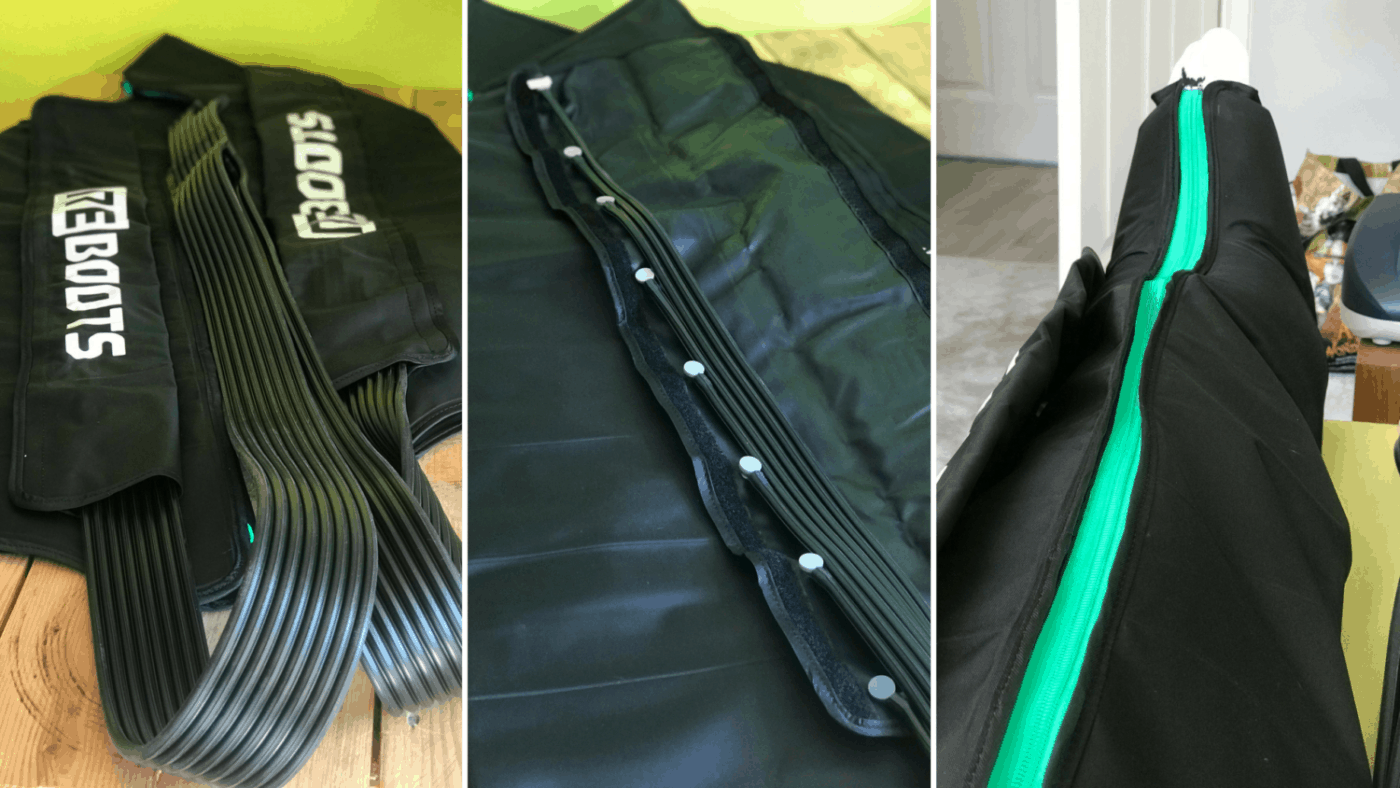 Everything feels well made, robust and good quality. As the unit actually comes in from Germany so you will need an EU adapter plug to use in the UK. These are only a couple of pounds, but worth noting to get one before your unit arrives so you can use it straight away.
Rebooting
Using the unit is extremely straight forward. Once you have put the boots on and zipped them up, you switch the control panel on and it is automatically set for 30 minute programme on setting A.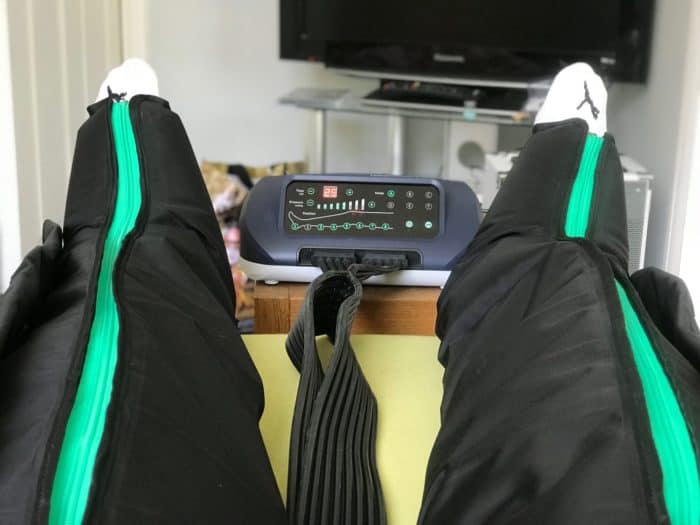 At first the different programmes look at bit complicated, but once you use the unit you quickly learn what each programme does and It is useful to keep the instructions to hand for reference. Once you know which programme you want to do, selecting it is straightforward, you just choose the corresponding letter for the programme you want on the control panel (or remote control).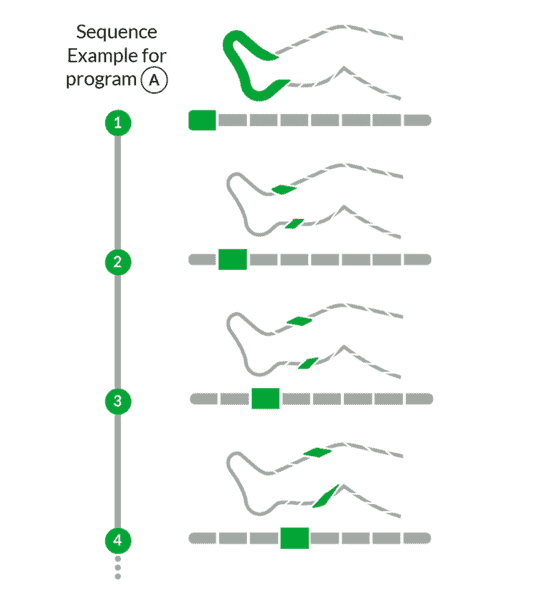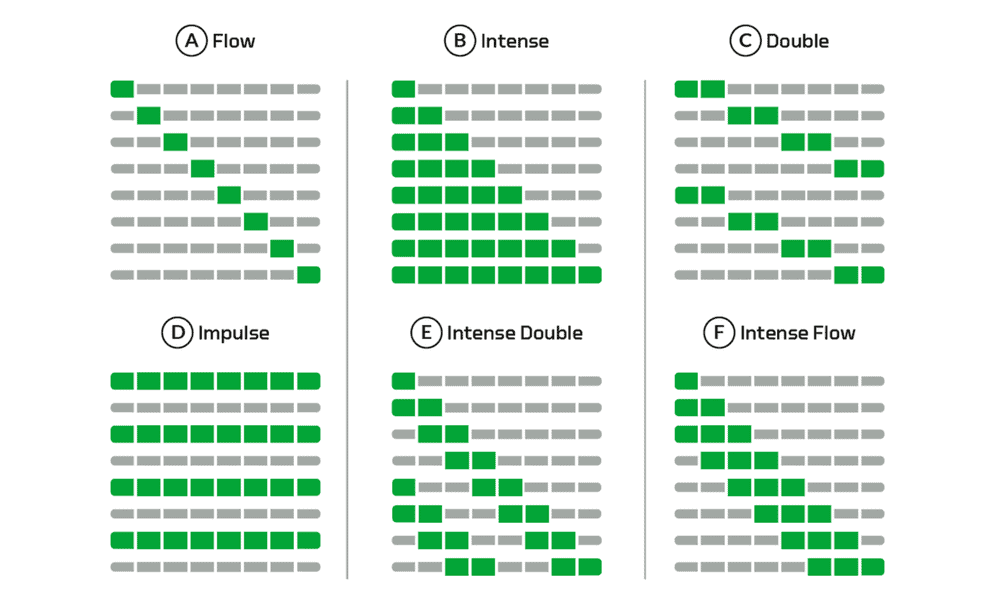 Program A: Program A uses targeted pressure and is, therefore, well suited for the relaxation of the muscles.
Program B: The continuous pressure used by program B prevents backflow. Therefore, program B is mostly suitable for the transport of lactate. As a beginner, you should accustom yourself to this program slowly and after having used Program A for a while.
Program C: Program C is ideal for brief applications. It is similar to Program A, but two chambers are directly inflated. The program offers twice the number of iterations over the same period. Therefore, it shortens the duration of the application.
Program D: Brief & intensive? Then program D is the right one for you. This program is designed to maximize the number of compression iterations and is particularly suitable for brief, very intensive applications.
Program E: It also allows for a wavy massage and two chambers are being inflated continuously. This prevents the backflow of waste products, which are removed through the massage. It allows for a very thorough recovery application.
Program F: Program F acts in a similar way to Program B. Several chambers are inflated continuously, in order to prevent backflow further. It is suitable for the removal of lactate and it is less intensive than Program B, because the feet are not being pressed continuously.
With the control panel you can increase and decrease the time of the session and also the pressure on your legs. There are eight pressure settings from 30mmHg to 240mmHg. You don't need to know what mmHg is other than 30 is light pressure and 240 is high. The unit is set to 150mmHg and that was easily enough for me and I haven't dared to increase it. The first time I used it I was taken aback by how strong the air pressure is; it really does get hold of your leg.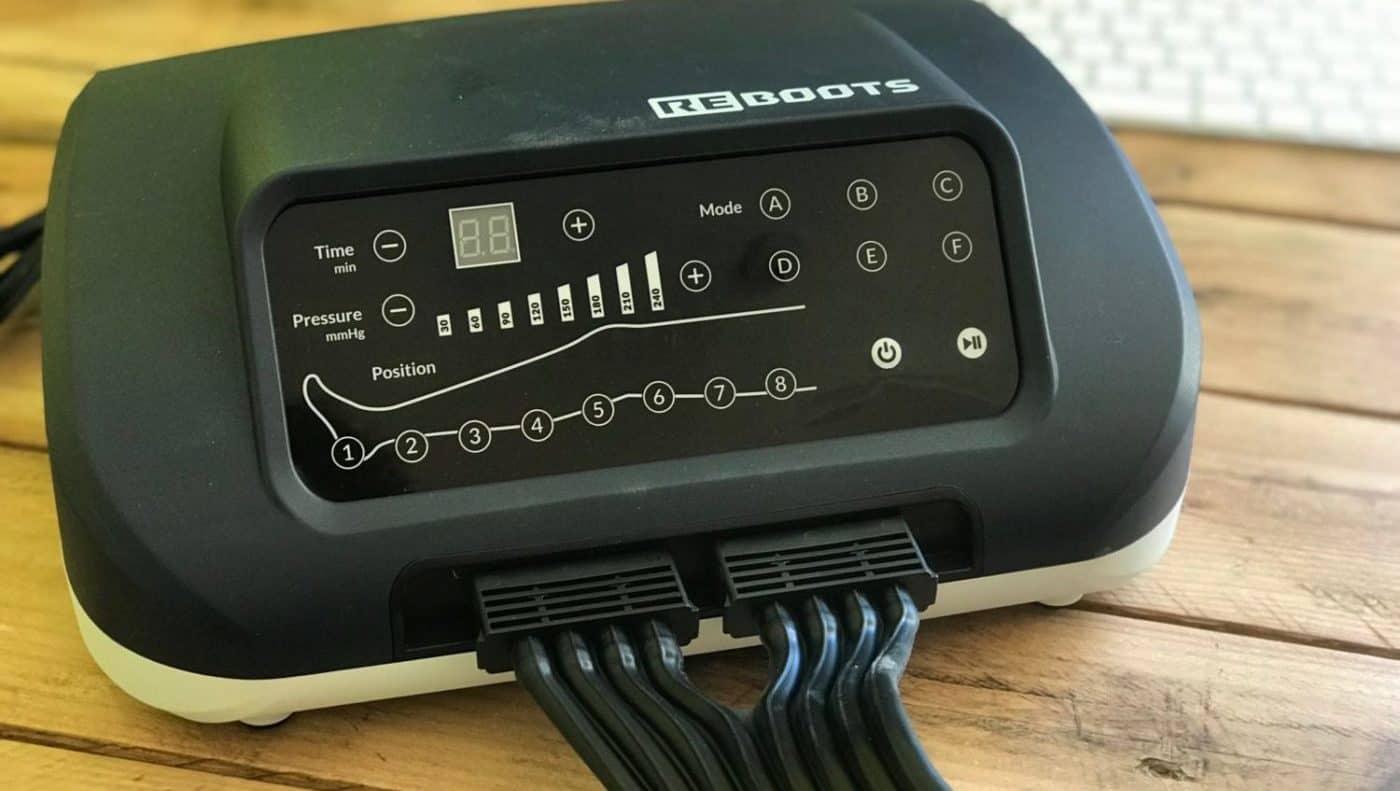 It took me a bit of time to make sure the boots were on my legs correctly, but the light up numbers next to the leg image on the control panel are actually really useful as it shows you which area the boots are working on so you know how much of your foot should be sticking out of the boot.
You can use Reboots on a daily basis and after a couple of uses I have now increased the time from 30 minutes to around 45 minutes which seems to work well. To change the time you simple press the +/- keys and you can adjust the time while the machine is on.
Everything on the control panel is also controllable with the remote control so you can sit back and relax.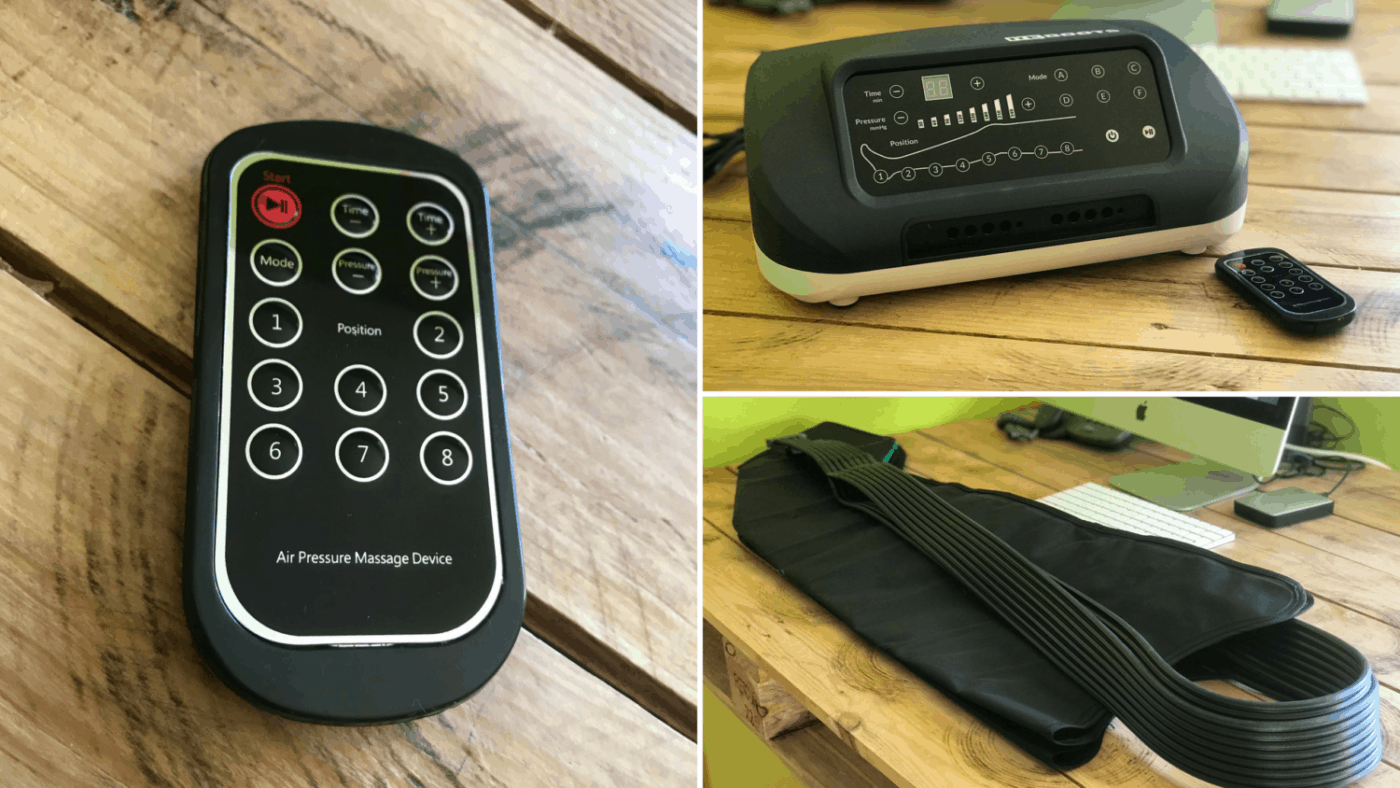 One thing I was really surprised about is how the quiet the unit is when working. It's not silent, but I am able to use it with the family in the room watching television and no complaints about the noise.
Recovery
The air pressure does a great job of working your legs and I do feel much better after training when using the Reboots. The Reboots have quickly become an integral part of my training routine and they really do get hold of your legs and the pressure does a great job of working them through. I have tried all of the programmes but find myself favouring programme B – Intense – which I find particularly good after a hard bike or run session.
———–
What can I use Reboots for?
Directly after training: Reboots help you reduce the resulting lactic acid faster and regenerate after strenuous training.
For relaxation: Did you have an exhausting day and want to relax in the evening? A Reboots massage can help you.
For your warm-up: Reboots are not designed to help you warm up before your training. However, we have heard from many athletes that they've had a very positive experience with short sessions before their training. However, the application should be brief and at a low pressure.
———–
For me the Reboots are not a replacement for a traditional sports massage and I am still looking to have a human work on my muscles whenever possible. Yes, you could justify the cost of the Reboots by the money you save by not having a sports massage, but I believe the two work together well. The Reboots will allow you to add regular and convenient recovery massages to your training but a sport masseur is better placed and equipped to give your legs a bespoke workout.
Unless you have the money for a live-in sports masseur (or are lucky enough to share a house with one), the Reboots are a great option to look after yourself day-to-day.
Stress Relief
Apart from the very first time of using them, I have found the Reboots a great way of relaxing. Once you are used to the air pressure working your legs, the unit is so quiet that is a good time to just relax and spend some time sitting still. This is not something I am very good at doing as there always seems to be something you need to do, but by their design, the Reboots require you to sit still. After a heavy training session its actually nice to have have some (voluntary) enforced time to just relax, sit and think.
Overall Verdict
A great product. They are not a direct replacement for a sports massage – and I don't think that is the intention here – but what they can do really well, and really conveniently, is give your legs a rub down after a workout. Using the Reboots has become an integral part of my training routine through the testing period and a number of times the thought of using them to relax has helped me through a difficult session. They are powerful and can work your leg muscles to help rid them of exercise toxins you have built up.
At a cost of £699 they are a significant outlay. That said they do work very well, are a quality product and there is no reason why you can't use them for years to come to help you recover from tough sessions.
Find out more via the Reboots website here: https://reboots.de/en/