Aerodynamic specialist AeroCoach has a reputation for making cyclists faster and it has a developing product range, including the AeroCoach Axis saddle. Chris Hovenden has been testing it out.
Product
AeroCoach Axis Saddle (CroMo)
Price
From £95
Weight
207g
Size / Dimensions
Width 50mm nose / 130mm rear
Length 255mm
Stack height 40mm (centre of rails to top of saddle)
Colours
White or Black
Website
www.nopinz.uk or www.aero-coach.co.uk
Grade
B
Header
In partnership with Nopinz, AeroCoach has brought some innovative tech to the domestic cycling scene and beyond.
You've probably spotted time triallers and triathletes like long distance pro Phil Graves wearing calf-guards – spoiler alert – unlike some calf guards which are primarily designed for compression/recovery, the calf guards spawned from the AeroCoach/Nopinz collaboration are designed to help you cut through the air (there's more science to it than that…), on the bike.
With the AeroCoach Axis saddle, AeroCoach claims to offer aerodynamic benefits from a product which, maybe naively, doesn't always shout fast – namely, a saddle.
At a quick glance it could be easy to take the view the Axis does not look the most polished product and that it could be easier on the eye. However, first impressions can be deceptive and, there is an appeal to its no-nonsense, functional appearance.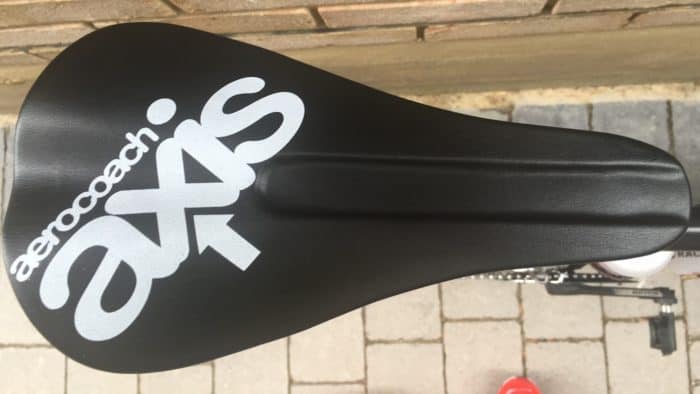 The Axis bucks the time trial and triathlon focused saddle trend to have a short and stubby profile, with AeroCoach asserting that the Axis' profile along with its 50mm wide flattened nose and pressure release channel allows you to fix into your position – meaning less movement which in turn can help reduce drag.
The AeroCoach Axis on test comes with round CroMo (alloy) rails (although a carbon rail option is available weighing around 35g less and costing an additional £70), and was straight forward to install, but if you can't access the bolts from beneath the saddle it is slightly more challenging to install than a saddle with a cut-out (such as the ISM PS 1.0).
Coming in on my scales at just over 200g, the Axis is by no means the lightest option out there but the performance advantage of a comfortable saddle far outweighs saving a bit of weight.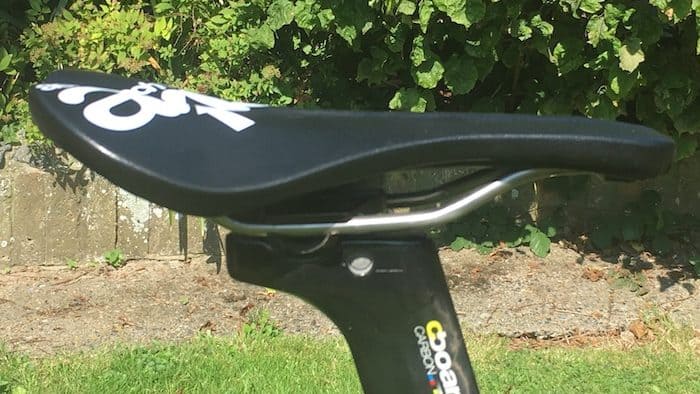 Saddles are one of the most subjective pieces of kit.
I found the AeroCoach Axis a comfortable ride, with the seat's contoured profile and the recessed channel suiting my relatively upright riding position when on my standard road set-up.
In fact, this became my go to choice for longer days in the saddle and felt good when putting in sustained attacks on training rides.
Although okay on my TT frame or when using stubby bolt-on bars on my road bike, I didn't get on with it as well as I did when riding in a more relaxed position – however, it was still comfortable enough for 10 to 25 mile TT efforts.
I am not the most flexible and as a result tend to favour shorter nosed saddles when in an aero position, but more flexible riders may find the AeroCoach Axis an attractive option – just like AeroCoach's very own multiple national cycling champion Richard 'Dicky' Bussell.
Verdict
A comfortable saddle which should appeal to those that prefer a conventionally shaped perch even when in an aero-tuck.