In the market for a bike box? Jetting off somewhere nice for training or racing? It is worth investing in a decent box to keep your bike safe in the hands of the clumsy airport baggage handlers! Here's my review of Bike Box Alan Premium.
---
Having never needed a bike box before this was a completely new experience but one that couldn't have been simpler. I had heard a lot of good things about Bike Box Alan (www.bikeboxalan.com) and when they are used by the likes of the Brownlee Brothers and Lucy Charles, you expect great things. It didn't disappoint.
Pro's
Easy to wheel around an airport – even wheeling two at once wasn't a problem
Lots of space inside – once the bike is packed there is room for all your other bits of kit
7 year guarantee – the only BikeBox on the market to offer this length of guarantee
Con's
Very big – bigger than some other bike boxes I've seen, but this can be a benefit if you have a lot of kit. That said, if you check the sizes of other bike boxes including Velovault, Buxum, Helium and BandW you will find that the Bike Box Alan falls into the medium category of size.
Can seem expensive at first glance, but worth it in the long run. Again, when you compare to other brands Bike Box Alan is looking like good value. Non of the comparable boxes are cheap and they are designed to protect expensive bikes!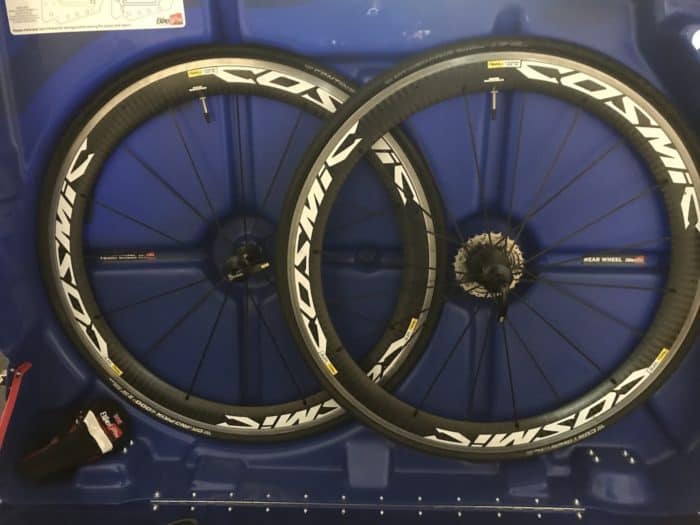 The Look and Build
Bike Box Alan is one of the original manufacturer of bike boxes, and from the first glance you can tell that it is a good quality, sturdy case. It is made from patented material and has a unique one-piece anti-crush steel pole in the centre. BikeBox Alan states "it's as close to indestructible as you can get". I recommend searching for 'BikeBoxAlan The Drop' video to see for yourself!
For my travels I had the Bike Box Alan Premium in the standard Royal Blue colour but it is available in all sorts of colours (Black and Royal Blue are £425**, other colours are £438). It also comes with fully customisable stickers and there is even the option to personalise with your name and flag.
[** Note, at the time of publication, there is a 15% discount available on the Black and Royal Blue editions, reducing the price to £361]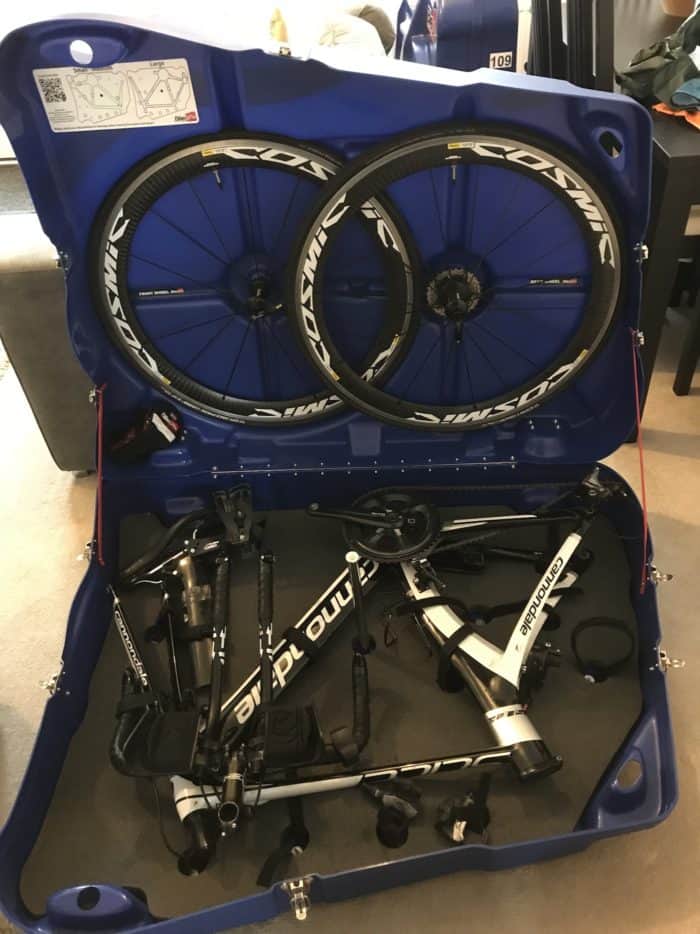 The Features                                                                                   
Here's a list of features of the Premium Bike Box Alan:
ALL Bikes fit (29″er Compatible)
Unique one piece Steel anti crush pole
15 cushioned velcro straps to secure your bike safely
Good-quality locking clasps
Foam padding
Well-designed recesses in lid to fit wheels
Custom Graphics, Your Name, Flag & Bike Brand (optional)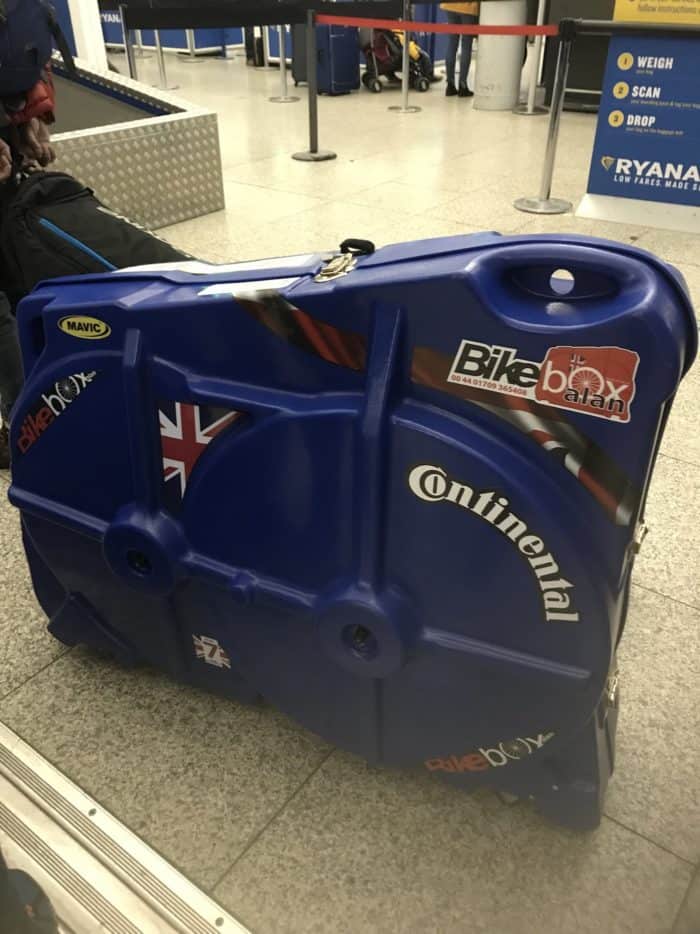 Packing
Packing is easy. Wheels are held in place by their quick release skewers in the lid of the box (remember to deflate your tyres!). Your frame lies on a foam base with velcro straps to hold it in place. There is a nice diagram in the case that shows how to place a small and a large frame bike, as orientation of packing is slightly different between the two. You will need to remove your pedals as well as the handle bars and saddle. Some TT bars may also need to be adjusted to get them to lie flat enough in the box. I used a couple of old rags to pad out between my handlebars and the frame to prevent rubbing and damage to the frame during transport.
There are enough velcro straps to hold the bike and all the dismantled components in place and plenty of space around the bike to pack any other kit you need to take with you. I had room for my wetsuit, helmet, visors, nutrition, bottles, cycling shoes, trainers and even a track pump. I saw it as extra padding to keep my bike even safer!!
A second piece of foam sits on top of everything and the anti-crush pole fits into place to ensure they box is sturdy. According the BikeBox Alan website it takes 10mins to pack your bike. I have to say that it is very simple to pack however it took me longer than 10minutes! Maybe 10 minutes once you know what you are doing.
Once all packed I used a small travel lock on the top clasp and all other clasps were cable tied.
Most airlines have a 20-30kg limit on Bike Boxes. Luckily we were flying with Jet2 and they have a slightly higher limit of 32kg. With my bike and all my other bits and pieces packed in, my box came to 31.2kg!
Due to its clever design, you can fit the largest bikes in without issue. Despite fitting in larger bikes with ease you can fit two Bike Box Alans' into the smallest of hatch backs, VW Polo, Ford Fiesta, Vauxhall Corsa, Fiat Punto and so on. We might need to do a small car comparison of other brands but we believe not many other boxes will fit two in the smaller cars.
See the video below for tips on how to pack the box:
Issues
I didn't really have any major issues however one thing I would say is that getting the anti-crush pole into the correct place is a little 'faffy', but that's about it.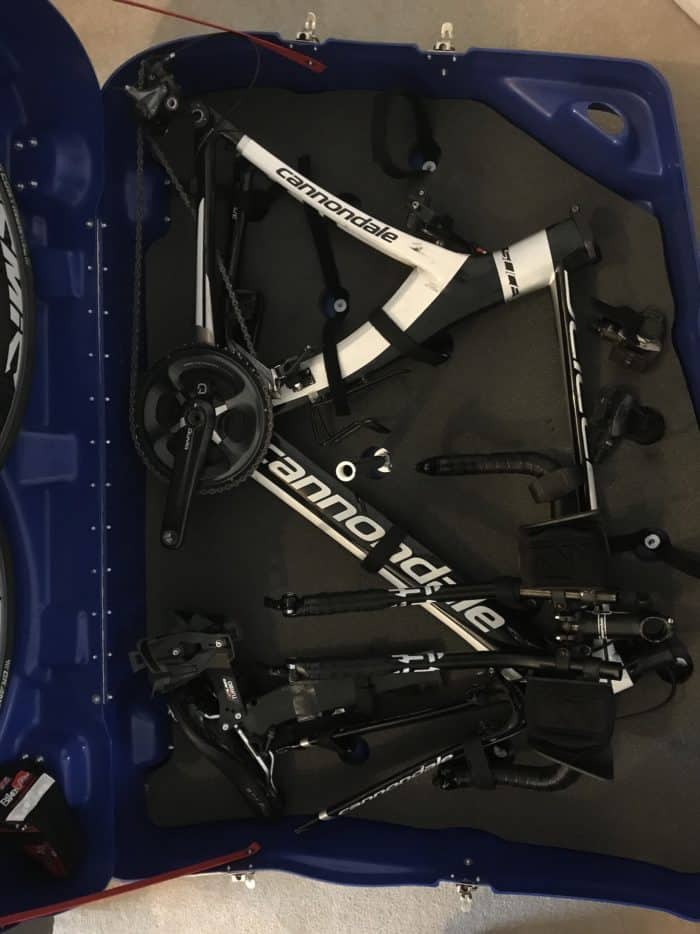 Verdict
I would definitely use Bike Box Alan again whether that be buying a box or hiring. It is really well designed and does a great job of keeping your bike safe on its travels.
I have to mention how brilliant the Bike Box Alan customer service and delivery method is. For those that don't want to fork out over £400 to buy a box or like me just don't have the space to keep one at home, you can hire direct from Bike Box Alan. Roughly £70-90 for a weeks' hire. This was the simplest process ever! You send their team all the details of your trip and they will courier the box out to you a few days before you fly and then they arrange a courier to pick it up when you are done. Simple!
You can find out more about the Bike Box Alan range at their website HERE.