It's well known that CLEAN BIKE = FREE WATTS, so when we got told about a new bike cleaning product, Crankalicious, that is made in Essex, we got our own "Essex Boy" Paul Shanley to try it out on his growing collection of triathlon bikes. See how he got on below.
---
Who is it aimed at?
Triathletes and cyclists who like to keep their bikes clean.
Best Bits?
The high quality and low price. Also the smell of the Mud Honey, it's just so good.
What surprised you?
How well the Mud Honey washed my bikes and also how useful the high performance chain cleaner wipes are.
Reasons why you would buy it?
Clean bike = go faster. Simple as that.
Crankalicious Homemade Cycle Care – our experience…
If bike cleaning products were sold in supermarkets, Crankalicious would probably only be available in Waitrose and not in the cleaning section, more likely to be found in the Speciality Products section.
A handmade (yes, you read that correctly), bike cleaning product very rarely comes onto the market and although you are probably now picturing some hipsters in Shoreditch putting it together, the company is actually based out in Essex and has come from a car cleaning products background.
Born from a wealth of experience in car care products, with many awards to our name, we wanted to combine our passion of cycling with our knowledge and expertise in automotive detailing. Crankalicious was created.

MUD HONEY BUCKET WASH
"A pH-neutral foaming bucket wash, for use on all areas of your bike"
I am starting with the Mud Honey wash as it is a thing of beauty and a totally awesome product. The packaging feels really top end and the product smells good enough to eat (Note: DO NOT EAT IT!).
The instructions online say pour 2/3 capfuls into a small/medium bucket to mix, but I have found that one capful into a large bucket provides plenty of foam to comfortably wash three bikes (or two dirty MTB bikes). Cleaning even a very dirty bike is pretty effortless and with the Mud Honey at only £10 for the 500ml you are getting a lot of bike washes for your money. This really is a joyous product to use and washing bikes is now a pleasure and I can't recommend the washing experience enough.
Mud Honey 500ml is £10 more details HERE.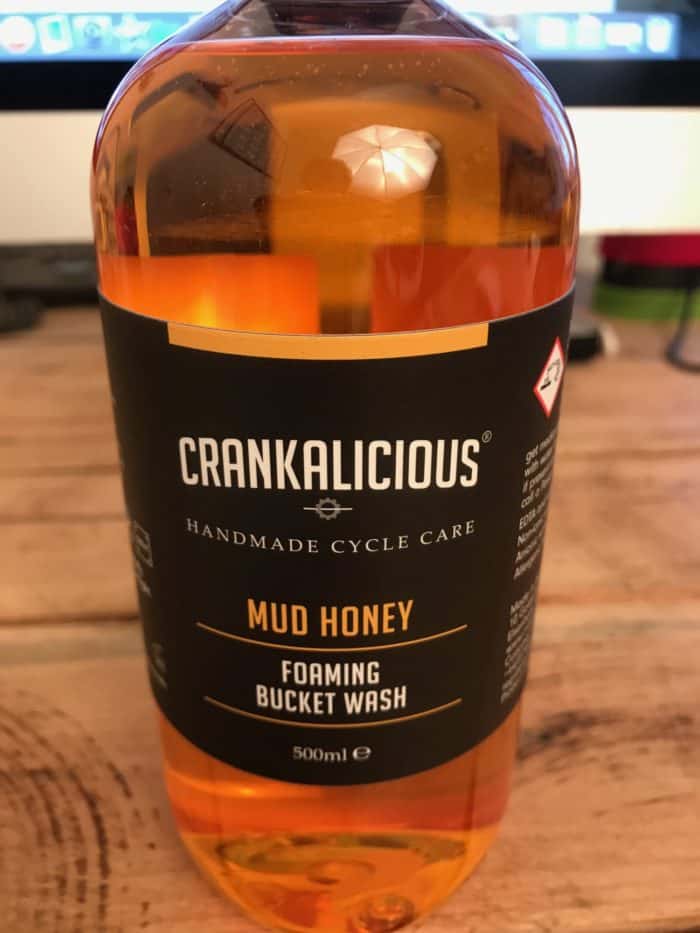 LIMON VELO DEGREASER
"Water-based active degreaser for fast, effective removal of oil, grease and road gunk from drivetrain and derailleurs"
Again the Limon Velo feels very much like a high end product. To apply you just spray onto the areas you want to degrease (I used it mostly for cleaning the drivetrain and derailleurs), give the area a scrub (most of the time you didn't need to do that) and then just wash off. The Limon Velo works really well and did a great job of degreasing. I do find it a bit harder to get too excited about it like I have done with Mud Honey, for one it smells more like a cleaning product and two it seems a bit more aggressive on your hands.
Limon Velo 500ml is £12 more details HERE.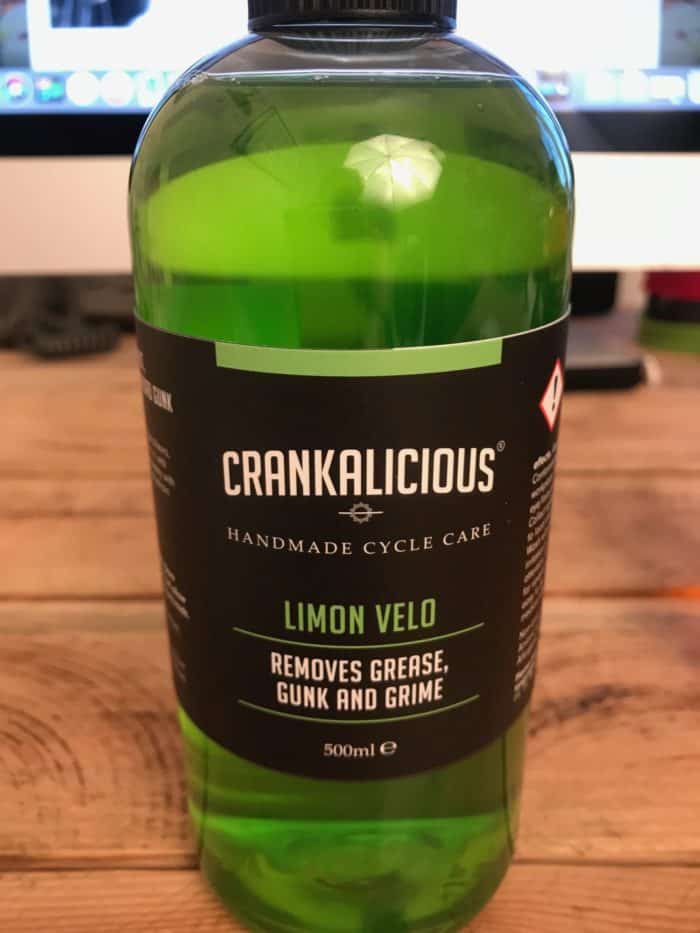 KWIPE (QUICK WIPE) SACHETS – GUMCHAINED REMEDY CHAIN CLEANER
"Our high-performance chain cleaner, Gumchained Remedy, available in a single use quick wipe sachet, containing 15ml"
Having got into the habit of washing my bikes with the above products, I wasn't really sure I needed the Kwipe Sachets for cleaning my chain. It was only after trying a sachet on a trip away that I realised how useful they are. The packet contains a heavy duty wipe with enough product to completely clean your chain and it works really well. Even the dirtiest of chains can be completely cleaned in a few minutes.
I found it particularly useful when racing overseas to give the chain a good clean and then lubricate it before I racked my bike in transition. Another plus is the wipe itself is biodegradable and the plastic wrap that it comes in is 100% recyclable. A really useful product to have tucked into your transition bag.
Kwipe sachets 5 for £4 more details here.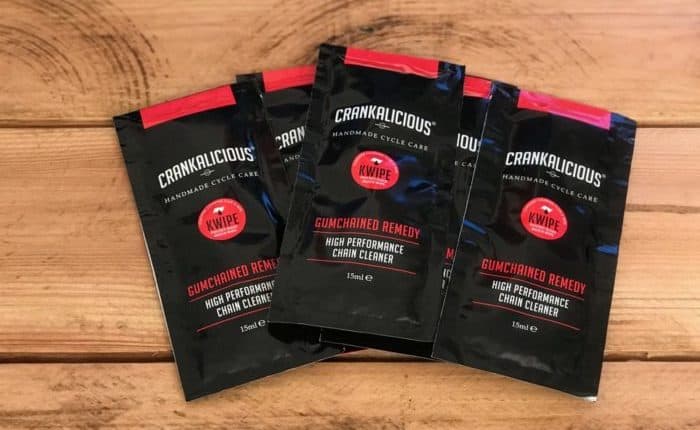 Overall
Handmade, high-end products without a high-end price. The products are really well thought out and clean your bikes really well and make the washing process enjoyable. If like me you have spent a good bit of money on your bikes, then it seems only right to keep them nice and clean and I recommend you should get some Crankalicious into your life!
And of course not forgetting that a clean bike goes FASTER. FACT!