Overshoes from a Scottish company – can they handle the wintery conditions? Chris Hovenden puts the Endura Deluge Zipless Overshoes to the test.
| | |
| --- | --- |
| Product | Endura Deluge Zipless Overshoes |
| Price | £32.99 |
| Size | Large |
| Weight | 78g per overshoe |
| Colour | Blue and Orange |
| Other colours | See website |
| Sizes | See website |
| Website | www.endurasport.com |
| Grade | B – a solid option. |
Warm feet? The Deluge Zipless Overshoes in action
Endura supplies the Movistar pro-cycling team, along with a collection of Britain's best long distance triathletes, and has built up a reputation for providing quality apparel at a price point that is generally more affordable than that of Rapha, Assos etc.
If you are intending to continue riding throughout the colder months overshoes are a must.
As the name would suggest the Endura Deluge Zipless Overshoes' USP is the lack of a zip. From previous experience, normally when running late and rushing to meet the weekend group ride, it can be a real struggle to do up the zip on a pair of overshoes.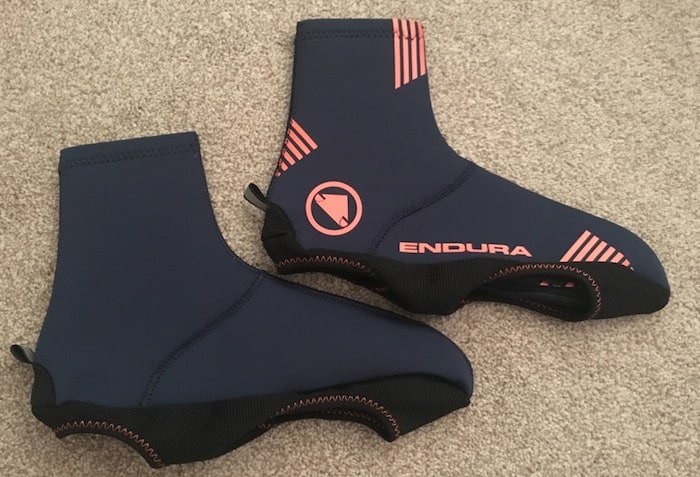 I had my reservations on how easy it would be to pull on the overshoes. In short, the stretchy neoprene material upper along with the reflective heel tag made getting the overshoes on very easy, no fuss.
Another frequent gripe with overshoes is that the cut-out for your cleats is too small/inhibits clipping into your pedals. Again the Endura Deluge Zipless Overshoes score well, plenty of room and the sole is robust. An area of complaint for many overshoes is that they cut to pieces are after a few rides, no such problem with this offering from Endura.
The cuff is not the tallest, but it is more than enough to avoid any gaps between your cycling tights and overshoes.
The overshoes claim to be waterproof. Many overshoes claim this is the case, in reality all overshoes let in a little water (although I haven't yet tested Spatzwear, which have been receiving many positive comments), and although the neoprene seemed to absorb rain and road-splash, on particularly wet days and in sustained downpours, my shoes still got wet.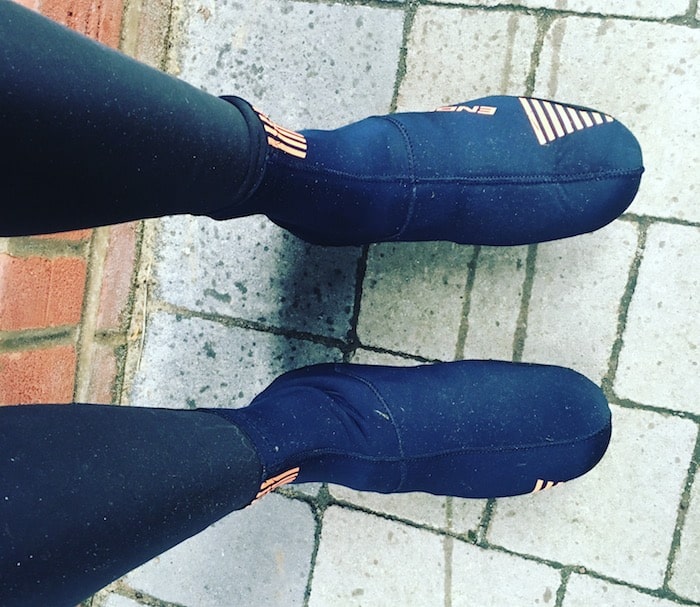 I found that on particularly cold days the Endura Deluge Zipless Overshoes on their own were not sufficient to prevent numb toes and I could have done with thicker overshoes. However, there is plenty of room to fit toe-warmers underneath, which I did on several rides.
Don't be tricked by the simple looking decals and stitching. These overshoes are robust and well made.
Verdict
For just north of £30 you get a high quality and robust overshoe. However, they are not the warmest.