The Garmin Forerunner 935 is the latest all singing and dancing multisport watch from one of the market leaders.
It's not cheap, so how does it perform? Chris Hovenden has been using the unit for several months now across a number of races, sports and activities – and he is impressed. Very impressed.
| | |
| --- | --- |
| Product | Garmin Forerunner 935 |
| Price | £469.99 (watch only, Tri bundle is £589.99) |
| Size | 47 x 47 x 13.9 mm |
| Weight | 50g |
| Colours | Black- different colour strap options. |
| Website | www.garmin.com |
| Grade | A |
---
Who is it aimed at?
Triathletes, runners and fitness enthusiasts who take their sport and performance seriously – and want the latest technology to support that.
Best Bits?
There were lots – aesthetics, ease of use, speed of GPS, battery life, connectivity, range of functionality and more.
What surprised you?
Despite the complexity of functions available, it is easy and very intuitive to use.
Reasons why you would buy it?
If you want a one-stop multisport watch to provide you with all the functionality you need – and probably plenty more you've not yet thought of, then the Garmin Forerunner 935 must be on your list for consideration. A fantastic product.
The Garmin Forerunner 935 in detail…
It is said that the first actor you watch playing James Bond shall always be, subconsciously, your favourite Bond.
I am not sure I buy-in to the above theory and even less so that it transfers to sports equipment. In any event, in the interest of full disclosure, the first sports watch this tester wore/purchased was a classic Polar F1 (back in the early 2000s), and since then I have spent my own hard earned cash on, and tested, a wide variety of sport watches from the main players.
The Garmin Forerunner 935 does so much that to fully do it justice would require a novel. I have aimed to provide you with a review of the main elements for triathletes.
Aesthetics
The first thing you'll notice about the Garmin Forerunner 935 is that it is light, slender and with its high quality finish (non-plastic looking with metal buttons), it looks good even when you're not training. The same could not be said for the substantial Garmin Epix.
In fact, it has almost been a constant on my wrist for the last four months.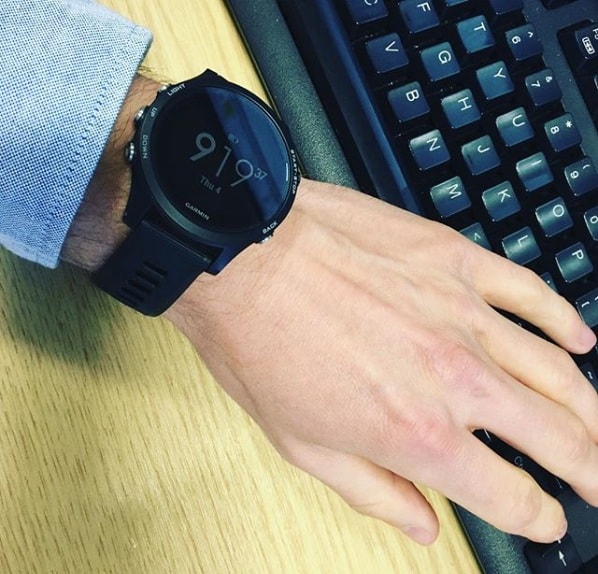 General
The Garmin Forerunner 935 could be labelled as a running and multisport watch, but it feels that this doesn't quite do it justice. Many have compared it to the more expensive and bulkier Garmin Fenix 5 – it is true that the Forerunner 935 shares many of the Fenix 5's functions.
It has an integrated wrist based heart rate monitor, prompts you to move, counts your steps, monitors your sleep patterns, posts notifications from your smartphone, offers Wi-Fi connectivity (which is only available on the Sapphire editions of the Fenix 5), and offers a huge range of sport functions with more metrics for analysing your performance than you can shake a stick at.
Out of the box test
A good indicator of a product is how easy and intuitive it is to use straight out of the box. The Garmin Foreruner 935 performs well in this regard.
Aside from the need to use Garmin Express and Garmin Connect to get the most out of the watch, getting started is straightforward.
Tapping the start/stop button gets you to the various sport options and from there you can scroll down to select your activity – you can add further activities.
Amongst other things, you can customise the watch face and tailor the data that you want to be displayed for each of your training activities.
Battery Life
Garmin claims the battery life is up to two weeks in watch mode and up to 24 hours in GPS mode.
High level, the battery life is very impressive and Garmin's assertions are accurate. Compared to some competitors which you could liken to a modern day smartphone, continuing that analogy regarding battery life the Garmin Forerunner is comparable to the fabled Nokia 3210.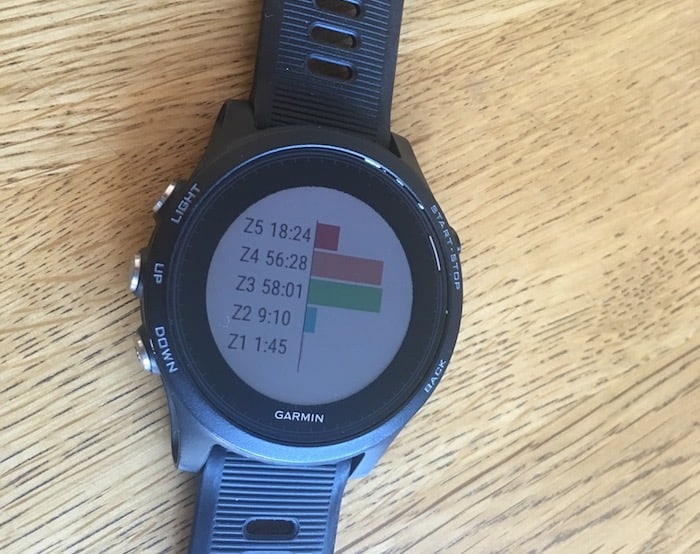 Heart Rate
Having used several different products that record heart rate from your wrist, I must admit I am hesitant as to their accuracy.
I carried out multiple tests wearing a chest strap and the 935 to compare the heart rate recordings.
In short, although the 935's wrist optical heart rate monitor was better than many of its competitors, a chest strap gives a more accurate/consistent reading.
On the bike, I found that when warming up and warming down there was a slight lag, but when carrying out the main session the reading from the wrist device and the chest strap were almost the same, beat for beat.
When running (I looked a bit strange with two different watches on), the Garmin Forerunner 935's wrist readings would often be slightly lower than the readings from a chest strap.
TrainingPeaks
A new feature is the ability to link up the 935 and Garmin Connect to your TrainingPeaks' account.
Depending on whether your training session has been created with the session builder, the Garmin Forerunner 935 will direct you through your TrainingPeaks' session (for example, letting you know target power/pace and a countdown of time left in each segment) – quite a motivator during hard turbo sessions.
Connectivity
As with many Garmin products to get the most out of your device you'll need to have Garmin Express and Garmin Connect.
The Garmin Forerunner 935 offers Wi-Fi connectivity (you select the Wi-Fi network on Garmin Express) and this worked fine, but I found myself relying on the Bluetooth connectivity the majority of the time and this synced up very quickly – often faster than the Wi-Fi option.
Regarding connecting to other devices, I found the 935 picked up my power meter and various heart straps very quickly – I had none of the classic frustrations of not understanding why your device can't pick up your heart rate strap which is only feet away.
GPS
Like most modern multisport watches the Garmin Forerunner 935 uses both GPS and GLONASS.
The result is tracking that is picked up quickly and is impressively accurate for both running and cycling; regarding open water swimming, please read on.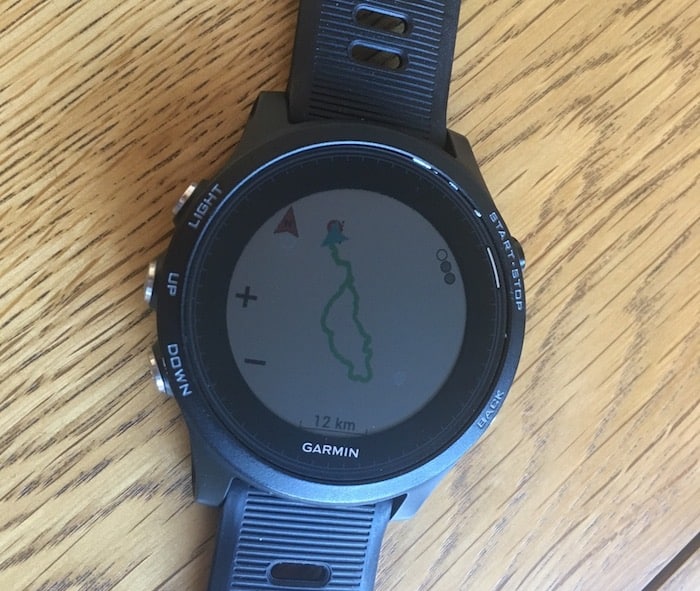 Swim
The Garmin Forerunner 935 has made my swimming sets so much harder!
When you're tapping the interval/lap button as you touch the wall rather than slowly looking up at the clock on the wall and then pushing off exactly when your rest period is up, it makes a big difference!
My 10 seconds of recovery were actually just that, rather than what it turns out previously was nearer 15 seconds.
Although, in part due to laziness, I have manually set my intervals, there is the option to create your pool session and to include specific drill sets.
The main difference I found here was that when doing it manually the device doesn't pick up kick drills – this is because lengths are counted by using an accelerometer that picks up your change in pace.
Save for kick drills the length counter was accurate.
After your swim you can analyse your session, it also highlights how little time your're actually swimming with recovery intervals.
Open Water
I am lucky enough to have a lake close to my work which means I regularly go for a dip at lunch time and after work.
As with all GPS devices when swimming in open water, the Garmin Forerunner 935's tracking was occasionally out (for example, sometimes it had me swimming on land), but allowing for slight discrepancies, it gives a good indication of the distance and pace swum.
To improve the accuracy of the tracking I recommend you ensure the GPS has been picked up before getting in the water.
Bike
On the bike the Garmin Forerunner 935 performed well. However, having the device on your wrist (you can buy a bar mount/quick release kit) means it is more difficult to read the screen than having a head unit attached to your bars.
Also, for the wrist heart monitor to work it needs to be in contact with your skin, which may not be practical on colder rides when you layer up.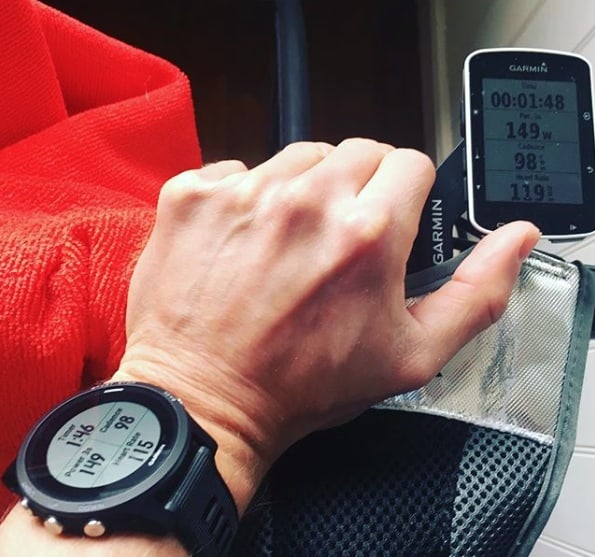 As you'd expect, similar to all other Garmins you can customise the screens and data fields and choose whether to scroll manually or automatically.
As mentioned below regarding the VO2 max recordings, to the get the most out of the bike metrics you need to purchase a power meter.
If you have a power meter, the amount of data and feedback you can receive from Garmin Connect is substantial – including power peaks, cadence, pedal offset, to name just a few.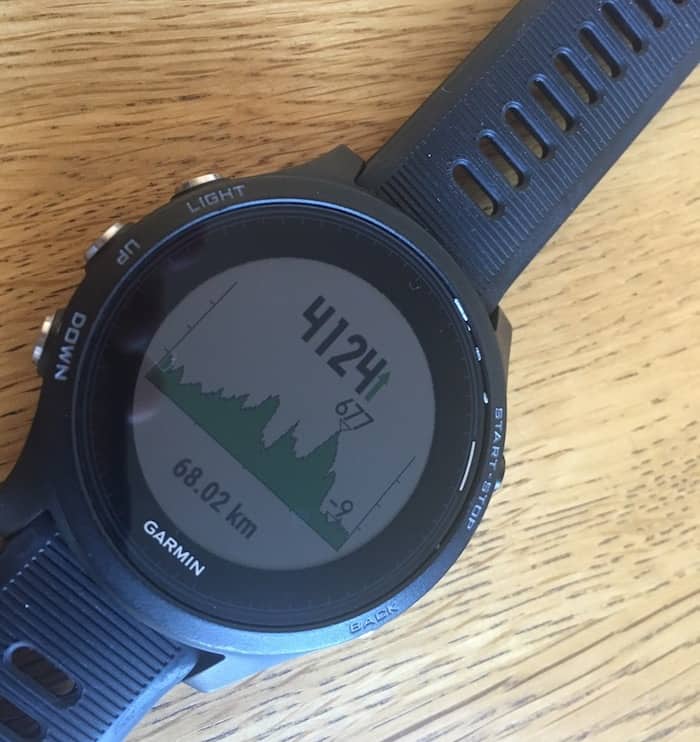 Run
Out on the run (or on the treadmill) the Garmin Forerunner 935 again offers you a huge amount of data.
Mostly I kept it to the bare necessity, which for me is time, distance, and pace; but you can scroll down to see more metrics such as heart rate, cadence, ground contact time, stride length etc.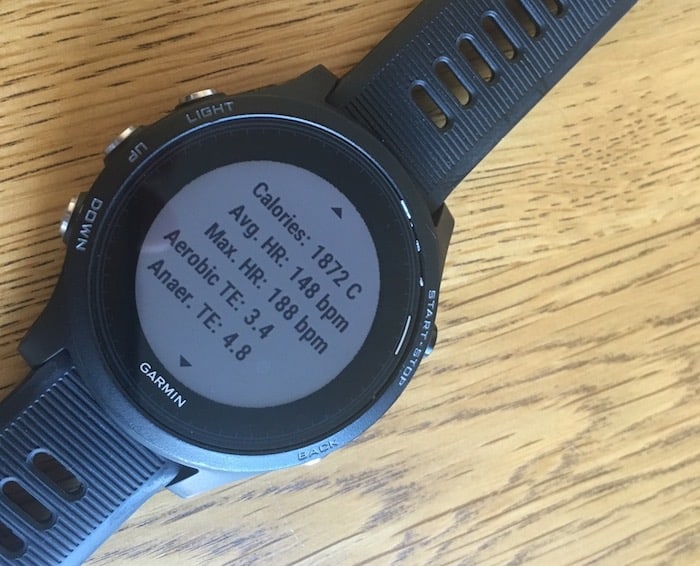 Triathlon
The triathlon function is useful and simple. Just by pressing the lap button you go from discipline to transition etc. to give you an accurate summary of your race. The only real issue is remembering to press the lap button when you're in race mode.
Training effect
At the start of a session the watch informs you of your condition – often this is reassuring/motivating.
However, at present it does not take into account any sessions used with another Garmin product – the answer could be to use the Garmin Forerunner 935 for all your sessions.
Once your session has concluded the watch displays a split between your aerobic and anaerobic training effect.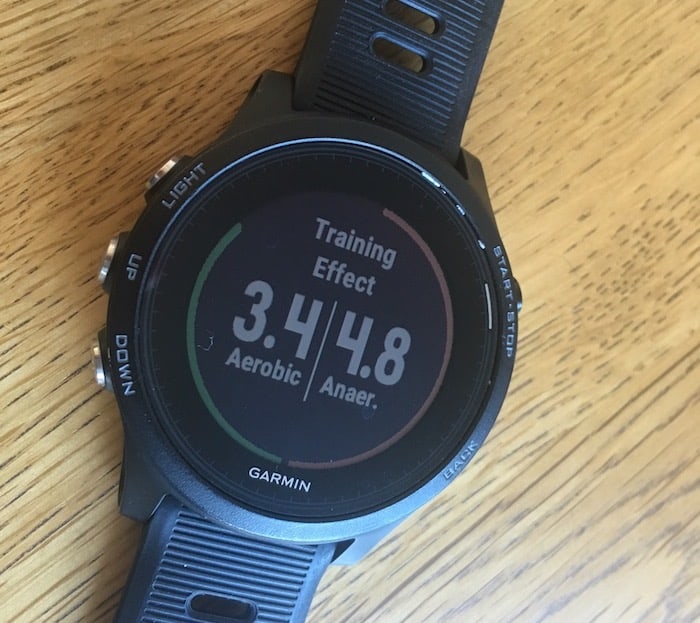 It also informs you of the required recovery time. However, in reality the recovery time was far longer than my next scheduled session and what I felt I needed.
The Garmin Forerunner 935 provides you with an estimate of your VO2 max for running and cycling. For cycling you'll need a power meter for a VO2 max reading.
Having undertaken some physiological testing, I found the VO2 max readings lower than what I understand to be my true values.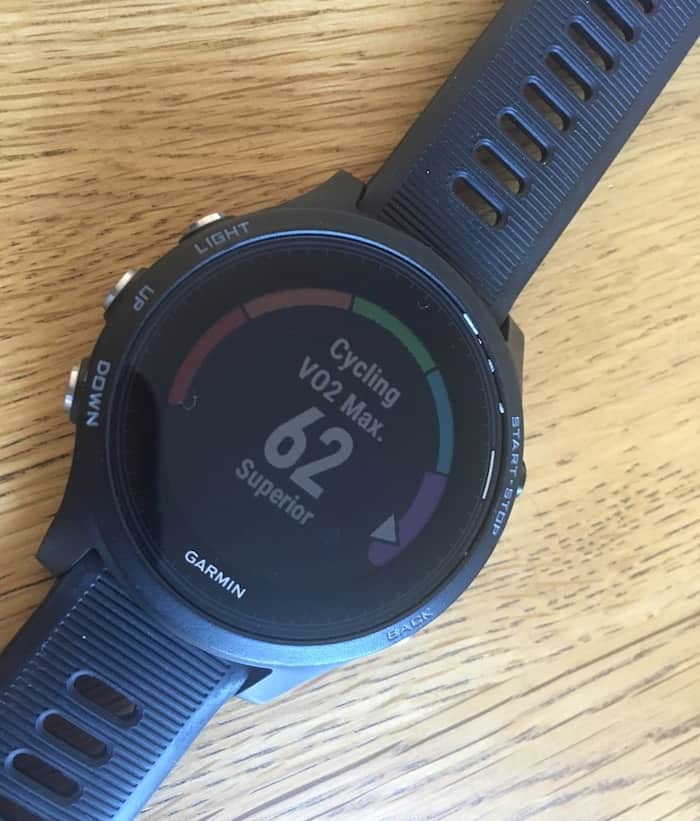 Even when not training the Garmin Forerunner 935 continues to provide feedback. For example, the wrist optical heart rate reader can record your heart rate 24/7 measuring every 2 seconds.
You can also view the general 'training status' page any time. Simply scrolling down a few pages you can get an indication of your training load and its impact on your fitness.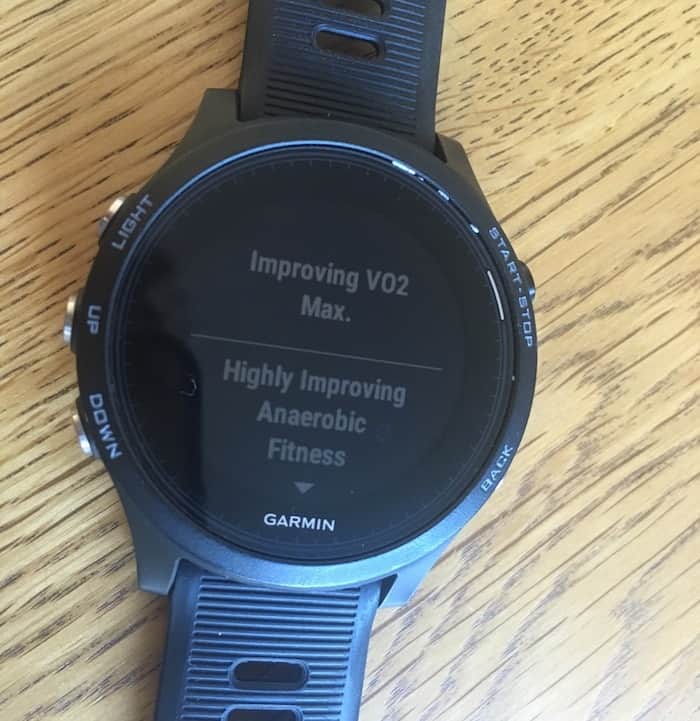 Summary
The Garmin Forerunner 935 has been a constant in my life for the last few months. It provides all the feedback I need, and then some, and looks good as well.
VERDICT
Although not perfect, the Garmin Forerunner 935 is very, very, very impressive.