You think short stubby saddle, you think ISM. The ISM PS 1.0 is said to suit triathlon, time trialling and road riding.
| | |
| --- | --- |
| Product | ISM PS 1.0 |
| Price | £199.99 |
| Size/Dimensions | Length – 245mm; Width- 130mm |
| Weight | 295g |
| Colours | Black or White |
| Website | www.upgradebikes.co.uk |
| Grade | B |
The ISM PS 1.0 – Our Findings
You spend a lot of time perched on a saddle, so it's important to choose one that is comfortable – or at least comfortable enough to ride in an aero position for the duration of the bike leg and still be able to run off it.
First, in case you wondered, ISM stands for Ideal Saddle Modification and they have dropped the 'Adamo' title from their range of saddles.
The ISM PS (Performance Short) 1.0 test saddle comes with round titanium rails which means it will fit most seat posts (if you have a saddle with oval rails, check the it can fit your seat post first), and the split nose makes it far easier to install than others which often require quite a bit of fiddling to get to the front bolt.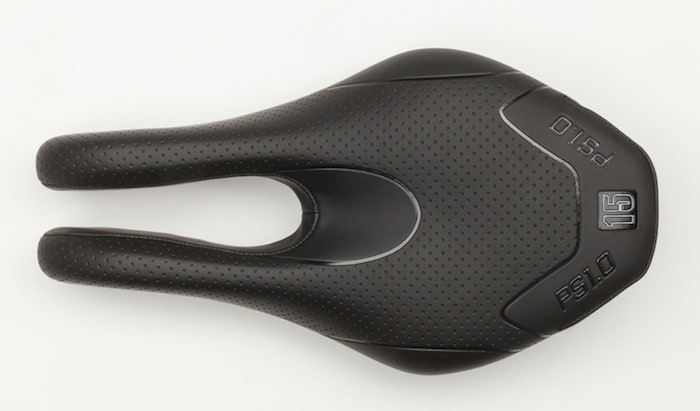 Like all ISM saddles the PS 1.0 is nose-less (they have cut off the front 2-3 inches from a standard saddle), which means when fitting the saddle it is important to remember that it is quite likely you need to set the saddle further back than you expect – for example, I had the saddle as far back on the rails as I could. Also, ISM recommend the saddle sits a little lower than your existing saddle.
ISM provides some explanation on how to install its saddles here:
The premise behind ISM saddles is that by providing support to your sit bones and with the nose-less design they reduce pressure to your soft tissue areas and improve blood flow.
The result of this striking difference to standard saddles is that your first few rides feel odd, if not uncomfortable – short initial rides are definitely recommended.
ISM offer demo saddles, and utilising this option is a good idea before splashing out £200 (although, you can find it cheaper on-line).
The saddle has a slight downward slope from the rear which is said to provide hip support when you rotate forward into your aero position or when riding on the rivet on a road bike.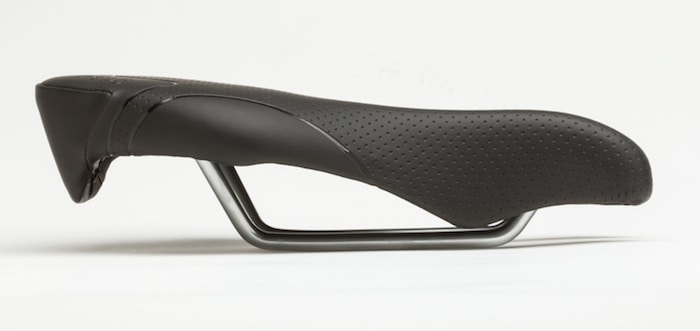 The PS 1.0 comes with what ISM calls its 15 series foam-gel padding. This sits towards the more minimalist padding density offered by ISM and felt suitable for a performance focused saddle.
Not being particularly flexible, I have found the saddle helps me get into a more aggressive aero position that is sustainable for longer periods.
That said, the ISM PS 1.0 will not suit every rider and it doesn't guarantee comfort. Some riders have said they cannot get on with the saddles whilst others have used cable ties to pull the split nose together slightly as they have found it a bit too wide.
The hook on the rear of the saddle is a useful addition for triathlon; it makes racking your bike easier and helps to make T1 that little bit quicker. However, coming in on the Tri247 scales at 295g, there are plenty of lighter saddles out there.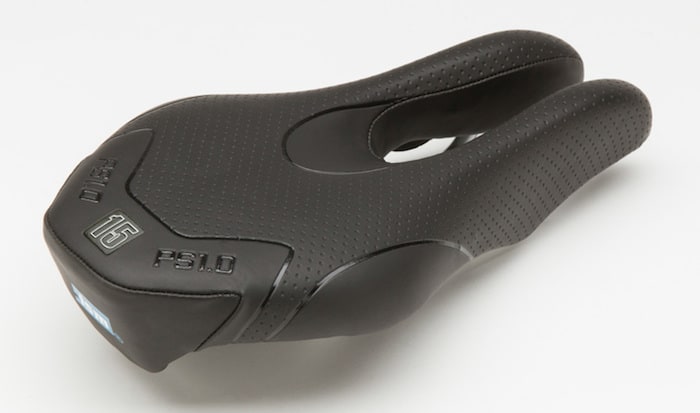 I have now been using the ISM PS 1.0 perch for almost 12 months, and after initial teething problems, this has become a go to saddle for rides on a road bike as well as when time trialling and racing triathlon.
Verdict
Could be the answer to your saddle issues and may help you achieve an aero position. However, will not suit all and is quite weighty as well having a heavyweight price tag.