The Polar Vantage V is available now (www.polar.com/vantage/v) from £439. The heart rate chest strap kit, which includes Polar Vantage V and Polar H10 heart rate monitor, is also available for £479.
The watch comes in a variety of colours including black, white, and orange in sizes small, medium and large. There is also an M version with reduced functionality and at a lower price point. Here's the low down on the V.
| Product | Polar Vantage V |
| --- | --- |
| Price | £280 (Vantage M) - £500 (Vantage V) |
| Size | S/M/L |
| Weight | M/L 66g |
| Colour | Black/Orange/White |
| Website | https://www.polar.com |
| Grade | 87% |
Look and feel
Sporting a mid-sized round facia, the Vantage has a nice sized screen and is a welcome progression from the older V800 model. The strap feels nice and premium quality; being quite flexible it fits snuggly on the wrist, even smaller wrists allowing good skin contact for the optical heart rate feature.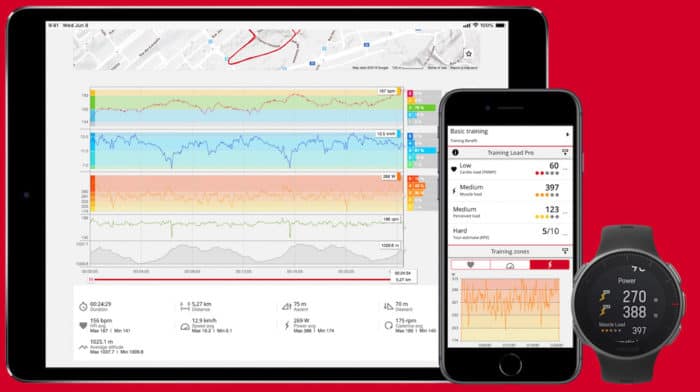 Software and App
Using Polar Flow (the web based app) on the desktop is straight forward with the watch syncing via the USB which attaches magnetically to the rear of the watch. This only attaches one way so it's foolproof and clicks into place, but it is not the strongest magnet and is easy to disconnect. It might just be our test unit but it did come unattached a few times interrupting charging. A very minor issue.
The desktop app is fully featured and visually pleasing. Your training, daily tracking and planning are all easy to navigate around and monitoring your progress offers a wealth of data to explore. Finding your way around the functions is straight forward and will encourage you to dig around.
The phone app is equally simple to use. Available for IOS and Android a single button press activates the syncing process which is very speedy and has been seamless including its connection to Strava.
Customising the data on display whilst training is a very simple process via the desktop so you can fine-tune what you see through the desktop site. All changes you make are swiftly synced over to the watch.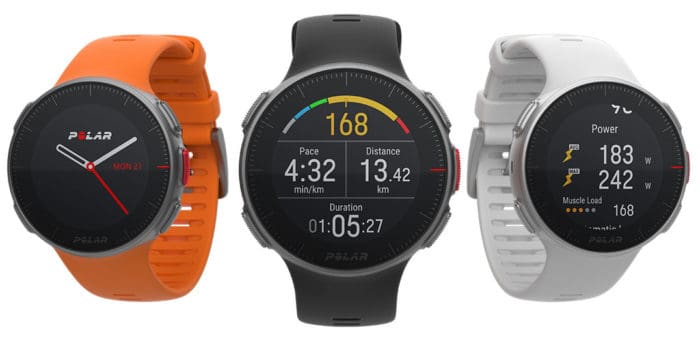 Ease of use
The full colour touch screen is very responsive, making menu navigation straight forward. Around the bezel there are five physical buttons each with a positive click action. These mirror the touchscreen for navigation and are as equally intuitive. Whilst you are recording your training the watch's touchscreen is inoperable which ensures there are no false inputs and during training the buttons are your control method. All really simple. Nothing worse than finding your activity stopped mid ride through an accidental screen tap etc.
Features
The waterproof, GPS-enabled watch features an always-on colour touch screen display, offering data across more than 130 sport profiles. A key mode being the Triathlon profile which offers open water recording and transition times.
The Vantage V has a variety of performance and Smart Coaching features, including:
Running Index: A straightforward number that scores running performance. Running Index automatically provides an estimate of a runner's Running Vo2max score based on their sub-maximal or typical runs.
Running Program: Polar's free, personalised and adaptive training program offers daily, tailored workouts for athletes of all levels targeting distances from 5k to marathon.
Polar Sleep Plus™: Automatically detects the timing, amount, and quality of sleep and provides feedback for improvement. This is displayed in an easy to read format and shows throughout the night all your sleep interruptions or not if you are blessed with deep unhindered sleep patterns.
Daily Activity and Continuous Heart Rate: Combines activity and heart rate data to calculate daily calorie burn outside of training, and offers a comprehensive view on everyday life, accurate calorie consumption and activity data. 
Swim Metrics: Tracks indoor and outdoor swimming sessions with metrics such as stroke rate and distance.
Sanna Merio, Segment Manager at Polar. "Precision Prime uses nine optical channels that deploy two colours and wavelengths of light to extract data from different layers in the skin. In addition to the 3D accelerometer, we've also incorporated new electrode sensors that measure sensor-skin contact. These advancements mean a faster response time, more sensitivity for readings, and much higher accuracy and reliability for wrist-based heart rate."
Training Programmes
Polar provide a decent training programme planner via the website and you input your goals and quick data and it plans out a pretty straight forward plan. You can drop and drag to amend this as you need and the Season Planner looks like a great way to look way ahead and keep things on track. I'll be testing this out shortly, but it looks quite intuitive to operate and syncs with my calendar on the computer.
Running Power
Using Polar magic the Vantage calculates the power whilst you run similar to the Stryd foot pod but it's all wrist based taking data from GPS and barometer readings to provide you with a wattage reading. This is very useful providing realtime metrics you can utilise alongside heart rate to create your training plans. Power offers a more immediate visual indicator to your effort over say heart rate which is prone to lag. As you crest a climb your heart rate will take a longer period to fall whilst power is pretty instantaneous. Having both power and heart rate is valuable.
Battery Life
A stated ultra-long battery life with up to 40 hours of continuous training seems realistic based on general training use and watch usage between charges. That 40 hours is with one second GPS tracking. Unless you are heading out for the most extreme of long distance races then the Vantage V should have you covered. The M version of the watch has a shorter battery life.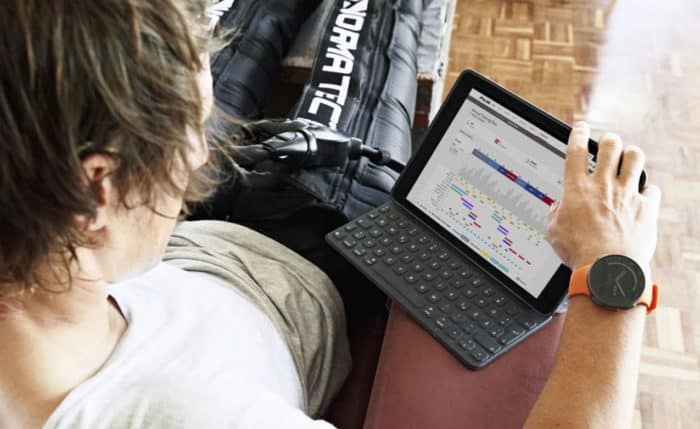 Having used the Vantage for the past couple of months the watch has been a great training companion. It's a very smart looking daily watch and given the mid sized bezel it should suit all wrist sizes without being clunky on a smaller wrist. Navigating around the menu is straight forward and intuitive.
Moving back to the Polar brand from other watch brands has been without issue. New features are being added via updates such as the recent chronograph feature. These updates have been painlessly installed whilst syncing the watch, so nothing for those with a tech fear to worry about..
Using the watch
In short, it has been a fun few months testing out the Vantage V. There are some things with the early models that are slated for upgrade shortly, things like smartphone notifications, Strava segments for example. Non of which will hinder your use for now but will make nice additions in due course. This watch is designed to be a rock solid training tool and recording device. It does this job really well. It delivers on all fronts including appearance and ease of use, hence it gets a high score in our testing.
Screen brightness is decent and has a backlight for better clarity. Colours are distinct and well used although as with other training watches they can't rival Apple's watch but then Apple cannot claim such long battery life; I believe four hours training recording is quite realistic and not the 40 claimed by Polar. Quite a difference.
If you are a Polar fan already then I think you will love this new model. It sits alongside the best from Garmin and Suunto in terms of capability. It looks like it's aimed at the serious athlete as it lacks some rival brand features like a payment feature or music functionality. If you are a beginner then the Polar has you covered and its simplicity will not distract you from the job in hand. In use, lots of the technology all goes on behind the scenes. Press start, do your thing and then check out all the data back at the computer, or phone/tablet. There is no messing about with foot pods or chest straps (unless you want to use the chest strap, the Polar H10 chest strap is crucial for some of the more advanced watch features such as Recovery Pro).
The Polar Vantage V is a definite contender for your money. Watches at this level are a considered purchase but do offer fantastic functionality and will help you whatever level of athlete you are. It gets a great score for its ease of use and simplicity in getting data out of the watch into your selected app. In addition its wins by being a serious training tool, it stays away from features like music and payment functions and focusses on its key roles, recording and planning your activity and fitness goals.
You can find out more at the Polar Website HERE.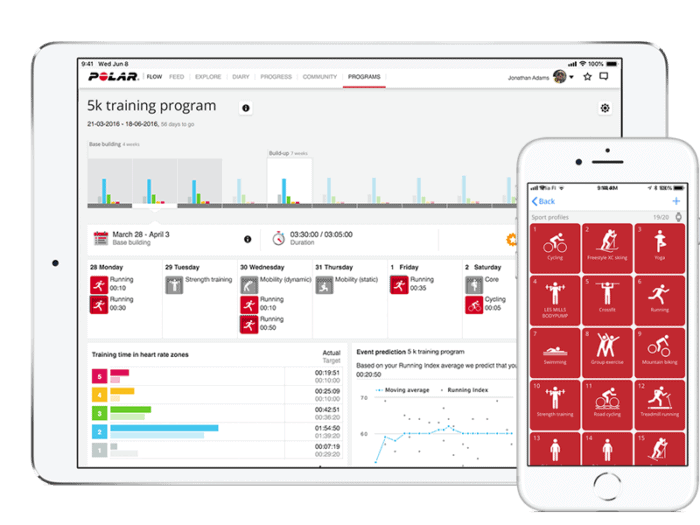 ***Product Update 19th Feb 2019***
The new firmware update brings smartphone notifications, Back to Start, Route Guidance and a range of other software tweaks to Polar's latest Vantage product offering. See full details of the updates below:
Back to start guides you back to the starting point of your session making it a useful feature when exploring new places. Just follow the arrow on the display to find your way back.
Route guidance (Vantage V only) lets you discover new routes from other users in Polar Flow and third-party services. Mark interesting routes as favourites in the Polar Flow explore view or import GPX or TCX routes to Flow from other services and sync them to your watch.
Phone notifications keep you connected with alerts from calls, messages and apps. You'll get the same notifications on your Vantage that you get on your locked phone screen. Available for iOS and Android.
Do not disturb lets you switch off all phone notifications. The automatic backlight gesture, sounds, vibration and watch notifications are also off making it a nifty feature for night-time use.
The Sleep watch face lets you check your last night's sleep details and rate how you slept conveniently from your watch. Just swipe left/right or use the UP/DOWN buttons to find it from the time view. Already awake? is shown on it after four hours of sleep is detected. To speed up the sleep metric calculation press OK after waking up to stop tracking your sleep and to get your sleep summary. Follow your sleep stats in the Flow web service and app to know more about your sleep quality and patterns in the long-term.

Polar have also added the handy quick menu which gives you easy access to favourites, timers, routes and Back to Start. It's available in pre-training, pause and transition mode with the LIGHT button.
The firmware update can be synced to the Vantage either on the computer via FlowSync or via the Flow app on your mobile.
The Polar Vantage V (£439) and Polar Vantage M (£249) are both available now.