Chris Hovenden tests the time trial focused helmet from Salice, the Salice Chrono TT.
| | |
| --- | --- |
| Product | Salice Chrono TT Helmet |
| Price | £179.95 |
| Size | 52-58cm |
| Weight | 358g |
| Colours | See website |
| Sizes | See website |
| Website | www.salice.co.uk |
| Grade | C |
The Italian brand Salice is the helmet and sunglasses sponsor for the UK based UCI Continental cycling team Canyon Eisberg and the Chrono TT is its specialist time trial offering.
The Salice Chrono TT helmet has a short stubby profile, similar to that of the Kask Bambino Pro, that will favour those that have a tendency to move their head rather than managing to hold a fixed aggressive position.
All the aero benefits of a TT helmet can be negated if you struggle to get the lid on quickly in T1 (nothing quite like get your ears trapped/folded), and off seamlessly in T2. Importantly for a triathlon focused helmet, even with the visor in situ, the Chrono is very easy to get on and off quickly.
The combination of the retention system, the internal padding, the netted breathable liner, and the soft strap cover allows you to get a snug and comfortable fit.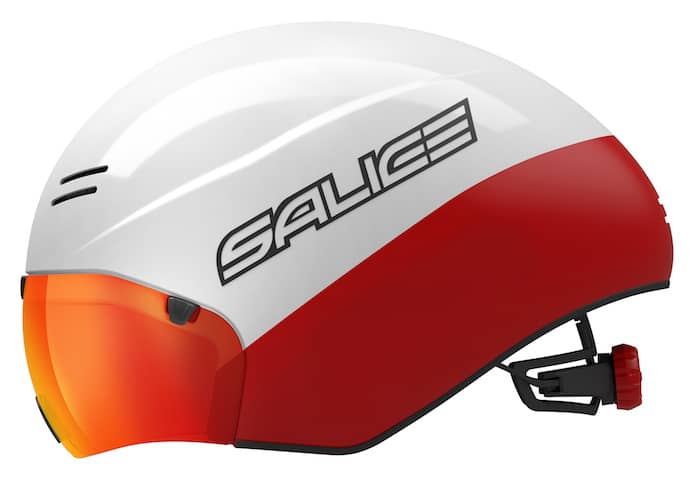 The retention systems works really well. Subtle adjustments can be made to the fit on the move by using the dial at the rear which also duals as a LED safety light – it has three modes, but note if you are riding with a backpack (for example, to a race) high up your back it may block the light.
The integrated (but removable) visor provides a wide and clear view as well as being more aerodynamic than simply pairing sunglasses with a helmet. The lens' clarity is fine and comparable to some of Salice's competitors.
Three strong magnets keep the lens secure and once in place correctly it would take a substantial force to make it budge.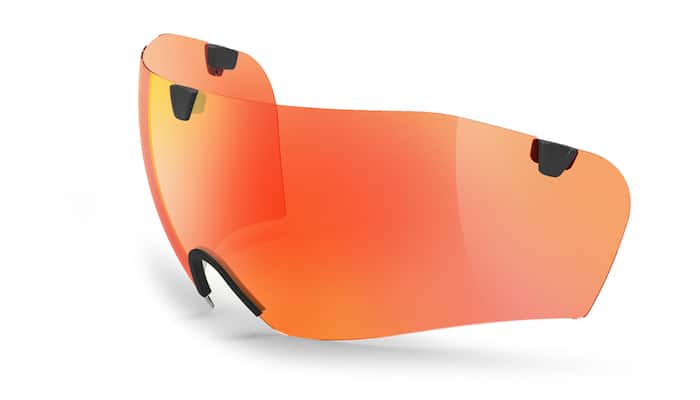 However, there is nowhere to stow the visor if you decide you want to flip it up; and, if you have opted to remove it and then change your mind (as I stupidly did on the 30 second countdown for a time trial) it can be a little fiddly to clip into place.
The Salice Chrono TT helmet has four small slits at the front and two at the rear to aid ventilation. Realistically, on hotter days you are likely to want a more breathable/ventilated option.
The Salice Chrono TT helmet is a functional stubby aero helmet, which suited my relatively relaxed time trial position and inability to keep my head still, at what is a competitive price.
Aerodynamics should be an important consideration for all triathletes, and as a result the market for aero lids is becoming more and more competitive with some brands' flagship helmets having RRPs significantly north of £250!
In light of the above, it is fair to say that there are more sleek aero helmets available and those that claim to have utilised far bigger R&D budgets. However, they often come with a hefty price tag which begs the question: are the potential/claimed performance gains over a solid helmet like the Salice Chronos TT worth the extra pounds?
Verdict
A competent short/stubby aero helmet at a fairly competitive price.