The launch of a new model in the GPS watch world is an exciting time for athletes and the industry and SUUNTO recently released the SUUNTO 9 into the sports world. How does the new model stack up?
---
The New Spartan?
The SUUNTO 9 continues the evolution of the Spartan Ultra etc. This is a top end model, SUUNTO combines key features from the existing lineup models into one refined product. The built in heart rate monitor and vastly increased battery life are features worthy of your attention and there are more which will be highlighted below.
Movescount and the App
The watch works alongside SUUNTOs desktop webpage Movescount.com with connection via a sturdy magnetic connector and USB. Here all your data is stored ready to be scrutinised and shared. If you sync to the mobile app, connection is through Bluetooth.
The SUUNTO phone app is available on both Android and IOS. I have been mostly using the computer and USB to sync data. In practice this has meant that any watch firmware updates have been quickly installed as they become available and it is ready and charged whenever I need it. I have found that when you need data to go to a third party app like Strava you will need to sync to the desktop and as I spend a lot of time at my computer it made sense just to plug it in and sync/top up charge whilst I was not needing to collect data or out training. Currently the App and the website do not talk to each other so I'd advise using your desktop to sync as your primary connection for ease of use.
Movescounts on the computer and app allows you to delve into the data. It captures quite a lot of data so it will keep even the most dedicated number cruncher happy. From here you can analyse your training and performance etc. It also allows you to create routes to follow and input training to sync to the watch, transfer routes and points of interest etc.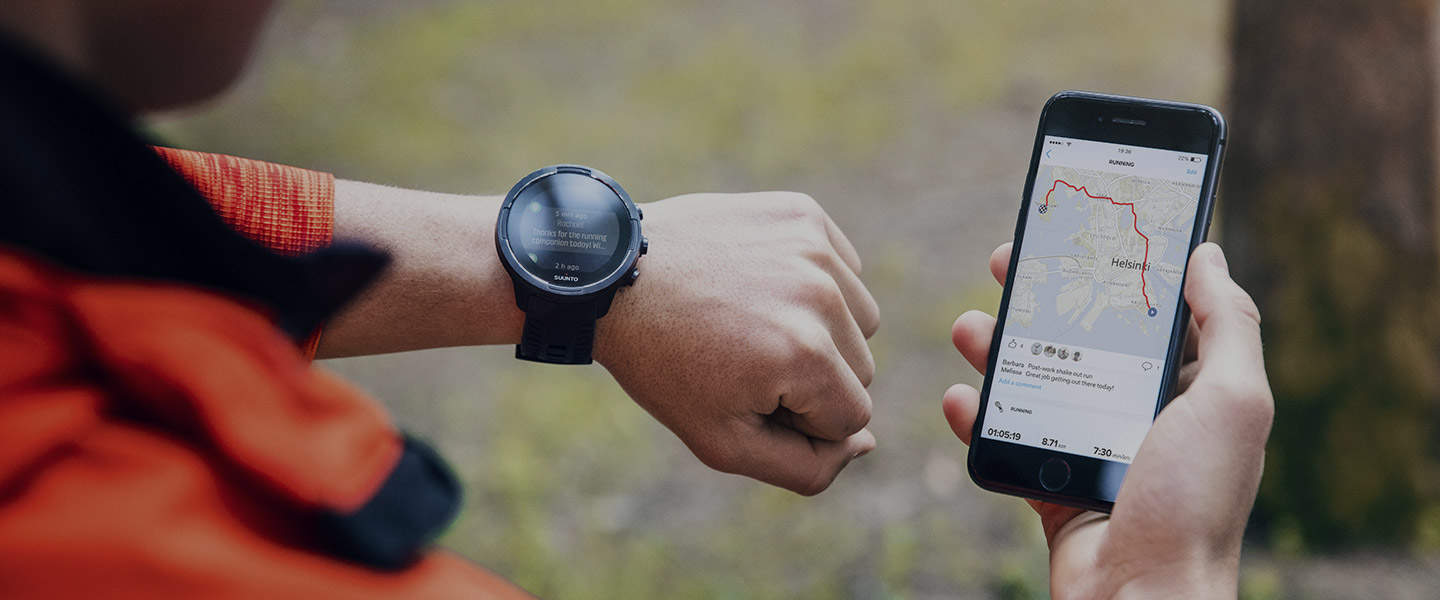 Running Power
I have been collecting running power data from the STRYD foot pod and this works seamlessly from the watch menu to setup on first use and has dedicated sports profiles for training with power. No need for any work arounds, it's there in the many sports modes, built in.
Initial pairing was simply a matter of selecting the foot pod in the watch menu and you are off! Now whenever I train with the STRYD I just select the Running With Power sports mode and its connects directly.
Sports Modes
These sports modes, of which there are many, over 80 in fact! Are customisable on the computer and will sync when you connect the watch. I have found this to be simpler than trying to mess about with menus etc on the watch. In fact most tweaks are not possible on the watch and has been fine. It's quicker and easier to do it via the desktop. Here you can select how you want your data displayed for each sports mode.
Daily Metrics
The SUUNTO 9 functions as a daily wearable, tracking steps, sleep and heart rate as key metrics throughout your day giving you enough data to see how your rest and activity are panning out. You can easily access this data by scrolling down on the screen or the bottom button. Various essential bits of data is viewable and a tracking log shows you the past weeks worth of metrics in a simple graph.
Training tracking
Stepping up from daily activity tracking is the recording of your training and it's here that I have found the 9 to be a pleasure to use. Prior to testing out the 9 my daily watch was the Spartan Trainer HR and it has the same menu setup and that had become my go to watch over my Garmin or TomTom. It also took over from the bike computer. In fact for many it will be all you need to log your training, record your races and share with the world.
Updates
Over the past 12 months the SUUNTO software has been updated to be a logical and easy to use system. New features have been introduced so users looking at a SUUNTO now will have far more features than users a couple of years ago. Regular updates have been made to the firmware adding functionality and improving the experience. When you connect the watch to the computer the link software will inform you of updates and it's a simple click and update procedure.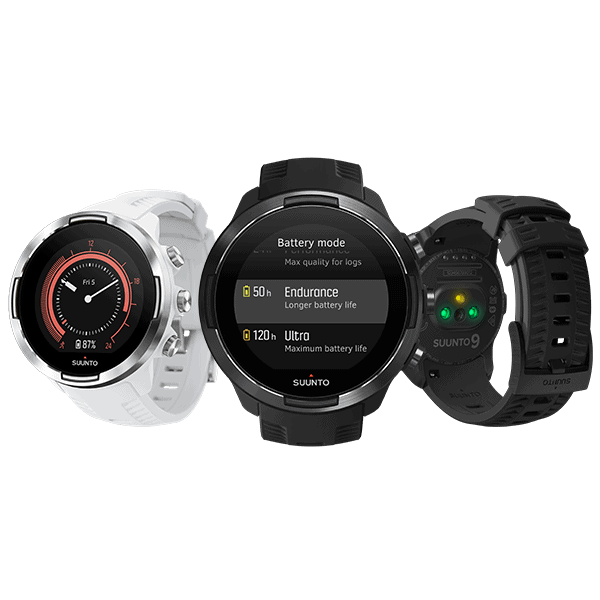 Key for me was the Triathlon Race Mode: Start your watch in the Triathlon Race Sports mode as you start the swim, a long press of the upper button enters T1 and primes the watch for the next leg. Another long press as you exit on the bike and repeat until you cross the finish line. All three legs timed and your transitions logged. It could not be easier.
Swim Mode: Pool length can be entered on the watch and tracking is accurate in distance recorded. The 9 is of course perfect for openwater swimming and tracked distance suitably well on the wrist.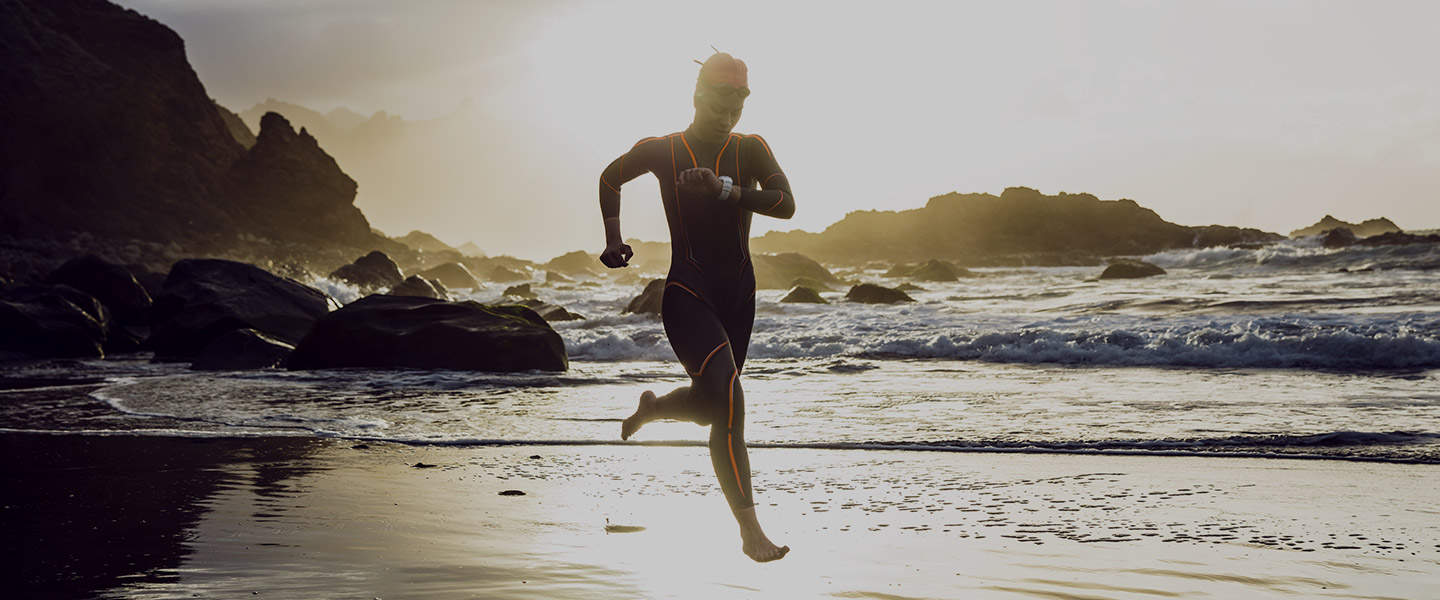 Heart rate Monitor
Built into the back of the watch you will find the heart rate monitor, it's the Valencell's 1.2. This has proved consistent in use so far. There have been the usual wrist based issues here and there but overall it has been reliable. Generally the wrist band systems are subject to more issues and do need to be worn quite tight on the wrist. I've been using one for about a year and bar the odd glitch where it sometimes under counts my heart rate for a small period of time it has been fine and far less hassle than a chest monitor. The HR version also lets you connect a chest strap if you need. I assume this is the case here so if you want to you can.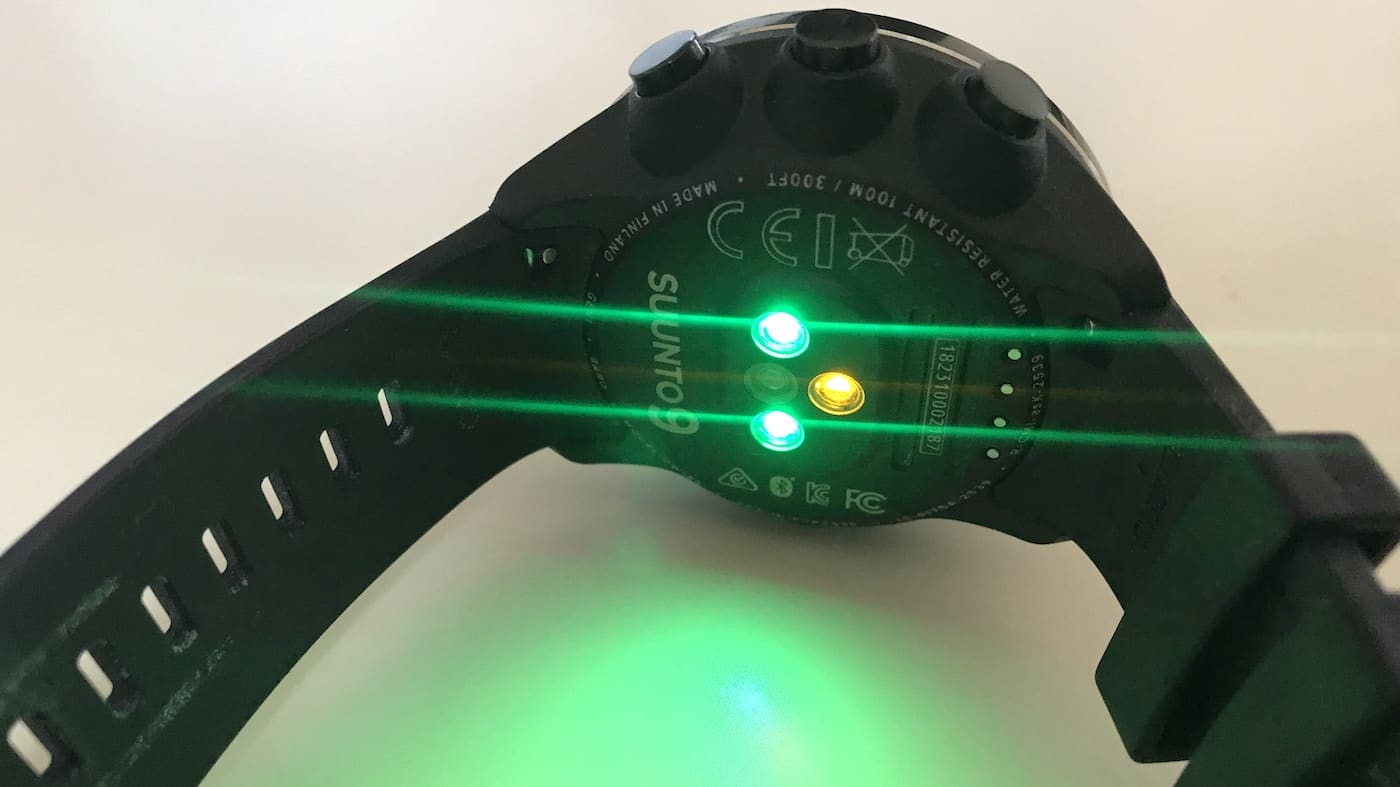 Battery Life
Life expectancy on the new 9 is one of it's big selling points and it's proving to be a fair claim! There are various modes to facilitate these extra recording times and they are quoted as 25 hours in Performance mode with best GPS tracking and full functioning activity, brightness etc rising to 50 hours for Endurance and up to 120 hours for Ultra and you can select your own custom options too!
Obviously this extra recording time comes with a price of reduced functionality but the fact remains that this is a brilliant feature for those wanting to go longer than long!
In addition to the extra battery life you can select what mode you need mid recording so if your training run takes a detour you can still record it but at the lower power use setting! Very clever! The watch even gives you a prompt to select the best setting. I've not got to this stage in training yet. I must try harder!
In regular Performance recording mode I have yet to go lower than 60% battery life in any single or multiple day use! In most cases I can go all week without much trouble with several days of training. Without recording runs and bikes it lasts ages before you need to charge.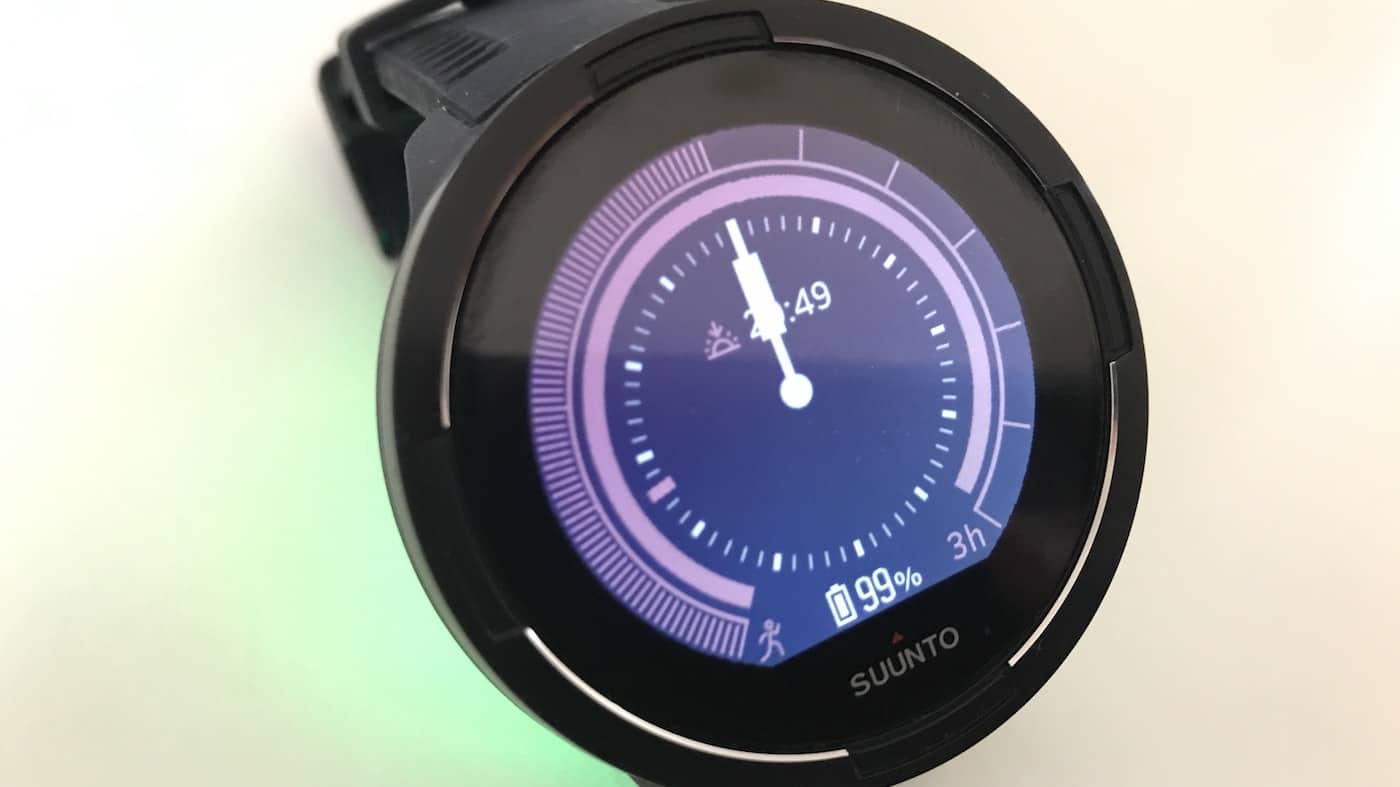 Altitude
The 9 features both GPS and Barometer altitude and temperature readings. Just so you know.
FusedTrack
An interesting feature for when GPS is very limited is FusedTrack. The watch takes limited GPS readings 60 or 120 seconds apart and fills in the gaps by utilising the watch accelerator, gyro and compass functions. It won't give you pin point accuracy for every step but if you need to improve battery life you need to compromise somewhere and this seems like the best solution currently. To date I've not needed this function but it's there.
New straps?
If you are looking for something a little unique SUUNTO now offer the 9 with a 24mm standard quick release strap so you can tweak to your hearts desire. No special tools required, SUUNTO and third party straps are available.
New to SUUNTO?
If you are new to SUUNTO and their sports watches then the 9 is going to be a cracking introduction. It has been mentioned online that SUUNTO might have rushed out the original Spartan models the other year but if you lived through that you will have noticed that they have been consistently rolling out firmware updates to add functionality and resolve issues found out in the field and generally improve the software. Updates have been regular and anyone thinking this is still an issue needs to put those fears aside. The SUUNTO range is very capable and through its ease of use and solid recording will suit a beginner up to a seasoned pro.
Those of us who have been using the watches since launch will have noticed what a great software platform the spartan units are built on. The software has been fine-tuned and offers great reliability. It was always reliable, it was just a little basic in features. Now the watches feature chrono, alarms, various faces, multiple elements of data on the watch face or home screen, training data, intervals, daily tracking progress of steps etc. If you should need it the watch also feeds you notifications from your phone. At first I was not a fan but occasionally it's handy to see who is calling without having to dig out your phone and check. In fact this is very useful whilst not training with your phone in your bag or pocket.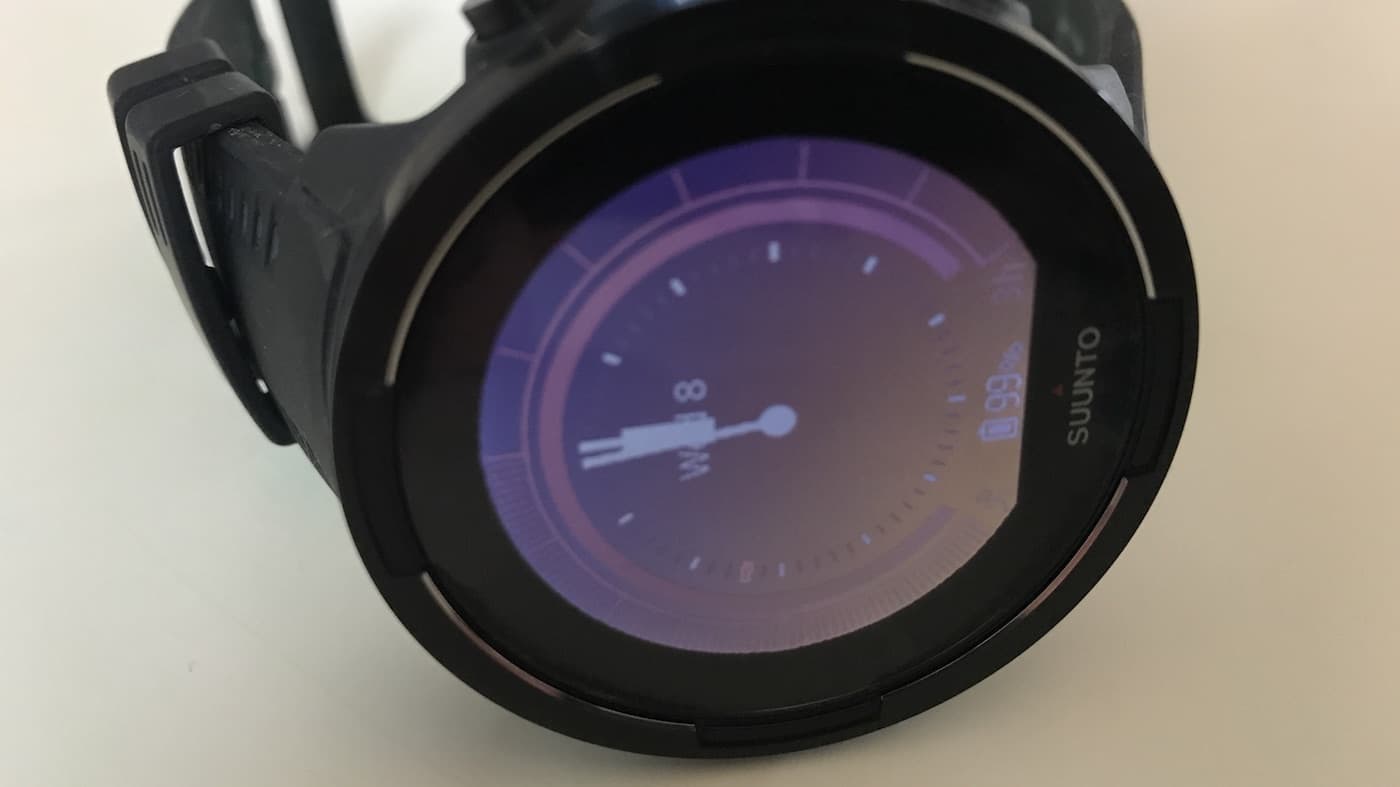 Controls
There are two ways to work the watch. The touchscreen and the three buttons. Essentially, up, down and select buttons. The screen operates smoothly in all but wet or very sweaty fingered conditions and it's no bother to use the buttons when you need and mix and match as there are only the three!
The colour touch screens brightness is acceptable for outdoor use and can be adjusted if you need but there are brighter screens out there. You can toggle the screen between white or black display whilst training and select various colour screens for the watch faces.
Power
One function I have not tested is bike power. This is available to use on the watch with the correct power kit connected to your bike but at present I don't capture power data. The next project maybe!
Using the SUUNTO models has been a good experience all round. The modes are simple to use, menus simple to navigate and the accuracy of the data has been fine. There has been the occasional data glitch or erroneous heart rate but all being said nothing to not make me want to use the watch over and over again. Presently the watch does not allow you to pay for items or listen to music and it probably won't ever but the SUUNTO does all the rest of the things really well. It's smart enough to wear everyday and solid enough to take a few beatings and the screen is sapphire crystal to fend of scratches. It's tough.
In the box there is the minimum of items, watch, USB and instructions. Accessories available include a bike mount, chest hr strap and you can pair to their SUUNTO speed/cadence monitor of the bike.
I'd gladly recommend the 9 for training, racing and daily wear and the lack of music is not a deal breaker here.
Full tech specs are available here.
Find out more about SUUNTO here.