Over the last couple of years, advertising for recovery products has grown rapidly with brands claiming to help you recover faster, left, right and centre. The question is, do they work and are they worth the price tag? This month we put a Theragun PRO percussive massager to the test.
We called on the assistance of Pro triathlete, Chantal Cummings, to see whether this addition to her kit bag could help her during an extended period of high volume training.
---
Therabody say: The deep muscle treatment pros trust with the durability and features they rely on. Enhance muscle recovery, release stress and tension, and soothe discomfort with the smart percussive therapy device in a league of its own. We stand by PRO's professional-grade durability with an industry-leading 2-year warranty.
Key Features:
Rotating Arm and Ergonomic Multi-Grip
QX150 Motor with QuietForce Technology™
300-Minute Total Battery Life
Smart App Integration with Bluetooth®
OLED Screen with Force Meter
Customizable Speed Range
Theragun Pro: What's included
Theragun PRO
Protective Carrying Case
6 Attachments with Travel Pouch: Supersoft, Dampener, Standard Ball, Wedge, Thumb, Cone
2 Rechargeable Lithium-ion Batteries
Lithium-ion Battery Charger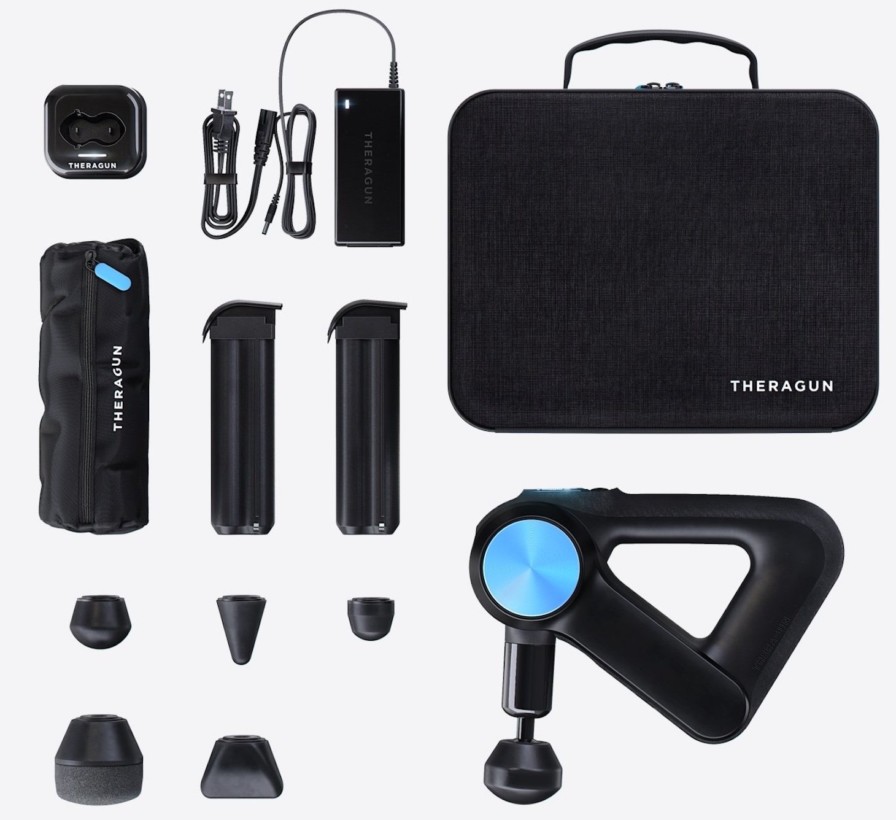 TRI247 say: The PRO is the top of the range professional-grade product created by Therabody. They are one of the leading brands in percussive massage devices. It has been through several phases of development over the last few years with this being their latest and greatest device in terms of power, speed and a reduced noise level.
It comes with all of the parts required to use the device, the massage attachments, power cables and two lithium batteries. If you want to use the wireless charging stand you'll need to buy separately. Along with all of this you are encouraged to download the Therabody app which links via Bluetooth to your device. This can provide personalised guided routines.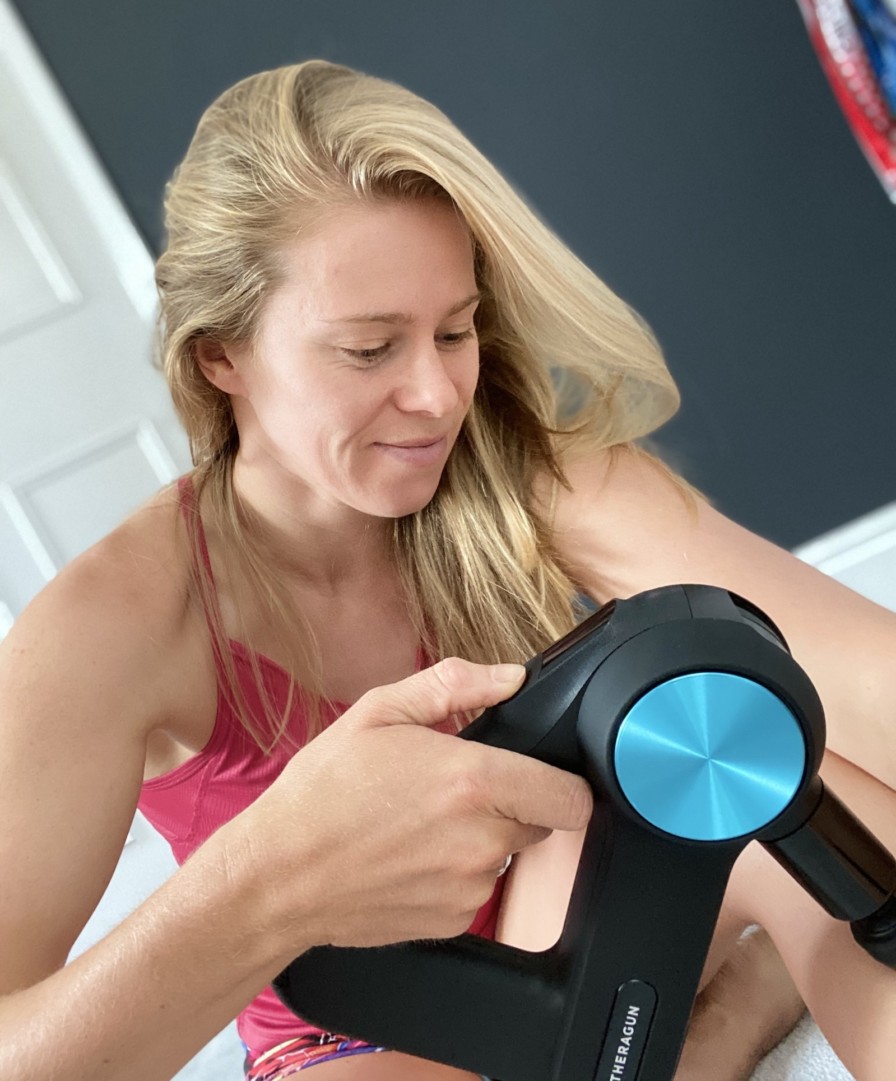 Speed of recovery
To truly put the Theragun PRO to the test it was used almost every day during a one month period whilst training around 20-30 hours each week. I have to admit that after initially being sceptical, in just two days I was already completely sold on this as a great recovery product.
There was a marked improvement in the speed of recovery day-to-day, allowing me to hit sessions without the usual muscle tightness and aches at the beginning of sessions.
Back massage?
I found it particularly good for targeting specific muscle tightness/knots in the calves, quads, hamstrings and glutes following hard run and bike sessions. It was also the only massage device capable of relieving neck pain from sitting for hours on the bike which is something all triathletes can sympathise with!
That said, as far as self massage goes, the PRO is not the best for massaging your own back unless you have really flexible arms but if you have someone to help, then you are away.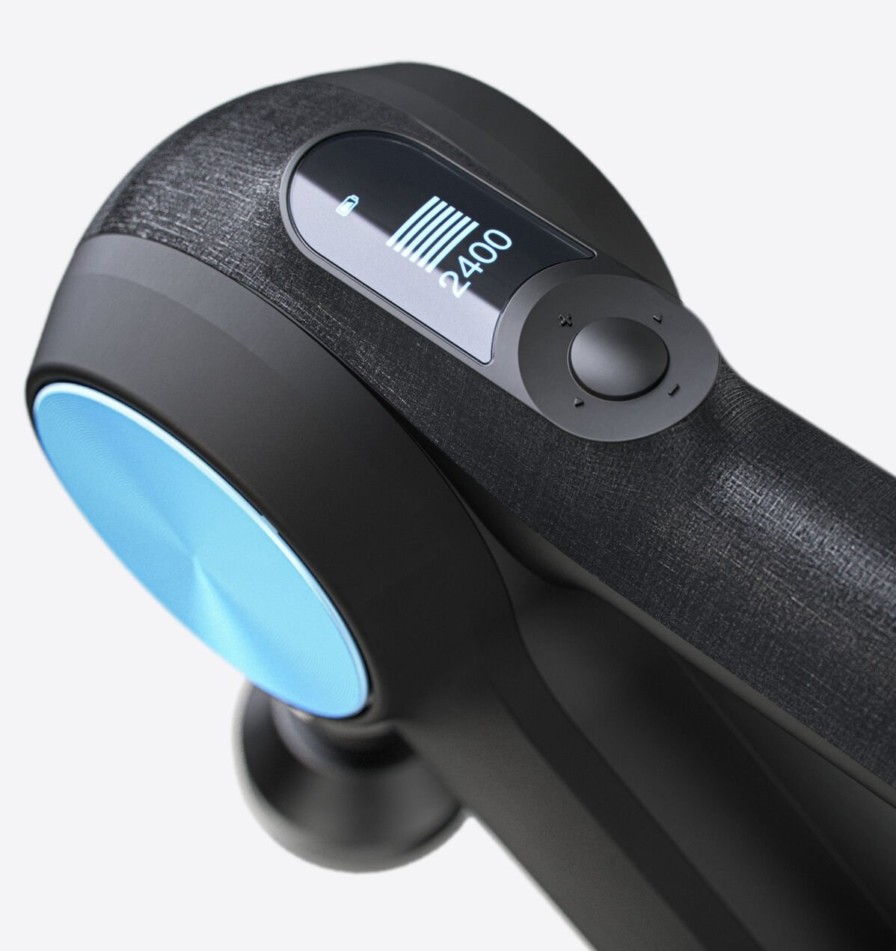 If you, like me, are a total beginner to percussive devices then it is worth starting off on the lowest speed setting and then gradually building up from there when your muscles are used to it. It has an OLED screen which clearly shows you the speed setting which ranges from 1750-2400 PPM (percussions per minute), that can be selected from the ranges on the device or by using the Therabody app connected to your device.
Linking Apps
Personally, I found that I didn't really use the Therabody app as I preferred just using the device based on my own feeling of where I needed to self massage rather than using the app's suggestions. That said, this may well be due to the fact that I don't use any of the other apps; Apple Health, Google Fit, and Samsung Health, which the Therabody app integrates with so that may have limited the benefits I could have experienced from the app. If you do use any Health apps then it would definitely be worth linking them up and seeing how the guidance benefits your recovery routine.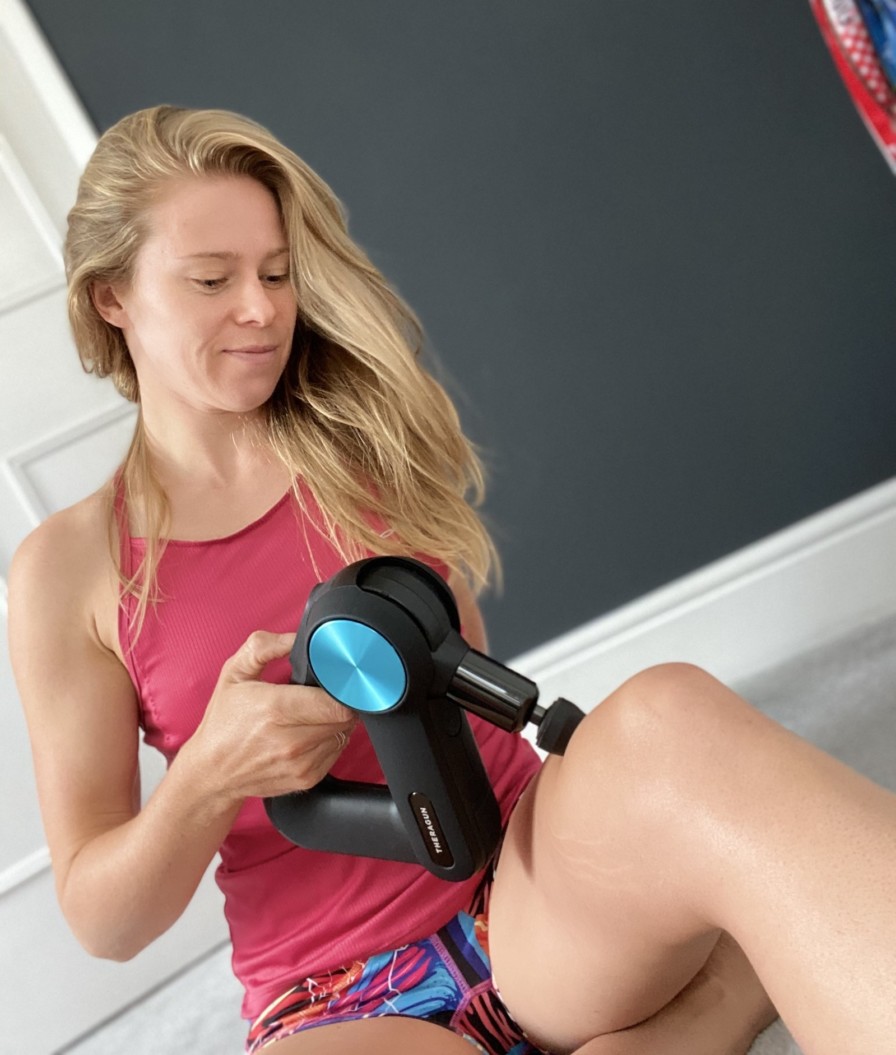 For those of you who are wondering if you can get the same performance and benefit from a different brand, it is worth you knowing that the differences I found between a cheaper product compared to Theragun are pretty striking. First off, as Theragun claims, its PRO device is much more powerful than average massagers and definitely provides a deeper massage, with the added bonus of feeling a lot kinder on the muscles and skin. This is partly due to the Theragun attachments being made of non-porous, closed-cell foam instead of hard plastic which is the case with most average massagers.
Supersoft attachments
Yes, you should expect to have some discomfort when using a percussive massager but you also finish massaging not feeling 'beaten up' which allows you to get straight back to training the next day. Secondly, the ability to adjust the angle of the arm on the device gives you greater flexibility to massage hard to get to areas which you normally wouldn't be able to treat. And finally, one of the features I liked the most was the PRO's Supersoft attachment which allows you to work on bony areas of the body, great for use around the shins and hips which often get tight with a lot of running.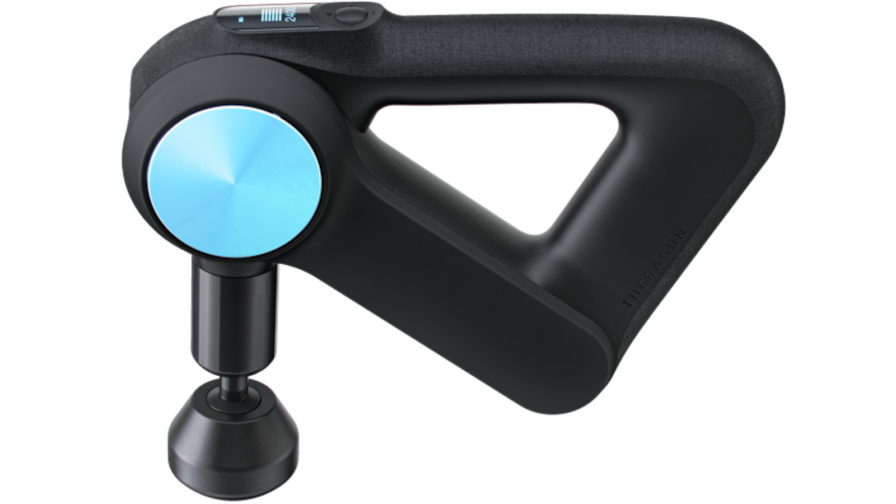 Is it worth getting a Theragun?
If there was a feature to criticise with the PRO device, despite their claim that it is no louder than an electric toothbrush, it is still a relatively loud device to use. This is especially so on the highest force setting. That said, if that is a deal breaker in your bid to recover faster and better then it would be short sighted as it ticks most other boxes.
The PRO is also quite a bulky device so if you are planning to use it when travelling abroad for races or training camps it may not be the easiest thing to pack. It does not come in cheap, at £549, but as a device you buy once and can use every day to aid in keeping your body ready to train and perform then you might consider it a price worth paying.
Overall, the Theragun PRO provides an easy, quick and quality way to recover from training which requires little strain on the rest of your body to provide self massage. If you are looking for a solution that allows you to massage most parts of your body then you are also winning with this device. No massage device will replace the need to ever see a massage therapist again but it certainly keeps you going in between and it gets full marks as far as recovery products go. Unfortunately now the only issue is that I need to fight to be the one to use it in our household because it is such a winner in our recovery routine!