Many of us have become very used to the concept of 'Zwifting' alongside other cycle training. Will 'Zwimming' become similarly ubiquitous, thanks to the ZEN8 Swim Trainer?
What is it? Who is it for? How much does it cost? The answers to those questions and more are covered here courtesy of Coach Karen Parnell who has been testing it out for us.
ZEN8 Swim Trainer
The last 18 months has taught us to expect change and that unfortunately includes the opening and shutting of swim facilities. For triathletes and swimmers this has been a nightmare. We have had to find various solutions to this to keep our swim muscles active such as tethered swimming in small backyard pools, indoor rowing machines and working out with swim cords. This inspired Victor Jarland to create the ZEN8 dryland swimming system.
ZEN8 was founded during the 2020 pandemic in the French Alps at 2000m above sea level by Age Group Triathlete, Victor. With one mission, to help time crunched athletes like himself become faster, stronger and more confident in the water.
Even before the pandemic, swimming in open water such as the sea and lakes could be too cold at times depending on where you live in the world, and swimming pools crowded or having limited access.
Based on this I was keen to try the ZEN8 dryland training system because unlike just swim cords it puts your body in a swim-like horizontal position and claims to give you a thorough core workout.
What's included?
The ZEN8 arrived quickly and was in a smaller box than I had expected. The box contains:
Inflatable Swim-Bench 35x50x80cm (13,8×19,7×31,5″)
High-Quality Swim Bench Cover
Swim Cords with Paddles – Level 1 (3.6 – 10,8kg / 8 – 24lbs) For Beginners – Pros
Hand Pump
Repair kit
ZEN8 swimming hat
Instructions for inflating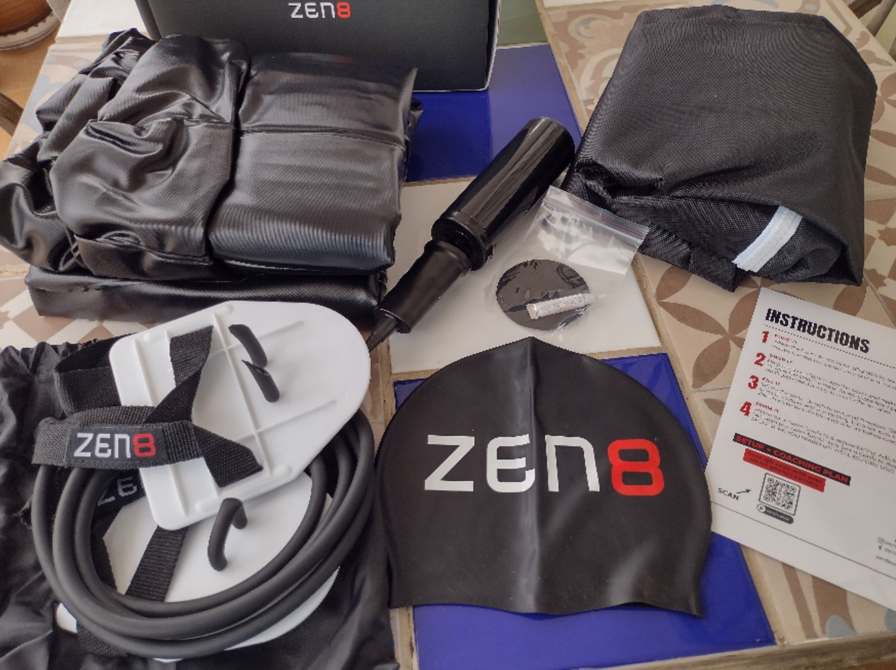 I set about inflating the swim bench and started with the pump but found inflating by mouth was easier and quicker. The bench cover is very well made and once over the inner inflatable box made a very sturdy swim bench.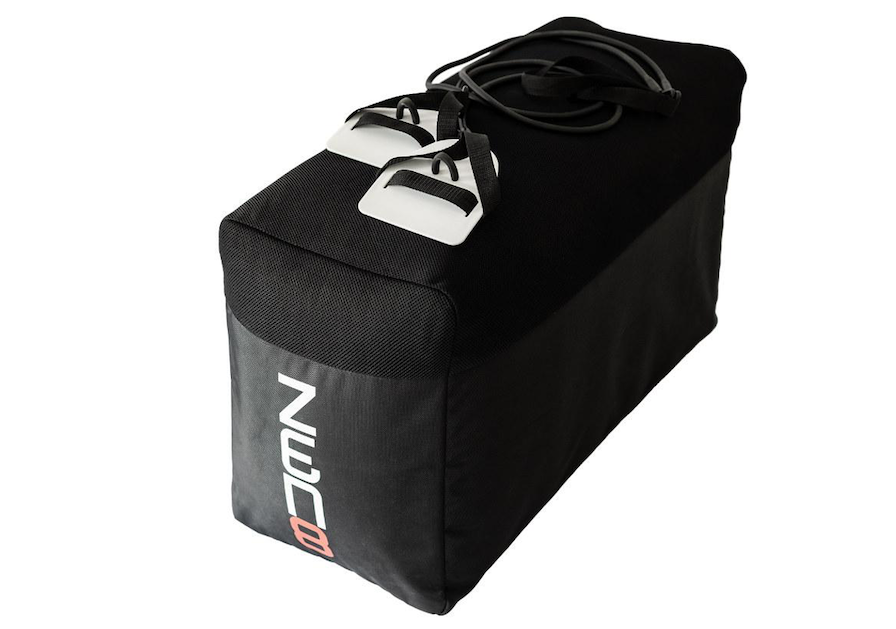 The Swim Cords can easily be attached to any door, window or strong fitting and no drilling is needed.
Online Support
I was surprised to find out how much training support you get with the product including training sessions and training plans. They have a Youtube channel with swimming tips and follow-along workout videos. After purchase customers are sent an email with a link to the ZEN8 coaching plan and the two-week Introduction course so you can complete your first ZWIM.
If you like the training sessions and plans you can upgrade to the BMC swim training plan for £69 per year. This plan includes 25+ ZEN8 training videos, 10 explanatory videos, weekly full sessions (15 – 45 min long), 2-week introduction plan, 4-week lockdown plan, 8-week training plan plus dryland and pool sessions.
They follow up with weekly emails and fresh training videos, so you never get bored with the sessions.
You also get the opportunity to have a call with their head coach, Kieran Lindars, via a Zoom call.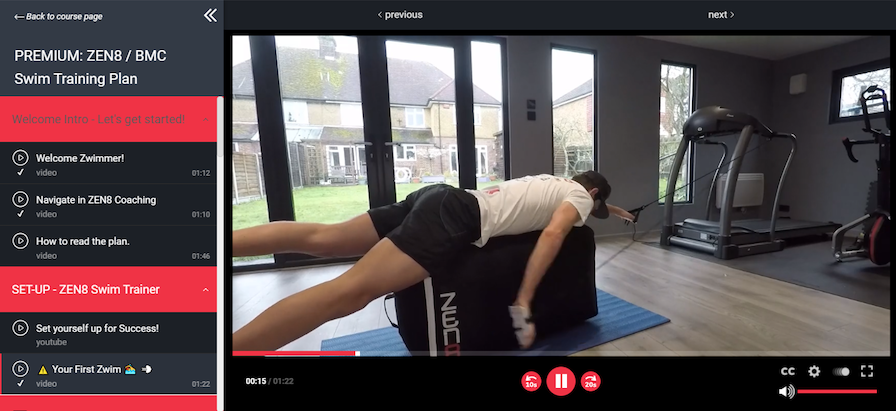 My First Zwim
The ZEN8 bench was more comfortable than I thought (I was worried about my chest), but after a few minutes I found the right body position and air inflation level. I worked through the warm-up video and the "Your first Zwim" follow-along video.
It took a little time to get my balance, but after a few minutes I was Zwimming, engaging my core and balancing. It's a great core workout! I found myself watching my arms to ensure the catch and pull phases were correct and building the all-important muscle memory.
The session plans include both ZEN8 dryland workouts and pool-based sessions, so you have the option to blend sessions depending on your access to a pool or open water venue.
I went sea swimming the day after and apart from feeling that my triceps had had a great workout the day before, I found myself concentrating more on the hand entry, catch, pull and especially the push phases of my stroke to maximise my propulsion forward in the water. It also made me put more force against the water and made me improve my 100m time which in turn made me more out of breath. I intend to keep using the ZEN8 to increase my strength and in the water use that power to go faster and work on my strength-endurance.
Why ZEN8?
This is not here to replace swimming in water but to help athletes maximise their swim training on days when the pool is not an option. It's a great way to fire up the right muscles just before a bike ride or before heading to work or maybe at the office? You can also use it as a pre-swim or pre-race warm up tool. It folds up quite small so is easy to take with you to a race or your swimming venue.
The whole point with the trainer is to give time-crunched swimmers the option to get a swim-specific session in, whenever or wherever they are so that they can get the consistency needed to progress.
This could mean doing two swims in the pool, lake or sea plus a ZEN8 Zwim to ensure you are ready for your next race.
You can even do brick sessions at home to mimic the swim to bike in a triathlon. This type of brick session is not as common as the bike to run brick. This means you will fatigue your chest, arms and core before your bike ride and get used to the feeling and engaging your core strength throughout.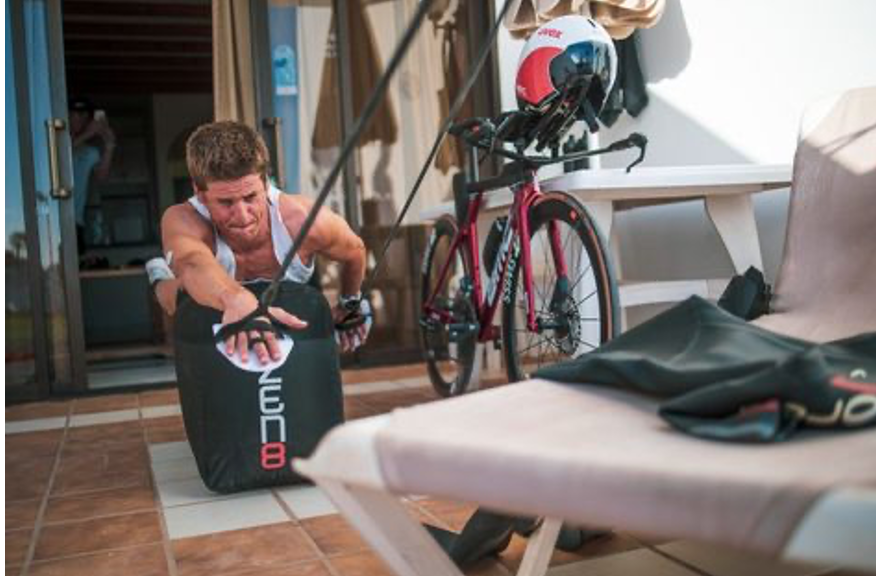 I can imagine those athletes that simply don't have the time to get to the pool three times a week using this trainer to get swim fit, strengthen swim and core muscles and refine their technique at home plus feel a little less guilty.
The ZEN8 is great for all levels, ages and fitness levels and it could even make for a great fitness class! Can you imagine a room full of ZEN8's all workout out to an instructor lead workout?
Victor and his team have big plans to enhance this product and I look forward to trying them out in the future.
I've written two plans on the IRONMAN® Final Surge platform that feature ZEN8 indoor trainer workouts to get you ready from your next race.
Price
£129 at the time of publication. BMC swim training plan for £69 per year.
---
Karen Parnell is British Triathlon Federation (BTF) Level 3 High Performing Coach and Tutor, Nivel 3 Técnicos Federados FATRI España and an ASA Open Water Swimming Coach. She is also a qualified NASM Personal Trainer and IRONMAN® Certified Coach as well as being a Stryd running with power coach. Karen's training plans are available on TrainingPeaks, Final Surge and Training Tilt.
Karen is based near Malaga in Southern Spain where she runs ChiliTri coaching and camps.
[Header Image Photo Credit – James Mitchell Photography https://www.jamesmitchell.eu/]