Triathlon coach Karen Parnell, founder of ChiliTri, is back with another product review – this time the FINIS Smart Goggle.
There are many who would say, quite strongly, that the only thing you need in a swimming pool is to learn to use that great big pace clock on the wall. After all, it has worked pretty well for pretty much every top-level swimmer for many a decade!
Of course, the are also others who love a gadget, and technology around the disciplines of triathlon is constantly providing new options, and here for the first time we take a look at the FINIS Smart Goggle.
FINIS are of course probably best known for their tempo trainer, the underwater metronome device which has been widely adopted by several coaching methods as a tool to improve the cadence/turnover of swimmers.
Now they have now turned their attention to 'Smart' goggles, and we decided to put them to the test.
The FINIS Smart Goggle, Powered by Ciye™
Ciye™ is pronounced "See" as in "see your swims" and stands for "Coach in your eye"
Maybe in Spain it should be "Si" for yes I can see my swims!
I was really excited to receive the FINIS Smart Goggles and try out a real innovation in swim training. I used to work for a defence company where Head Up Displays (HUD) were commonplace for the armed forces, so I was keen to see how this would work whilst swimming. I was also keen to see what information it would serve up to help me improve my swimming.
What's in the box?
There are two boxes. One contains the intelligent Smart Coach module with magnetic charge cable plus a set-up guide which was refreshingly simple to follow. The other box had the goggles in a hard plastic case with cool twist opening mechanism and six extra nose bridges.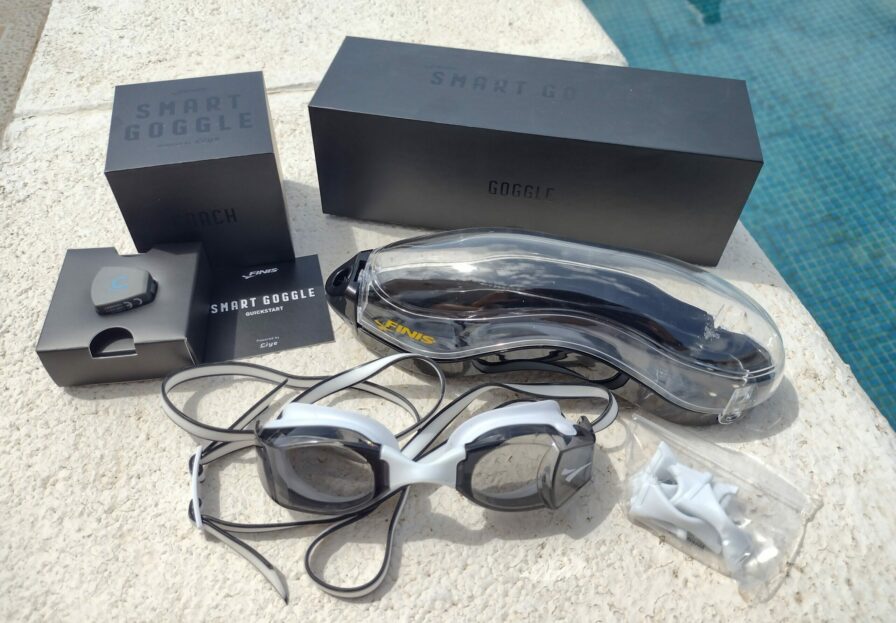 Setting up your FINIS Smart Goggles
Set-up was very easy. The first step is to install the Ciye™ App (Android or iOS) on your phone and then create an account. You then simply follow the steps on the phone screen.
The charge cable is not a standard USB but a magnetic cable – so don't lose it! To pair the goggles with your phone (something I would never think I would say!), you need to attach the USB cable to the goggles and the other end to power. The unit will light up. Make sure your Bluetooth is on and pair the goggles from the App (I tried from the Bluetooth screen, but this did not work).
Then keep clicking through the set-up screens. My goggles had a short set-up time before I could fit them to my head. Once you have adjusted the straps in the normal way you move on to adjust the display. You can use the various nose pieces to get a watertight fit.
To get the screen lined up with your field of vision, you use some arrows in the app on the screen of your phone and the screen on your Smart Coach module moves into place. I use reading glasses and can see the screen clearly which was a welcome surprise to me. Another great feature is the intelligent module called the "Smart Coach", can be removed and put into another FINIS pair of goggles if your goggles wear out or get scratched. The FINIS googles need to be ones with a Smart Coach cavity.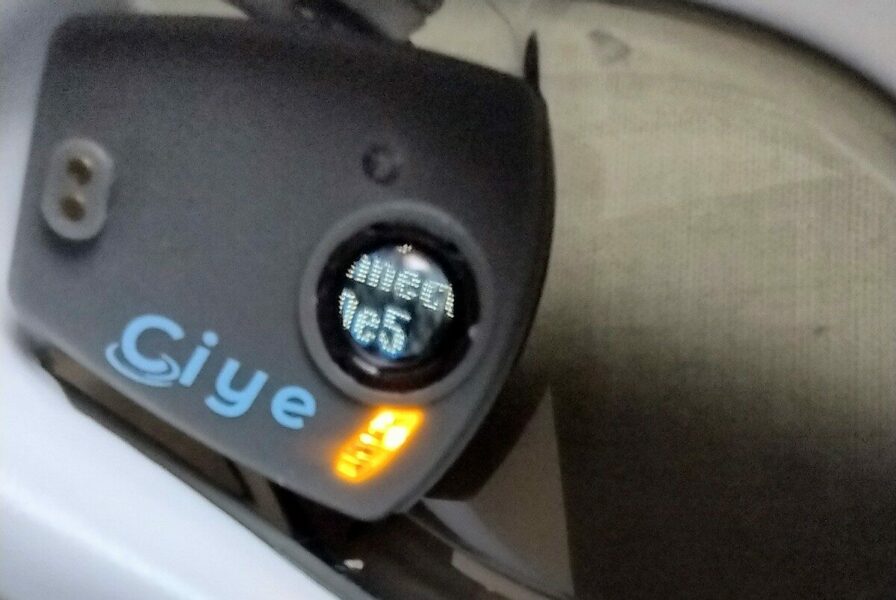 The googles are optimised for pool swimming and you can enter your local pools and pool sizes (yards or metres) into the App. It even found my Endless pool at my place ChiliTri in Spain!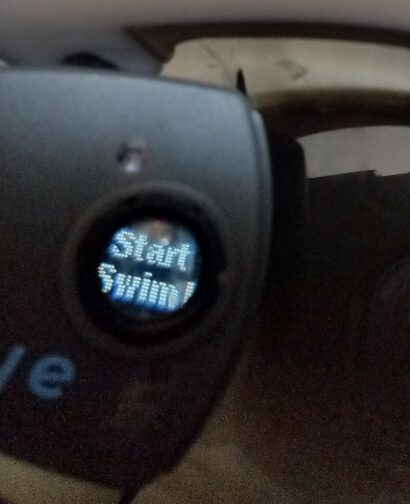 In the pool it comes into its own and shows total distance swum (over time), total time, rest time, active time, calories, lap splits per set, stroke and drill detection, goal attainment (for time, distance, frequency by week) and lifetime stats (distance, time, sessions). Looking at the small screen becomes second nature as you swim and even though it may look quite big in the goggle it does not obscure your view. I liked that I could see how long I had swum and also the actual time of day.
The stats collected during your swim are all synced with your phone App so you can analyse them in detail and also share on Strava or your Smart Goggle friends you can find in the App.
In the open water, tethered swimming and Spa pools like Endless Pools, you can only see your swim time in the Smart Goggles today. FINIS will be looking to add additional features in the future for location, direction, stroke rate and more.
You can connect your Ciye™ App to Strava so you can log your data and interface from there to Training Peaks, Final Surge etc. This way you can keep a record of your swims and let your coach know you are on track.
Conclusion
The FINIS smart goggles are easy to set up and use and the display is over to one side so you can choose to look at it or concentrate on your swim.
They are optimised for pool swimmers and will show you splits, swim time, rest time and distance all in real time. It will also detect what stroke you are doing, when you rest and if you are doing drills. In open water and spa pools the goggles currently just record time but they will be looking to add additional features in the future for location, direction, stroke rate and more.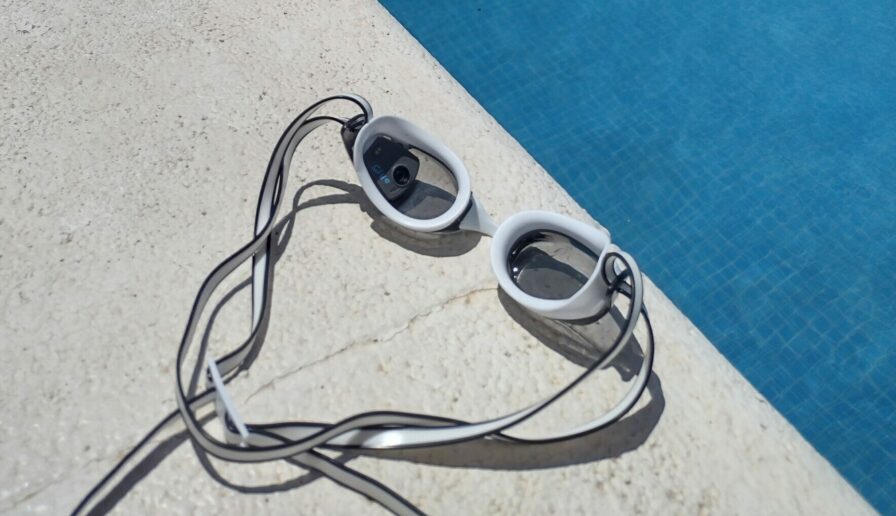 Once you have completed your swim, the Smart Goggle will automatically pair with the Ciye™ app and upload your workout if the phone is in range.
The Ciye™ app will provide insight into your workout, from overall summary to the fine details for every workout and every lap including time, distance, pace, active, rest time, stroke type, split, average pace and kcal burned.
It will also help set and track goals, share with friends or your coach, and gain better understanding of your workouts.
If you scratch your goggles don't worry you can take out the Smart Coach unit and put it into another compatible FINIS goggle.
Prices:
Smart Goggles & Smart Coach module starter kit: $235
Replacement goggles: $35
Replacement Smart Coach module: $200
Website: www.finisswim.com/Smart-Goggle-Starter-Kit-Blue
Available in Europe later this year.