Heart Monitors – much more than just beats per minute
Few things move quicker than progress in technology, and the modern heart rate monitor is a great example of that. In this feature, Coach Karen Parnell (www.chilitri.com) take an in-depth look and compares two of the latest products on the market, the Wahoo TICKR X and the Polar Verity Sense.
Both priced at well under £100, they are absolutely packed with technology and features.
Read on to find out more – and some advice on which one may best suit your personal requirements.
---
The Latest Developments in Heart Rate Monitors
"There's nothing interesting about heart rate monitors", I hear you say. They just do exactly what they say on the box – they monitor your heart rate, right? That has changed with new products from Polar and Wahoo.
I must admit I really didn't know what to expect but as I tried them, I got a little excited! They both have their own strengths, and I will try to make your decision as easy as possible depending on how you like to train and the stats you like to use to improve.
I'm a triathlete so of course I swim, bike and run, but I also do strength sessions, gym classes and Pilates so for me I need products that will help me track everything.
Wahoo TICKR X (£64.99)
I wanted to try the Wahoo TICK X device as I had heard it can measure run and cycling cadence, so I was intrigued.
This is the first time I have tried a Wahoo product so was not too sure what to expect, but out of the box the product had a quality feel. The strap was not what I was used to as it clipped in two pieces to the monitor at the front of your body. It has lights at the top to show it is working and has power which have been moved from the front to the top. I am sure this is useful for some but when I look down, I can't see them!
As with most chest strap monitors, they may be a bit uncomfortable for women. With other monitors I use them with a bra that has a built in HR strap which makes it more comfortable. Because Wahoo have gone their own way with their strap configuration, they can't be used with standard HR straps or HR bra's. Maybe Wahoo may consider this for the next version?
The device can be used with sports watches, the Wahoo Fitness App or standalone by storing the training data in the device in on-board memory (50 hours of data can be stored).
I paired it easily with my Android phone, Garmin watch, Windows PC and iPad.
Because it had bike and run cadence the first thing I did was hop in Zwift. I used my iPad and it was easy to pair the TICKR X for cadence and heart rate and within minutes I was running on Zwift which is still free for runners.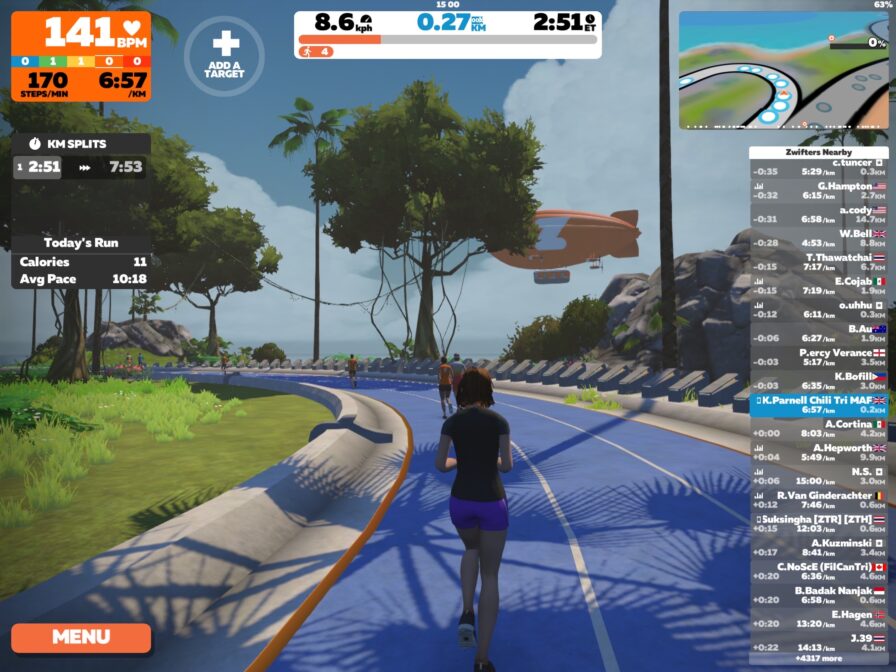 I had a Cycplus smart speed sensor S1 which cost me a tenner laying around, so I attached it to the rear wheel of my bike and with the TICKR X on fired up Zwift. Again, it paired quickly to the Cycplus speed sensor and used the TICKR X cadence to get me cycling on Zwift. So, if you have any old turbo, a TICKR X and a cheap smart speed sensor you can get cycling on Zwift.
For runners the TICKR X has some interesting stats to display as it captures via a built-in accelerometer Stride cadence, vertical oscillation and ground contact time. It also has a treadmill mode which you can calibrate in the Wahoo Fitness App. Slightly disappointing was that it did not include running power.
It has three Bluetooth connections so you can connect to your phone and GPS watch separately as well as other devices. You also have ANT+ for connection as well.
As you can see, they have put the leg work into this new heart rate monitor!
Polar Verity Sense (£79.50)
The Polar Verity Sense is impressive right out of the box with a small lightweight optical heart rate (HR) sensor, machine washable arm strap with monitor cradle, USB charge cradle, swim goggle device holder and a mesh bag to keep it all together.
The arm strap cradle and swim goggle cradle both have the metal range extender antenna build in to give it a massive 150m range.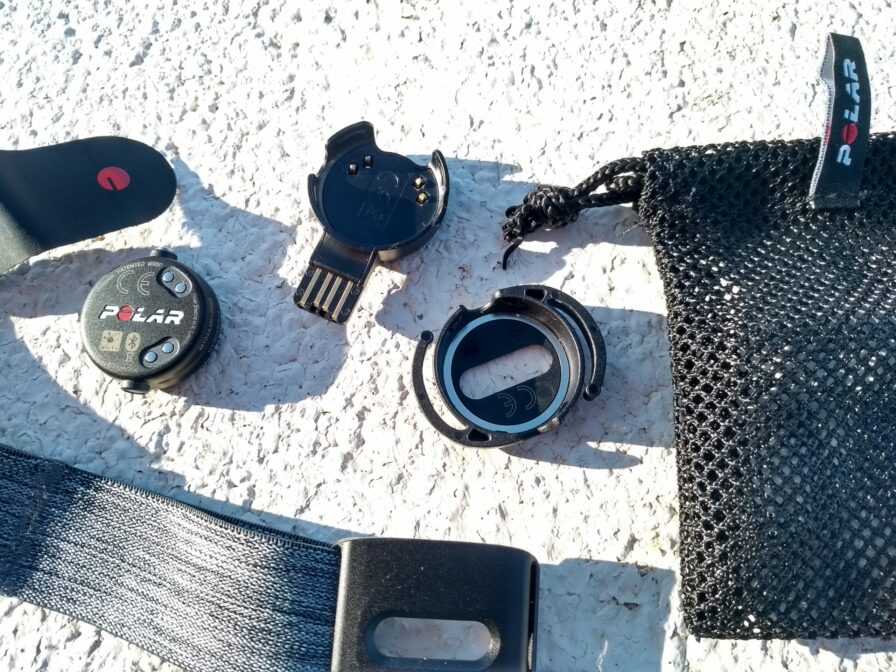 A great use case as a coach for the 150m distance and Bluetooth and ANT+ functionality is for track sessions. As a coach you can pair to the Verity Sense via Bluetooth and the athlete can pair to their watch using ANT+ so they can record their stats. During the session the coach can see real time HR zones and can make sure they are working in the right zone for the session.
It's more accurate than an optical HR sensor built into your watch as you can attach it to forearm or upper arm for better body contact with more flesh and muscle. It's also more comfortable on your arm than on your chest.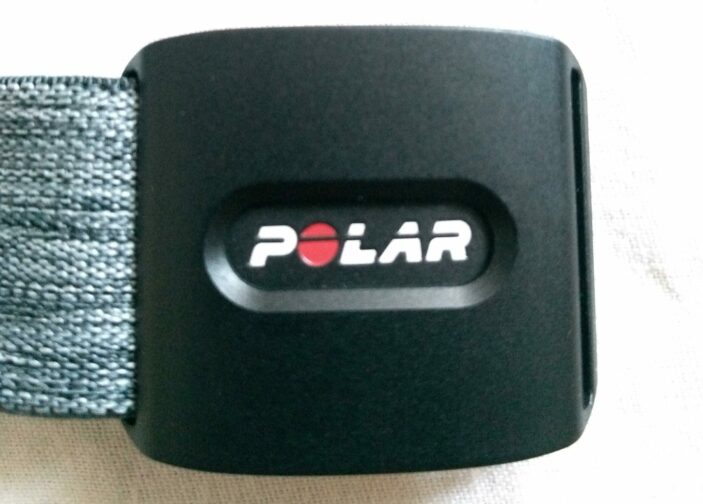 When you first use the Verity Sense you need to install the Polar Flow App and connect your device to set it up. From there you can use it in standard heart rate broadcast mode, standalone recording mode or swimming mode. It can record a massive 600 hours of data versus the 50 hours of the TICKR X. So, if you are doing serious training hours the Verity Sense may be better for you.
In standalone recording mode you can store all your workouts, simply turn it on and put it into the swimming or recording mode. You will need to turn it off to stop recording at the end of your session.
In swimming mode, the Verity Sense tracks your heart rate, pace, and distance in the pool. It sits comfortably against your temple in the innovative swimming goggle strap clip that's designed to suit the majority of available swimming goggles. It happily and comfortably clipped on to my Zoggs Predator Flex goggles. It works for ocean or lake swimming but in standard recording mode to record your heart rate only. The monitor does however have several sensors built in (accelerometer, gyroscope and magnetometer) and Polar have opened up their product to 3rd party developers to develop new Apps and use cases and I'm sure we will see other ways to use this innovative device.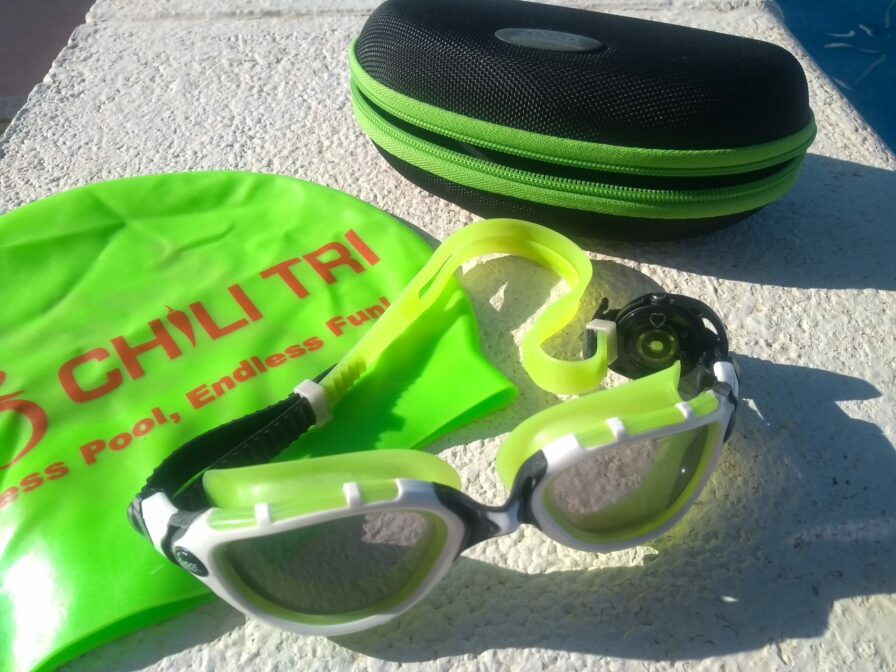 For the swimmer that really likes their technology then they will be pleased to know the Verity Sense works with the FORM smart swim goggles with head up display.
You can also share your training data with your coach or PT with the free Polar Flow for Coach service.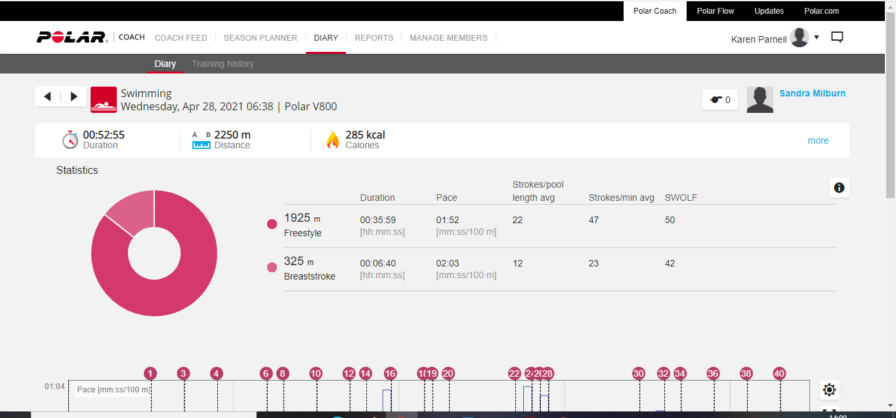 I used the Verity Sense in the gym for weight training and Pilates and putting it on the same arm as my watch was convenient and comfortable. It recorded the sessions well after selecting the appropriate sport in the Polar Flow App. You could also do the same in record mode so you can workout without your phone if you want to. This would be ideal for racquet, combat and other forms of highly active sports.
UPDATE – Since first publication, Karen has had the opportunity to test the Polar Verity Sense in a sea swim: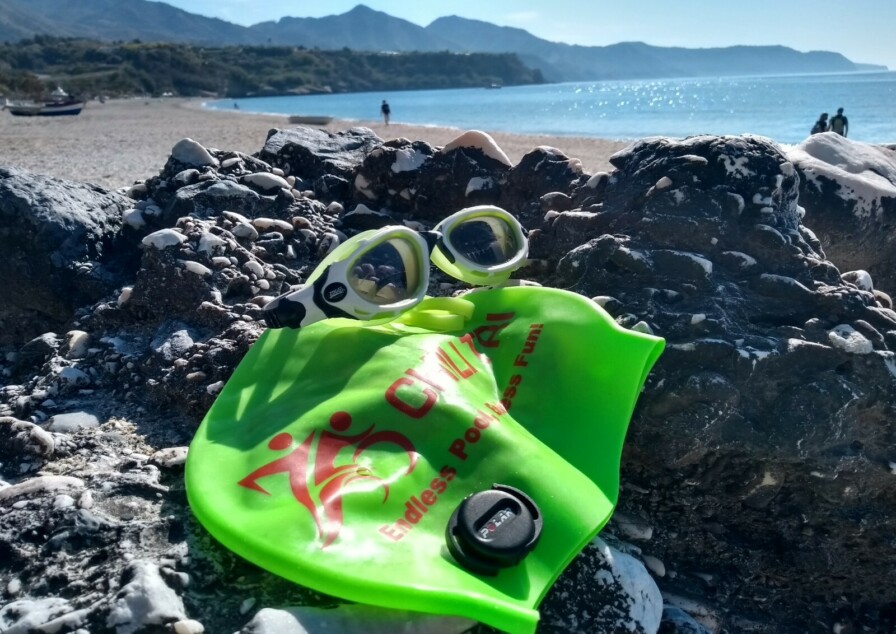 I used it in standard record mode and not swimming mode as advised by Polar customer support and it worked well. It still broadcast my HR to my Garmin Fenix and also stored the data locally. I now have some great stats in the Garmin connect app as well as just heart rate date in Polar flow.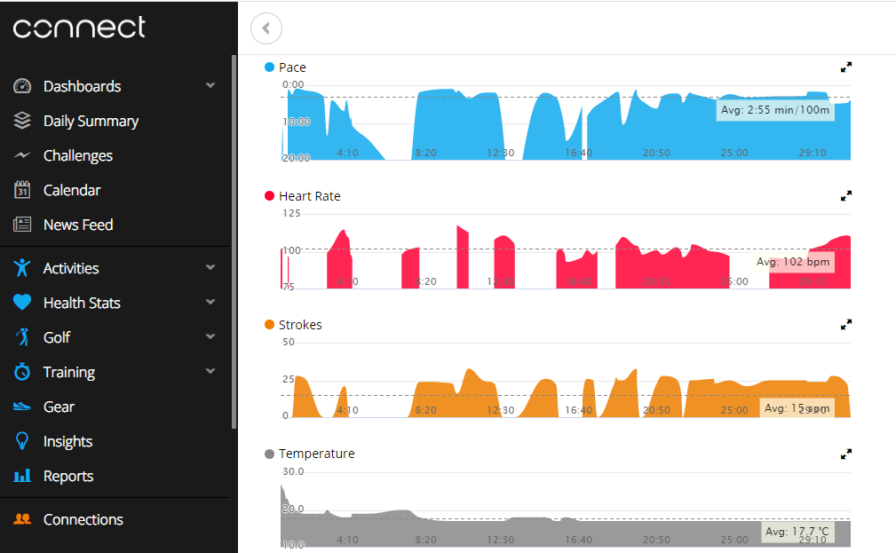 One small issue was I nearly lost it in the sea! The clip is not as secure as it should be, so I put it under my hat to secure it. So, my top tip is put it under your hat if you use it in open water.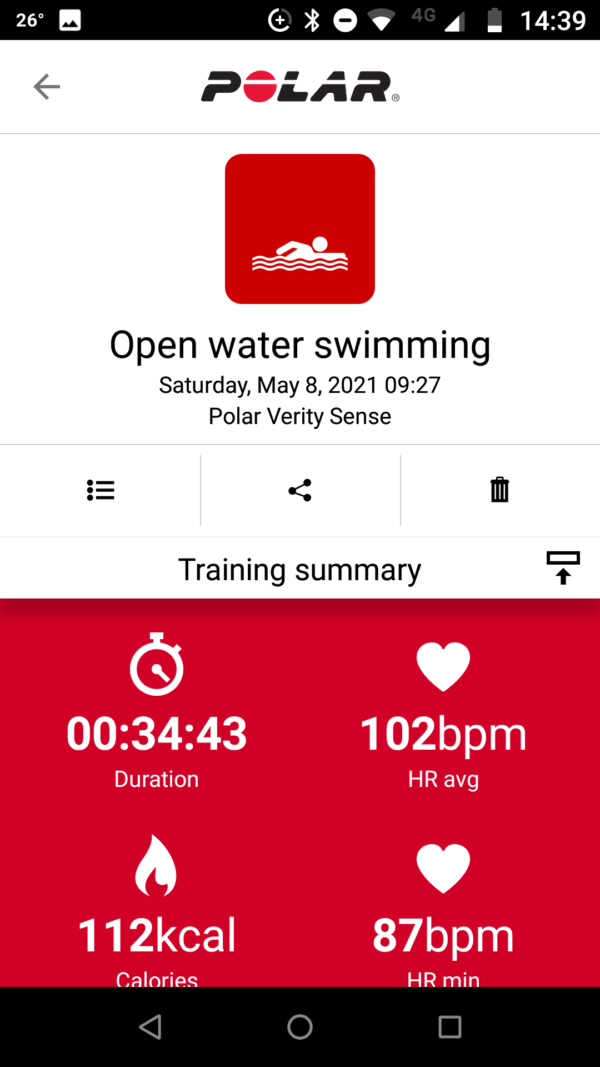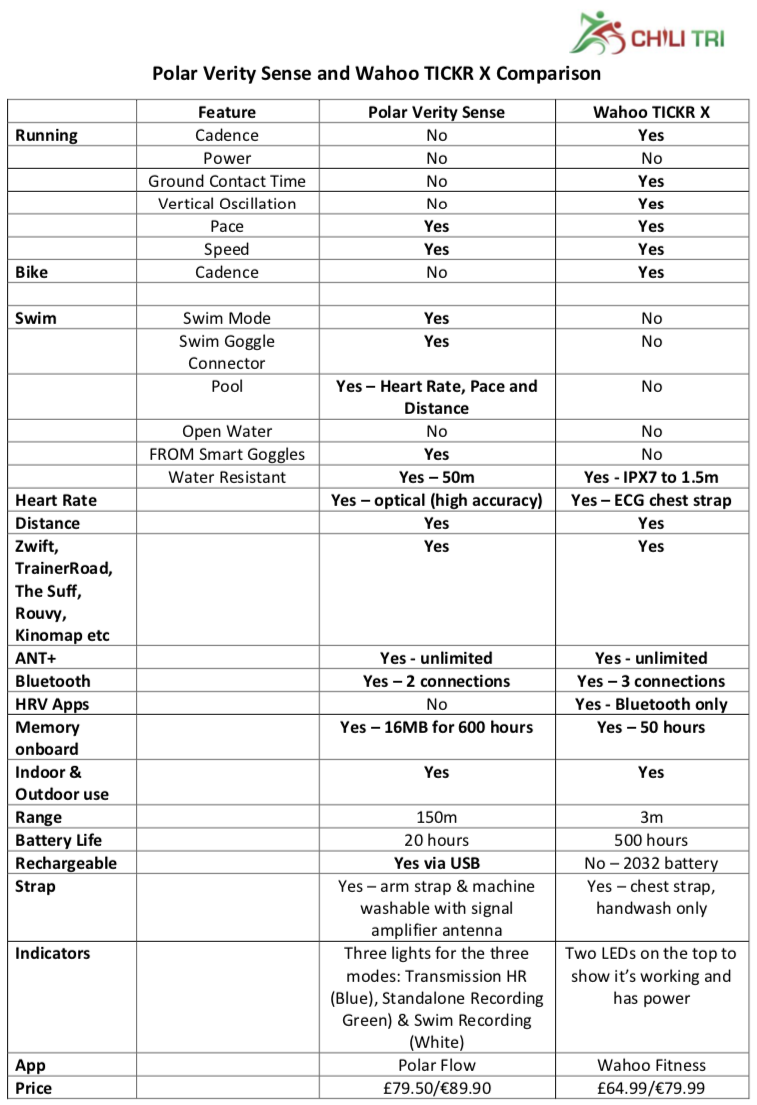 The Big Decision
Both heart rate monitors have their own unique features, and both are excellent for triathletes. Both can record data without a phone so if you want to go out and train without having to take your phone (hopefully not out into the mountains alone!), then both will work for you.
The Wahoo TICKR X collects some interesting extra stats such as running, and bike cadence plus can also be used for gathering Heart Rate Variability (HRV) data in Bluetooth mode. Also, if you want to get on Zwift on a budget, you can use it to run and cycle.
For me gathering heart rate, pace and distance swimming data is very useful and rare from heart rate monitors so the Polar Verity Sense wins here. I also like to workout in the gym and as a woman find chest straps uncomfortable, so the arm strap is a revelation so again Polar gets my thumbs up. I can also use it for coached running track sessions and other coaching scenarios with my athletes as it has a range of 150m and multiple ways to connect, store and share data.
So bottom line, if you are a triathlete wanting more running stats then the Wahoo TICKR X is worth a look and if you are a triathlete or coach who likes to know their heart rate on the bike, run, swim and gym and finds the chest strap uncomfortable then the Polar Verity Sense is the one for you.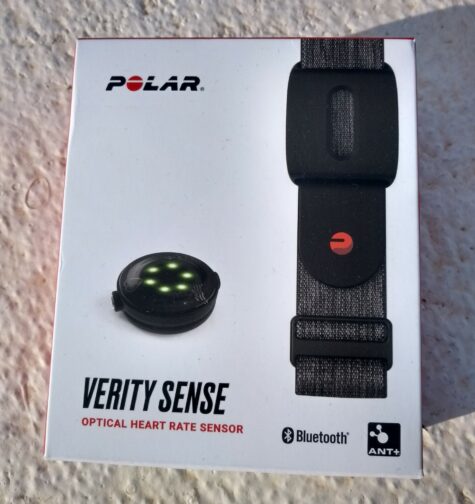 ---
Karen Parnell is British Triathlon Federation (BTF) Level 3 High Performing Coach and Tutor, Nivel 3 Técnicos Federados FATRI España and an ASA Open Water Swimming Coach. She is also a qualified NASM Personal Trainer and IRONMAN® Certified Coach as well as being a Stryd running with power coach.
Karen is based near Malaga in Southern Spain where she runs ChiliTri coaching and camps.