Music can be a great motivator and when training, it could give you the extra push to hit your goal. How you listen to your music or audio content is varied, but most likely involves headphones. The options are varied, be they wired, noise-cancelling, Bluetooth or in the case of Aftershokz, bone conducting.
We asked five people to put the Aftershokz Aeropex model to the test.
---
We have looked at Aftershokz Xtrainerz previously this year, and you can read about them (HERE) and also as part of a group test (HERE).
The Xtrainerz proved to be a great set of headphones, and while they have built-in memory and are waterproof for swimming, they do lack Bluetooth. Well, that's where their Aeropex comes in, as these do feature Bluetooth for wireless tethering to your phone or Bluetooth music player, TV etc.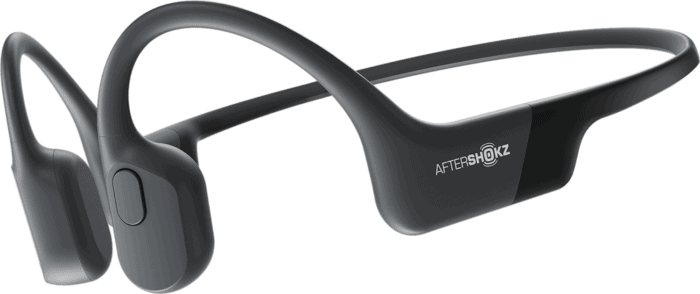 Both models feature open ear, bone-conducting sound technology to allow external noise to be heard – whilst still enjoying your choice of audio output.
Rather than one viewpoint, we gathered the feedback from several users – our testers are a mix of competitive triathletes, runners and weekend warriors. Here is what they thought about the product after using the headphones for several weeks:
Tester One
I think these headphones are absolutely great. With my reviewers' hat on I would give them 9/10, taking into consideration that some people may not like that they may need to wear earplugs, now and again.
On receiving the Aftershokz Aeropex headphones through the post, I wanted to get them set up quickly so I could to put them through their paces. After no time they were fully charged and Bluetooth paired to a phone, ready to go. There was no better way to start than by throwing them in at the deep end during a long run interval session.
I had my reservations about the band that goes around the back of the head as I thought it would bounce up and down and be irritating when running fast. I was greatly surprised to have that fear quashed as I barely noticed I was even wearing the headphones at all. The sound quality was great and I was really impressed by how comfortable they were.
The only slight catch was that in built-up areas of my run route where there was a lot of traffic noise, sometimes I found myself not being able to hear the music particularly well without having the earplugs in. Onto the bike and I took the Aeropex for a spin around a mixture of country lanes and busier roads. On the country lanes, the headphones were great at allowing me to hear if any traffic was coming which made me feel a lot safer than using in-ear headphones. The busier roads still allowed me to listen to music whilst also allowing me to be safer in and around traffic as I could hear everything around me as well. Unless you have a death wish, this is pretty essential in cities such as London!
Pros
Incredibly lightweight
Very quick and easy to set up
Bluetooth connection is excellent quality so music and podcasts play without any glitches
Minimal – thought the band around the back of the head would be annoying (particularly with long hair), but barely noticed I was even wearing the headphones when I was out running which was great
Awesome for running and cycling around country roads as you can hear if any cars are around you
Waterproof – pretty important in the sport of triathlon!
Cons
If you are in a built-up area or it is particularly windy then it can be quite hard to hear what you are playing through the headphones unless you have the earplugs in
If you are someone who loves having a full range of sound, these headphones may not be for you but personally I think the quality of the sound is great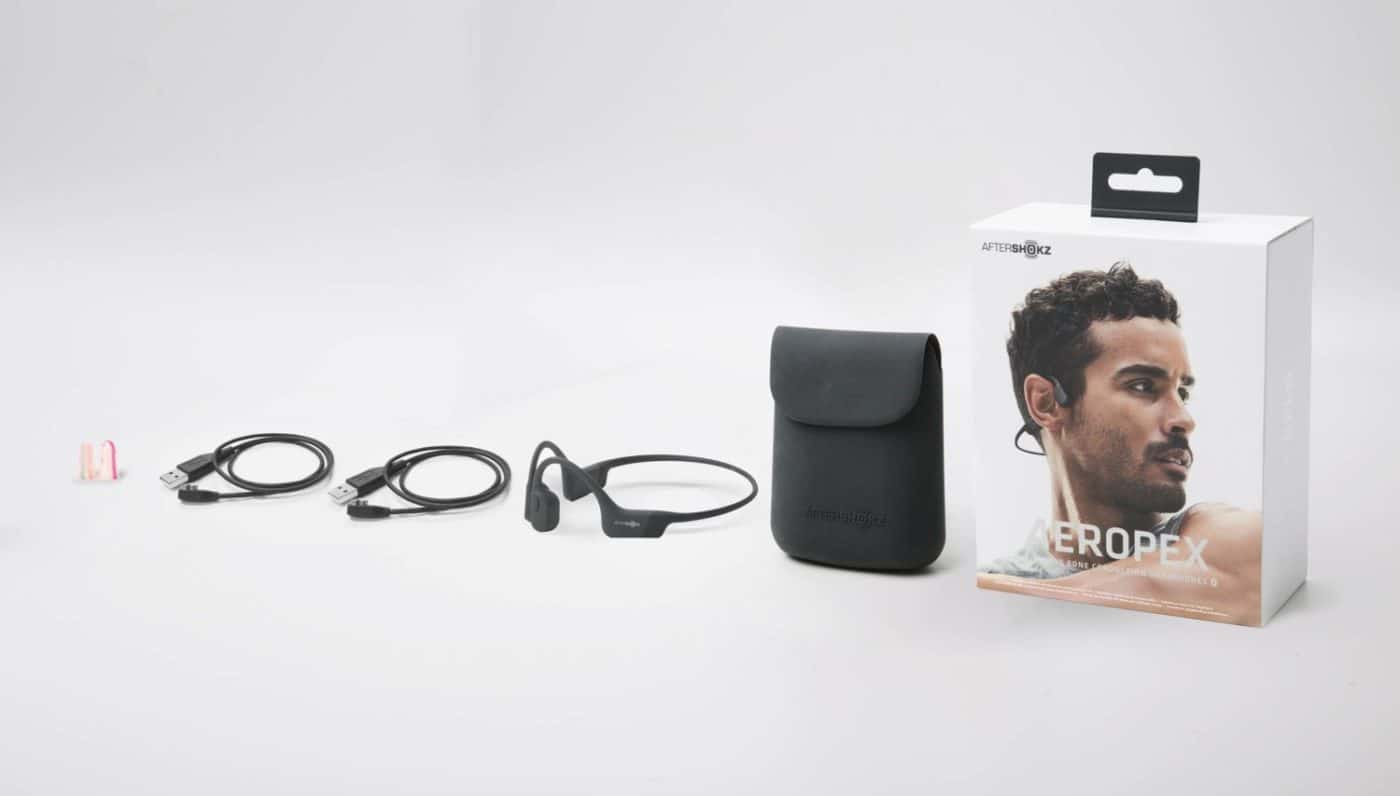 Tester Two
I'd never tried Aftershokz headphones before, so I was intrigued to test them.
The Bluetooth set-up was really easy, which is always a relief. Because of the way they grip your head and sit in front of your ears, there were no issues with getting them to fit in my ear (a persistant problem with just about every earbud I try). The ability to have music but still hear all external sounds, was really impressive.
I live in Cumbria and often find myself on quiet country lanes. I would never feel safe enough to wear headphones normally, but now I can. I can also say hello to dog walkers without deafening them!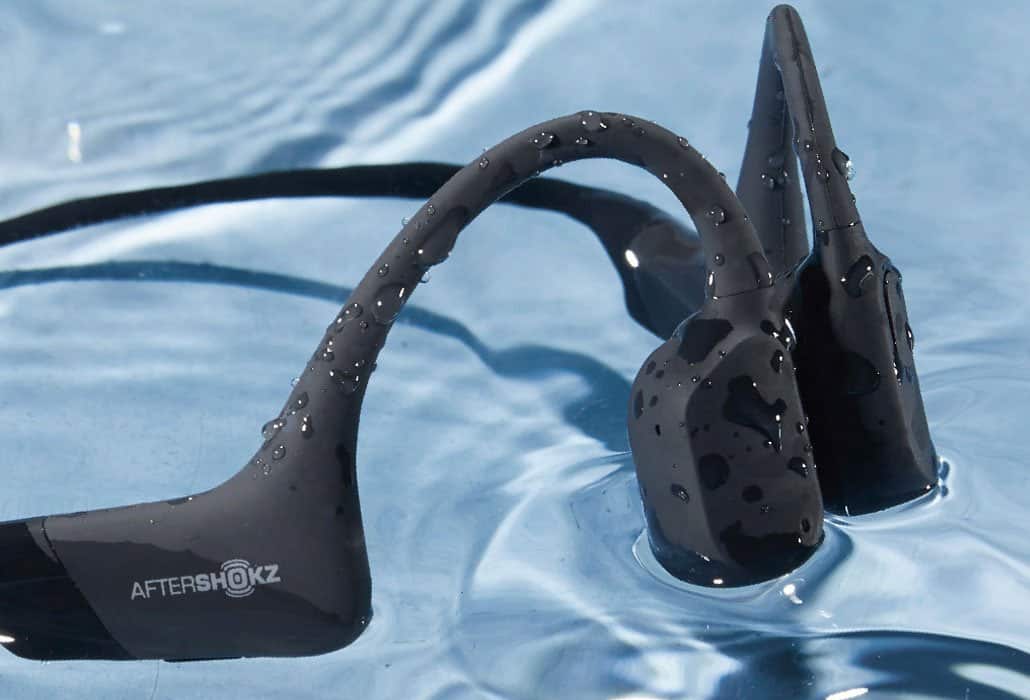 Tester Three
I definitely don't use headphones whilst cycling on the open road but I can see that the Aeropex would be a far better idea than in-ear headphones when out on the bike. Maybe with a bit more use, I will try them outside, but this tester has been using them on the indoor trainer, running, gym and general use.
I was not quite sure what to expect from these as I had not experienced this style of headphone before and at first it was a little underwhelming. Whilst the sound was fine it did lack a little depth compared to my usual iPhone headphones. After a bit more use I really warmed to them however; the bone-conducting sound was plenty good enough for my needs and it made great safety sense to be able to hear what was happening around me. It's a small compromise but a worthwhile one in my opinion.
Sound quality is plenty good enough for the gym and running and the ambient sounds you can hear are just enough to make you aware of your surroundings, rather than overpower the music. The music is front and centre – car noise, for example, is a welcome and safe second, but enough to make you aware. One thing I found was there are two EQ modes, one is far baser than the other!
These are not like traditional headphones and once I factored this in they made sense. Noise-cancelling they are not, but perfect for training and those that still need to be aware of surrounding sounds, they definitely are!
They are really lightweight, they last ages on a charge, don't hurt your ears and have not fallen off yet. I have these paired to my phone and computer and they quickly link up to both without a fuss. They work great as a handsfree and syncing of sound on Youtube has been faultless, an issue I have had on some Bluetooth headphones.

Tester Four
The Aeropex rest on top of, and sit around, your ear. At first this felt a little strange, but I soon got used to them, in part due to their lightweight (26g) and their relatively secure/snug fit. The battery life is impressive and exceeded the claimed eight hours for me.
Navigating the headphones' systems/settings is straightforward and I had no issues connecting to various devices via Bluetooth.
The Aeropex have been a good addition to my run sessions, particularly longer steady runs (as well as walks and general headphone use). However, it is on the turbo that they've been a revelation. I have always been put off wearing over-the-ear headphones on the turbo due to getting too hot and sweaty – the Aeropex's position around the ear solves the overheating issue and being wireless means no restrictions on movement etc. My family were also pleased due to the reduction in noise coming from the 'turbo room' and that I could actually hear what they were saying if they wanted to speak to me during my sessions.
The volume is fine and the sound quality is very good for open-ear design headphones, although if your surroundings are particularly noisy you'll struggle to get the volume high enough If increasing the volume towards the maximum, the vibrations on your jaw can become noticeable – especially if watching a film that has gunfire/explosions for example.
If you are looking for headphones that provide an immersive experience with the outside world blocked out, the Aeropex are not the headphones for you – but they are not designed to be. The Aeropex aim to offer a compromise between listening to your music or podcasts etc, whilst also allowing you to be aware of your surroundings. They do just that do very well.
Tester Five
These are quite an expensive set of headphones for running in, but that is my only criticism of the Aeropex wireless headphones. You have to be careful in your comparisons with other headphones as these are very different from others you may use or be considering. These use bone conducting technology and do not fit inside your ear canal. What this means is that you can still hear a wide range of sounds around you which might be road noise etc. This is a definite plus for safety and awareness of your surroundings.
As I mentioned, be careful in your comparisons as if you need noise cancelling then these will not really fit the bill and you will be disappointed as that is not what they are designed for. After a period of use, these became my first choice headphones as the benefits of the them shone through.
Comfortable and lightweight in use and with decent sound meant they were a practical everyday choice and the claimed eight-hour battery life from a full charge was probably conservative. The headphones work well as a handsfree for your phone, connects to your computer and Bluetooth music player so they are very versatile, but it's the safety element I really like. They come supplied with a set of earplugs to cut out a big chunk of external noise (for example, on an aeroplane), but the more I used them the less I thought about that sound issue.
They also fit well with glasses or shades. There are no fiddly in-ear buds to get gunked up or lost and because nothing goes in your ear, you won't get ear canal fatigue!
Overall then, if you remember that these are a different type of headphones, then I liken the technology and experience to electric cars. Electric cars at present have some shortcomings, but overall they offer an attractive list of reasons to purchase despite being slower to top up and having a reduced range between charges, versus their petrol relatives. The Aftershokz shortcoming is mainly only when pitched against noise-cancelling models, which is not the point of these headphones. If you try them out and I think you'll like them.
Great battery life
Really comfortable to wear for long periods
Quick to charge up
Sweat proof!
They don't fall out when they get wet from sweat or rain
Simple set up and pairing
You'll be surprised how good the sound quality is
Unshakable fit
They just work!
They look very cool and are minimal
Supplied with two sturdy charging cables with magnetic connectors
Quite expensive but worth the extra money
The best headphones for running in I have tried so far
They do what they do very well
9.5/10 – They only lost a half-point for the price (Aftershokz do produce cheaper versions)
Summary
Overall, this was an interesting experiment that seems to have resulted in consistent feedback from all five testers. Lots of good points to consider with the headphones but the main point to remember is that these are not your usual in-ear headphones. Aftershokz use bone conducting technology that feeds sound to your inner ear whilst keeping your ear canal free to detect external sounds which makes them great for running etc., where being aware of your surrounding environment is a very important safety factor. They almost stand in a unique class.
From the testers comments on the Aeropex and my experience of the Xtrainerz model, it is clear to see that as a sports headphone these have had a positive impact on our testers and they certainly should be on your list of headphones for consideration.
Whilst the Aeropex is one of two premium options, there are other models at lower price points, all offering the same sound technology.
All five testers seemed to agree that the headphones worked really well and did what they were supposed to do making them a firm contender to be your next set of headphones. With a 9/10 and a 9.5/10 rating from two testers they are recommended!
You can see the full range at the Aftershokz website HERE.