Wahoo (https://uk.wahoofitness.com) have recently launched a new product group to their bike trainer and cycle computer lineup. The Wahoo ELEMNT RIVAL is their new GPS Watch, training and race companion. It's got some great features – read on for more…
We featured the launch of the Wahoo RIVAL in 2020 (HERE) and now have had a bit of time to see how it worked.
An attractive fold out box reminds you this watch is aimed at triathletes. On opening you find your Wahoo RIVAL watch, the charging base for USB charging and the basic instructions.
Priced at £350, it lands squarely in the middle of the sports watch market with Polar, Garmin, Suunto and Coros competitors.
Visually, the Wahoo RIVAL is similar in size and form to the Garmin Fenix 6 but the Wahoo is considerably lighter in weight, coming in at around 53g. The RIVAL is a smart looking watch with a ceramic outer bezel around the gorilla glass screen.
General Wahoo ELEMNT RIVAL Features:
Size: 46.5 x46.5 x 12.5mm
Display Size: 31.26 mm diameter Resolution: 240 x 240 pixels Screen: 64 color
Display Type: Sunlight-visible, Transflective memory-in-pixel (MIP)
Weight: 53g
Water Rating: 50 Meters (5 ATM)
Battery Life: 24 Hour GPS, 14 Days Smartwatch Battery Type: Rechargeable Lithium-ion
Alerts: Vibrate/ Visual/ Sound
Sensors: Barometric Altimeter, Accelerometer, GPS
Connectivity & Data Transfer: ANT+ & Bluetooth
MSRP: £350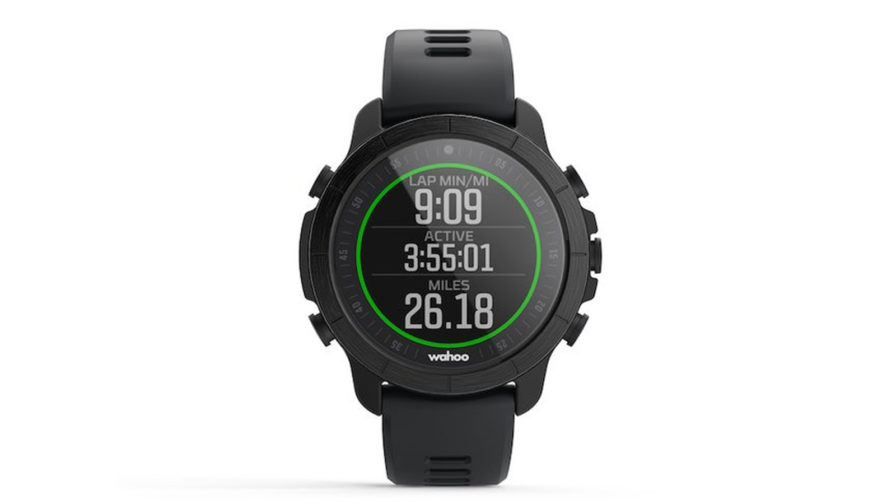 How did we get on with the Wahoo ELEMNT RIVAL?
First task is to download the App and simply scan the watch face and follow the prompts. Set up is very straight forward. The App is used to set up much of the RIVAL's features and operates live so as you amend a feature it automatically changes – no need to wait for your next syncing to see the changes.
The RIVAL offers basic smart watch functions for alerts from your phone and I found these initially to be an annoyance as on other watches. However, they do come in very handy if you need to keep in touch as it saves you from constantly digging out your phone. I quite like notifications now.
The Wahoo App immediately connects to the watch and updates are made on the fly as you amend screen layouts and set up the data fields to your requirements. Changing the watch face for example is implemented as soon as you select the watch face style in real time. The minimal App design was great to use, with nothing hidden away or hard to find.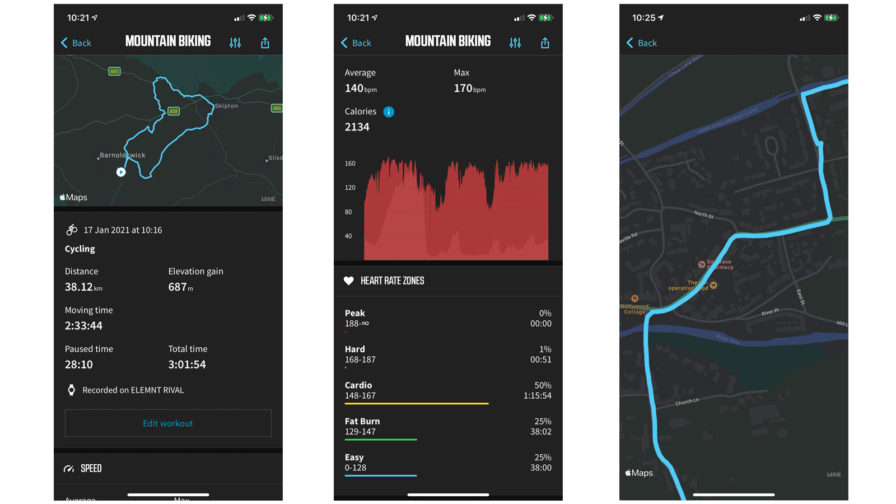 Getting started. The Wahoo ELEMNT RIVAL is one bottom right button click away from recording your training. It remembers your last used training and is ready to go. If you need to swap to another activity that too is one click away.
The GPS pick up is very swift, a few seconds and it's locked on. GPS performance was generally pretty good. Tracking picked out left and right sides of the road on out-and-back rides, and for the most part was accurate. As with any of the GPS devices out there, on occasion the Rival had a little blip and went a little off route. These thankfully were not regular enough to be concerned with. Overall it was perfectly acceptable.
Battery life is very good, up to 24 hours claimed with GPS on. A claimed 14 days without tracking does not seem unreasonable, and a week if you aren't constantly using the watch which means you are more than able to play around with the watch, and it goes plenty of days between charges. From the battery at 82% I did a three hour ride, with message alerts etc all turned on and with general additional use, syncing, meddling and 24 hours later I'm still at 68% charge.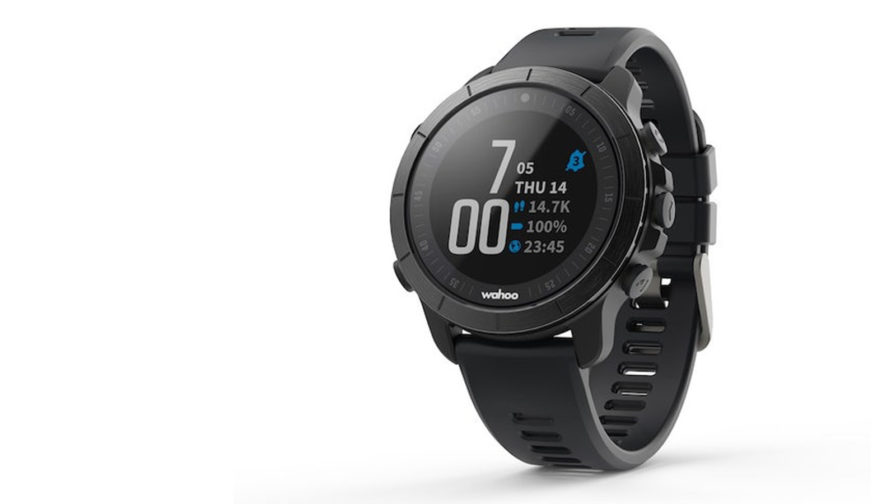 When paired with TICKR X, ANT+ running dynamics are recorded and displayed on the watch for real-time feedback. Seeing this data on the fly can help you make form adjustments, such as proper cadence, to improve your performance during your session.
Currently the RIVAL is compatible with Strava, Training Peaks, Today's Plan, Train XHALE, Google Fit, Apple Health and Relive.
Screen Zoom
The screen zoom function. Pressing two (pre selected in the App) watch buttons you can zoom the amount of data fields displayed on the screen. If you want less data fields displayed you get bigger sized digits displayed. You can toggle between one and six data fields per screen. You can select to cut out the field name tiles which gives a slightly easier to read display if you can remember what the field is showing you!
Live Track
Live Track is a great feature that (while not unique in the watch world), is totally new to me. You can send a link via the App to anyone so they can see your location and training data. You send them a message from the App to email, text, social media etc and they can view your data on screen as soon as you start your training or race. This is a brilliant safety function and really good fun too when tracking friends in races. You can reset the links and allow various lengths of visibility as you need. As a safety feature alone, I think it's very cool and use it all the time. If used carefully lunch can be served as you walk in the door from a ride, or at least a hot coffee!
Touchless Transition
Touchless Transition automatically transitions through the different legs of the Triathlon activity, from swim to bike to run, automatically without the user having to interact with the watch.
The Multisport features are the very exciting part of the new watch and it's ability to link up with your ELEMNT cycle computer. Simplicity and ease of use have been at the core of Wahoo's philosophy and is evident in their products design and function. This minimal approach allows ease of use and the Touchless Transition feature is genius and yet so simple.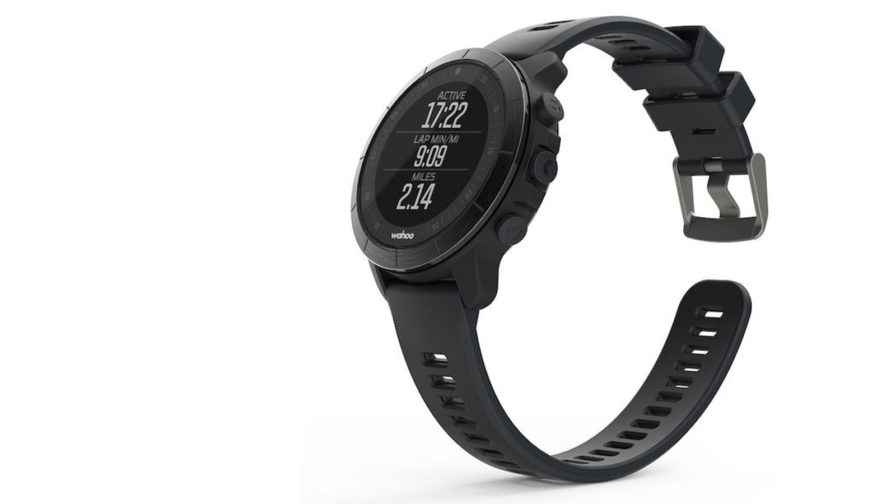 As you complete the swim stage of your race or training the watch recognises the fact that you're now not in the water and automatically activates T1. As you hit the bike leg, the watch recognises the proximity of the Wahoo ELEMNT cycle computer and hands over data to the bike computer. The same happens for T2, as you dismount and rack the bike the watch will take over tracking duties. Its various sensors detect the change in activity and record the relevant data.
This is a great feature meaning you don't have to worry about pressing watch modes etc as you emerge from the water. At that point should you remember to focus on your tech, you can press the button and manually activate the transition periods yourself.
You can of course manually do this but if you do forget to press for any stage the Wahoo has you covered.
Workout Editor
The workout editor feature allows you to fine tune any activity before you sync it to Strava for example. This might be to amend transition times etc. All very useful if you're a stickler for total accuracy.
No Maps?
Much as there are a wealth of features on the Wahoo RIVAL there are some things missing. Any mapping tools and functionality, no music, no contactless payment, sleep tracking, stairs, alerts for training metrics. There's a timer and stopwatch but there's no alarm clock. The price of the RIVAL is just about fair; any more and it might be considered overpriced.
There is nothing to say Wahoo won't update some of the other omissions such as mapping with updates. Polar did a similar launch with their Vantage and steadily rolled out new features through firmware updates.
Currently there are no structured workouts featured in the watch, another watch this space item. The RIVAL is definitely a good starting point with plenty of potential to grow. The solid build and replaceable straps mean this watch will be training and racing with you for a while and new features are only a firmware update away.
Wahoo Elemnt Rival Feature Updates 01/06/2021:
Wahoo have just unveiled a string of new updates for the ELEMNT RIVAL watch. Including planned workouts, a new track running profile and smart notifications amongst others, these are significant updates and part of the continued regular support for the watch.
TRACK RUNNING
The track running profile provides the most accurate distance and pace metrics when running on a 400m track. Pressing the lap button during a track session will snap intervals to the nearest 100m,
resulting in the most accurate metrics.
iOS MUSIC CONTROL
Control music on iOS devices from the ELEMNT RIVAL. Play, skip, pause, and adjust the volume when a device is paired, but out of reach.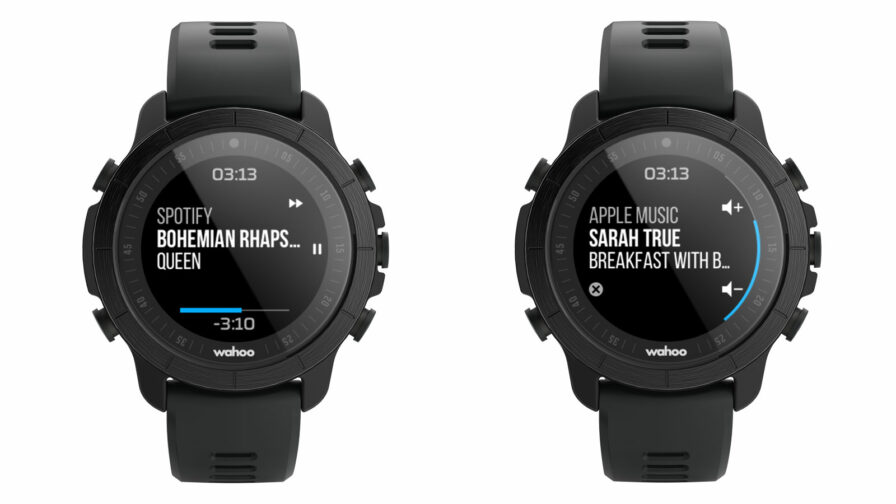 PLANNED WORKOUTS
Perform planned workouts directly on ELEMNT RIVAL. This feature includes TrainingPeaks integration as well as 12 pre-built Wahoo Sports Science workouts. The week's workouts will automatically sync to ELEMNT
RIVAL, allowing you to manage swimming, cycling, and running workouts. Get prompted at the start of each interval to stay on target.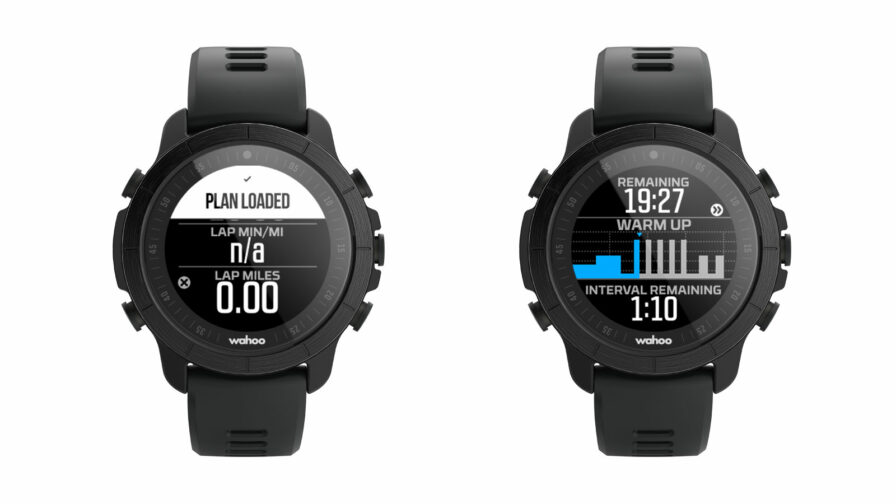 KICKR HEADWIND CONTROL
During indoor workouts, ELEMNT RIVAL can control the KICKR HEADWIND smart fan in three modes: heart rate response, speed simulation, and low-med-hi settings.
SMART NOTIFICATIONS
iOS users can receive smart notifications from WhatsApp, Signal & Telegram alongside calls, texts & emails straight to ELEMNT RIVAL.
BROADCAST HEART RATE
Broadcast heart rate captured from ELEMNT RIVAL's built-in optical heart rate sensor to other GPS devices via ANT+, such as ELEMNT BOLT & ELEMNT ROAM.
PACE CHART
View the pace of all your previous splits in an easy-to-see chart format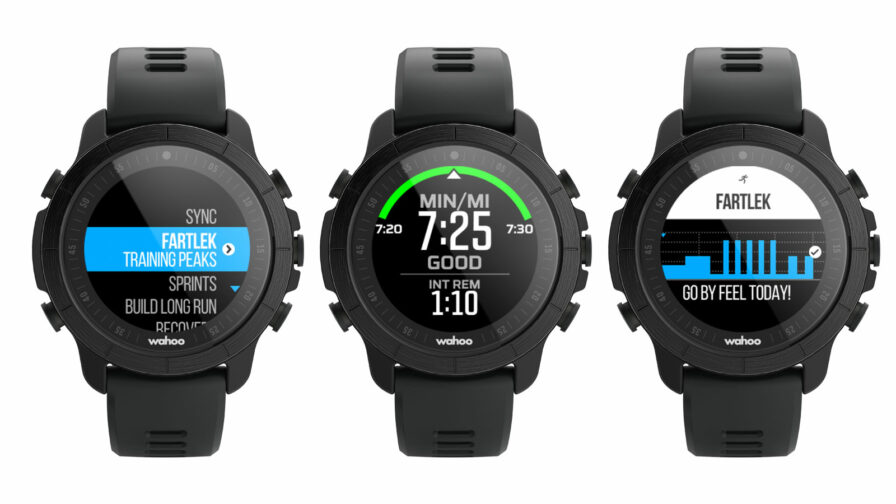 The Verdict
Despite some rivals to the RIVAL having some additional features, the Wahoo is a great training partner. If you simply can't train without music or you must pay with your watch then right now the RIVAL might not be for you. Most of the features that the RIVAL does NOT feature yet aren't deal breakers for many people wanting a solid and dependable training tool.
We seem to think that every device should be 'the one', the do-it-all device, but that can often lead to complicated, clunky experiences. Sometimes less is more. I'd gladly pay less for a non music playing, non payment making, 24 hour stair climb tracking device. The more you use the RIVAL the more you realise simplicity is liberating.
My experience with the Wahoo RIVAL has been very positive. As a newcomer to Wahoo and their ecosystem I have had a very pleasing introduction. The RIVAL is a solid first arrival to compliment the existing cycle computer range and turbo trainers. It does what you need and does it well. If you're a Wahoo user already then the RIVAL is a splendid addition. If you're not a Wahoo user then you won't be disappointed. The RIVAL definitely should be on your short list.
Find out more at the Wahoo website HERE.