Enhancements and additions released to Zwift Companion app
If you are a regular user of indoor training platform Zwift then you'll probably be – or should be – familiar with the Zwift Companion app, which (very) broadly speaking turns your phone into a remote control / additional data and information resource, supporting what is happening on your virtual world screen.
News today of a significant update to that, including one element – Meetups – which should make arranging your own rides with friends much easier and controlled and set up by you, from your phone.
Meetups allow users to invite up to 50 of their followers to join them for a private group ride. Simply choose a course and then decide on the duration of the Meetup – this can be distance or time based. Finally select a time and date for the Meetup to begin. Why not give it a try?
The other notable feature of the updated app is the enriched activity feed. This now allows users to look at past activities in more detail with heart rate, power and cadence charts. An animated map not only shows where users have ridden, but also where they received things like Ride On's or set PR's.
Zwift Companion App 3.0 is available on iOS and Android and out now. Existing users of Zwift Companion App may need to manually update their apps [UPDATE – I just deleted the app on my iPhone, re-installed and it has all worked and updated perfectly for me].
Here is the full announcement from Zwift.
---
ZWIFT ADDS NEW MEETUPS AND ENRICHED ACTIVITY FEEDS
Updates to Zwift's Companion App unlock a brand new Zwifting experience
Zwift, the global online training platform for cyclists, triathletes and runners, today has released its latest update to the Zwift Companion App delivering three significant updates that will help transform the Zwifting experience.
The most significant of these updates is the introduction of Meetups. Meetups allows Zwifters to schedule their own rides with their friends and followers. Simply pick the date and time, then choose the route and distance. The Meetup can then be shared with up to 50 of their followers to join them for that ride. Rides can only be shared with friends on Zwift's Companion App which is available for both Apple and Android devices, and can be scheduled up to seven days in advance. It's now easier than ever before to hook up with your ride buddies for a run or ride around the roads of Watopia.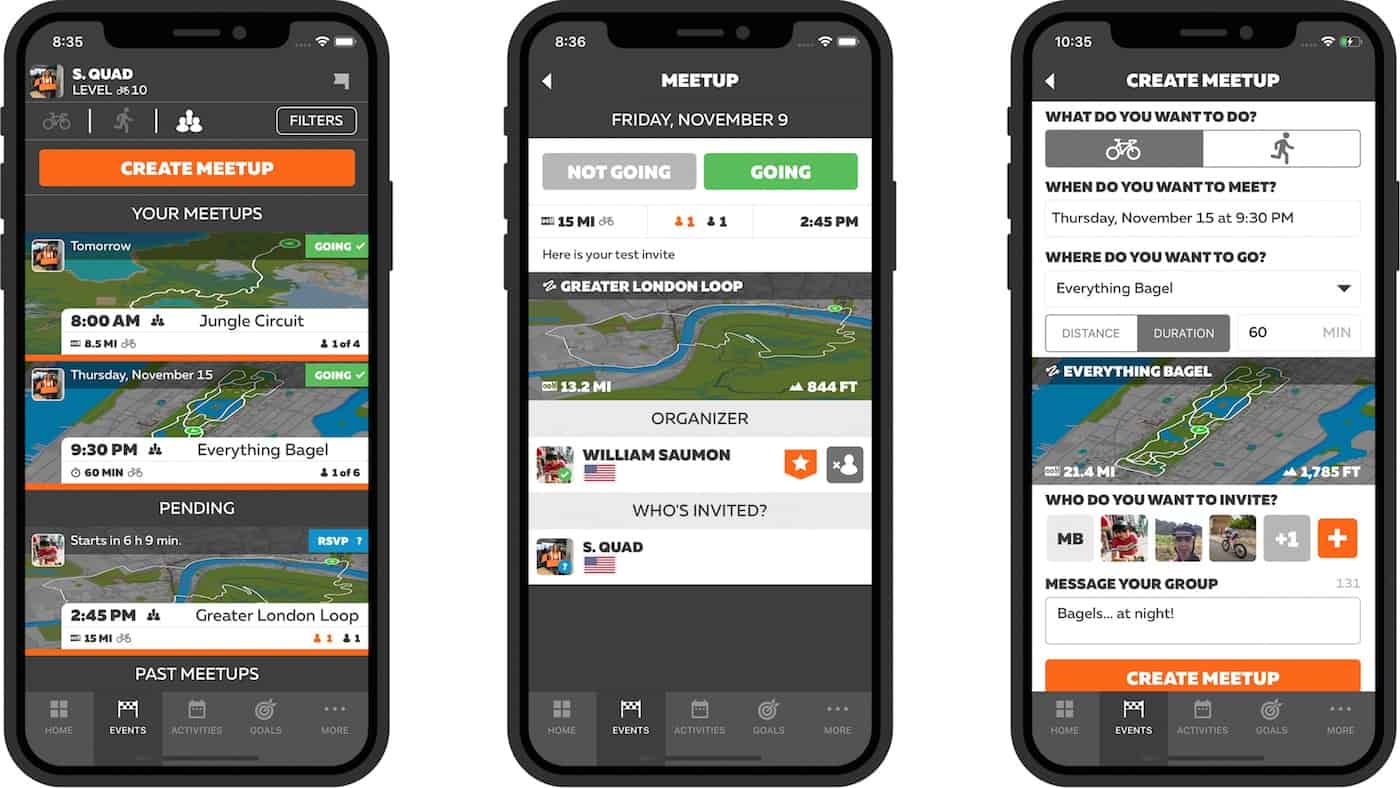 In addition to Meetups, Zwift's latest version of the Companion App delivers a brand new enriched feed which will allow users to view their rides in more detail than ever before. New scrollable graphs provide additional insight into speed, power and heart rate during an activity. Runners will also be able to review their running splits. Racers will also be able to review race results from within the app. Users who don't wish to share information will also have the option to make their workouts private.
In addition to the performance charts, a new mini map will show you exactly where your avatar has travelled. Not only this, but it will also show you where fellow Zwifters awarded you with a well earned ride on and also where you managed to set new personal bests.
On the social side, the new companion app will allow Zwifters to comment on their friends' activities and view all the action shots. Photos can also be saved and shared to other social media platforms.
Finally, a new Full Training Plan view has now been added to Zwift's Companion App. The new view allows Zwifters to look further ahead in their training plan to better prepare and understand what they have coming up in the next few weeks or months.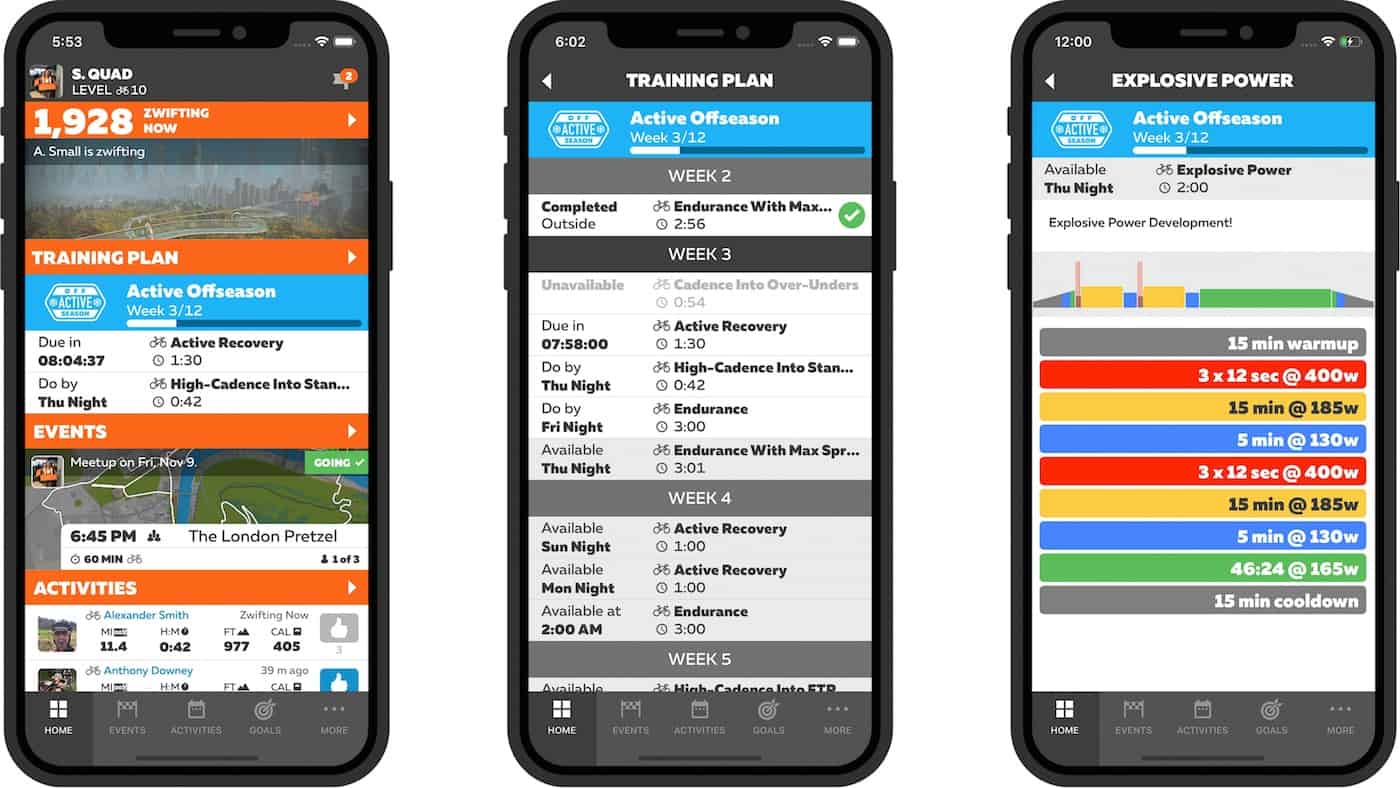 Zwift's Companion App is a fantastic tool that helps users unlock even more from their Zwifting experience. Zwift Companion App pairs with Zwift in game when connected to the same WiFi network. Once paired, the app provides even greater control in game, making sending messages, giving ride ons, viewing your workout etc much easier, and without the need to have a keyboard within in reach.
When out of the game, Zwift companion lets you keep track of Zwifters you follow, view your training plans, browse events, and now arrange Meetups. Zwift Companion app is free and is available on both Google Play and the iOS App Store.