Another 'Great British' Age-Group performance from a busy weekend of racing
Hywel Davies is "95% perfect" at the IRONMAN European Championships
Over the last couple of days, I've featured a couple of standout female performances from the past weekend. On Tuesday, it was Jane Hansom at Challenge Roth, and yesterday, Alison Rowatt at IRONMAN Frankfurt. Well, today is a chance to highlight a very impressive British men's performance too.
Hywel Davies seems to have been around forever. And winning things… forever!
Still remembered for his feats in competitive Cross Training (a sport he retired from, having been unbeaten for seven (?) years), he's held world records for press ups, set the world record for 100km indoor rowing, won the summer 'Tough Guy' numerous times, won marathons, and won triathlon events over every distance from Sprint to double-iron.
There's lots more too, but you get the picture; he's managed to adapt to pretty much any sporting challenge he has set his mind to.
On Sunday Hywel raced at the IRONMAN European Championships in Frankfurt, and as well as his own race, he was there with a crew of athletes he coaches and supports through his coaching company (www.tri-becoaching.co.uk). One of his athletes, Vicky Nealon, went close to 10 hours… in her first ever triathlon!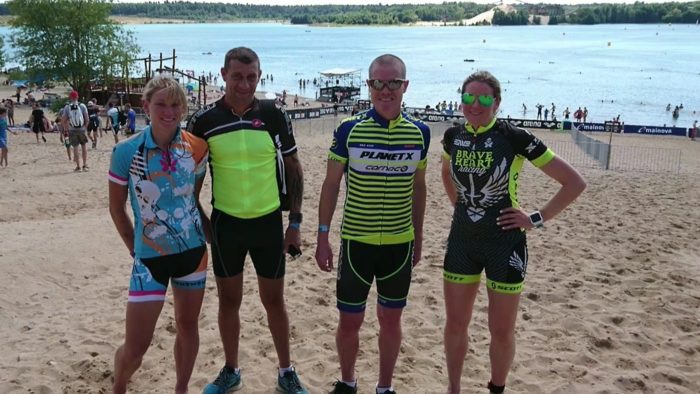 Racing in the 40-44 category, Hywel's day was very impressive – though in his critical eyes, only "95%" perfect. His results?
Finish time 8:50:44
Second Place in M40-44
His second fastest IRONMAN, at 42.
This picture is quite appropriate!
Cheers pic.twitter.com/0m9V3oxZl6

— HywelTowel (@hyweltowel) July 9, 2017
You can read Hywel's amusing report on his own race HERE.