Medal upgrade due for a British Age-Group athlete now due?
EPO-positive for athlete who is also Elite Paratriathlon Guide… so they get DQ too
The International Triathlon Union has just posted the details of two in-competition Age-Group doping violations from World Championship events held in Gold Coast, Australia (2018) and Pontevedra, Spain (2019). Both athletes were awarded Silver medals in their respective World Championship events – results which will now be removed.
In the (EPO) case of Australian Age-Group athlete Stephen Thompson, his ban impacts not only himself, as he also raced as a Paratriathlon Guide.
Here are the specifics and the events impacted:
Stephen Thomson (AUS) – M35-39 Gold Goast Sprint
The Australian athlete "returned an adverse analytical finding for the non-specified substance EPO", and will serve a 4-year period of ineligibility.
Here are the (as yet unadjusted at the time of writing) results from the ITU Triathlon Age-Group Sprint Triathlon World Championships held on the Gold Coast, Australia on 13th September 2018.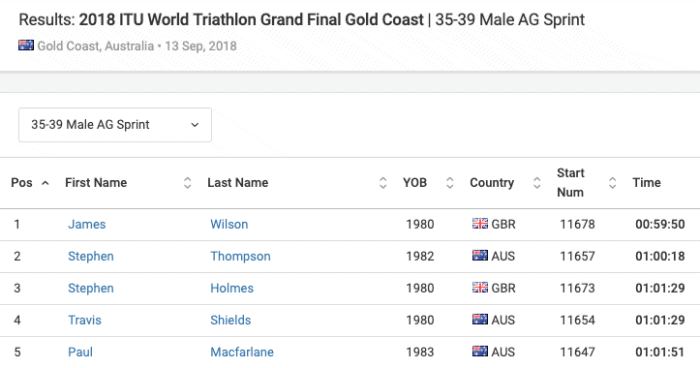 With the disqualification, one of the athletes impacted is Great Britain's Stephen Holmes. Initially placed third, he should now be due to upgrade his Bronze medal to Silver, making it a British one-two with James Wilson. (The full list of British medals from that event is available HERE). That's not the first time that British athletes have been impacted by similar scenarios, as we reported last year after the ITU Multisport World Championships in Fyn, Denmark.
And he gets another athlete disqualified too because of it…
As well as racing in the Age-Group ranks individually, Stephen Thomson was also a guide in Gold Coast to Visually Impaired athlete Gerrard Gosens. Per the ITU statement, "The Athlete also competed as a Guide to a visually impaired athlete whose results have also been disqualified as a result." That change is already reflected on the ITU website, screenshot of which is provided below: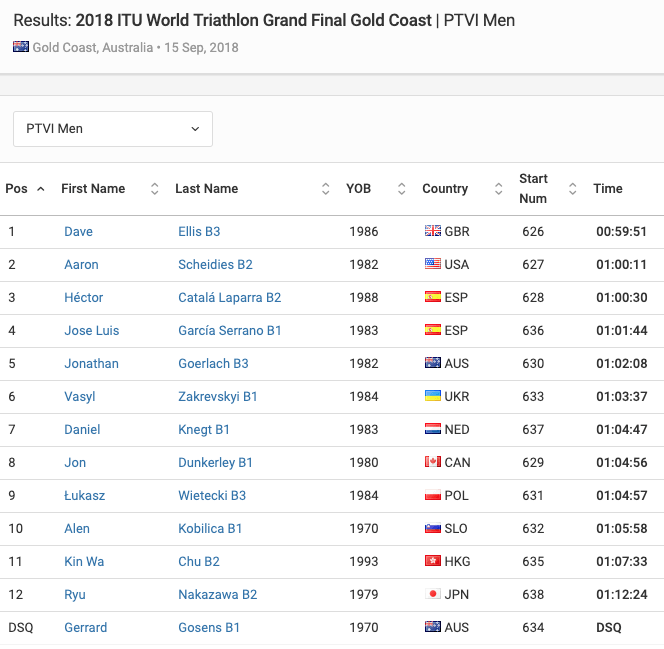 Nuno José Pereira e Silva (POR) – M40-44 Pontevedra Long Distance Triathlon
Again, unadjusted at the time of writing, here are the results of the M40-44 category at the Pontevedra ITU Long Distance Triathlon World Championships.
Athlete Nuno Silva (Nuno José Pereira e Silva), "returned an adverse analytical finding for Ephedrine and Oxilofrine, both classified under the Prohibited List as specified Stimulants", and will serve a 2-year period of ineligibility.