"A dream come true" for Kirsten Cameron in Dubai
During the recent IRONMAN 70.3 Dubai, we followed the 'Brits abroad' progress of Pro athlete Kimberley Morrison (read her updates HERE).
But, as we highlighted in our race-roundup, there was plenty of success in the Age-Group ranks for the Brits too, alongside the top-10 Pro results of Pallant, Charles and Morrison.
One of those was Kirsten Cameron, who swapped the cold of Scotland for the heat of the UAE – and won the 35-39 category by just 33 seconds. Here is how she did it.
---
Kirsten Cameron: IRONMAN Dubai 70.3 Age Group Champion
Dubai was my first real assault at a 70.3 Ironman branded event. My first over the distance was the Outlaw Half a good number of years ago.
The Dubai 70.3 was a whole new level for me, creating more than its fair share of pre-race performance anxiety and stress. Not to mention that I was training for this in Scotland.
Coaching…
Late last year I decided to change my coach and this was only four months before race day. A fellow triathlete friend of mine recommended Mark Livesey (I'd never even heard of him!), anyway I called Mark and I liked his no-nonsense approach and that was that. I was now racing for Mark under his Xhale Team.  I think the thing I gained the most over the four months leading up to this race, apart from getting into the best shape of my life, was how my confidence developed. On reflection I now have a different attitude and assurance about how I approach my training and racing.
I must also thank Nick Tipper (one of Mark's friends and very experienced triathlon coach), and his family who kindly gave me a home stay in Dubai. Having Nick there made my life so much more relaxed and enjoyable. I do genuinely believe this contributed massively to my performance.
Weather…
The weather leading up to race day wasn't great, with high winds and very rough sea conditions. Now, I won't lie, this did cause some panic… but a quick chat to Mark and great local advice from Nick, helped me control my fears. I also had a little wobble when I racked my bike; the magnitude of the event suddenly hit me.  Everybody looked so fit and healthy – all focused and intimidating. This is when the self-doubt starts to creep into your psyche.. what are you doing here? You're going to fail. My stomach was all over the place.
Swim…
Thankfully, and true to form (Nick was right), the weather was pretty much perfect for racing. This was my first rolling start and I found it difficult to honestly position myself within the right standard of swimmers.  It turns out I got it wrong, and I should have pushed my way further up the line (lesson learnt for next time).  As I was slowly being pushed to the start line I had one of Mark's comments to me ringing in my ears; "leave nothing out there".  I was determined to attack this race – I was ready.
The prospect of getting a good swim was soon hampered by people who just shouldn't have been in the 25-30 min wave (coach did warn me of this). This was really frustrating, I even had breaststrokers in front of me.  Despite this setback and irritation, during the swim I actually felt strong throughout the whole 1900m.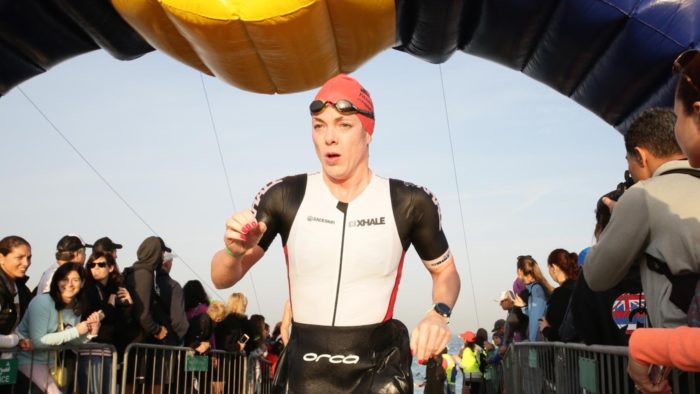 Bike…
My transition was uneventful and so it was now my favorite discipline – the bike.  Flat and fast with some strong winds expected later that morning, but it was the same for everyone. Mark does allow me to have my power on the bike, but I have to cover the device with tape. He says I must trust and understand my body and how it feels during racing without the distraction of a power/speed device (we use the data after), and this is something he always encourages in training as well.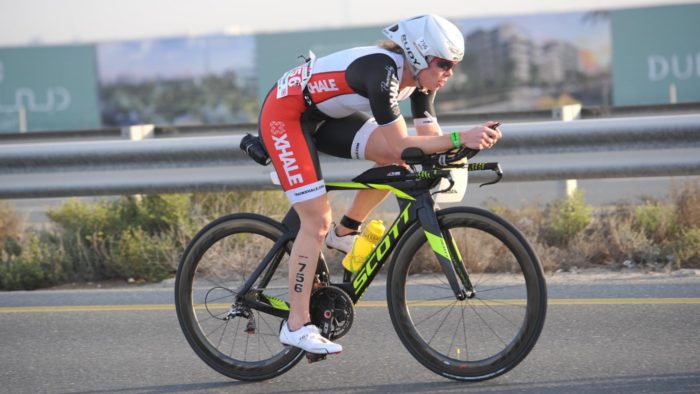 I settled into a really good rhythm early and I knew I was riding well, I just knew, my legs felt great. The bike course is a little bizarre when you're literally riding through a desert, a far cry form the grey winter roads of Scotland. There were a few occasions where the roads did get a little tight and there was also some drafting going on, but I just had to stay focused on my raced and stay safe and out of trouble.
When I came into T2, my rail was emptier than when I left so I knew I had moved up the field, but still no idea as to position. I made a quick transition out of T2 and onto the run.
Running…
Mark has had me working really hard on my running and specifically running off the bike. But, this was my first real race at 70.3 so I was a little uncertain how my legs would react after such a long period of time riding at such a high intensity.  I need not of worried; after the first 400m my legs felt great and I was running 6:45's average for the first three miles. My pace did fade a little due to the heat but I was still running well.
At around nine miles things really started to hurt, with the heat really taking effect on me. It was hot and I have not hurt so much in my life, I was suffering, made worse by the 'spongy' running surface. But the volunteers at the aid stations and the pockets of crowds gathered down the route were encouraging everyone, which kept me going and smiling through the pain!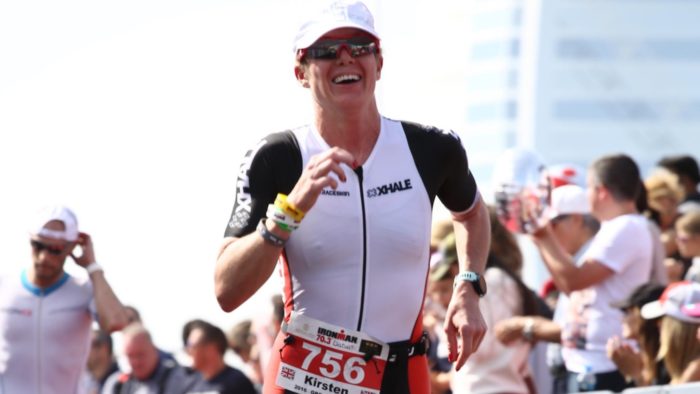 Winning…
My issue now was I knew I was racing well, but I just didn't have a clue where I was in the 'race' – It was a TT effort [Ed. because of the rolling start in the swim] and I was just hoping I'd done enough to podium. Unknown to me, I had actually taken the lead at around 3km to go on the run and I crossed the line an AG Champion in my first ever Ironman race by just 30 seconds.
When I called Nick after the race he told me I had won! I immediately started crying when I came off the phone. Not quite able to believe it, I then saw the text Mark had sent as well saying I had taken the age-group win.
It was a dream come true!