What does it take to qualify for the Ironman World Championship as an age-grouper? A blend of hard-work, natural talent and a window of opportunity, found Lucy Walmsley, the 45-year-old from the quaint Cotswold village of Bourton-on-the-Water, who's now looking ahead to Hawaii on October 14.
Walmsley dabbled briefly in triathlon over a decade ago before the even more immersive challenges of motherhood and running her own sports physiotherapy business took hold. Last year, with the children of school age, a new multisport club starting in her area was the impetus she needed to scratch the Ironman itch.
Giving herself 12 months to prepare, the build up to Ironman UK in July went surprisingly well. The North Cotswold Tri And Run athlete crossed the finish line in Bolton in 10:50:43 as second amateur – a staggering 82 minutes ahead of the nearest competitor in the 45-49 age group – and a fast-learning curve to Kona commenced.
---
Winning your age-group by such a margin on Ironman debut is quite a feat. Did you surprise yourself with that performance?
When I started training for Ironman, I just wanted to complete it and had no competitive expectations. As time went on I knew my training was going well and on paper I could do each component competitively, but I was really uncertain how I'd find stringing them together on race day. On the day itself, I had some bad patches and my mind returned to just wanting to finish. I'm sure that happens to everybody, but by halfway in the marathon I did start to have an eye on the clock hoping to break 11 hours. I was shocked by my finishing position [sixth overall] and coming second age-grouper was the biggest and best surprise.
Despite being a novice long course triathlete, qualifying for Kona would suggest you have an endurance pedigree. Can you give us the edited highlights …
I started running at university to deal with the stress of studying and for several years I was a fun runner who ran simply to maintain my mental health. I ran a 3 hours 30-minute marathon during this period, leading to someone
casually suggesting that if I trained properly I might break 3 hours. That became my challenge for the next few years. I ended up running 100-mile weeks and achieving 2 hours 55 minutes, which I was delighted with.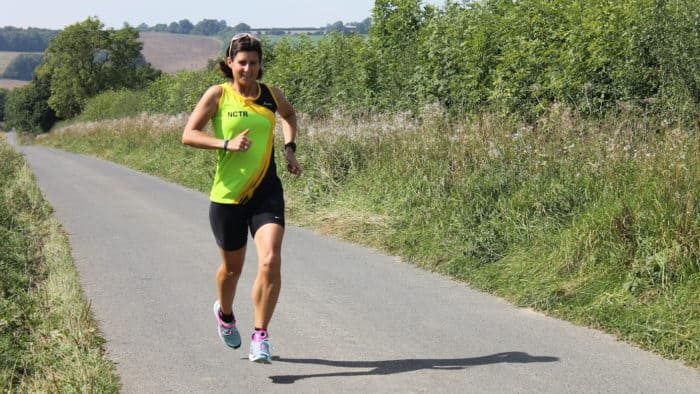 On triathlon specifically, why did you take up the sport in 2005? How did you fare? And why did you pack up?
Those 100-mile weeks caught up with me and I sustained a stress fracture which was really slow to heal, so I didn't run for nearly nine months. I taught myself to swim from a DVD and started riding a bike to keep fit. I had never thought of triathlon until someone at the pool suggested it, yet it became the next challenge and I started racing in 2005 and quickly surprised myself by doing well. I finished fourth at the Blenheim Triathlon on debut before age-group racing was mentioned and the qualification opportunities for the world championships. I chased that and came sixth in my age-group that year in Honolulu [with the fastest run] which I was delighted with.
The following year I raced a Grand Prix series that British Triathlon organised and ended the season as the top ranked female age-grouper in the country. I then went to the World Championships in Lausanne where I was expected to medal, but frustratingly had an off day and came sixth once again. I also married my coach, Dennis Walmsley, and as slightly older newlyweds we were keen to start a family. I was pregnant by the end of the year – signalling the end of my career!
When you competed in the 2006 age-group world championship were you aware of the young lady [Chrissie Wellington] who finished first overall?
Yes, I remember seeing Chrissie in Lausanne and thinking she looked a class apart, but I obviously still tried to chase her, even though we were in different age groups. I regret not being at my best that day as I would love to have seen how I would have fared.
What persuaded you to make a triathlon comeback, and was Hawaii always the goal?
My husband (and still somewhat coach!) had always felt I'd do well at Ironman and had often encouraged me to do one. Once the kids were both at school I found I had a tiny bit of free time and returned to some more formal training. I ran a couple of marathons and was delighted to find I could still manage sub-3 hours. I was still convinced that it would not be possible to fit in Ironman training, until a good friend of mine, who also has kids and a job, completed Ironman UK in Bolton. I then felt I had no excuse. As a family, we realised that 2017 would be a relatively quiet year with the kids settled at school and no big exams or stresses on the horizon. So with their amazing support I grabbed the opportunity and started training. I did not really think Kona was a possibility, but my husband has great faith in me and made sure I entered a qualifying race so the option was there.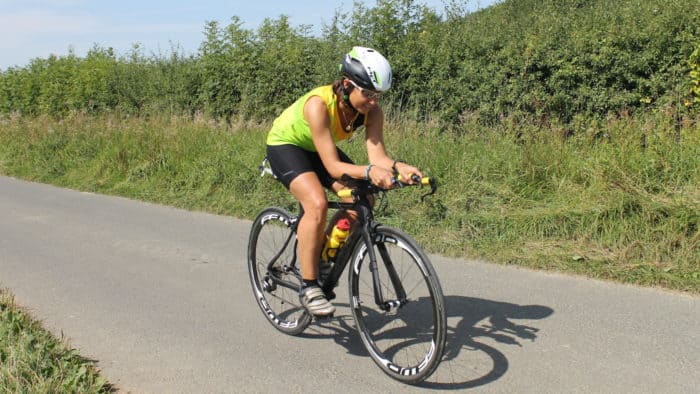 How have the 'warm-up' races been? I understand one in the New Forest was quite eventful.
Amazingly, all the warm-up races went well and I was delighted to remain undefeated in my age group all season, including the national championships in Yorkshire. The first big test was a middle distance race last September in the New Forest. I wanted to check I could manage the longer distances before ramping up the training. The swim and first half of the bike went brilliantly, but then I punctured. Normally this would be fine as I am well practised at changing an inner tube, but annoyingly my spare had a faulty valve and would not pump up (lesson learnt… always check your spare works before the race!).
At this point I accepted that it was game over and started to walk and then, fed up with walking, rode my punctured bike towards the next marshal station for a lift home. As I was doing this a kind spectator offered help. He had a spare inner tube which we fitted but he only had a small hand pump so he pumped it up saying it would at least get me to the marshals. I hopped back on thinking I might as well continue and get a hard brick session out of the day. I worked hard on the bike and despite having stopped for around 30 minutes I made it into transition in 12th place. I set off on the run with my husband shouting at me that I should still aim for the podium, which sounded mad, but I dug in and found myself taking the lead in the last two miles to win the female race outright. I did speak to the race referee afterwards to confess the help that I had, but she felt given the circumstances and level of the race, she should let the result stand. That definitely gave me the confidence to go for Ironman.
How do you plan your training, and given your trajectory of success, what is your secret to keeping fit, healthy and fast?
I plan my training in four-week blocks, working on a seven-day pattern which includes a long brick session, a long swim, and then one quality session at each discipline. The day-to-day plan is overseen by my husband but I have also been fortunate enough to have the help of Martin Yelling, who has helped me balance my training better, and has tried to drag me away from being a volume-obsessed runner to a smartly-trained triathlete. I am not sure what my secret to staying healthy is, other than by God's grace. I have been blessed to avoid all the kids' bugs and training injuries that would normally plague me.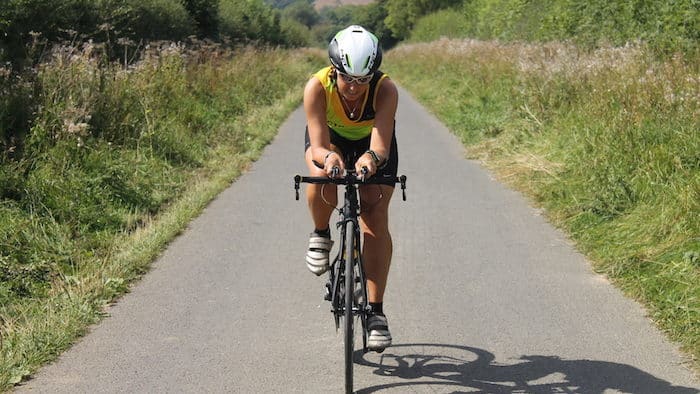 A little different from simply lacing up your running shoes, how have you found getting to grips with all the equipment in triathlon?
I am still a runner at heart, so the kit is baffling. I have a minimalist approach and avoid any kit that is not essential. I use my daughter's swimming goggles and the same wetsuit I was wearing 10 years ago. I also started racing on the same basic entry-level aluminium road bike I bought 12 years ago. However, it became apparent when I qualified for Kona this was not going to allow me to compete on that course, which I'm told is a straight out-and-back. I was pointed towards the Ribble website by a friend, and liked the idea of being able to custom-make my own bike online. I know what I like, and what I need to go fast, but don't need any unnecessary frills, so was delighted to be able to pick my own groupsets, time-trial bars, wheels and saddle to add to a time-trial frame. I don't have much spare time in my life with training, kids and work, so to be able to easily build my own bike, and then have it delivered to my door, rather than having to trail round shops to buy was brilliant. Riding a TT bike is a new experience for me, but am loving being able to get more aero and can see immediately the difference it will make to my times.
What do you hope to achieve on the Big Island and do you see yourself continuing in triathlon after the lronman World Championship?
With a challenge like Ironman the first aim is always to finish, but I feel more confident that this is possible now! On paper my times are close enough to put me in contention for a podium position in my age-group, and I would like to go and race a bit more aggressively with this in mind to see what I can do. I am certainly training with that aim in mind. Long term, I have made no plans. The kids have definitely missed out on my time the last few months so I have promised to do nothing for a while post-race, but I am competitive by nature and enjoy training …. so who knows!
Lucy Walmsley is pictured riding her Ribble Aero TT Matt Black with a Ribble Aero TT Headset and 11 Spd Ultegra 6800 groupset