People still ask Paul Felder when he's coming back – nobody ever believes a fighter when they say they're retired – but this man has a new opponent, and it's name is triathlon.
The 38-year-old former UFC star turned color commentator, like all sports stars, has a burning desire to compete and better their level of performance. Only now he has swapped brutal combat in the Octagon for brutal combat over three disciplines – swim, bike and run.
The man known as 'The Irish Dragon' – who retired with a 17-6 record – fell in love with triathlon early in the pandemic when, like many people, he needed something new to keep him fit, busy and healthy.
It was then that he happened to come across an incredible Lionel Sanders workout on No Limits' hugely popular YouTube channel (more on that to come tomorrow).
Within a very short space of time he was completely hooked, and the running he'd started became more. He bought a bike, and his triathlon journey began.
Now Felder, who spent race week with Sanders when the pair both competed at IRONMAN 70.3 Oceanside last month, is absolutely bought into his goal of being the best triathlete he can be.
His journey will be chronicled by the Professional Triathletes Organisation in a new documentary series, with the first episode 'Fighting Spirit' out now.
Felder's first Tri
He talked about what he felt like after his first triathlon – IRONMAN 70.3 Virginia's Blue Ridge – admitting: "I've been through some brutal fist fights in my time and what my body was feeling after that first race, I just wanted to drink Coca Cola and water, and lay down.
"But that feeling of having done it, sprinting across that finish line, and to feel that level of competition again – even though most of it was obviously inside myself – I felt pretty accomplished after it honestly. I mean I was disappointed in the time, and that's when things start to spiral into the need to do more and more."
At the age of 38 Felder knows he is unlikely to ever be elite in triathlon, though he often wonders how good he might have been had he started earlier. He does though, unsurprisingly, have very firm goals.
"For me it's really about how good can I get in this small amount of time that I have to do it, and I just enjoy doing it. But I want to be top at least of my age-group, I don't know what age it's gonna be, that's the goal whether it's this one or the next one. But I will be the first place winner in my age-group, at least."
No more MMA
Like we said right at the start, people never believe a fighter is truly retired, but when Felder decided his UFC career was over, he felt the time was right.
"I look back on my career, and I'm happy with it. I didn't get to where I wanted, I wanted to become a champion. But in MMA there's only a few guys that ever get to say they were a champ.
"I got to number 6 in the world, I never quit, I'd like to think I was a bit of a fan favourite for my style and the way I brought it. I always kept true to myself, I always fought for something more than just me. I think It was time to go, I went out leaving a little bit left. I left on my terms, I wasn't asked to leave, I wasn't nudged.
"In fact people now even still are like: 'when are you coming back, when are you coming back'. I'm not."
Felder's move towards retirement came as a result of the pandemic, which indirectly helped him find triathlon.
"My fight with Dan Hooker was in February 2020. Then the world shut down, it was nothing, you had to order everything to the house and you couldn't go anywhere and I was losing it. And getting big and a little bit unhealthy. You're drinking some beers, you're eating some crap and you're not working out.
"So I started running, and through running I started getting into looking up triathlon type stuff. I ordered a spin bike that I kept in a closet like my old apartment. So that's how it started to creep into my life.
"For sure the thing that really got me noticing the sport was definitely stumbling on my man, Lionel Sanders, Mr 'No Limits' himself."
Loving swim/bike/run
Pretty soon Paul realised that retirement from the Octagon would be the right move, and that his love of triathlon was now very very real.
"I started wanting to do triathlon training more than I wanted to get up every morning to go spar and grapple. I wanted to get on the bike, I wanted to go to the pool and swim.
"It was something new that I wasn't good at yet, that I wanted to become good at, that I thought I could become good at. And that obsession and that drive for that started to outweigh my desire to really put my body through any more in the sport of MMA."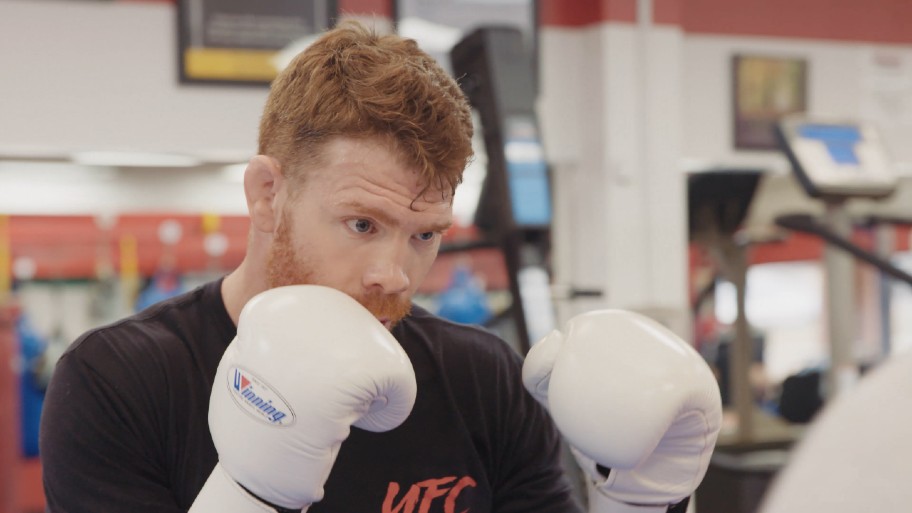 That debut at Blue Ridge was a baptism of fire, as he ignored advice not to start his journey with a 70.3. He finished 22nd in his Age Group, but admits he "almost died on the half-marathon".
"I remember that half-marathon in 90-degree heat and humidity. That's when I finally got that true respect for the sport. I was watching guys running by me – six-minute miles, 55 years old. I'm like 'what am I doing wrong'."
From those rough beginnings Felder is now loving his new pursuit, and improving with every race.
He will continue his journey in the PTO Tour races this year, starting with this weekend's PTO PRO AM Herbalife Los Angeles, a mixed relay race held over the Olympic distance – 1500m swim, 40km bike and 10km run.
Watching that journey through the eyes of that PTO documentary series gives us yet more to look forward in 2022. Get the popcorn ready…