This is the first of a two-part series looking at how you can make it to triathlon's 'Big Dance' and race in Kona. For many, this is the holy grail of of our sport. How do you get there? Well, start here and find out…
Inspired by all of the images and video from the IRONMAN World Championship? Well, how about racing there yourself?
Aside from the small large (!) matter of the hefty costs involved, especially if you are based in the UK / Europe, there is one other rather important consideration… first of all you need to qualify! So, how does that work and what are the routes you can take to start that swim on Dig Me beach, ride the Queen K Highway and cross the finish line on Ali'i Drive?
We asked Russell Cox (www.coachcox.co.uk) to explain the lowdown on your different options and the things to take into account if you want to qualify for the IRONMAN World Championship. A multiple Kona-qualifier himself, Russell is also a full-time triathlon coach and so has great insight and experience into 'what it takes', as well as years of analysing the statistics and approaches to Kona qualifying.
The Logistics
In 1978 when 15 athletes lined up on Waikiki Beach for the first ever Ironman, I doubt they imagined that it would become a global race series. Almost 40 years later, thousands compete in Ironman races around the world in the hope of gaining a place on the start line of the Ironman World Championship in Hawaii.
For many an endurance athlete, Kona is the goal – it certainly was for me – but as the sport grows, getting there is becoming increasingly difficult.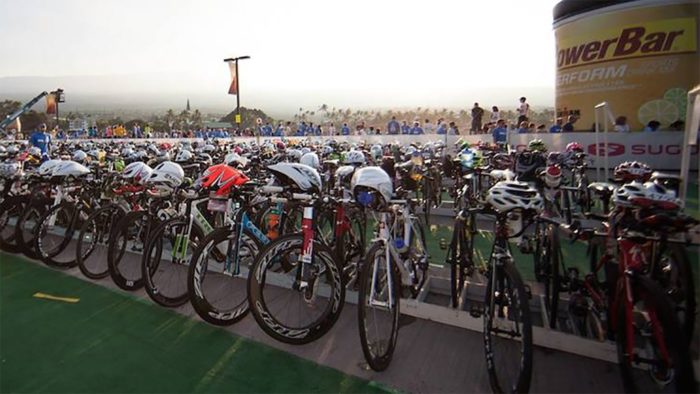 Options available
Qualification is the route most athletes take to get there. That means finishing an Ironman at the top of your age group. I'll come back to this shortly.
If you've been racing Ironman long enough there is the Legacy option (More HERE). It's a sort of loyalty program – complete 12 Ironman races and you can apply.
Or, if you have a lot of spare cash you could bid on a Charity slot. Places open at $10,000.
If you're a busy executive you can sign up for the Executive Challenge (More HERE) and compete for your own set of Kona spots.
Or, if you're sufficiently famous you may be able to go too – Gordon Ramsey has raced on the island twice now.
Finally, a number of places are given out to race sponsors to use as they like.
Qualification route most likely, but far from easy
To start you'll need to enter an Ironman branded event. There are many good iron-distance events around the world, but only Ironman races carry Kona slots. In rare instances you can also qualify at an Ironman 70.3 (half distance) race, but few events carry Kona places these days. The most recent example is two newly launched races in China, which carry a total of 100 slots between them. Practically, you'll need to enter a full distance, Ironman-branded event for a shot at a Kona slot.
Each race is allocated a number of Kona qualification slots; 40 is the norm, with Regional Championships, like Frankfurt or South Africa, getting 75. These slots are further divided across each age-group present at the race. There is a minimum of one slot for every age-group with larger age-groups getting more. Thus, the race you choose and the number of other people who enter, can have a big influence on how many slots you're competing for.
Kona slots are awarded to the fastest in each age-group – if an age-group has five Kona slots then the five fastest athletes in that category get first choice. How fast you need to be very much depends on the race you choose and who you're racing against. Pick a course like Ironman UK (More HERE) and you'll see much slower qualification times than a course like Austria (DETAILS). There's no set standard, it's all about how you perform relative to the field. A slow time usually mean a slower course, but the level of competition is likely to be the same.
For example, if we look at the results from Ironman Wales this year we can see in the M40-44 age group (the largest) there were five slots on offer and qualifiers' times ranged from 9:48 to 10:16. If we head over to Frankfurt, the European Championship, we have 11 slots for that age-group with a winning time of 8:56 and qualification needing at least 9:15. That's quite a difference between the two races! I keep a very detailed listing of statistics and times for all the Ironman races on my website if you want to know more.
If you checked the results from Ironman Wales you may have spotted that the fifth place in the M40-44 group went to the person who finished seventh in that age group. Slots are awarded to the fastest athletes in each age group, but if any of them are absent, or decline their spot, the slot rolls down to the next fastest athlete. When I first went to Kona I came third in my age group at Ironman UK, there were two slots, but luckily for me first place had already qualified and I got to take one.
If you want to go to Kona there is one piece of information you have to take away from this article: always go to the roll down! It doesn't matter how far off you think you are, there is no limit to how far a slot can roll. At Ironman Copenhagen this year, one lucky athlete claimed a slot having finished 233rd in the M40-44 age group. The last slot kept rolling and he happened to be there supporting a friend. Always go to roll down.
That covers the logistics of qualifying for Kona, but you can't just turn up on race day and expect to go.
In part two, I'll look at what it takes to reach those Kona qualifying standards.